The global nanoceramics powder market is expected to grow at a significant rate during the forecast period, majorly driven by the rising demand from various end-users, such as Electronics and Healthcare. Nanoceramics are the ceramic materials composed of particles sized 100 nanometers or less in diameter. Owing to their nano-size, nanoceramics have properties highly distinguished from traditional ceramics
Rising Demand from the Healthcare Industry Driving the Market
Medical advancements, emerging biotechnologies, and an overall increasing healthcare industry is expected to drive the nanoceramics powder market. Nanoceramics powder is being increasingly used in the healthcare industry to manufacture artificial bone implants. United States occupies the largest market share of more than 50% in the healthcare industry, followed by Europe. With increasing R&D activities in Japan and India, the healthcare industry is likely to grow at a good pace in Asia-Pacific, which, in turn, is likely to drive the demand of nanoceramics powder in Asia-Pacific.
Alumina the Dominating Type
Alumina, also known as aluminum oxide, is the most used nanoceramic powder. It offers extremely good combination of mechanical, electrical, and chemical properties, and has numerous uses. Some common applications of alumina include, thermocouple tubes, electrical insulators, seal rings, medical devices, grinders, and wear components, among others. Alumina's properties include, high strength and stiffness, hardness, wear resistance, thermal stability, corrosion resistance, low dielectric constant and excellent dielectric properties. The rising demand from end-user industries, such as, electrical & electronics, transportation, healthcare, and others, is anticipated to propel the demand for nanoceramics powder, during the forecast period.
North-America to Dominate the Nanoceramics Powder Market
The demand for nanoceramics powder is high in North America, owing to increase in research initiatives for the implementation and commercialization of nanoceramics powder. United States has the largest share in the global healthcare market and rapid growth of the medical industry in the nation is expected to augment the demand for nanoceramics powder. Furthermore, rise in adoption of nanoceramics powder in various end-users, such as electrical & electronics, building & construction, and transportation are the major factors that boost the market growth in the forecast period.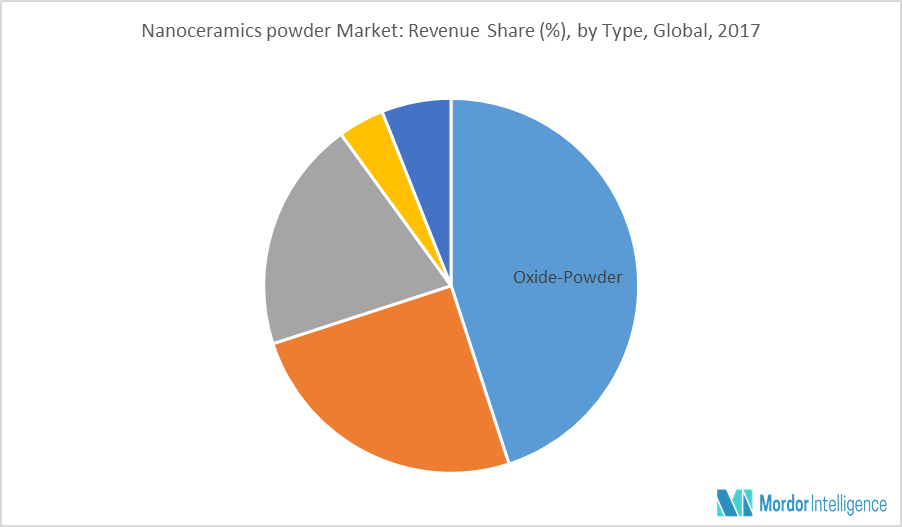 Notable Developments
December 2017: Cerion Launched Portfolio of Nanoparticle Cerium Oxide Dispersions for the Polishing Slurry Market
April 2017: Innovnano launched 2YSZ ceramic powder that can be used widely for structural ceramic applications offering enhanced fracture toughness with high stability and ageing resistance
Major Players: Innovnano, Nitto Denko, Reade International and Tosoh Corporation, among others.
Reason to Purchase this Report
To understand the impact of various product type on the market.
Analyze various perspectives of the market with the help of Porter's five forces analysis
To understand the dominating product type and end-user industry in the market
Countries expected to witness the fastest growth during the forecast period
Identify the latest developments, market shares, and strategies employed by the major market players
3-month analyst support, along with the Market Estimate sheet in excel
Customization of the Report
This report can be customized to meet your requirements. Please connect with our analyst, who will ensure you get a report that suits your needs