Mexico Factory Automation & ICS Market Size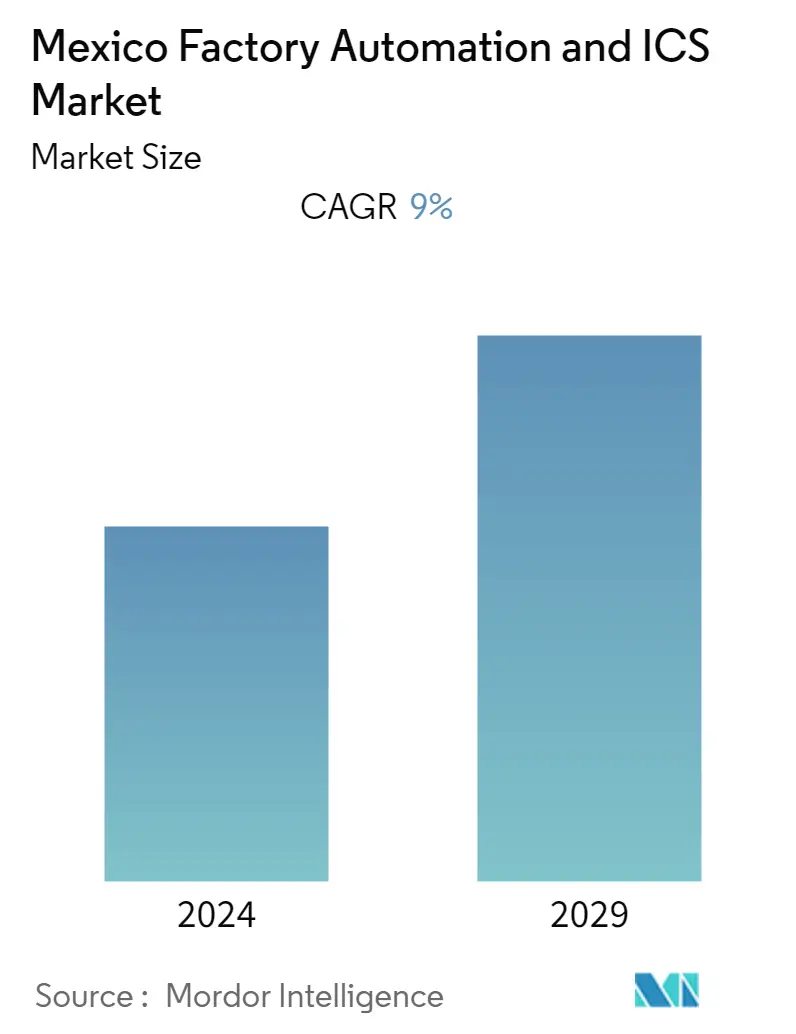 Study Period
2018-2028
Base Year For Estimation
2022
Forecast Data Period
2023 - 2028
Historical Data Period
2018 - 2021
CAGR
9.00 %
Market Concentration
Medium

Major Players

*Disclaimer: Major Players sorted in no particular order
Need a report that reflects how COVID-19 has impacted this market and its growth?
Mexico Factory Automation & ICS Market Analysis
The Mexico factory automation and industrial controls market was valued at USD 240.85 billion the previous year and is expected to register a CAGR of 9.00% during the forecast period to become USD 403.93 billion in the next five years. Rising energy prices, several environmental regulations, and the general trend toward sustainable manufacturing are expected to increase the adoption rate of products like machine vision systems, robots, and others, increasing market demand for smart factories. The region is experiencing growth in factory automation owing to Mexico's manufacturing economy, which gives rise to automation and is primed for inward industrial investment. For instance, recently, Bosch invested EUR 100 million (USD 120 million) in a smart factory for automotive parts in Celaya, Mexico, creating 1,200 additional jobs.
The country is noticing a significant boost in the automotive manufacturing industry, with Nissan, Honda, and Mazda opening new high-volume establishments in the country, where the exponential growth in the country's manufacturing sector is the immediate driver of market growth. Additionally, Audi opened a 400-acre, USD 1.3 billion-worth smart factory in Mexico to produce the next-generation Audi Q5 for the world market. The plant has an annual exhibition capacity of 150,000 of these premium SUVs, and it will manufacture cars for consumers that are "tailor-made to their tastes." It is considered one of the most state-of-the-art factories on the North American continent. Audi's smart factory was put into operation 30% faster than usual.
Further, the lower labor costs in the country are resulting in the fast expansion of other industrial sectors, like consumer electronics manufacturing, pharmaceutical manufacturing, and metallurgical industries, which is anticipated to boost the full Mexican automation and industrial controls market. According to OECD, the value added to gross domestic product by the manufacturing sector in Mexico increased by USD 11 billion (+5.21% ) in 2022. Therefore, the value added in Mexico peaked in 2022 at USD 222.19 billion.
Tremendous shifts in manufacturing due to Industry 4.0 and the approval of IoT require enterprises to adopt agile, smarter, and creative ways to advance production with technologies that complement and augment human labor with automation and reduce industrial accidents caused by process failure. With the increased rate of adoption of connected devices and sensors and the fostering of M2M communication, there has been a surge in the data points developed in the manufacturing industry.
According to Zebra's Manufacturing Vision Study, smart asset tracking solutions based on IoT and RFID are expected to overtake traditional, spreadsheet-based methods by 2022. Maryville University calculates that by 2025, over 180 trillion gigabytes of data will be assembled worldwide yearly. IIoT-enabled industries will generate a large portion of this.
The growing emphasis on energy saving and efficiency drives the Mexico Factory Automation and Machine Vision Market. The factory automation system's range is growing due to the Internet of Things and the favorable trend of cloud-based technologies and services. Internet use has risen dramatically in the last decade, nearly doubling over the previous eight years.
However, adopting industrial control system (ICS) solutions augments the demand for security. An exponential rise in cyber-attacks and network security threats and considerable investments in smart technologies make ICS vulnerable to security threats. Nevertheless, the industrial control systems' capability of providing security to the infrastructure against any attack in a very efficient and precise way is attracting the attention of investors in this market.
Furthermore, the recent new coronavirus outbreak has impacted negatively on the Mexican economy, radically altering how numerous industries work daily. With work-from-home approaches in place and shelter-in-place orders on the rise, allied market players re-evaluated and modified their cyber-preparedness and reaction tactics, which are especially true for companies implementing industrial control systems (ICS) to monitor and control critical equipment and processes (DCS, SCADA, or PLS).
Moreover, the ongoing conflict between Russia and Ukraine will significantly impact the electronics industry. The conflict has already exacerbated the semiconductor supply chain issues and the chip shortage that have affected the industry for some time. The disruption may result in volatile pricing for critical raw materials such as nickel, palladium, copper, titanium, aluminum, and iron ore, resulting in material shortages. This would obstruct the manufacturing of semiconductors, thereby restraining the supply of industrial robots. The war between Russia and Ukraine has significantly influenced the industrial robot industry. For example, the production of neon, a critical gas in advanced semiconductor manufacturing, has been affected due to the conflict.
Mexico Factory Automation & ICS Market Trends
Automotive Segment to Hold Significant Market Growth
For the past 50 years, the automotive industry has used robots in its assembly lines for various manufacturing processes. Currently, automakers are exploring the use of robotics in more procedures. Robots are more efficient, flexible, accurate, and dependable for such production lines. This technology enables the automotive industry to remain one of the most significant robot users and possess one of the most automated supply chains.
Further, Mexico is primarily a production hub for vehicle manufacturers and automotive parts suppliers that export to the United States and South America. At USD 2.61 trillion, Mexico is the fifteenth-largest global economy, home to 20 automotive assembly manufacturers, including BMW, Mercedes, Audi, Ford, Chrysler, and Nissan. They are putting more pressure on the local plants to improve the quality, get better safety, and improve throughout, which is driving automation and robotics.
According to INEGI, the number of light vehicles produced in Mexico amounted to almost 2.8 million in 2022, representing an increase of around 10% compared with the production volume reported a year earlier. Such increases in automobile production may further raise demand in the studied market.
The stabilizing economy of the United States is also supporting this growth as the country accounts for 70% of the automobile exports from Mexico. The country shares the 1,900-mile border with the United States, which has helped the country's industries with further help from NAFTA, with which it has virtually zero market access barriers for US exports. In addition, the Mexican automobile and pickup truck manufacturing industry's revenue is expected to reach USD 79.97 million by the end of 2023, according to INEGI. Such developments are anticipated to influence the demand over the coming years further.
The Mexican manufacturing industry has driven and digitalized significantly in recent years to improve productivity, primarily owing to the automotive sector in the country, which is the sixth-largest maker of heavy-duty vehicles for cargo in the world. For instance, according to the International Trade Administration (ITA), 95.1% of its tractor-truck production is exported to the United States, making it the world's leading exporter.
Furthermore, Mexico's manufacturing and, most prominently, the automobile manufacturing sector has driven the country as one of Latin America's powerhouses for innovation and technology. To sustain the country's flourishing manufacturing industry, the Association for Advancing Automation (A3) has launched A3 Mexico to help the proliferation of the manufacturing sector with robotics.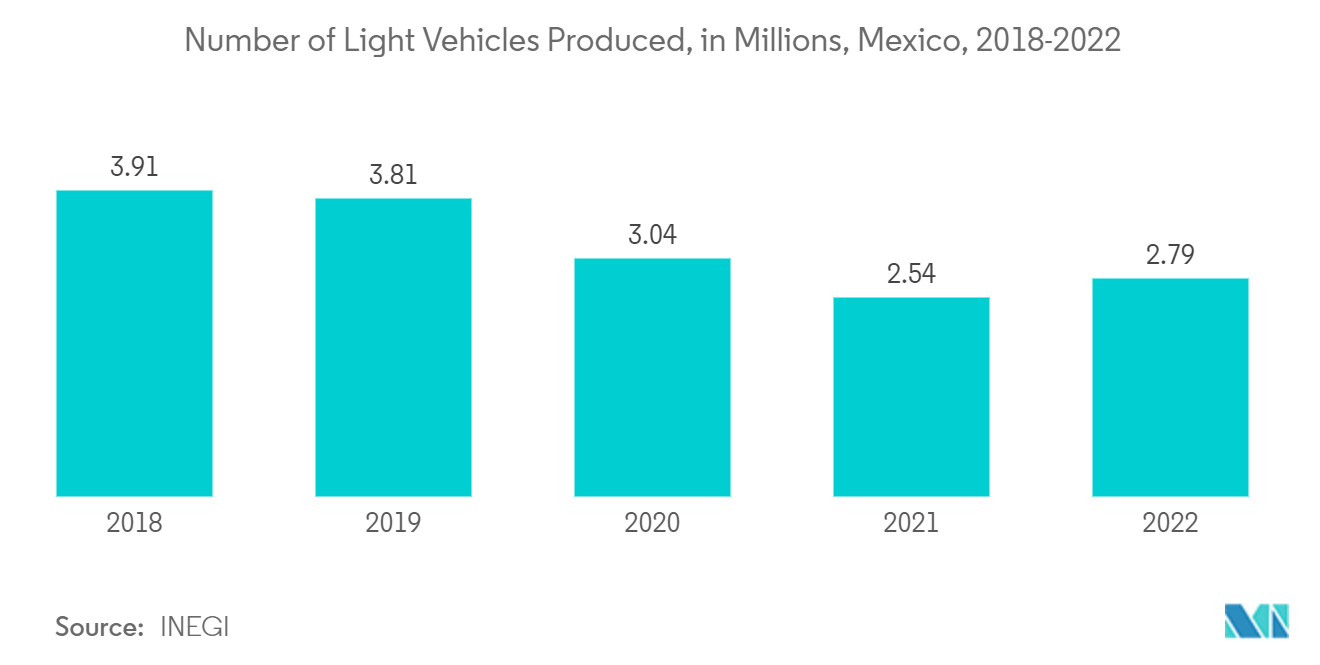 To understand key trends, Download Sample Report
Utility Segment to Witness Major Growth
The power and utility sector has been an early adopter of digital technologies, which has resulted in improved process automation and control across Mexico.​ According to the Ministry of Energy, the Mexican power generation sector is expected to witness investments of over MXN 2039.89 billion ( USD 107.67 billion) by 2030, with most investments diverting toward power generation establishments and power transmission infrastructure.
The smart grid and synchronization evolution to match the variable demand for electricity between the peak demand period and the rest of the period demand is expected to create high demand from the energy and utilities sector. Further, Mexico is expected to invest USD 6.3 billion in smart grid infrastructure and a further USD 2.1 billion in LED and smart street lighting by 2027, which may create vast opportunities for the concerned market players.
CFE announced in September 2022 that it would push investment projects for renewable energy, with geothermal as the critical technology, to receive around MXN 1.5 billion (Mexican peso, around USD 75.2 million).
In addition, solar and wind energy will receive around MXN 16.7 million ( USD 0.88 million). Furthermore, the country's natural gas-fired power facilities will likely rise in response to rising electricity demand. With such a favorable investment scenario in the country's utility sector, led by renewal or new construction projects, the need for factory automation and industrial control system solutions is expected to increase.
According to IRENA, Mexico's renewable energy generation capacity has increased annually throughout the past decade. In 2022, the Latin American country's installed capacity surpassed 31.7 gigawatts, more than double the capacity reported in the past few years. Further, Mexico's renewable energy consumption in recent years amounted to some 360 petajoules.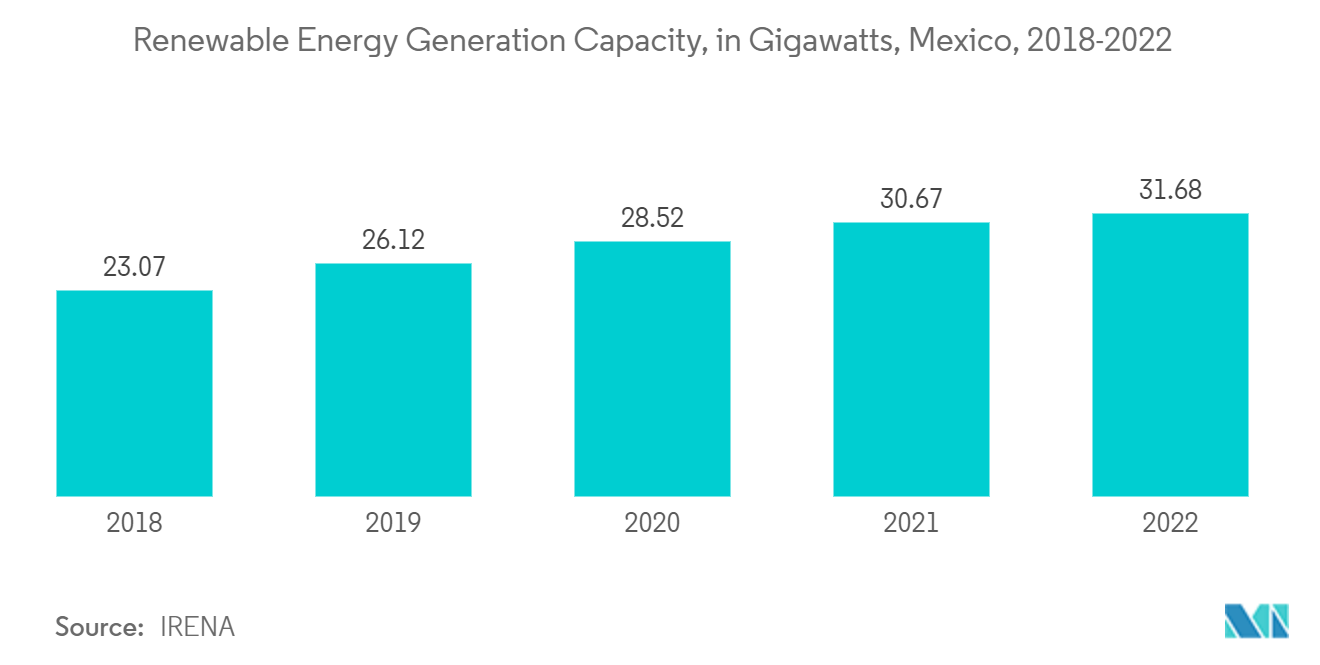 Mexico Factory Automation & ICS Industry Overview
The Mexican factory automation and industrial controls market is pushing towards fragmentation and consists of several major players. In terms of market share, some significant players presently dominate the market. However, with innovative and sustainable products and solutions, many companies are growing their market presence by securing unique contracts and tapping into new markets.
In August 2022, Honeywell announced the expansion of its Research and Development Center for Technological Solutions. It aims to attract specialized local talent for the venue, where the brand has invested more than USD 8 million and is located in Tecnoparque in Mexico City.
In August 2022, ABB announced that it signed an agreement to acquire Siemens' low-voltage NEMA motor business. With manufacturing operations in Guadalajara, Mexico, this acquisition gives a well-regarded product portfolio, a long-standing North American consumer base, and an experienced operations, sales, and management team. The business operates around 600 people and generated revenues of approx. USD 63 million recently, and the transaction is anticipated to close in the second quarter of 2023.
Mexico Factory Automation & ICS Market Leaders
Honeywell International Inc.

General Electric Co.

ABB Ltd.

Emerson Electric Company

Siemens AG
*Disclaimer: Major Players sorted in no particular order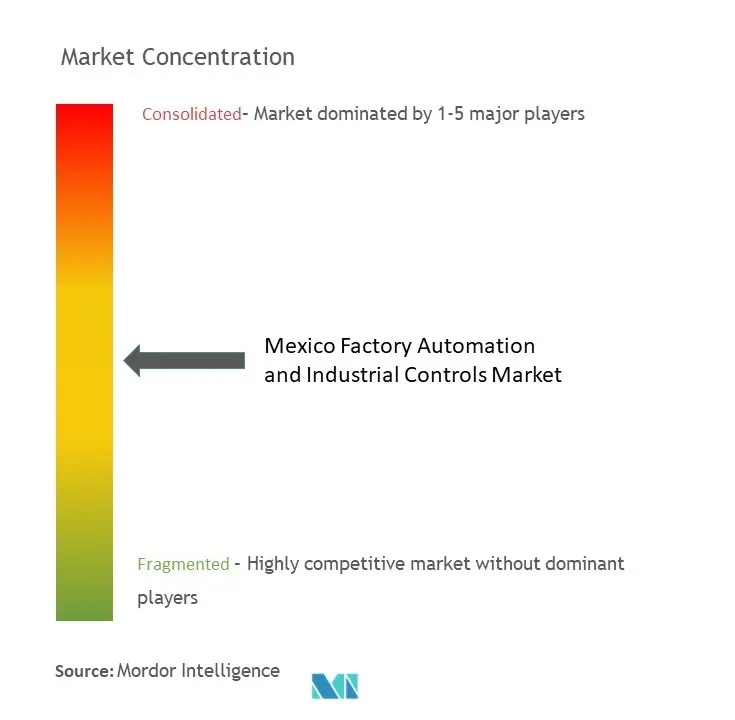 Mexico Factory Automation & ICS Market News
December 2022: AtomTech announced that following the launch of AtomTech Canada, the company would also grow its presence in Mexico, building on its strong account in the Mexican market. The leading controls and SCADA integration solutions company intends to extend its services to regional clients to fulfill burgeoning manufacturing demands. Moreover, with the addition of Mexico Operations, it will be able to operate more efficiently and cost-effectively.
September 2022: Bosch Rexroth announced to build of a new plant in Querétaro, Mexico, to produce components for mobile applications and machinery for manufacturing automation. In addition, the company stated that the plant would start operations in mid-2023 with an area of 42,000 square meters. The project will create more than 900 jobs with an investment of approximately USD 215 million.
Mexico Factory Automation and Industrial Controls Market Report - Table of Contents
1. INTRODUCTION

1.1 Study Assumptions and Market Definition

1.2 Scope of the Study

2. RESEARCH METHODOLOGY

3. EXECUTIVE SUMMARY

4. MARKET DYNAMICS

4.1 Market Overview

4.2 Industry Value Chain Analysis

4.3 Industry Attractiveness – Porter's Five Forces Analysis

4.3.1 Bargaining Power of Suppliers

4.3.2 Bargaining Power of Consumers

4.3.3 Threat of New Entrants

4.3.4 Threat of Substitute Products

4.3.5 Competitive Rivalry in the Industry

4.4 Market Drivers

4.4.1 Increased Adoption of Internet of Things (IoT) and Machine-to-machine Technologies

4.4.2 Emphasis on Cost Cutting and Business Process Improvement

4.5 Market Restraints

4.5.1 High Installation Costs and Lack of Skilled Workforce Preventing Enterprises from Full-scale Adoption of Factory Automation

4.6 Impact of Macroeconomic Trends on the Market

5. TECHNOLOGY SNAPSHOT

6. MARKET SEGMENTATION

6.1 By Product

6.1.1 Field Devices

6.1.1.1 Machine Vision

6.1.1.2 Robotics

6.1.1.3 Sensors

6.1.1.4 Motors and Drives

6.1.1.5 Other Field Devices

6.1.2 Industrial Control Systems

6.1.2.1 Supervisory Control and Data Acquisition (SCADA)

6.1.2.2 Distributed Control Systems (DCS)

6.1.2.3 Programmable Logic Controllers (PLC)

6.1.2.4 Manufacturing Execution System (MES)

6.1.2.5 Product Lifecycle Management (PLM)

6.1.2.6 Enterprise Resource Planning (ERP)

6.1.2.7 Human Machine Interface (HMI)

6.1.2.8 Other Control Systems

6.2 By End-user Industry

6.2.1 Automotive

6.2.2 Chemical and Petrochemical

6.2.3 Utility

6.2.4 Pharmaceutical

6.2.5 Food and Beverage

6.2.6 Oil and Gas

6.2.7 Other End-user Industries

7. COMPETITIVE LANDSCAPE

7.1 Company Profiles

7.1.1 Rockwell Automation Inc.

7.1.2 Honeywell International Inc.

7.1.3 ABB Ltd.

7.1.4 Emerson Electric Company

7.1.5 Omron Corporation

7.1.6 Mitsubishi Electric Corporation

7.1.7 Siemens AG

7.1.8 Robert Bosch GmbH

7.1.9 Texas Instruments Inc.

7.1.10 Yokogawa Electric Corporation

7.1.11 Schneider Electric SE

*List Not Exhaustive

8. INVESTMENT ANALYSIS

9. FUTURE OF THE MARKET
Mexico Factory Automation & ICS Industry Segmentation
Factory automation is an end-to-end manufacturing process that is incorporated with automation. The evolution of technological advancements and innovations across various manufacturing units has encouraged the adoption of automation technologies across Mexico.
The Mexico factory automation and industrial controls market is segmented by product (field devices (machine vision, robotics, sensors, motors and drives, and other field devices)), industrial control systems (SCADA, DCS, PLC, MES, PLM, ERP, HMI, and Other Control Systems), and by end-user industry (automotive, chemical & petrochemical, utility, pharmaceutical, food & beverage, oil, and gas, and other end-user industries). The market sizes and forecasts are provided in terms of value in USD for all the above segments. The impact of macroeconomic trends on the market is also covered under the scope of the study. Further, the disturbance of the factors affecting the market's evolution in the near future has been covered in the study regarding drivers and constraints. The market sizes and predictions are provided in terms of value in USD for all the above segments.
By Product

Field Devices
Machine Vision
Robotics
Sensors
Motors and Drives
Other Field Devices

Industrial Control Systems
Supervisory Control and Data Acquisition (SCADA)
Distributed Control Systems (DCS)
Programmable Logic Controllers (PLC)
Manufacturing Execution System (MES)
Product Lifecycle Management (PLM)
Enterprise Resource Planning (ERP)
Human Machine Interface (HMI)
Other Control Systems
By End-user Industry
Automotive
Chemical and Petrochemical
Utility
Pharmaceutical
Food and Beverage
Oil and Gas
Other End-user Industries
Mexico Factory Automation and Industrial Controls Market Research FAQs
What is the study period of this market?
The Mexico Factory Automation and ICS Market is studied from 2018 - 2028.
What is the growth rate of Mexico Factory Automation and ICS Market?
The Mexico Factory Automation and ICS Market is growing at a CAGR of 9% over the next 5 years.
Who are the key players in Mexico Factory Automation and ICS Market?
Honeywell International Inc., General Electric Co., ABB Ltd., Emerson Electric Company, Siemens AG are the major companies operating in Mexico Factory Automation and ICS Market.
Mexico Factory Automation and Industrial Controls Industry Report
Statistics for the 2023 Mexico Factory Automation and ICS market share, size and revenue growth rate, created by Mordor Intelligence™ Industry Reports. Mexico Factory Automation and ICS analysis includes a market forecast outlook to for 2023 to 2028 and historical overview. Get a sample of this industry analysis as a free report PDF download.
Mexico Factory Automation and ICS Market Report Snapshots
80%

of our clients seek made-to-order reports. How do you want us to tailor yours?