Market Snapshot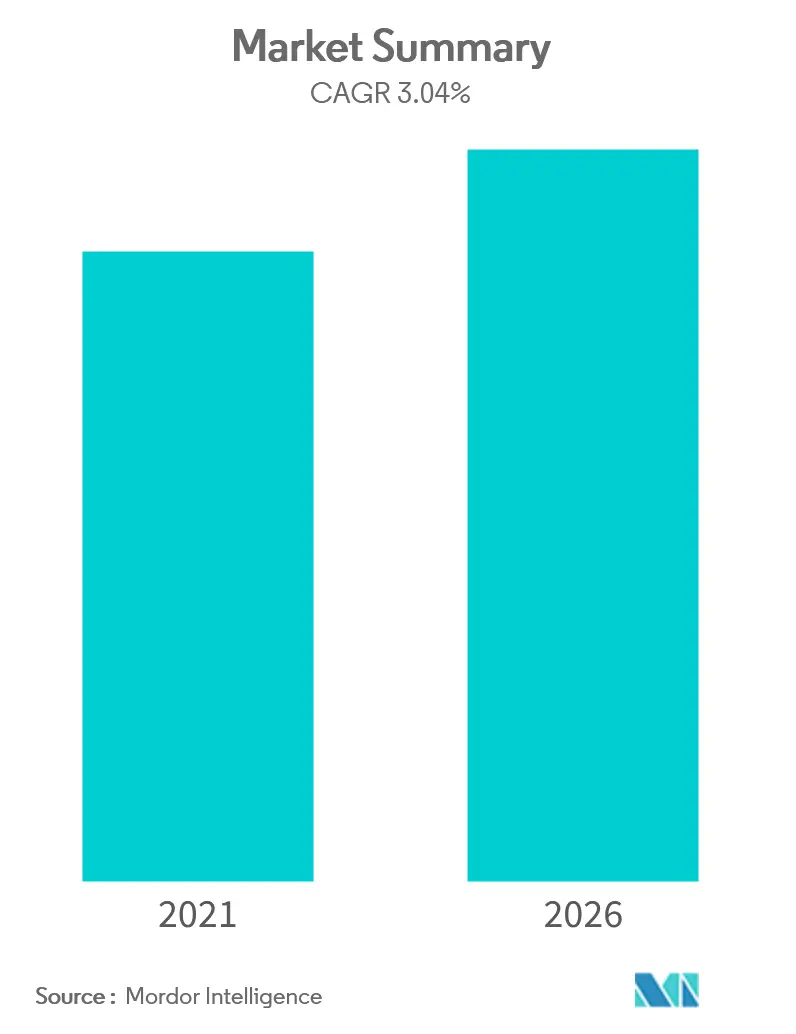 Study Period:
2016 - 2026
Base Year:
2020
Fastest Growing Market:
Asia Pacific
Largest Market:
Asia Pacific
CAGR:
3.04 %
Need a report that reflects how COVID-19 has impacted this market and its growth?
Market Overview
The global lubricant additives market is expected to reach USD 18,884.23 million by 2026, registering a CAGR of 3.04% during the forecast period (2021-2026). Environmental concerns are a major factor in lubricant formulation and use. Lubricant additives are vital ingredients in modern lubricants and are driving the market.
Stringent environmental regulations regarding emissions and industrial growth in Middle-East and Africa are the major factors driving the growth of the market studied.
However, extended oil change intervals in machinery and automobiles and the impact of the COVID-19 pandemic are expected to hinder the growth of the market.
The growing popularity of high-performance lubricants in Asia-Pacific is projected to act as an opportunity for the market in the future.
Scope of the Report
The lubricant additives market is segmented by function, lubricant type, end-user industry, and geography. On the basis of function, the market is segmented by dispersants and emulsifiers, viscosity index improvers, detergents, corrosion inhibitors, oxidation inhibitors, extreme-pressure additives, friction modifiers, and other functions. Based on lubricant type, the market is segmented by engine oil, transmission and hydraulic fluid, metalworking fluid​, general industrial oil, gear oil, grease, process oil, and other lubricant types. On the basis of end-user industry, the market is segmented by automotive and other transportation, power generation, heavy equipment, metallurgy and metalworking, food processing, and other end-user industries. The report also covers the market sizes and forecasts for the lubricant additives market in 17 countries across major regions. For each segment, the market sizing and forecasts have been done on the basis of revenue (USD million).
Function
Dispersants and Emulsifiers
Viscosity Index Improvers
Detergents
Corrosion Inhibitors
Oxidation Inhibitors
Extreme-pressure Additives
Friction Modifiers
Other Functions
Lubricant Type
Engine Oil
Transmission and Hydraulic Fluid
Metalworking Fluid
General Industrial Oil
Gear Oils
Grease
Process Oil
Other Lubricant Types
End-user Industry
Automotive and Other Transportation
Power Generation
Heavy Equipment
Metallurgy and Metal Working
Food Processing
Other End-users Industries
Geography

Asia-Pacific
China
India
Japan
South Korea
ASEAN Countries
Rest of Asia-Pacific

North America
United States
Mexico
Canada

Europe
Germany
United Kingdom
Russia
Italy
France
Rest of Europe

South America
Brazil
Argentina
Rest of South America

Middle-East and Africa
Saudi Arabia
South Africa
Rest of Middle-East and Africa
Key Market Trends
Viscosity Index Improvers to Drive the Market Growth
Viscosity index can be considered a scale of measurement for lubricating oils that indicates the extent of variation in viscosity with the variation of temperature. Viscosity index is widely used to measure the change in the viscosity of a fluid in relation to temperature. The higher the viscosity index, the smaller is the relative change in viscosity with temperature. They increase the viscosity of the fluid throughout its useful temperature range. These molecules are polymeric and are sensitive to changes in temperature. The fluid viscosity is not affected at low temperatures, as the molecule chain contracts, whereas at high temperatures, the chain relaxes and increases the viscosity.
Viscosity improvers find vast application in different grades of engine oils, gear oils, automatic transmission fluids, power steering fluids, greases, and various hydraulic fluids. Most of these oils find their uses in automobiles. Thus, automobiles are subjected to rapid temperature changes. For instance, during the cold days in the morning, an oil with low viscosity at a low temperature is needed for the oil pump to push the oil to the top of the engine. In this situation, the oil must be viscous to protect the engine when it reaches operating temperature. At this point, viscosity modifiers have a prominent role. Moreover, among the several types of viscosity index improvers, olefin copolymers are a common application. High-quality viscosity index improvers are less prone to permanent shear loss than low-cost and low-quality VI improvers. However, these additives lose their capability to act as a more viscous fluid at higher temperatures. Moreover, higher molecular weight polymers help make better thickeners with lesser resistance to mechanical shear. Lower molecular weight polymers are found to possess more shear-resistant. However, they cannot improve viscosity as efficiently at higher temperatures. Thus, they are recommended to be used in larger quantities.
Viscosity index improvers also help better oil flow, especially at low temperatures, resulting in reduced wear and improved fuel economy. In addition, viscosity index improvers are used to achieve high-VI hydraulic and gear oils for improved start-up and lubrication at low temperatures. In order to overcome this, non-dispersant olefin copolymer viscosity modifiers are used to provide low-temperature performance by having excellent film strength and engine strength. However, viscosity index improvers are susceptible to mechanical shearing, which is expected to hinder its application demand. Additionally, these additives are large polymers, making them deprived of being chopped into small pieces by machine components. Gears are notoriously hard on VI-improver additives. Despite such drawbacks, these viscosity index improvers are gaining prominence, owing to the wide range of advantages they offer.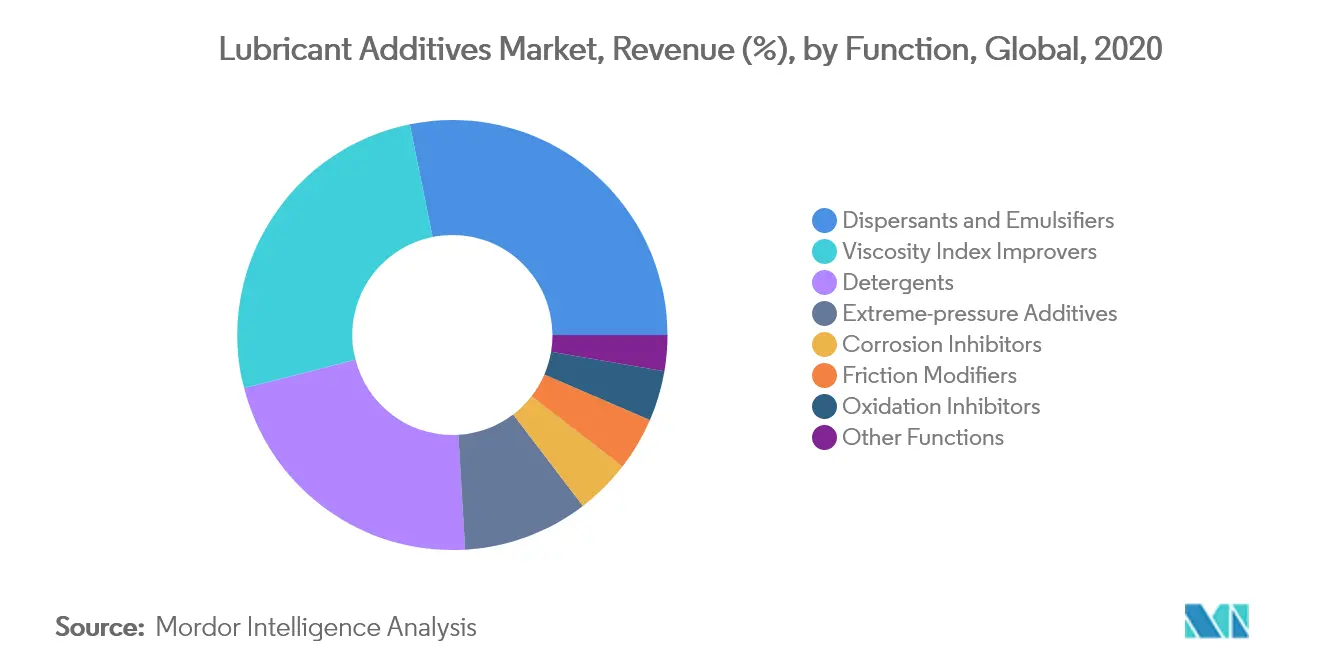 To understand key trends, Download Sample Report
Asia-Pacific Region Poised to Lead the Market
In Asia-Pacific, China is the largest economy in terms of GDP. The country witnessed about 6.1% growth in its GDP in 2019, even after the trade disturbance caused due to its trade war with the United States. The economic growth rate of China in 2020 was initially expected to be moderate compared to the previous year. Although China was the first country affected by COVID-19 and its related lockdown, it was also the first to come out of lockdown. However, the country has been witnessing recurring cases of COVID-19, leading to further lockdowns. Thus, manufacturing was heavily impacted, which continued with the slow growth during 2020. According to the IMF, in 2020, the GDP of China declined by 1.9%. However, the GDP is expected to reach 8.2% in 2021.
The food processing industry is moving toward maturity in the country, witnessing moderate growth. Processed and packaged frozen foods are increasingly becoming popular, especially dairy, baby food, and confectionery products, driving the food processing industry. In the beverage industry, the trend of consuming healthy, natural, and convenient ready-to-drink smoothies, juices, and yogurts is emerging. Processed fruits, pork, dairy, and specialty grains and legumes are some of the food products driving the food processing industry growth in the country. Thus, the food and beverage industry has been offering opportunities for investment, which is expected to create demand for new equipment used in such plants, offering opportunities for the market. For instance, in May 2020, Nestle decided to make a series of investments to strengthen its footprints and enhance its product portfolio in the country. Nestle plans to invest about USD 103.4 million in capacity expansion of its existing pet food plant in Tianjin and its first production facility in Asia for plant-based products.
China is promoting and undergoing continuous urbanization, with a target rate of 60% for 2020. The increased living spaces required in the urban areas, resulting from urbanization and the desire of middle-class urban residents to improve their living conditions, may have a profound effect on the housing market, increasing the usage of lubricants additives in construction applications. According to the National Development and Reform Commission, the Chinese government approved 26 infrastructure projects at an estimated investment of about USD 142 billion in 2019 that are estimated to be completed by 2023. The growing demand for housing is likely to drive residential construction in the country in the public and private sectors. The new hotel projects in the country increased by about 15% in 2019. The increase in the construction of tall buildings and hotels is driving the market studied. With the growth of the construction sector in China, the demand for lubricants used for heavy equipment in the construction sector (such as penetrating and coating wire rope lubricants, diesel fuel, engine oil, and bearing grease) is expected to increase over the forecast period.
The Chinese automotive manufacturing industry is the largest globally, with a production share of just over 28% in 2019. The industry witnessed a slowdown in 2018, and production and sales declined. A similar trend continued in 2019, and the production declined to 25.7 million vehicles, by about 7.5% Y-o-Y. According to the China Association of Automobile Manufacturers (CAAM), automotive production is expected to decline by about 2% in 2020. However, due to the COVID-19 pandemic and the implementation of lockdown, the automotive manufacturing units were shut down in Q1 2020. However, the number of passenger cars produced in November 2020 was about 2.33 million, registering a staggering 11.8% M-o-M growth, while 518 thousand commercial vehicles were produced in November, with a 10.6% M-o-M growth. The number of passenger cars produced from January to November 2020 was down by 8.1% Y-o-Y compared to the same period in 2019, while commercial vehicle production increased by 22.2%. The uncertainties in the automobile industry are expected to impact the market studied.
Furthermore, the country's appetite for aviation seems set to grow exponentially. The high demand for aviation has led to the government's decision to introduce an airport building program, which includes huge investment in terminals, runways, and aircraft. For instance, the total civil aircraft fleet in the country increased steadily over the past five years. Chinese airline companies plan to purchase about 7,690 new aircraft over the next 20 years, which may be valued at approximately USD 1.2 trillion. Furthermore, under the plan, 'Made in China 2025', China may supply over 10% of the homemade commercial aircraft to the domestic market by 2025, increasing the demand for lubricant additives over the forecast period. Overall, the market for lubricant additives is projected to witness healthy growth over the forecast period, though the market remains affected in 2020 due to the COVID-19 outbreak.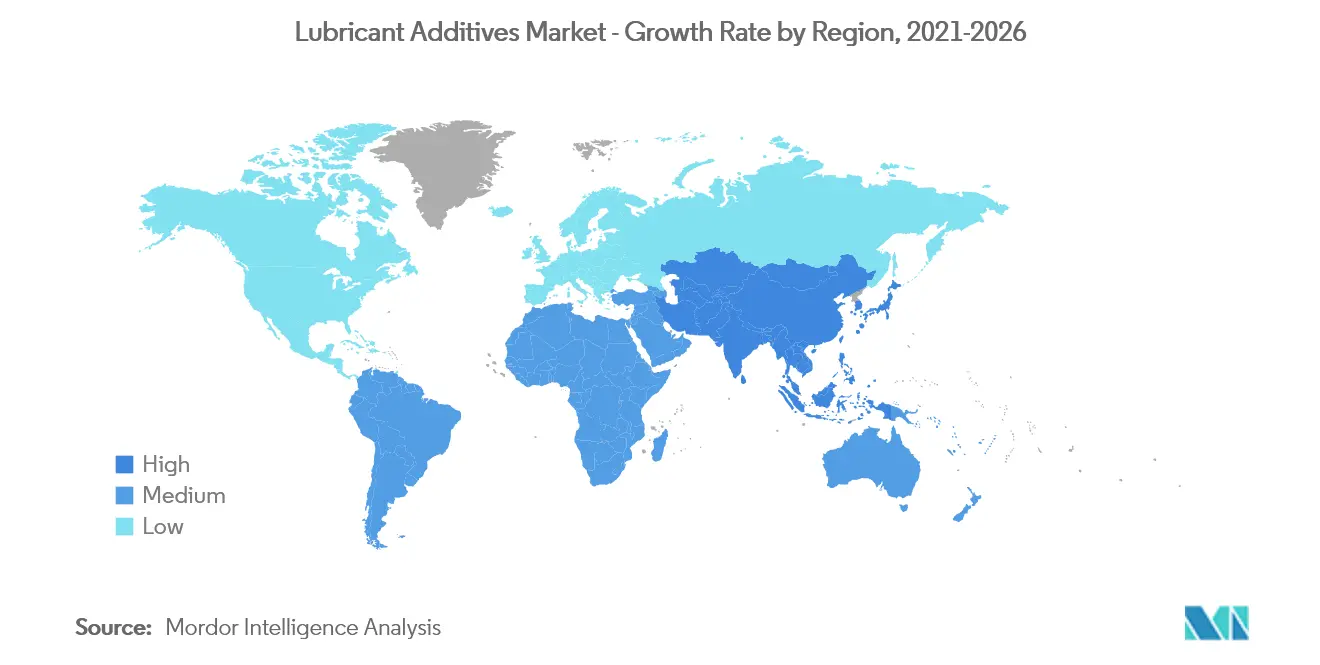 To understand geography trends, Download Sample Report
Competitive Landscape
The global lubricant additives market is partially consolidated, with the top four-five players accounting for a moderate share of the market demand. Few of the market leaders are backwardly integrated, i.e., they manufacture the raw materials required to manufacture various lubricant additives themselves. A few companies are forwardly integrated, with a prominent presence in the lubricant distribution market. Key players in the lubricant additives market include Evonik Industries AG, Italmatch Chemicals SpA(The Elco Corporation), Infineum International Limited, The Lubrizol Corporation, and Afton Chemical Corporation.
Recent Developments
In September 2020, Chevron Oronite Brasil Ltda signed an agreement to name quantiQ Distribuidora Ltda as its distributor in Brazil. The agreement involves OLOA lubricant additives, OGA gasoline additives, PARATONE viscosity modifiers (VM), and the distribution of oronite chemicals.
Table of Contents
1. INTRODUCTION

1.1 Study Assumptions

1.2 Scope of the Study

2. RESEARCH METHODOLOGY

3. EXECUTIVE SUMMARY

4. MARKET DYNAMICS

4.1 Drivers

4.1.1 Stringent Environmental Regulations Regarding Emissions

4.1.2 Industrial Growth in Middle-East and Africa

4.2 Restraints

4.2.1 Extended Oil Change Intervals in Machinery and Automobiles

4.2.2 Impact of COVID-19 Pandemic

4.3 Industry Value Chain Analysis

4.4 Porter's Five Forces Analysis

4.4.1 Threat of New Entrants

4.4.2 Bargaining Power of Buyers/Consumers

4.4.3 Bargaining Power of Suppliers

4.4.4 Threat of Substitute Products

4.4.5 Intensity of Competitive Rivalry

5. MARKET SEGMENTATION

5.1 Function

5.1.1 Dispersants and Emulsifiers

5.1.2 Viscosity Index Improvers

5.1.3 Detergents

5.1.4 Corrosion Inhibitors

5.1.5 Oxidation Inhibitors

5.1.6 Extreme-pressure Additives

5.1.7 Friction Modifiers

5.1.8 Other Functions

5.2 Lubricant Type

5.2.1 Engine Oil

5.2.2 Transmission and Hydraulic Fluid

5.2.3 Metalworking Fluid

5.2.4 General Industrial Oil

5.2.5 Gear Oils

5.2.6 Grease

5.2.7 Process Oil

5.2.8 Other Lubricant Types

5.3 End-user Industry

5.3.1 Automotive and Other Transportation

5.3.2 Power Generation

5.3.3 Heavy Equipment

5.3.4 Metallurgy and Metal Working

5.3.5 Food Processing

5.3.6 Other End-users Industries

5.4 Geography

5.4.1 Asia-Pacific

5.4.1.1 China

5.4.1.2 India

5.4.1.3 Japan

5.4.1.4 South Korea

5.4.1.5 ASEAN Countries

5.4.1.6 Rest of Asia-Pacific

5.4.2 North America

5.4.2.1 United States

5.4.2.2 Mexico

5.4.2.3 Canada

5.4.3 Europe

5.4.3.1 Germany

5.4.3.2 United Kingdom

5.4.3.3 Russia

5.4.3.4 Italy

5.4.3.5 France

5.4.3.6 Rest of Europe

5.4.4 South America

5.4.4.1 Brazil

5.4.4.2 Argentina

5.4.4.3 Rest of South America

5.4.5 Middle-East and Africa

5.4.5.1 Saudi Arabia

5.4.5.2 South Africa

5.4.5.3 Rest of Middle-East and Africa

6. COMPETITIVE LANDSCAPE

6.1 Mergers and Acquisitions, Joint Ventures, Collaborations, and Agreements

6.2 Market Ranking Analysis

6.3 Strategies Adopted by Leading Players

6.4 Company Profiles

6.4.1 Afton Chemical

6.4.2 BASF SE

6.4.3 BRB International

6.4.4 Chevron Corporation

6.4.5 Croda International PLC

6.4.6 DOG Deutsche Oelfabrik Gesellschaft fur chemische Erzeugnisse GmbH & Co. KG

6.4.7 Dorfketal Chemicals (I) Pvt Ltd

6.4.8 Dover Chemical Corporation

6.4.9 Evonik Industries AG

6.4.10 Infineum International Limited

6.4.11 Italmatch Chemicals SpA (The Elco Corporation)

6.4.12 Jinzhou Kangtai Lubricant Additives Co. Ltd

6.4.13 King Industries Inc.

6.4.14 Kemipex

6.4.15 LANXESS

6.4.16 Multisol

6.4.17 RT Vanderbilt Holding Company Inc.

6.4.18 Shepherd Chemical

6.4.19 The Lubrizol Corporation

6.4.20 Wuxi South Petroleum Additives Co. Ltd

*List Not Exhaustive

7. MARKET OPPORTUNITIES AND FUTURE TRENDS

7.1 Growing Popularity of High-performance Lubricants in Asia-Pacific
**Subject to Availability
You can also purchase parts of this report. Do you want to check out a section wise price list?
Frequently Asked Questions
What is the study period of this market?
The Lubricant Additives Market market is studied from 2016 - 2026.
What is the growth rate of Lubricant Additives Market?
The Lubricant Additives Market is growing at a CAGR of 3.04% over the next 5 years.
Which region has highest growth rate in Lubricant Additives Market?
Asia Pacific is growing at the highest CAGR over 2021- 2026.
Which region has largest share in Lubricant Additives Market?
Asia Pacific holds highest share in 2020.
Who are the key players in Lubricant Additives Market?
Evonik Industries AG, Infineum International Limited, The Lubrizol Corporation, Italmatch Chemicals SpA (The Elco Corporation), Afton Chemical Corporation are the major companies operating in Lubricant Additives Market.
80%

of our clients seek made-to-order reports. How do you want us to tailor yours?