Market Snapshot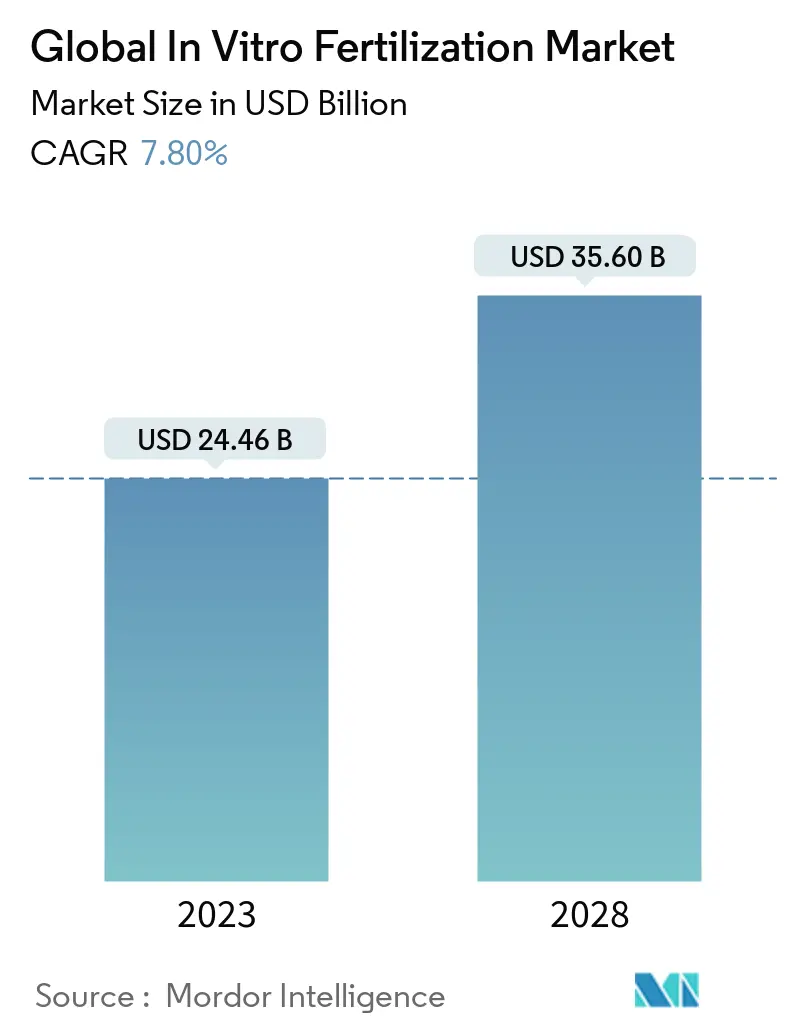 Study Period:
2019-2027
Base Year:
2021
Fastest Growing Market:
Asia Pacific
Largest Market:
North America
CAGR:
8.2 %
Need a report that reflects how COVID-19 has impacted this market and its growth?
Market Overview
The in vitro fertilization market is expected to register a CAGR of 9.8% over the forecast period (2022-2027).
The impact of the COVID-19 pandemic on the studied market is expected to be significant because most countries around the world have adopted their strategies to reduce and eliminate coronavirus spread. COVID-19 pandemic triggered the worldwide suspension of in vitro fertilization treatment; this had a profound impact on women undergoing IVF procedures. For instance, in 2021 an article titled. "Infertility Management Disruption During the COVID-19 Outbreak in a Middle-Income Country: Patients' Choices, Attitudes, and Concerns" reported that patients have faced uncertainty regarding the achievability of their long-term fertility goals amidst an atmosphere of general unpredictability for the duration and extent of disruption of their treatment, combined with the fear of infection. Therefore, it is necessary to highlight the need to address how infertility services can be maintained during such unprecedented times to seek treatment during an outbreak while minimizing the risk of contracting COVID-19 in the process. The decrease in IVF treatment observed in the United Kingdom was likely due to difficulty in accessing treatments such as clinic closures or delays in accessing tests or surgeries before starting treatment. Moreover, COVID-19 infection did not affect the patients' performance or ovarian reserve in their immediate subsequent IVF cycle, but it also resulted in a reduced proportion of top-quality embryos (QTEs). Thus, the impact of COVID-19 on IVF treatments between 2019 and 2020 varied across the United Kingdom was observed. Additionally, in 2022 Human Fertilization and embryology reported that the largest decreases in IVF treatment by nation were seen in Wales (-39%), followed by Scotland (-27%), and IVF cycles in England were reduced by the least of any nation (-19%).
However, the rising success rate of IVF technology, increasing awareness about IVF technology, and delayed onset of pregnancies are the main driving factors for this market. The increasing awareness of advanced in vitro fertilization (IVF) techniques, and rising success rates of IVF, have stimulated the demand for in vitro fertilization techniques worldwide. For instance, in 2021, the National Perinatal and Statistics Unit reported that IVF success rates have improved significantly over the last 10 years, and the live birth rate per initiated IVF cycle in women using their eggs has increased by 18% overall, with even steeper improvements in older age groups. The overall live birth rate per embryo transfer has increased up to 28% in 2020. The improved success rates are due to many factors, including advancements in laboratory techniques and improvements in the overall management of couples experiencing infertility, such as lifestyle interventions, improved diagnostic capabilities, and in some cases surgery before IVF.
Another reason driving this market is rising cases of infertility. For instance, in 2022 according to the article titled, "In vitro Fertilization" StatsPearl publishing, reported that globally 10-12% of couples have difficulty in conceiving, and this number is gradually increasing in the coming years. IVF now accounts for 1.6% and 4.5% of all live births in the United States and Europe, respectively. Also, the same article quoted that approximately 25% to 35% of infertile women are found to have tuboperitoneal disease, with pelvic inflammatory disease (PID) being the most common cause of infertility, and poor semen quality in men is the sole cause of infertility in 20% of couples. Infertility affects approximately 1 in 8 couples in the United States. In the last three decades over 5 million children worldwide have been conceived via IVF technologies. Thus, the infertility-related problems among couples have stimulated the demand for in vitro fertilization techniques worldwide.
The proportion of women intentionally delaying pregnancies beyond the age of 35 has been increasing in the past few years. A delay in pregnancy commonly causes infertility. In many cases, delayed pregnancies result in pregnancy-related complications and an increased risk of infertility. For instance, in 2021 the Centers for Disease Control and Prevention (CDC) reported that 10% of women (6.1 million) in the United States aged between 15-44 years have difficulty getting pregnant or staying pregnant each year. In addition, according to a study by the Hebrew University of Jerusalem, men's sperm counts have decreased by more than half in the last 40 years. According to the United Nations World Fertility Report 2022, the average fertility of the world's population stood at 2.3 births per woman over a lifetime in 2021, having fallen from about 5 births per woman in 1950. Global fertility is projected to decline further to 2.1 births per woman by 2050. One possible reason for decreasing infertility rates can be the increasing number of infertility-related disorders.
The growing awareness and advancements in IVF technology, the rising number of delayed pregnancies, and increasing infertility among couples are the reasons which have boosted the IVF market. However, the market's growth is expected to be limited over the forecast period due to the complications associated with IVF and the associated socio-ethical issues.
Scope of the Report
As per the scope of the report, in vitro fertilization is an assistive reproductive technology, which involves the process of fertilization by retrieving eggs from the woman's ovaries and fertilizing them with sperm outside the body, in a laboratory environment. The In Vitro Fertilization Market is Segmented by Product Type (Reagent and Instrument (Imaging Systems, Incubators, Cryosystems, IVF Cabinet, Ovum Aspiration Pump, Sperm Separation Systems, Micromanipulator Systems, and Other Instruments)), End User (Fertility Clinics, Hospitals, and Other End Users), and Geography (North America, Europe, Asia-Pacific, Middle-East and Africa, and South America). The market report also covers the estimated market sizes and trends for 17 different countries across major regions, globally. The report offers the value (USD million) for all the above segments.
By Product
Reagent

Instrument
Imaging Systems
Incubators
Cryosystems
IVF Cabinet
Ovum Aspiration Pump
Sperm Separation Systems
Micromanipulator Systems
Other Instruments
By End User
Fertility Clinics
Hospitals
Other End Users
Geography

North America
United States
Canada
Mexico

Europe
Germany
United Kingdom
France
Italy
Spain
Rest of Europe

Asia-Pacific
China
Japan
India
Australia
South Korea
Rest of Asia-Pacific

Middle-East and Africa
GCC
South Africa
Rest of Middle-East and Africa

South America
Brazil
Argentina
Rest of South America
Key Market Trends
The Sperm Separation Systems Segment is Estimated to Hold the Largest Share in Terms of Revenue over the Forecast Period
In most assisted reproductive technologies (ART), such as in vitro fertilization (IVF) and artificial insemination, sperm separation systems are used. These systems are critical for assisted reproductive technologies (ARTs) because they provide purified samples that can be used in subsequent procedures. These systems are crucial for ARTs as they provide purified samples for further procedures. Furthermore, the rising focus of companies on developing novel devices for use in assisted reproductive technology (ART) procedures conducted by fertility clinics and obstetrician-gynecologist (OB/GYN) practices is driving the market growth.
Sperm selection is crucial to assisted reproduction, influencing the success rate of the treatment cycle and offspring health. However, in the current clinical sperm selection practices, bypassing almost all the natural selection barriers is a major concern. Additionally, the market is being driven by companies increasing focus on developing novel devices for use in assisted reproductive technology (ART) procedures performed by fertility clinics and obstetrician-gynecologist (OB/GYN) practices. For instance, in October 2020, Trivector Biomed LLP introduced ZyMōt Sperm Separation Device, a new-age 'Lab-On-Chip' IVF Solution in India. These separation devices are cutting-edge lab-on-a-chip technologies that use microfluidics and micro-filtration technology to efficiently isolate the healthiest, fastest-progressing sperm for the best possible results. With the male factor accounting for nearly half of all infertility cases, a novel method that eliminates many potentially harmful phases of sperm handling in the lab is a much-needed medical intervention in the IVF field.
The other technological advancement in sperm seperation segment is another reason to drive this market segment. For instance, in March 2022 Malta in an international collaboration, with a with Pera Labs's commercialization advisors at the University City Science Center has announced the start of research and development of an AI-powered sperm and egg selection technology for fertility treatments. Pera Labs's Malta operations has accelerated by the EUR 800,000 of financial support from Malta Enterprise, coupled with Pera Labs's own financing.
The use of sperm syringes to select high-quality sperm is another reason to drive this market segment. For instance, in 2022 an article titled, "Sperm Syringe: 3D Sorting Platform for Assisted Reproduction" reported that a sperm syringe provides the maximum contact area between 1.5 mL of the semen sample and selection events thereby enabling a highly parallelized and rapid sorting mechanism. This retrieval efficiency provides a sufficient volume and number of high-quality sperm for droplet-based IVF and Intrauterine insemination (IUI) to more frequently avoid the more invasive Intra cytoplasmic sperm injections (ICSI) procedure. Additionally, as per the research article published in BioRXiV, 2020, a new microchamber-based microfluidics platform was studied to separate only the progressively motile sperm directly from a raw semen sample in a short period of approximately 10 minutes.
Therefore, due to the rapid advancements in technology and accuracy of the sperm selection procedures, the sperm separation systems segment, is expected to witness significant growth over the forecast period.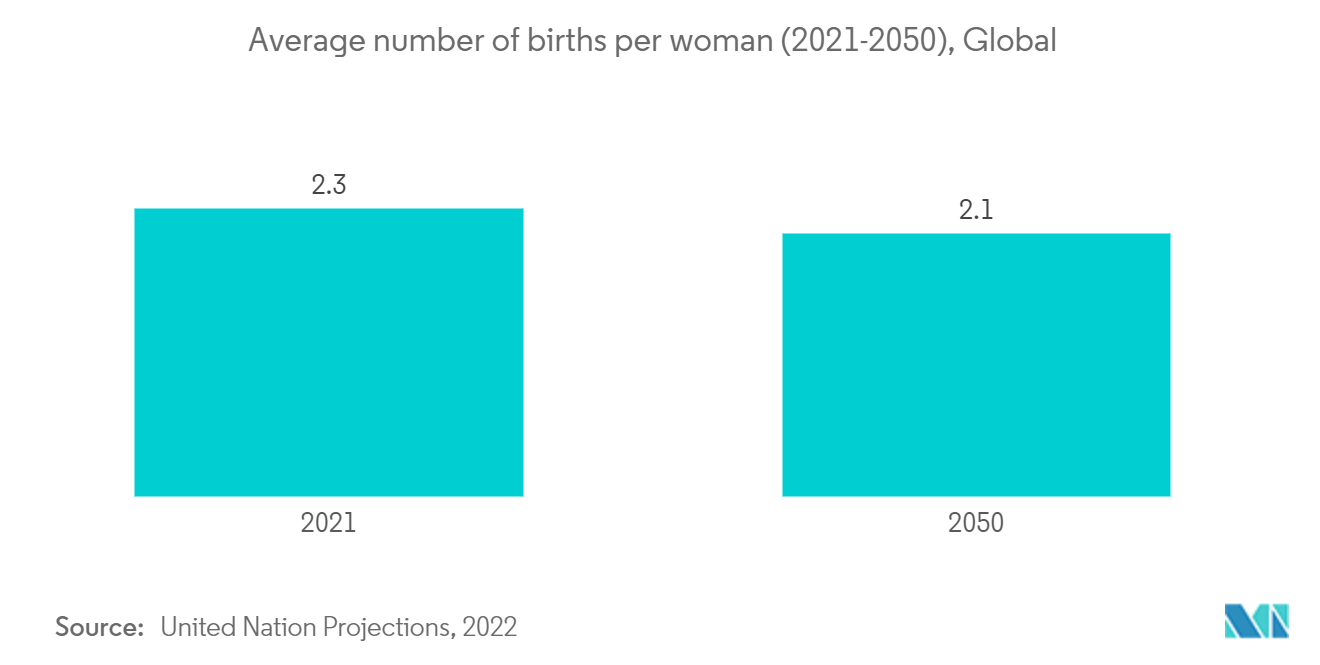 To understand key trends, Download Sample Report
North America Holds a Significant Share in the Market, and it is Expected to do the Same over the Forecast Period
The North American market dominates due to the presence of various leading players in this region, the regulatory reforms, the rising prevalence of associated conditions such as polycystic ovary syndrome (PCOS), standardization of procedures, government funding for sperm and egg storage, and a constant rise in the incidence of infertility in both sexes are all the reasons to drive in vitro fertilization treatments procedures in North America.
For instance, in 2020, in the SingleCare online survey, 20 percent of respondents received in vitro fertilization (IVF) in the United States. In addition, 19% of respondents said they had polycystic ovarian syndrome (PCOS), and 25% said they were infertile for unknown reasons. As a result, the market's growth is being fueled by the high incidence of infertility.
Infertility treatment device demand is being driven by factors such as newly opened fertility centers and reimbursement policies for infertility treatment. For example, as of August 2020, 19 states had passed fertility insurance coverage laws, 13 of which covered IVF, and 10 states had passed fertility preservation laws for iatrogenic (medically-induced) infertility. As a result, the rate of treatment will rise, and demand for fertility treatment devices will rise as well. Additionally, in September 2020, Inception Fertility (Inception) launched a new network of clinics in Atlanta and Georgia named Pathways Fertility (Pathways) to shift the paradigm of the fertility market and enhance the patient experience. This may boost the treatment rate among the infertile population, thereby positively influencing regional growth.
Furthermore, the presence of well-established market players, newly launched products, and rising product approvals all contribute to market expansion. For instance, in 2021 Cooper Companies announced the acquisition of Generate Life Sciences, a leading provider of donor egg and sperm for fertility treatments, fertility cryopreservation services, and newborn stem cell storage (cord blood & cord tissue). By this acquisition, CooperSurgical will be able to provide fertility clinics and Obstetrics and Gynaecology an even stronger offering and Cooper Surgical is looking forward to delivering these products and services to the customers.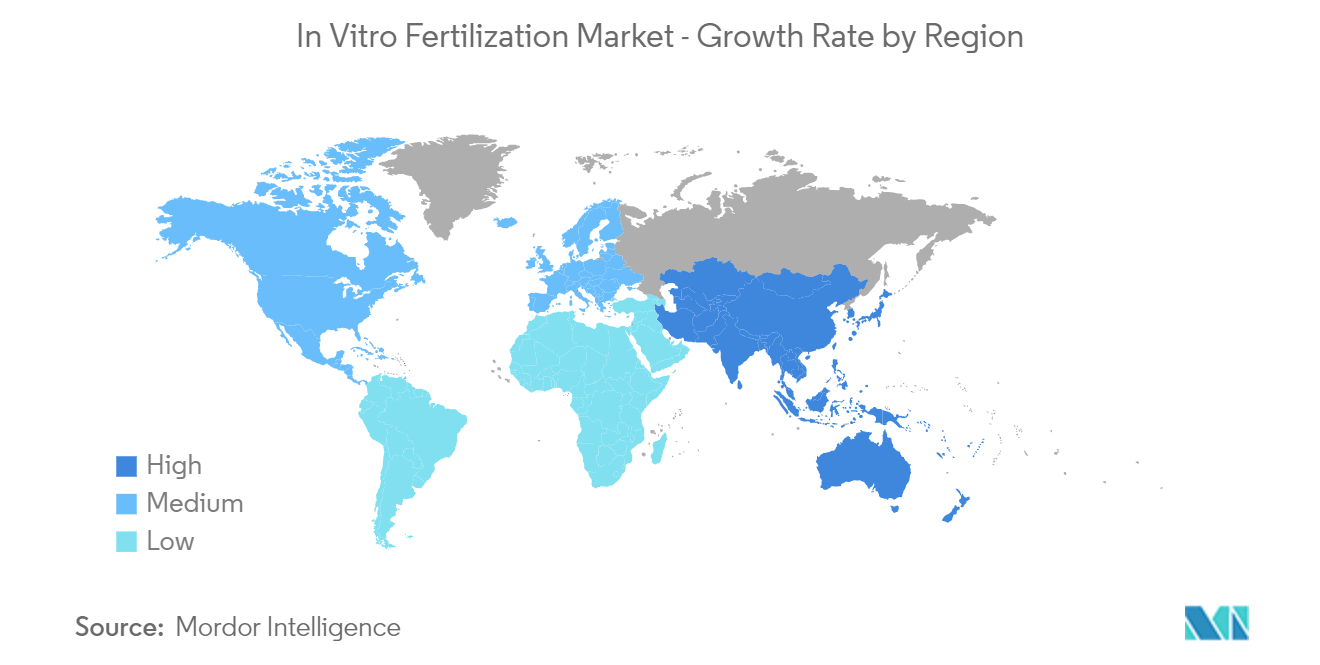 To understand geography trends, Download Sample Report
Competitive Landscape
The in vitro fertilization market is fragmented in nature due to the presence of several companies operating globally as well as regionally. The competitive landscape includes an analysis of a few international as well as local companies which hold the market shares including Cook Group Incorporated, Cooper Surgical Inc., Fujifilm Holdings Corporation, Genea Biomedx Pty Ltd, Hamilton Thorne Ltd., Merck KGaA, Nidacon International AB, Nikon Corporation, Thermo Fisher Scientific Inc., Vitrolife AB, INVO Bioscience, Esco Micro Pte Ltd, IVFtech APS, Oxford Gene Technology, Kitazato Corporation, Rocket Medical PLC, Ovascience Inc., Bayer AG, Progyny Inc., Boston IVF.
Recent Developments
In January 2022, Boston IVF, one of the world's most experienced fertility providers, announced its partnership with the Delaware Institute for Reproductive Medicine (DIRM). The unique partnership is to deliver world-class fertility treatments and care locally through innovative treatments like in vitro fertilization (IVF), preimplantation genetic testing, male infertility, and others.
In December 2021, Multiply, an IVF-tech firm, unveiled an AI-based platform designed to replace traditional operations in IVF facilities.
Table of Contents
1. INTRODUCTION

1.1 Study Assumptions and Market Definition

1.2 Scope of the Study

2. RESEARCH METHODOLOGY

3. EXECUTIVE SUMMARY

4. MARKET DYNAMICS

4.1 Market Overview

4.2 Market Drivers

4.2.1 Rising Success Rate of IVF Technology

4.2.2 Increasing Awareness about IVF Technology

4.2.3 Delayed Onset of Pregnancies

4.3 Market Restraints

4.3.1 Complications Associated with In Vitro Fertilization

4.3.2 Social Stigma, Ethical, and Legal Issues Associated with In Vitro Fertilization

4.4 Porter's Five Forces Analysis

4.4.1 Threat of New Entrants

4.4.2 Bargaining Power of Buyers/Consumers

4.4.3 Bargaining Power of Suppliers

4.4.4 Threat of Substitute Products

4.4.5 Intensity of Competitive Rivalry

5. MARKET SEGMENTATION (Market Size by Value – USD million)

5.1 By Product

5.1.1 Reagent

5.1.2 Instrument

5.1.2.1 Imaging Systems

5.1.2.2 Incubators

5.1.2.3 Cryosystems

5.1.2.4 IVF Cabinet

5.1.2.5 Ovum Aspiration Pump

5.1.2.6 Sperm Separation Systems

5.1.2.7 Micromanipulator Systems

5.1.2.8 Other Instruments

5.2 By End User

5.2.1 Fertility Clinics

5.2.2 Hospitals

5.2.3 Other End Users

5.3 Geography

5.3.1 North America

5.3.1.1 United States

5.3.1.2 Canada

5.3.1.3 Mexico

5.3.2 Europe

5.3.2.1 Germany

5.3.2.2 United Kingdom

5.3.2.3 France

5.3.2.4 Italy

5.3.2.5 Spain

5.3.2.6 Rest of Europe

5.3.3 Asia-Pacific

5.3.3.1 China

5.3.3.2 Japan

5.3.3.3 India

5.3.3.4 Australia

5.3.3.5 South Korea

5.3.3.6 Rest of Asia-Pacific

5.3.4 Middle-East and Africa

5.3.4.1 GCC

5.3.4.2 South Africa

5.3.4.3 Rest of Middle-East and Africa

5.3.5 South America

5.3.5.1 Brazil

5.3.5.2 Argentina

5.3.5.3 Rest of South America

6. COMPETITIVE LANDSCAPE

6.1 Company Profiles

6.1.1 Cook Group Incorporated

6.1.2 CooperSurgical Inc.

6.1.3 Fujifilm Holdings Corporation

6.1.4 Genea Biomedx Pty Ltd

6.1.5 Hamilton Thorne Ltd

6.1.6 Merck KGaA

6.1.7 Nidacon International AB

6.1.8 Nikon Corporation

6.1.9 Thermo Fisher Scientific Inc.

6.1.10 Vitrolife AB

6.1.11 INVO Bioscience

6.1.12 IVFtech APS

6.1.13 Oxford Gene Technology

6.1.14 Kitazato Corporation

6.1.15 Rocket Medical PLC

6.1.16 Ovascience Inc.

6.1.17 Bayer AG

6.1.18 Boston IVF

*List Not Exhaustive

7. MARKET OPPORTUNITIES AND FUTURE TRENDS
**Competitive Landscape covers- Business Overview, Financials, Products and Strategies and Recent Developments
You can also purchase parts of this report. Do you want to check out a section wise price list?
Frequently Asked Questions
What is the study period of this market?
The Global In Vitro Fertilization Market market is studied from 2019 - 2027.
What is the growth rate of Global In Vitro Fertilization Market?
The Global In Vitro Fertilization Market is growing at a CAGR of 8.2% over the next 5 years.
Which region has highest growth rate in Global In Vitro Fertilization Market?
Asia Pacific is growing at the highest CAGR over 2021- 2026.
Which region has largest share in Global In Vitro Fertilization Market?
North America holds highest share in 2021.
Who are the key players in Global In Vitro Fertilization Market?
Thermo Fisher Scientific Inc., Vitrolife AB, Fujifilm Corporation, Merck KGaA, Nikon Corporation are the major companies operating in Global In Vitro Fertilization Market.
80%

of our clients seek made-to-order reports. How do you want us to tailor yours?