Internet of Things (IoT) Industry Overview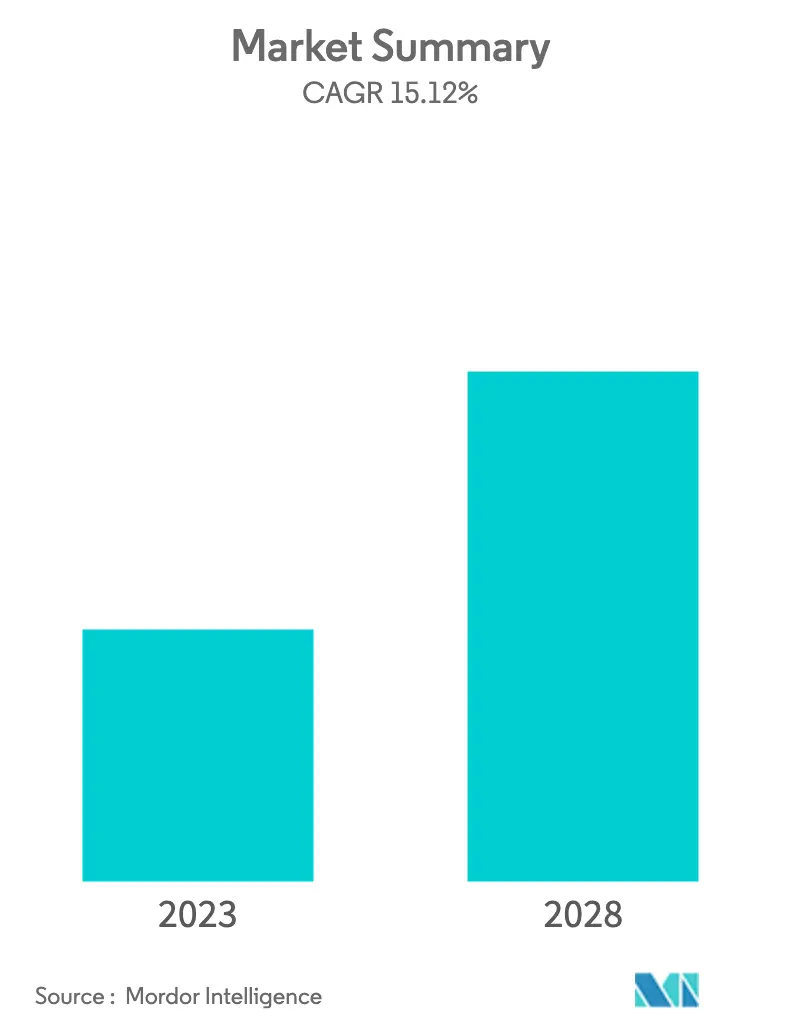 Study Period:
2018 - 2028
Fastest Growing Market:
Asia Pacific
Largest Market:
North America
CAGR:
10.53 %

Major Players

*Disclaimer: Major Players sorted in no particular order
Need a report that reflects how COVID-19 has impacted this market and its growth?
Internet of Things (IoT) Market Analysis
The IoT market is expected to register a CAGR of 10.53% during the forecast period (2022-2027). During the Covid-19 pandemic, the vendors in the market are collaborating with several organizations to offer emerging technology-enabled solutions to the healthcare organizations to help them overcome the crisis effectively. For instance, at the end of January, the Shanghai Public Health Clinical Center (SPHCC) used the California-based connected health startup VivaLNK's continuous temperature measuring device to monitor COVID-19 patients, which therefore reduces the risks of caregivers being exposed to the virus.
IoT technology is the keystone for various organizations to digitally transform, thus, empowering them to upgrade the existing processes by creating and tracking new business models. Enterprises and service providers have been looking at IoT as the key enabler to augment digital transformation and unlock operational efficiencies. The growing adoption of IoT technology across end-user industries, such as manufacturing, automotive, and healthcare, is driving the market's growth positively. With the traditional manufacturing sector amid a digital transformation, IoT is fueling the next industrial revolution of intelligent connectivity. This is changing the way industries approach increasingly complex processes of systems and machines to improve efficiency and reduce downtime.
Industry 4.0 and IoT are at the center of new technological approaches for the development, production, and management of the entire logistics chain, otherwise known as smart factory automation. Massive shifts in manufacturing due to Industry 4.0 and acceptance of IoT require enterprises to adopt agile, smarter, and innovative ways to advance production with technologies that complement and augment human labor with robotics and reduce industrial accidents caused by a process failure. With the high rate of adoption of connected devices and sensors and the enabling of M2M communication, there has been a surge in data points that are generated in the manufacturing industry. These data points can be of various kinds, ranging from a metric describing the time taken for the material to pass through one process cycle or a more advanced one, such as the calculation of the material stress capability in the automotive industry.
According to Zebra's Manufacturing Vision Study, smart asset tracking solutions based on IoT and RFID are expected to overtake traditional, spreadsheet-based methods by 2022. A study by the Industrial IoT (IIoT) company, Microsoft Corporation, found that 85% of companies have at least one IIoT use case project. This number may increase, as 94% of respondents claimed that they would implement IIoT strategies in 2021.
The advancements in field devices, sensors, and robots are expected to further expand the scope of the market. IoT technologies are overcoming the labor shortage in the manufacturing sector. For more and more organizations, using Industry 4.0 technologies, like robotization, is part of day-to-day operations. According to the International Federation of Robotics, the market for collaborative robots is expected to reach a value of USD 12.3 billion by 2025. Intelligent robots work alongside workers and can be programmed by most factory workers to take on the most routine, tedious tasks and deliver with accuracy.
They are increasingly being used in the manufacturing industry as they are easy to train and are making workplace environments safer for humans by taking their place in potentially dangerous situations. Highly trainable and collaborative, robots are also delivering safer working environments for humans by switching places with them in dangerous or unsuitable situations. For instance, autonomous dump trucks used at mining sites can be remotely controlled by operators, eliminating the need for human drivers.
Internet of Things (IoT) Industry Segments
The internet of things (IoT) market is segmented by component (hardware, software/platform, connectivity, and services), end user industry (manufacturing, transportation, healthcare, retail, energy and utilities, residential, government, and insurance), and geography.
IoT is a network of internet-connected objects. These objects collect and exchange data using sensors embedded within them. IoT has combined hardware and software with the internet to create a more technically-driven environment. The scope of study on the IoT market is structured to track the spending on hardware, platforms, and services across end-user industries, such as manufacturing, transportation, retail, healthcare, energy and utilities, and other end-user industries.
By Component
Hardware
Software/Platform
Connectivity
Services
By End-user Industry
Manufacturing
Transportation
Healthcare
Retail
Energy and Utilities
Residential
Other End-user Industries
By Geography
North America
Europe
Asia-Pacific
Latin America
Middle-East and Africa
Internet of Things (IoT) Market Trends
This section covers the major market trends shaping the Internet of Things (IoT) Market according to our research experts:
The Retail Segment to Witness a Significant Growth
The retail industry has been witnessing significant growth over the last two years, especially with the massive expansion of the e-commerce industry, across the world. Hence, retailers are not only utilizing IoT solutions to improve their operational efficiency but also to enhance the customer experience to gain a competitive advantage. Therefore, the reducing cost of IoT-based sensors and connectivity, customer demand for a better shopping experience, and increasing adoption of smart payment solutions are some of the major factors driving the adoption of IoT solutions in the studied segment. IoT is playing a significant role in process automation and enhancing the operational efficiency of retail stores. It provides energy optimization, surveillance and security, supply chain optimization, inventory optimization, and workforce management. IoT is also gaining capabilities in cold chain monitoring for temperature-sensitive grocery and pharmaceutical goods.
Retailers are also utilizing IoT to avoid security pitfalls and are deploying IoT-enabled systems that can withstand jamming in their warehouses and stores. Recently, UK-based RELX launched its first flagship store in China equipped with facial recognition cameras that can alert staff when a suspicious individual enters the store.
IoT is also helping retailers to offer a better customer experience, thereby helping them gain profit margins. For instance, US-based retailer Walgreens has been experimenting with IoT-enabled displays on refrigerator doors that utilize face detection technology to show ads based on approximate age and gender. Many retailers in Europe are also installing small, customizable, IoT-connected dashboards or buttons to gather customer feedback and then use those insights to enhance customer experiences. Companies are also providing IoT-enabled smart-carts that can help customers in many ways, like avoiding checkout queues, helping them navigate, and helping with product information. Retailers are using IoT-enabled smart buttons to offer guests an option to request a service without waiting in line.
Moreover, major E-commerce vendors in the market studied are rapidly adopting cloud and other advanced technologies, such as AI and IoT, to enhance customer and partner experience. This is leading to the generation of huge amounts of data which, in turn, has increased the need for IoT services to be integrated into the system to handle better and manage data. For instance, in June 2021, Alibaba Cloud, the digital technology and intellectual backbone of Alibaba Group, introduced a new one-stop e-commerce live streaming solution to help global merchants of all sizes launch live, interactive channels to offer personalized online shopping experiences. Livestreaming e-commerce solutions are quickly evolving as a response to the increasing demand during the COVID-19 pandemic.​
Furthermore, Amazon has used IoT sensors, artificial intelligence (AI), and cameras in a new format brick-and-mortar store that does not have checkout lines. Customers can use Amazon's Go app to make purchases at the store, which is dubbed Amazon Go. Computer vision, sensor fusion, and deep learning are used in the checkout-free shopping experience, according to a page on the retailer's website.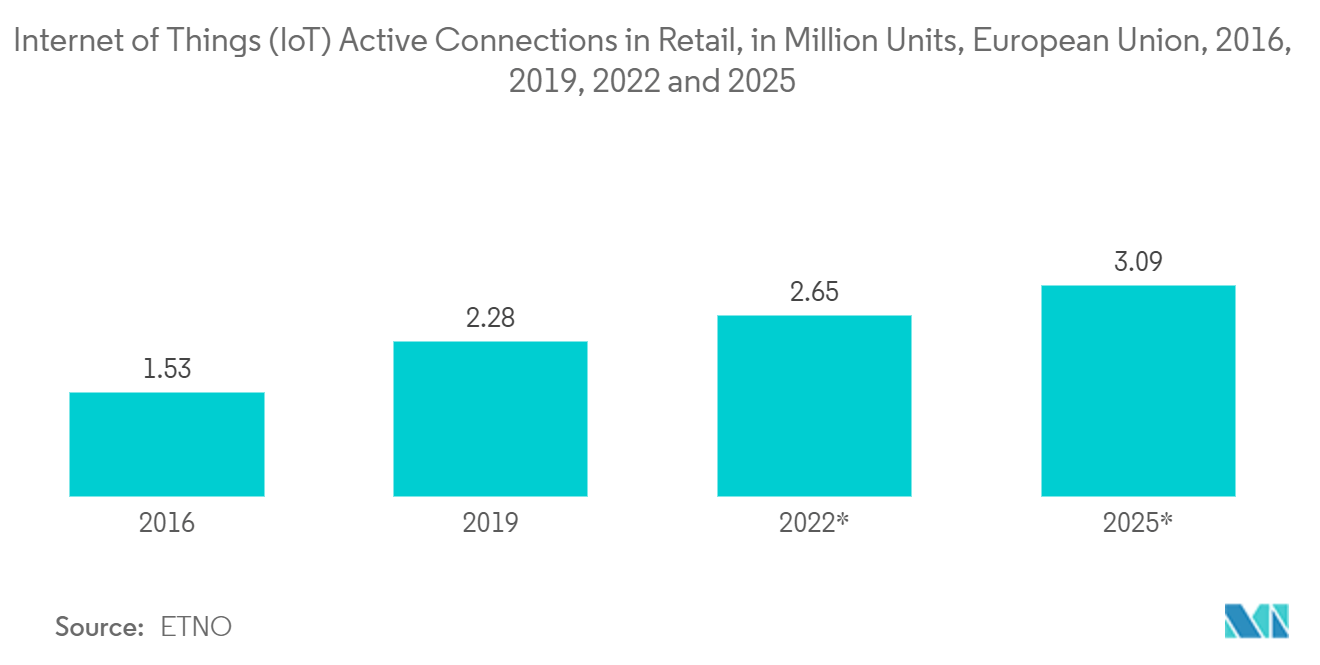 To understand key trends, Download Sample Report
North America to Witness a Significant Growth
North America is expected to be a prominent market, owing to the growing role of IoT among the significant revenue-generating end-user industries of the region, driven by the deployment of connected cars, smart energy projects, home automation, and focus on smart manufacturing. Additionally, rapid digitalization across industry verticals and technological advancements have further fueled the growth of IoT in this region.
Among emerging technologies that are expected to emerge out of the existing technologies that are transforming manufacturing in the United States is expected to include the convergence of AI and IoT, with companies, like SAS Software, touting IoT as the next wave for IoT-based upon AI.​ Currently, in the United States, the utility industry faces complex pressure. As energy consumption globally is on the rise, the US Energy Information Administration estimated it to rise by 48% by 2040, whereas the energy generation through renewable resources has increased significantly in the country further.
Fast and secure 5G connectivity is expected to accelerate the adoption of IoT devices allowing agile operations and flexible production. This technology is anticipated to facilitate automated assembly, automated warehouses, connected logistics, packing and product handling, and the use of autonomous carts. Moreover, awareness about IoT and digital solutions in industries is significantly higher in the region compared to others. According to a study by Mendix in March 2021, 78% of the US manufacturing workers welcome digitalization; in addition, eight in ten manufacturing workers are interested in learning new digital skills. Also, the emerging 5G standards with New Radio (NR) are targeting capabilities, such as vehicle-to-everything and ultra-reliable low-latency communications, as industrial use cases. Additionally, with industrial communication buses standardized by IEC, such as PROFINET and Modbus, the market is headed toward reliable and securer industrial adoption. AT&T, Orange, Vodafone, and Verizon launched roaming capabilities for their IoT devices because of the SIM card's capabilities in the devices. Additionally, Vodafone partnered with AT&T for NB-IoT roaming in the United States and Europe.
Additionally, with smart grids envisioned to take over the entire energy industry in the country, the IoT utilities are expected to gain traction over the forecasted period. For instance, Landis+Gyr, which specializes in smart meter deployments, and Cisco's Catalyst routers for IoT are helping companies manage their grids and collect and make sense of very large volumes of data. The latest line of 5G industrial routers will give utilities an offering that can support the next 15-20 years of an endpoint's life.
Canada also boasts a massive opportunity for the IoT market, but Canadian companies, in comparison to the United States, have been slower to adopt advanced technologies. The Canadian energy sector alternatively has been procuring internet-connected sensors for monitoring a range of activities across generating plants, distribution networks, and smart home meters. CMC Microsystems and AIoT Canada forged a strategic alliance in December 2021. CMC Microsystems, Canada's top hardware technology facilitator, and AIoT Canada, an industrial cluster dedicated to promoting and accelerating the use of Internet of Things technologies in Canada, are pleased to announce a strategic alliance. AIoT Canada will use this cooperation to connect its industrial IoT partners with top experts and institutions across the country.
To understand geography trends, Download Sample Report
Internet of Things (IoT) Market Competitor Analysis
The Internet of Things (IoT) market is highly competitive owing to the presence of many large and small players in the market operating in the domestic and international markets. The market appears to be fragmented due to the presence of many technological giants in the market. Key strategies adopted by the major players in the market are product innovation and mergers and acquisitions. Some of the major players in the market are Cisco Systems, Oracle Corporation, Inc., Google, Inc., IBM Corporation, and Microsoft Corporation.
September 2021 - The University of Birmingham announced the partnership with Siemens to combine artificial intelligence, digital sensor, and analytics technologies that will help change users' behavior to transform their university into the world's smartest global campus. The University of Birmingham aims to deploy Internet of Things (IoT) technology on a large scale.
March 2021 - Oracle announced enhancements to its Oracle Fusion Cloud Supply Chain and Manufacturing platform. The updates include IoT Asset Monitoring and IoT Production Monitoring Capabilities that enable customers to monitor key characteristics of their assets and gain a full view of their production line output.
February 2021 - Siemens, IBM, and Red Hat launched a Hybrid Cloud initiative to increase the real-time value of Industrial IoT Data. Through the joint initiative, Siemens Digital Industries Software will apply IBM's open hybrid cloud approach, built on Red Hat OpenShift, to extend the deployment flexibility of MindSphere, the industrial IoT, as a service solution from Siemens.
Internet of Things (IoT) Market Top Players
Cisco Systems, Inc.

Google, Inc.

IBM Corporation

Microsoft Corporation

Huawei Technologies Co. Ltd
*Disclaimer: Major Players sorted in no particular order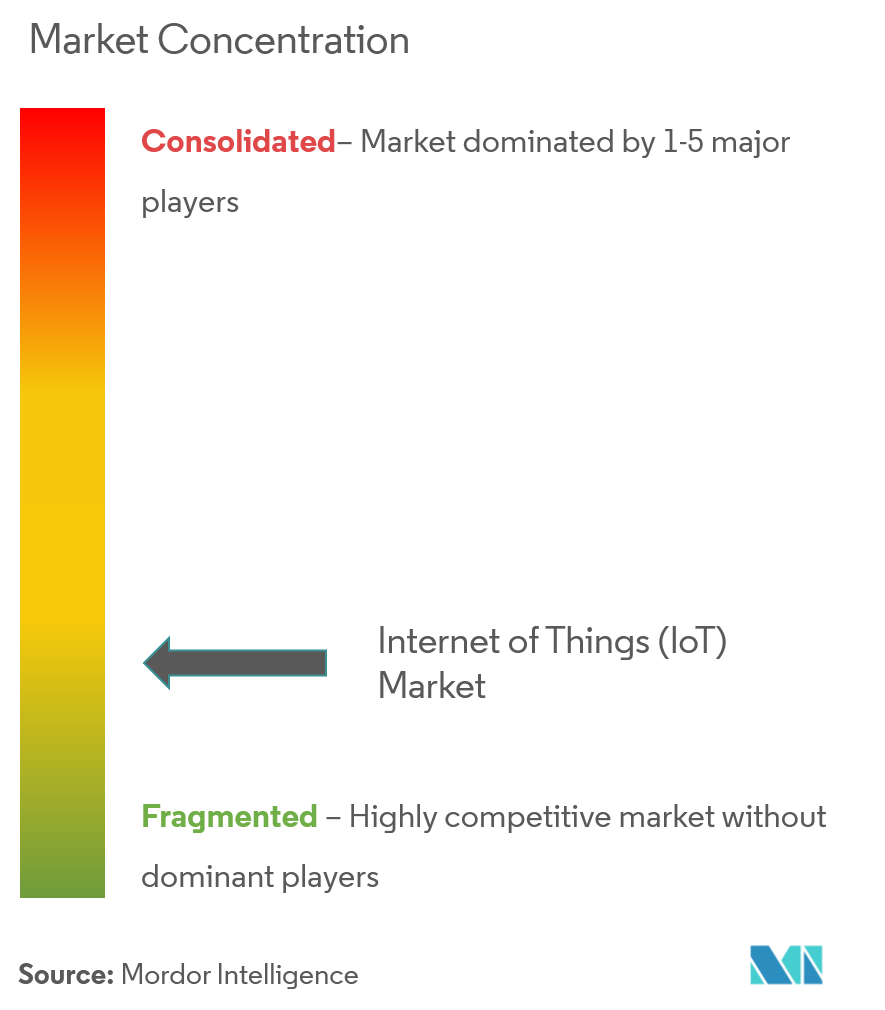 Internet of Things (IoT) Market Recent Developments
September 2021 – Cisco renewed its agreement by signing a new five-year SaaS agreement with Telstra to offer business added insights and visibility to monetize IoT, allowing Telstra to grow new revenue streams and advance its business goals.
August 2021 – IBM announced the expansion of the capabilities of the 5G industry 4.0 testbed at IBM's Industry Solution Lab in Coppell, Texas, with the help of collaboration with Verizon to allow enterprise customers at the lab to test and develop innovations in 5G-enabled use cases for Industry 4.0 applications.
March 2021 - Nokia announced the completion of a narrowband 'Internet of Things (NB-IoT) network deployment in the L 800 band as part of its strategic partnership with Mobily. As a result of this deployment, Mobily and Nokia connected more than 4,000 sites and facilitated NB-IoT cell radius coverage averaging 20 km per cell, which is much wider than normal LTE cells. The completion of the project would increase Mobily's digitalization by offering new NB-IoT services to serve its enterprise customers better.
Internet of Things (IoT) Market Report - Table of Contents
1. INTRODUCTION

1.1 Study Assumptions and Market Definition

1.2 Scope of the Study

2. RESEARCH METHODOLOGY

3. EXECUTIVE SUMMARY

4. MARKET INSIGTHS

4.1 Market Overview

4.2 Industry Attractiveness - Porter's Five Forces Analysis

4.2.1 Bargaining Power of Suppliers

4.2.2 Bargaining Power of Buyers

4.2.3 Threat of New Entrants

4.2.4 Intensity of Competitive Rivalry

4.2.5 Threat of Substitute Products

4.3 Industry Value Chain Analysis

4.4 Regulatory Framework

4.5 Assessment of the Impact of COVID-19 on the Industry

5. MARKET DYNAMICS

5.1 Market Drivers

5.1.1 Increasing Adoption of Connected Devices and Technology Proliferation

5.1.2 Rapid Growth and Technological Advancements in Data Analytics

5.2 Market Restraints

5.2.1 Issues Related to Security and Privacy of Data and Connectivity of Devices and Interoperability

6. USE CASES OF IoT

7. MARKET SEGMENTATION

7.1 By Component

7.1.1 Hardware

7.1.2 Software/Platform

7.1.3 Connectivity

7.1.4 Services

7.2 By End-user Industry

7.2.1 Manufacturing

7.2.2 Transportation

7.2.3 Healthcare

7.2.4 Retail

7.2.5 Energy and Utilities

7.2.6 Residential

7.2.7 Other End-user Industries

7.3 By Geography

7.3.1 North America

7.3.2 Europe

7.3.3 Asia-Pacific

7.3.4 Latin America

7.3.5 Middle-East and Africa

8. COMPETITIVE LANDSCAPE

8.1 Company Profiles

8.1.1 Huawei Technologies Co. Ltd

8.1.2 Robert Bosch GmbH

8.1.3 Google Inc.

8.1.4 Cisco Systems Inc.

8.1.5 PTC Inc.

8.1.6 Siemens AG

8.1.7 Honeywell International Inc.

8.1.8 Koninklijke Philips NV

8.1.9 Aeris Communications Inc.

8.1.10 Amazon Web Services Inc.

8.1.11 IBM Corporation

8.1.12 Microsoft Corporation

8.1.13 General Electric Company

8.1.14 Fujitsu Ltd

8.1.15 Oracle Corporation

8.1.16 SAP SE

8.1.17 AT&T Inc.

8.1.18 Wipro Ltd

*List Not Exhaustive

9. INVESTMENT ANALYSIS

10. FUTURE OF THE MARKET
**Subject to Availability
Internet of Things (IoT) Market Research FAQs
What is the study period of this market?
The Internet of Things (IoT) Market is studied from 2018 - 2028.
What is the growth rate of Internet of Things (IoT) Market?
The Internet of Things (IoT) Market is growing at a CAGR of 10.53% over the next 5 years.
Which region has highest growth rate in Internet of Things (IoT) Market?
Asia Pacific is growing at the highest CAGR over 2018 - 2028.
Which region has largest share in Internet of Things (IoT) Market?
North America holds highest share in 2021.
Who are the key players in Internet of Things (IoT) Market?
Cisco Systems, Inc., Google, Inc., IBM Corporation, Microsoft Corporation, Huawei Technologies Co. Ltd are the major companies operating in Internet of Things (IoT) Market.
Internet of Things (IoT) Industry Reports
In-depth industry statistics and market share insights of the Internet of Things (IoT) sector for 2020, 2021, and 2022. The Internet of Things (IoT) research report provides a comprehensive outlook of the market size and an industry growth forecast for 2023 to 2028. Available to download is a free sample file of the Internet of Things (IoT) report PDF.
80%

of our clients seek made-to-order reports. How do you want us to tailor yours?