India Lubricants Market
The India lubricant market is expected to register a CAGR of 4.64%, during the forecast period, 2018-2023. The major factors driving the growth of the market are the increasing vehicular production along with the growing industrial sector.
Lubricants are majorly used in the industrial sector for the proper functioning of machines. They are also used in automobile for smooth functioning and longevity of engines and other components. Lubricants are available in liquid, semi-fluid, or solid state, and possess various characteristics, such as, high viscosity index, high level of thermal stability, low freezing point, and high boiling point, all of which help to reduce friction between surfaces of machine parts and the rate of wear, without compromising operational efficiency.
Automotive Production and Sales Driving the India Lubricants Market
The major driver for the India lubricant market is the boosting demand from the automotive industry. The sales of new motor vehicles in the country has been on a consistent rise, majorly owing to the growing middle class incomes. The automotive production in India has also been on a rising path with yearly growth rates of over 6%, thus, increasing the demand for engine oils and other lubricants employed in the automotive industry. Though, mineral oils hold the largest share among all the automotive lubricants used in the country, synthetic and semi-synthetic lubricants are expected to grow at a rapid pace during the forecast period.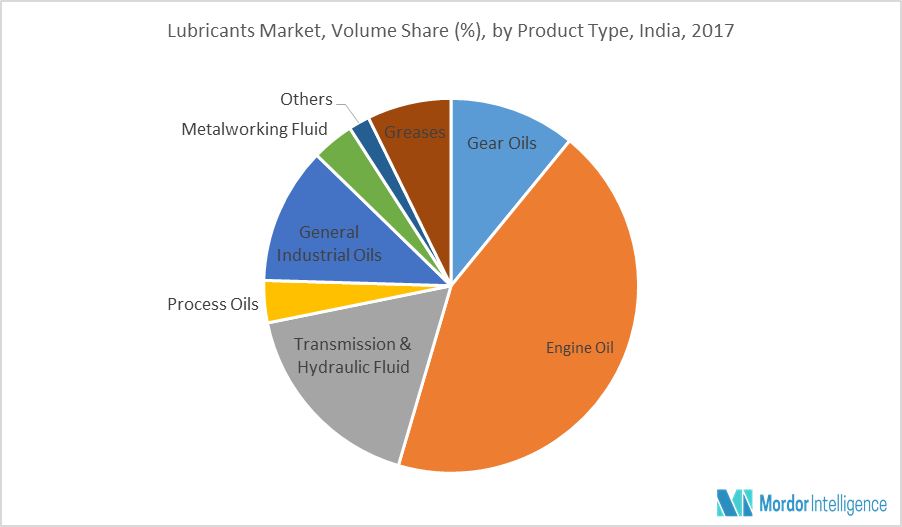 Heavy Equipment Lubricants a Potential Segment
A great deal of demand growth for lubricants is expected from the construction and agriculture industries. Growing investments in the infrastructure sector and other strategic initiatives of the Government of India are expected to boost the construction sector in the country, which, in turn, is anticipated to boost the demand for the lubricants used in construction activities and other heavy equipment in India.
Notable Developments in the India Lubricants Market
October 2017 - Gulf Oil Lubricants India Ltd (Gulf Oil International) announced that its 2nd plant in Chennai is nearing completion and the company expects to start operations from this plant by the end of this year
October 2017 - GP Petroleums Ltd announced that it would be closing its Daman plant after the government discontinued tax benefits under the GST (Goods & Services Tax) system
October 2017 - Suzuki, India's largest car manufacturer has launched Ecstar – its own brand of lubricants and coolants.
India Lubricants Market Major Players:
Gulf Oil Lubricants India.
Indian Oil Corporation Ltd.
Castrol (BP Plc).
Hindustan Petroleum Corporation Limited.
Veedol.
Reasons to Purchase India Lubricants Market Report
Current and future scenario of the india lubricants market
Analyzing various perspectives of the market with the help of Porter's five forces analysis
Product type that is expected to witness fastest growth during the forecast period
Identifying the latest developments, market shares, and strategies employed by the major market players
3-month analyst support, along with the Market Estimate sheet (in Excel)
Customize India Lubricants Market Report
This report can be customized to meet your requirements. Please connect with our representative, who will ensure you to get a report that suits your needs
1. Introduction
1.1 Research Phases
1.2 Study Deliverables
1.3 Scope of the Report
2. Executive Summary
3. Market Insights
3.1 Industry Value Chain Analysis
3.2 Industry Attractiveness- Porters Five Forces Analysis
3.2.1 Bargaining Power of Suppliers
3.2.2 Bargaining Power of Consumers
3.2.3 Threat of New Entrants
3.2.4 Threat of Substitute Products and Services
3.2.5 Degree of Competition
3.3 Regulatory Policy Analysis
4. Market Dynamics
4.1 India Lubricants Market Drivers
4.1.1 Growing Demand from the Automotive Industry
4.1.2 Increasing Construction and Infrastructure Activities in the Country
4.2 India Lubricants Market Restraints
4.2.1 High Price of Synthetic and Bio-Based Lubricants
4.2.2 Others
4.3 India Lubricants Market Opportunities
4.3.1 Booming Manufacturing Sector in the Country
4.3.2 Others
5. Market Segmentation & Analysis (Market Size, Growth and Forecast)
5.1 India Lubricants Market By Product Type
5.1.1 Engine Oil
5.1.2 Transmission & Hydraulic Fluid
5.1.3 Metalworking Fluid
5.1.4 General Industrial Oil
5.1.5 Gear Oil
5.1.6 Greases
5.1.7 Process Oils
5.1.8 Others
5.2 India Lubricants Market By End-User Industry
5.2.1 Power Generation
5.2.2 Automotive & Other trans.
5.2.3 Heavy Equipment
5.2.4 Food & Beverage
5.2.5 Metallurgy & Metal Working
5.2.6 Chemical Manufacturing
5.2.7 Others
6. Future of the India Lubricants Market
7. India Lubricants Market Competitive Landscape
7.1 Mergers, Acquisition, Joint Ventures, Collaborations and Agreements
7.2 Market Share Analysis**
7.3 Strategies Adopted by Leading Players
8. India Lubricants Market Comapnies (Overview, Financials**, Products & Services, and Recent Developments)
8.1 Amsoil Inc.
8.2 Apar Industries Ltd
8.3 Balmer Lawrie & Co. Ltd
8.4 BECHEM
8.5 Blaser Swisslube AG
8.6 BP PLC
8.7 Bharat Petroleum Corporation Limited (BPCL)
8.8 Continental Petroleums Limited
8.9 Exxon Mobil Corporation
8.10 FUCHS
8.11 GP Petrolemus Ltd
8.12 Gulf Oil Lubricants India Ltd (Gulf Oil International)
8.13 Hardcastle Petrofer Pvt Ltd
8.14 HPCL
8.15 Idemitsu Kosan Co. Ltd
8.16 Indian Oil Corporation Ltd (IOCL)
8.17 Klüber Lubrication
8.18 Panama Petrochem Ltd
8.19 Royal Dutch Shell PLC
8.20 Veedol International Limited
8.21 Total Lubricants
*List not exhaustive
9. Disclaimer
**Subject to availability on public domain