The global hybrid memory cube (HMC) market is expected to register a CAGR of 54.82% during the forecast period, 2018-2023. Asia-Pacific accounted for the highest growth rate, and is estimated to witness a CAGR of 58.57% over the forecast period. The scope of the report is limited to solutions offered by major players, including to end users, such as enterprise storage, telecommunications, and various others. The regions considered in the scope of the report include North America, Europe, Asia-Pacific, and Rest of the World. The study also emphasizes on how the demand for supercomputers is driving the market, and how the increasing demand for enterprise storage is affecting the market.
HMC is considered as a technological revolution, representing a paradigm shift from the current memory architectures. It is redefining memory by advancing past the conventional DRAM system. Also, a new standard in the memory market space is being set through the adoption of HMC that can catch up with the advancements of CPUs and GPUs. The growing need for high-performance computing catering to specific demands is expected to increase the demand for HMC. Moreover, it provides improvements in performance, breaking through the memory wall, and enabling dramatic performance and bandwidth improvements. Also, the architecture of HMC is more efficient than current memory, utilizing 70% less energy per bit than the current DRAM technologies. However, the market is still flooded with DRAM's, which can affect the adoption rate of HMC.
Establishment of HMC Consortium
The HMC Consortium is a working group founded by Micron Technology and Samsung Electronics Co. Ltd, and is made up of industry leaders who build, design-in, or enable HMC memory technology. The group works to innovate and expand the capabilities of the next generation of memory-based solutions. The main goal of the HMC Consortium is to facilitate HMC integration into a wide variety of systems, platforms, and applications by defining an adoptable industry-wide interface that enables developers, manufacturers, and enablers to leverage this revolutionary technology. Thus, HMC consortium has been a major driving force for the hybrid memory cube market.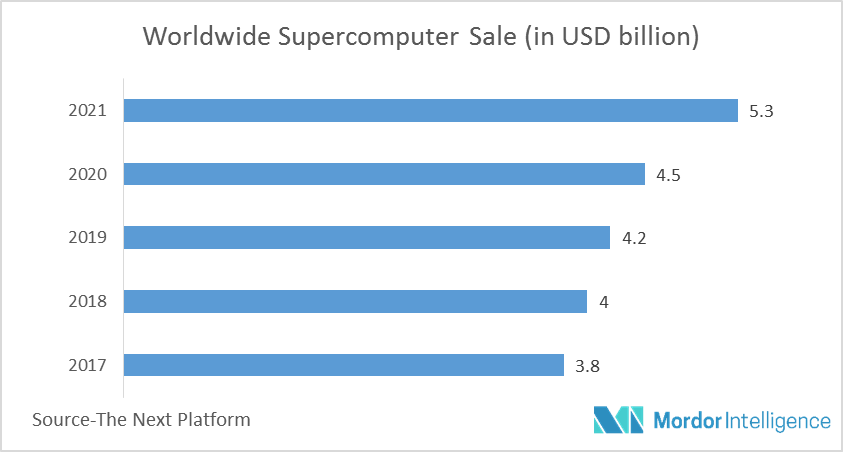 Enterprise Storage to Show Highest Growth
The storage industry generated around 50.1 exabytes of capacity (in Q1 2017), which represented a year-on-year increase of 41% from the preceding year (Q1 2016). It is a segment that includes products & services designed to assist large organizations with saving and retrieving digital information and can surely benefit from HMC technology facilitating faster computing processes. Moreover, with the development of HMC, these applications are exploring the technology as a solution to address increasing computing demand, further driving the hybrid memory cube market forward.
Asia-Pacific to Show Highest Growth Rate
China and Japan are largely responsible for the rapid growth of HMC systems in the Asia-Pacific region. Japan, Korea, and China claim to be one of the prominent hubs of semiconductor manufacturing systems. Industries like retail, healthcare, IT, and telecommunication in the region are in dire need of advanced and fast data processing systems, owing to the increasing consumer base and data traffic. Also, by 2020, China wishes to establish a world-class IC design unit in applications, such as telecommunications, IoT, big data, and cloud computing industries, further boosting the HMC market.
Major key players: Micron Technologies Inc., Intel Corporation, Xilinx Inc., Fujitsu Ltd, Semtech Corporation, Open Silicon Inc., OmniPhy, Achronix Semiconductor Corporation, TekStart LLC, and others.
Key Developments in the Market
April 2017: Intel launched its Optane Memory line for solid-state drives. Optane Memory is designed to accelerate storage subsystems on compatible machines to improve transfer speed and reduce latency. It is one of the first products to leverage 3D Xpoint memory technology that was developed by Micron and Intel, offering properties like NAND flash. This partnership between rival companies is expected to pave the way for other companies to partner and take gain leverage from their field of expertise.
Reasons to Purchase this Report
To examine the need for high-performance computing systems that are expected to change the market scenario
Analyze various market perspectives with the help of Porter's five forces analysis
To find out the end user and region that are expected to dominate the market
Identify the latest developments, market shares, and strategies employed by major market players
3 months analyst support, along with the Market Estimate sheet in excel.
Customization of the Report
This report can be customized to meet your requirements. Please connect with our analyst, who will ensure you get a report that suits your needs.
1. Introduction
1.1 Key Deliverables of the Study
1.2 Study Assumptions
1.3 Market Definition
1.4 Key Findings of the Study
2. Research Approach and Methodology
3. Executive Summary
4. Market Dynamics
4.1 Market Overview
4.2 Factors Driving the Market
4.2.1 Establishment of HMC Consortium
4.2.2 Increasing Demand for Enterprise Storage Application
4.3 Factors Restraining the Market
4.3.1 Strong Presence of Existing DRAMs
4.4 Industry Attractiveness – Porter's Five Forces Analysis
4.4.1 Bargaining Power of Suppliers
4.4.2 Bargaining Power of Consumers
4.4.3 Threat of New Entrants
4.4.4 Threat of Substitute Products or Services
4.4.5 Competitive Rivalry among Existing Competitors
5. Global Hybrid Memory Cube Market Segmentation
5.1 By End User
5.1.1 Enterprise Storage
5.1.2 Telecommunication & Networking
5.1.3 Others
5.2 By Region
5.2.1 North America
5.2.2 Europe
5.2.3 Asia-Pacific
5.2.4 Rest of the World
6. Competitive Intelligence – Company Profiles
6.1 Micron Technologies Inc.
6.2 Intel Corporation
6.3 Xilinx Inc.
6.4 Fujitsu Ltd
6.5 Semtech Corporation
6.6 Open Silicon Inc.
6.7 OmniPhy
6.8 Achronix Semiconductor Corporation
6.9 TekStart LLC
7. Investment Analysis
8. Future of the Hybrid Memory Cube Market