Hebei Data Center Market Size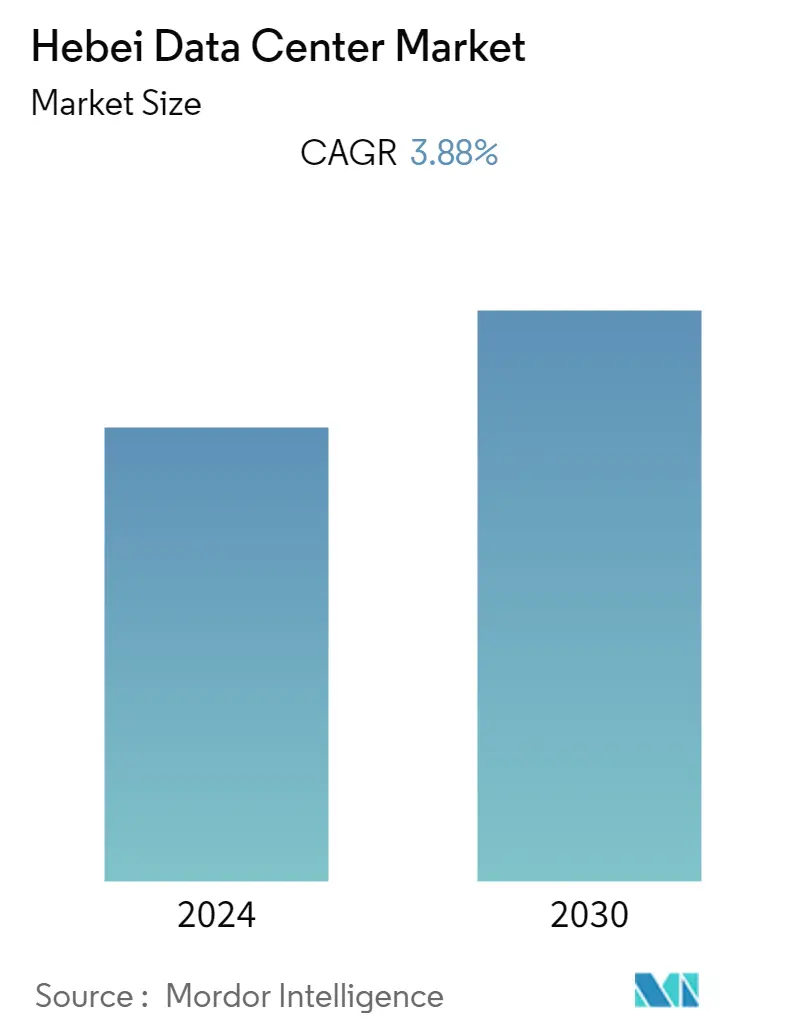 Study Period
2017-2029
Base Year For Estimation
2022
Forecast Data Period
2023 - 2029
Historical Data Period
2018 - 2021
CAGR
3.88 %
Market Concentration
High

Major Players

*Disclaimer: Major Players sorted in no particular order
Need a report that reflects how COVID-19 has impacted this market and its growth?
Hebei Data Center Market Analysis
The Hebei data center market stood at 548.05 MW in 2022 and is expected to register a CAGR of 3.88% during the forecast period to reach a volume of 820.8 MW by the next six years.The main drivers anticipated to drive market expansion are the increasing demand for energy-efficient data centers, considerable investment by colocation and managed service providers, and expanding hyperscale data center buildings. Additionally, the development of big data, cloud computing, and the Internet of Things (IoT) has made it possible for businesses to invest in new data centers to preserve business continuity. Additionally, industrial development is expected to prosper due to the rising need for security, operational efficiency, improved mobility, and bandwidth. Software-based data centers boost industry growth by providing a higher level of automation.
Artificial Intelligence (AI) can be applied to a data center's mechanical and electrical equipment, including data center hardware, to enable actionable insights and automation, saving money for the operator. This requires integrating traditional physics-based modeling approaches with state-of-the-art machine learning (ML) techniques using data from the Internet of Things (IoT) sensors. Many leading companies, such as telecom giant Huawei Technologies, are introducing AI-driven data centers, which help to improve network operations.
With the rise of 5G, new applications like high-resolution cloud gaming, industrial IoT process control, and onsite AR guidance for workers that use 5G's super high speed, low latency, and machine-machine communications are expected to be introduced. With such applications, the 5G rollout will significantly impact many industries, including data center infrastructure and virtualized networking. Network and router upgrades are necessary for data centers to adapt to 5G and more significant updates to existing technologies, such as network functions virtualization (NFV) and software-defined networking (SDN). This will also result in the upgradation of the data center, which forms an essential component of data center network architectures.
Going green is no longer simply an industrial goal but is being aggressively pursued to attain the goal of negative carbon footprints. Businesses and data center service providers are investigating energy efficiency, water usage, and waste output. Organizations like Microsoft aim to make their DC operations run entirely on renewable energy. Companies in the data center technology industry are also experimenting with Tesla Megapack for large-scale energy storage. This will aid in increasing the use of solar energy in large data centers. Businesses' climate action framework will undergo a dramatic paradigm shift in 2022.
Moreover, development centers have undertaken a substantial study on energy efficiency in data centers, concentrating on optimal quality of service, effective resource utilization, and cost-cutting operations. They intend to reduce brown energy consumption by offering a load-balancing strategy that uses available green energy. Load balancing is based on renewable energy and has been used in several data centers. A workload and energy management plan was implemented to reduce network operational and energy costs. Combined cooling, heating, and power (CCHP) systems can also cut carbon emissions and air pollution while increasing resource energy efficiency dramatically.
The outbreak of the COVID-19 pandemic affected data center construction in the market studied as it has delayed the construction of several new facilities. Ongoing construction from enterprises and colocation service providers witnessed a halt. Projects pipeline with openings across Q4 2020 and Q1 2021 are majorly affected. The same has been attributed to data center infrastructure-related supply chain disruptions. With problematic imports already in place, the situation worsened as many vendors are dependent on importing IT and power and cooling infrastructure solutions.
Hebei Data Center Market Trends
Tier 4 Data Centers are Expected to Hold a Significant Share
A Tier-IV data center represents the other end of the range. This tier promises its customers uptime, 2N (two times the quantity needed for operation) cooling, and redundant infrastructure and electricity. These rules could safeguard most companies. Level IV customers hardly ever learn about problems with the data center infrastructures because of these redundancies. These tests serve as a testament to the dependability of top-tier systems. Several independent and physically separate systems act as redundant capacity components and distribution routes in this data center. Separation is necessary to avoid harm from being done to both procedures by a single event. Unexpected or planned disturbances may not have an impact on the ecosystem. The environment may be more susceptible to disruption if a failure happens if redundant components or distribution pathways are closed for repair.
Tier-IV data centers are called "fault-tolerant." Unplanned maintenance does not affect data flow to a Tier-IV data center. Day-to-day operations continue regardless of whether or not assistance is provided. Mega companies frequently select Tier-IV data centers, outperforming all three tiers outlined above. The uptime rates can reach 99.995%, implying that the data center may only have 0.5 hours of downtime per year. A Tier-IV data center also has 96-hour power outage protection and multiple redundancies to ensure the system can continue operating even if significant components fail.
Tier-IV facilities increase the failure tolerance of the Tier-III topology. IT operations will be unaffected if equipment fails or the distribution path is disrupted. All IT equipment must have a fault-tolerant power design to be interoperable. Continuous cooling is also required in Tier-IV data centers to maintain a stable environment. While the redundancy needed to operate and maintain a Tier-IV data center is frequently prohibitively expensive, companies with the resources to reap the benefits of improved performance and dependability do so without hesitation. Government agencies often operate their data centers by Tier-IV data center standards.
One of the primary drivers driving demand for data center systems and technology, propelling the market growth, is the rising cloud technology in data centers. Cloud technology is more adaptable because it can be accessed from various devices, and data may be recovered quickly. On the other hand, cloud computing provides fast speed, which aids the growth of other firms.
According to National Bureau of Statistics of China, As of April 2023, there were over 1.7 billion mobile cell phone subscriptions in China.Such a huge rise in mobile connections would create an opportunity for the studied market to grow. Data centers can be used in a multitude of ways to support smartphone applications. One common use case is to host the backend infrastructure and services that power the app, such as databases, caching servers, and APIs. These services can be housed in a cloud-based data center, which provides scalable computing resources and storage capacity.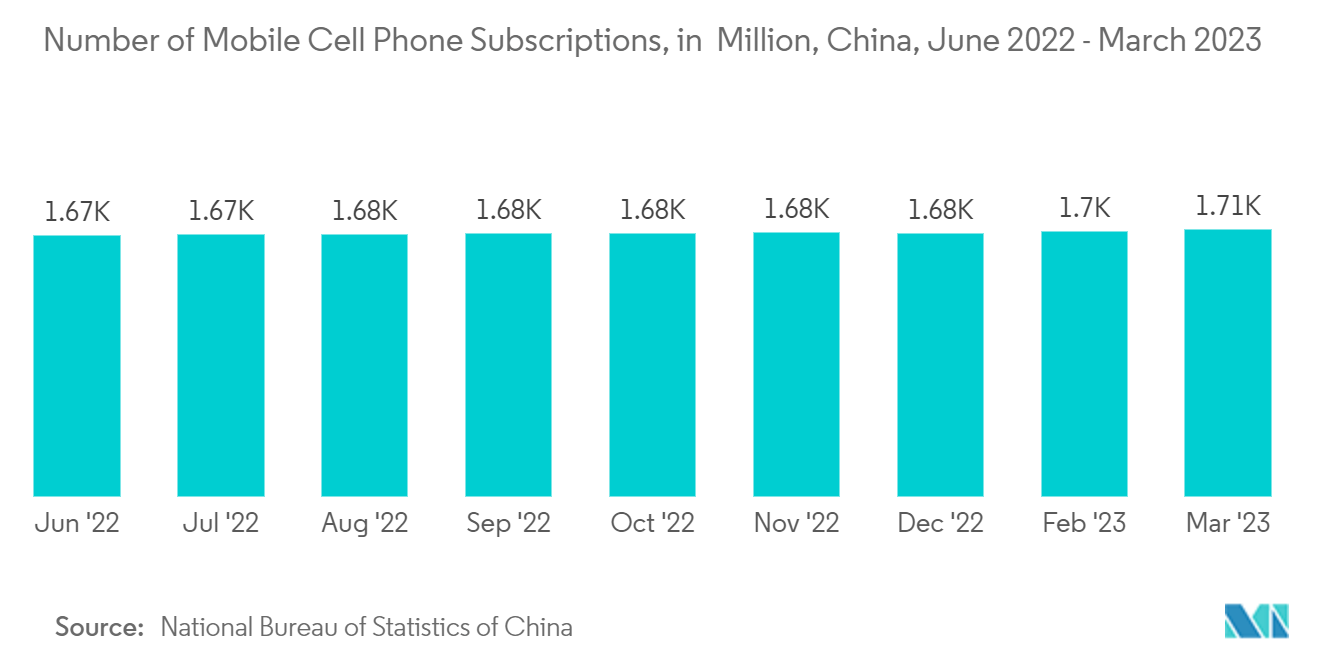 To understand key trends, Download Sample Report
Retail Colocation Type is One of the Factor Driving the Market
Retail colocation is where the customer takes the space for lease within the data center, such as rack space within the caged-off area. Owing to various advantages, such as economics and ease of maintenance, smaller enterprises generally prefer retail colocation. Owning a data center is not a viable option due to the cost of land leasing. Also, maintenance of a colocation center is often not within budget constraints.
The retail colocation market is likely driven by the high demand for colocation services from developing countries. Compared to wholesale colocation services, retail colocation services are highly suitable for enterprises requiring lesser computing power at one site or across multiple locations to benefit local and global customers. The retail colocation market is anticipated to grow significantly during the forecast period. About 100 kW of energy is typically needed to power retail data centers, while wholesale customers usually need more than 100 kW, owing to their business scale. Many facilities, such as security provision, customer support, cooling facilities, etc., are provided by colocation suppliers.
Typically, retail customers have many partners to maintain connectivity. Therefore, a diverse set of carriers with good speeds are necessary. Additionally, as retail data center providers work with more clients than wholesale providers, their facilities usually offer a multitude of networks and services. Retail providers offer various services, such as smart hands and remote hands, for technical assistance, managed services, and network monitoring. Therefore, resolving issues can be as simple as raising a service ticket. Such services help exploit various other benefits, such as locating data centers away from disaster-prone areas that can be remotely operated. Due to this remote hand's technology, tax benefits in different states, can be used to avail certain tax benefits.
Many new technologies, including 100% green data centers, have been deployed in retail colocation. Aruba SPA has built a 100% green data center facility. This facility uses underground flowing rivers to turn turbines, solar panels, and underground water pumped to the surface for cooling purposes. The need for interconnectivity is also increasing, increasing the demand for retail colocation. It has been identified that the leading providers of colocation services offer as many as 230,000 interconnection possibilities. Many SME industries constitute a large part of the economy. Such SMEs cannot afford an entire space only for utility, as the IT staff and operations are included in this scale of operation.
According to China Internet Network Information Center,, As of the June 2022, there were around 904 million online payment users in China. The digital ecosystem surrounding a bank is exploding at a rapid pace. With the constant change in consumer demand, banks have been pressured to customize their product offerings according to their needs. Such a rise in online payments would increase the amount of data created by the banks, which may increase the demand for data centers in the city.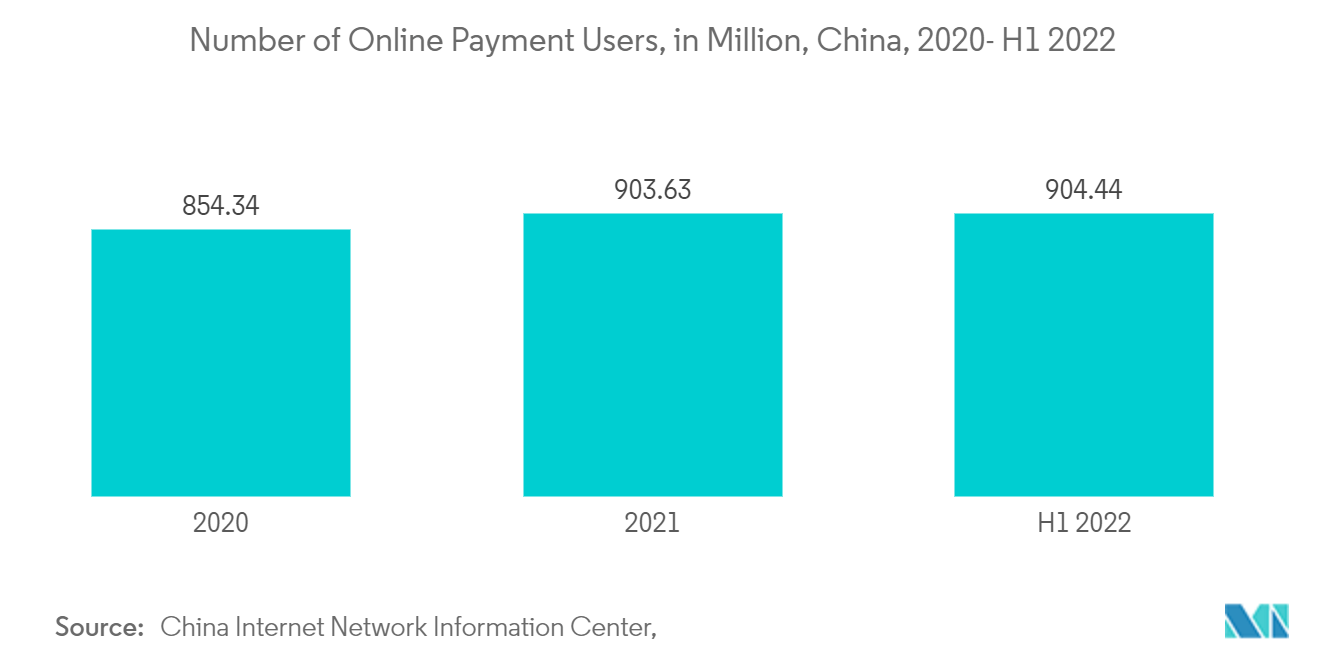 Hebei Data Center Industry Overview
The Hebei Data Center market is consolidated with the presence of limited players like Princeton Digital Group,GDS Chindata Group, Holdings Ltd., SpaceDC Pte Ltd.etc. The companies continuously invest in strategic partnerships and product developments to gain substantial market share. Some of the recent developments in the market are:
In December 2022, China Mobile, the mobile network operator, will diversify its sources of computing power and how it uses it now that the chain's main partners number exceeded 1,000. China Mobile has built incredibly sizable data centers in the Beijing-Tianjin-Hebei and Yangtze River Delta regions to gather the additional computers required to power advanced technologies like the metaverse, artificial intelligence, and the Internet of Things. Additionally, it has collaborated on constructing data center infrastructure with the Chinese Academy of Sciences' Institute of Computing Technology and Peng Cheng Laboratory in Shenzhen.
In June 2022, Kirkland & Ellis advised a real estate fund managed by Apollo Global Management, Inc., a high-growth international alternative asset manager, on its formation of a collaborative venture with the management team at Beijing Haoyang Cloud Data Technology Co., Ltd. and Mandarin Capital Management Limited to acquire an 80% interest in a data center asset known as Baoding No. 1 Data Center in Hebei Province, China.
Hebei Data Center Market Leaders
Princeton Digital Group

GDS

Fujitsu

Keppel Datacentres Pte Ltd

Microsoft Corporation
*Disclaimer: Major Players sorted in no particular order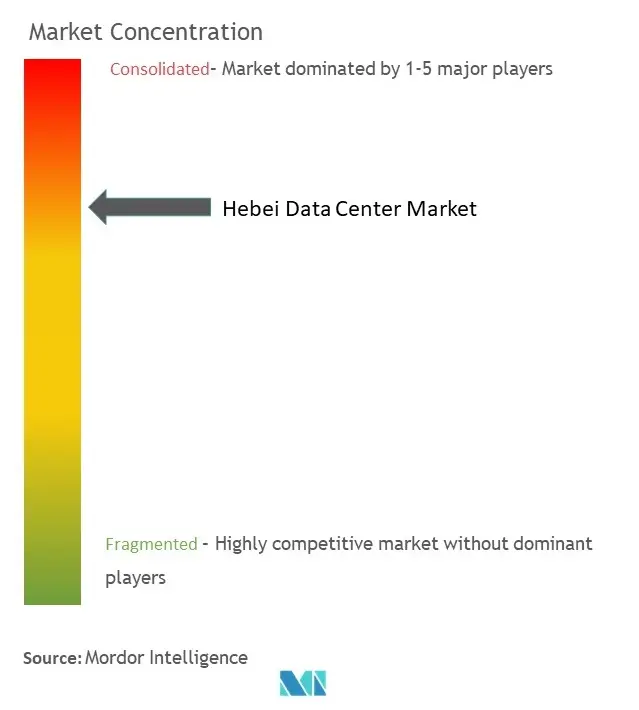 Hebei Data Center Market News
December 2022 : Equinix, Inc., the world's digital infrastructure firm, announced the first pledge by a colocation data centre operator to reduce overall power consumption by increasing operating temperature ranges within its data centres. Equinix will begin defining a multi-year global roadmap for thermal operations within its data centres immediately, aiming for much more efficient cooling and lower carbon footprints while maintaining the premium operating environment for which Equinix is recognised. This programme is expected to help thousands of Equinix customers to reduce the Scope 3 carbon emissions connected with their data centre operations over time, as supply chain sustainability becomes an increasingly essential aspect of today's enterprises' total environmental activities.
October 2022 : Keppel Data Centre Fund II LP partnered with Heying, a wholly-owned subsidiary of Tianjin Zhengxin Group Co. Ltd, to develop a greenfield data center in Greater Beijing, China. This latest development marks Keppel's sixth project since entering mainland China's data center market in 2020. Located in Huailai County, Hebei Province, Huailai Data Centre is on a 3.3-hectare (ha) land plot forming part of a larger data center campus spanning 29.7 ha. The campus is 65 km from Beijing Central and 70 km from Beijing Capital International Airport.
Table of Contents
1. INTRODUCTION

1.1 Study Assumptions and Market Definition

1.2 Scope of the Study

2. RESEARCH METHODOLOGY

3. EXECUTIVE SUMMARY

4. KEY INDUSTRY TRENDS

4.1 Smartphone Users

4.2 Data Traffic per Smartphone

4.3 Mobile Data Speed

4.4 Broadband Data Speed

4.5 Regulatory Framework

4.6 Value Chain Analysis

5. MARKET OUTLOOK

5.1 IT Load Capacity

5.2 Raised Floor Space

5.3 Number of Racks

6. MARKET SEGMENTATION

6.1 DC Size

6.1.1 Small

6.1.2 Medium

6.1.3 Large

6.1.4 Massive

6.1.5 Mega

6.2 Tier Type

6.2.1 Tier 1 & 2

6.2.2 Tier 3

6.2.3 Tier 4

6.3 Absorption

6.3.1 Utilized

6.3.1.1 Colocation Type

6.3.1.1.1 Retail

6.3.1.1.2 Wholesale

6.3.1.1.3 Hyperscale

6.3.1.2 End User

6.3.1.2.1 Cloud & IT

6.3.1.2.2 Telecom

6.3.1.2.3 Media & Entertainment

6.3.1.2.4 Government

6.3.1.2.5 BFSI

6.3.1.2.6 Manufacturing

6.3.1.2.7 E-Commerce

6.3.1.2.8 Other End User

6.3.2 Non-Utilized

7. COMPETITVE LANDSCAPE

7.1 Company Profiles

7.1.1 Princeton Digital Group

7.1.2 GDS

7.1.3 Chindata Group Holdings Ltd.

7.1.4 SpaceDC Pte Ltd.

7.1.5 Microsoft Corporation

*List Not Exhaustive

7.2 Market share analysis (In terms of MW)

7.3 List of Companies
Hebei Data Center Industry Segmentation
A data center is a physical room, building, or facility that holds IT infrastructure used to construct, run, and provide applications and services and store and manage the data connected with those applications and services.
The Hebei Data Center Market is segmented by DC Size (Small, Medium, Large, Massive, Mega), by Tier Type (Tier 1&2, Tier 3, Tier 4), by Absorption (Utilized (Colocation Type (Retail, Wholesale, Hyperscale), End User ( Cloud & IT, Telecom, Media & Entertainment, Government, BFSI, Manufacturing, E-Commerce)), Non-Utilized). The market sizes and forecasts are provided in terms of value (MW) for all the above segments.
DC Size
Small
Medium
Large
Massive
Mega
Tier Type
Tier 1 & 2
Tier 3
Tier 4
Absorption

Utilized

Colocation Type
Retail
Wholesale
Hyperscale

End User
Cloud & IT
Telecom
Media & Entertainment
Government
BFSI
Manufacturing
E-Commerce
Other End User

Non-Utilized
Frequently Asked Questions
What is the study period of this market?
The Hebei Data Center Market is studied from 2017 - 2029.
What is the growth rate of Hebei Data Center Market?
The Hebei Data Center Market is growing at a CAGR of 3.88% over the next 5 years.
Who are the key players in Hebei Data Center Market?
Princeton Digital Group, GDS, Fujitsu, Keppel Datacentres Pte Ltd, Microsoft Corporation are the major companies operating in Hebei Data Center Market.
Hebei Data Center Industry Report
Statistics for the 2023 Hebei Data Center market share, size and revenue growth rate, created by Mordor Intelligence™ Industry Reports. Hebei Data Center analysis includes a market forecast outlook to for 2023 to 2029 and historical overview. Get a sample of this industry analysis as a free report PDF download.
Hebei Data Center Market Report Snapshots
80%

of our clients seek made-to-order reports. How do you want us to tailor yours?