Market Snapshot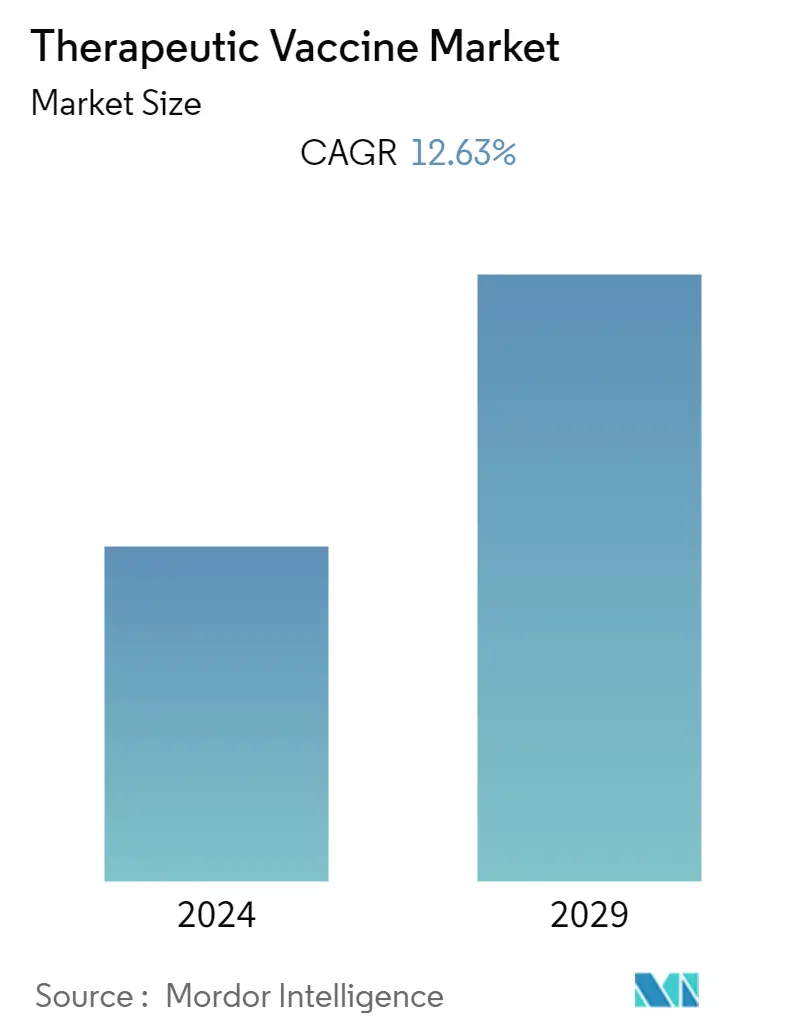 Study Period:
2019-2027
Base Year:
2021
Fastest Growing Market:
Asia Pacific
Largest Market:
North America
CAGR:
12.63 %
Need a report that reflects how COVID-19 has impacted this market and its growth?
Market Overview
The therapeutic vaccine market is expected to register a CAGR of 12.63% over the forecast period.
While the sudden outbreak of the COVID-19 pandemic has impacted most of the business sectors negatively, the therapeutic vaccine market has shown significant growth in the years 2020 and 2021. The studied market is still booming with the detection of new COVID-19 variants. The increase in demand for the development of new vaccines to control the spread of the coronavirus disease has driven the studied market growth. The demand for therapeutic vaccines increased during the pandemic, as did the investments from governments across the world. For instance, the ACT-Accelerator partnership was launched by the World Health Organization (WHO) and its partners in April 2020. As per a press release by the United Nations International Children's Emergency Fund (UNICEF) in October 2021, a new ACT-Accelerator strategy was planned which called for a USD 23.4 billion international investment to address disparities in the availability of COVID-19 diagnostics, vaccinations, and therapies worldwide. These investments during the pandemic are anticipated to impact the therapeutic vaccine development for COVID-19. Therefore, COVID-19 is expected to have a significant impact on the studied market.
Factors such as the rise in research and development (R&D) expenditures by major players, soaring government funding for the development of vaccines, and the rising prevalence of various diseases are expected to fuel the growth of the market.
The world is facing a huge burden of several diseases. Chronic and infectious diseases such as heart diseases, cancer, diabetes, tuberculosis (TB), and influenza are among the diseases that cause a healthcare burden globally for decades. Thus, various governments are making efforts to keep these diseases away from the target population and are investing large sums of money. For instance, since India is the second-most populated country in the world, it is more prone to easily spreading viral outbreaks. Thus, to coordinate research and surveillance on animal and human infections, in February 2021, the Indian government provided funds amounting USD 365 million (INR 26.7 billion) to the Department of Health Research. This fund was provided to develop 4 new national virology institutes, 9 new high-containment laboratories for studies on highly infectious pathogens, and 1 national institution. Such initiatives in developing countries are anticipated to drive market growth.
Furthermore, an increase in research and development (R&D) activities, collaborations, strategic partnerships, product approvals, and launches are garnering market growth over the analysis period.
For instance, in August 2022, researchers at the School of Pharmacy at Queen's University Belfast in Northern Ireland received funding from Breast Cancer Now to search for new treatments. The research team will be engaged in the development of new treatments for an aggressive form of breast cancer. In this case, Niamh Buckley and Helen McCarthy from the School of Pharmacy secured a GBP 228,900 (USD 278,168) grant from Breast Cancer Now to tackle protein p53, which is found at very high levels in around 90% of triple-negative breast cancer tumors.
Additionally, in August 2022, Merck (known as MSD outside the United States and Canada) and Orna Therapeutics, a biotechnology company, signed a collaboration agreement to discover, develop, and commercialize multiple programs, along with vaccines and therapeutics, in the areas of infectious disease and oncology. Orna will receive an upfront payment of USD 150 million from Merck under this collaboration agreement. Hence, these funding and investments are anticipated to generate demand for therapeutic vaccines as well. This is projected to fuel the market growth.
Therefore, owing to the aforesaid factors, the studied market is anticipated to witness growth. However, strict legal requirements and frameworks and the high price associated with therapeutic vaccine development are likely to hinder the market's growth.
Scope of the Report
As per the scope of the report, a therapeutic vaccine is applied after infection or disease occurs, in order, to induce antiviral immunity to alter the course of the disease. Therapeutic vaccines are used to cure diseases because they work with the patient's own immune system to fight infection rather than immunizing for future disease protection. The Therapeutic Vaccines Market is segmented by Products (Autoimmune Disease Vaccines, Neurological Disease Vaccines, Cancer Vaccines, Infectious Disease Vaccines and Other Products), Technology (Allogeneic Vaccine and Autologous Vaccine), and Geography (North America, Europe, Asia-Pacific, Middle East and Africa, South America). The market report also covers the estimated market sizes and trends for 17 different countries across major regions, globally. The report offers the value (in USD million) for the above segments.
Products
Autoimmune Disease Vaccines
Neurological Disease Vaccines
Cancer Vaccines
Infectious Disease Vaccines
Other Products
Technology
Allogeneic Vaccine
Autologous Vaccine
Geography

North America
United States
Canada
Mexico

Europe
Germany
United Kingdom
France
Italy
Spain
Rest of Europe

Asia-Pacific
China
Japan
India
Australia
South Korea
Rest of Asia-Pacific

Middle East and Africa
GCC
South Africa
Rest of Middle-East & Africa

South America
Brazil
Argentina
Rest of South America
Key Market Trends
Cancer Vaccines Segment is Expected to Witness Growth Over the Forecast Period
The rising prevalence of various types of cancer is creating a significant burden on the global healthcare sector. Governments across the globe and market players are investing a large sum of money and time in developing therapeutics for the disease. Thus, owing to increasing cancer cases and research expenditure by companies and government funding, the cancer vaccines segment is expected to witness significant growth over the forecast period.
According to WHO data updated in March 2021, 2.3 million women were diagnosed with breast cancer globally in 2020. Additionally, at the end of 2020, there were 7.8 million women who had been diagnosed with breast cancer in the past 5 years. And owing to such a high number of cases, breast cancer became the most prevalent cancer in the world in 2020. Thus, to overcome the burden of breast cancer, market players are investing heavily in product development and innovation, therefore driving the segment's growth.
Additionally, as per the research article "Therapeutic Vaccines for Breast Cancer: Has the Time Finally Come?" published in January 2022, a total of 44 ongoings (i.e. active, not recruiting; recruiting; not yet recruiting) clinical trials were investigating therapeutic cancer vaccines in breast cancer, as of 23rd June 2021. Then, overall, 30 (68.2%) clinical trials enrolled patients with triple-negative breast cancer (TNBC), 21 (47.7%) clinical trials were open to patients with HER2-positive breast cancer and only 15 (34.1%) trials had HR-positive breast cancer as inclusion criteria. Thus, these clinical trials show the engagement of research institutions as well as pharmaceutical and biopharmaceutical major players in the development of cancer therapeutic vaccines. Therefore, it is expected to contribute to the market growth over the forecast period.
The major companies in the market are prioritizing product development and innovation to bring therapeutic vaccines to the market. For instance, in September 2022, the Central government of India launched the country's first vaccine against cervical cancer--Quadrivalent Human Papillomavirus vaccine (qHPV), which has been developed by the Serum Institute of India (SII) and the Department of Biotechnology (DBT). As per the government, "CERVAVAC" is an outcome of a partnership between DBT and the Biotechnology Industry Research Assistance Council (BIRAC) with the Bill and Melinda Gates Foundation, supported by the Serum Institute for indigenous development.
In addition to that, in March 2021, the European Commission awarded eTheRNA immunotherapies NV (eTheRNA), a clinical-stage company, a TIGER grant for EUR 6.9 million. The grant was used to speed the development of a unique and potentially therapeutic mRNA cancer vaccine for treating recurrent or metastatic Human Papillomavirus strain 16 positive (HPV16+) cancers such as head and neck cancer, cervical cancer, and anogenital cancer, led by the company. Hence, these increasing mRNA vaccine and therapeutic developments and clinical trials for several cancers are anticipated to grow, thereby driving the segment's growth.
Therefore, owing to the factors mentioned above, the cancer vaccine segment is poised to witness growth over the forecast period.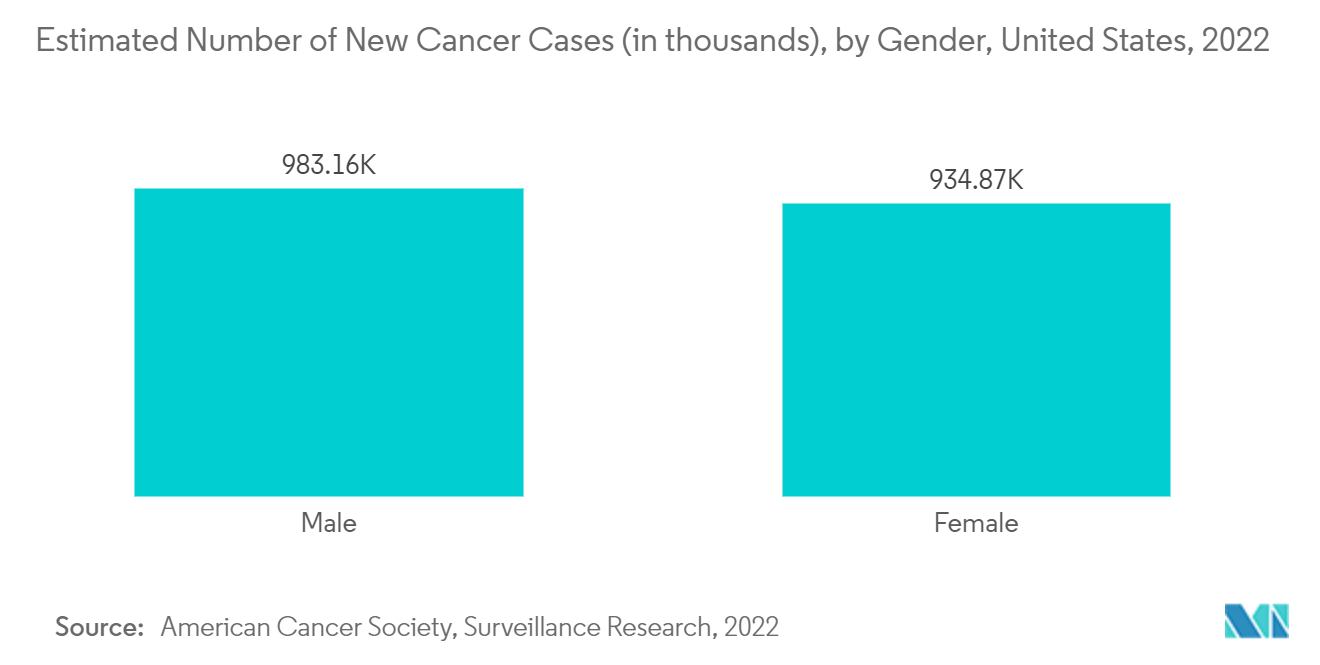 To understand key trends, Download Sample Report
North America Dominates the Market and Expected to do Same in the Forecast Period
The North American region is expected to contribute significantly to the market growth during the study period. The United States within North America is expected to contribute to the largest market growth. Factors such as the growing cancer burden, increasing research and development expenditures, and increasing product launches are predicted to fuel market growth.
According to the American Cancer Society's data on 'Cancer Facts and Figures 2022', 1.9 million new cancer cases are projected to be diagnosed in the country in 2022, among which nearly 236,740 are likely to be new lung cancer cases and 287,850 to be new breast cancer cases. The same source also states that 79,000 new cases of kidney cancer and 268,490 prostate cancer will be diagnosed in the country. This shows a high burden of cancer among the population in the United States. This is expected to boost the demand for the availability of therapeutic vaccines for treatment. This is further expected to drive market growth.
In addition, the government of Canada, through the Immunization Partnership Fund (IPF), reached populations with lower vaccine uptake by enabling informed vaccination choices. In 2020 and 2021, the IPF received USD 45.5 million in additional funding for more than 2.5 years to allow the Public Health Agency of Canada to continue supporting vaccination efforts across Canada. Through these initiatives, the Canadian government is trying to increase vaccine uptake and access to COVID-19 vaccines throughout Canada. Moreover, in May 2021, the government of Canada announced an investment of up to USD 199.16 million in Resilience Biotechnologies Inc., to increase its manufacturing and fill/finish capacity for a few vaccines and therapeutics that use novel technology such as mRNA. Hence, healthcare and pharmaceutical expenditures in the countries and rising government activities in the region are anticipated to increase over the next few years. Therefore, these investments and expenditures in the region are anticipated to drive market growth.
Moreover, strategic activities such as new product development, approvals, collaboration, and acquisition in the region are driving the therapeutic vaccine market growth. For instance, in May 2021, Sotrovimab, developed by GSK, plc., received emergency use authorization by the Food and Drug Administration (FDA) for the treatment of mild-to-moderate COVID-19 in adults and pediatric patients (12 years of age and older, weighing at least 40 kg) with positive results of direct SARS-CoV-2 viral testing and who are at high risk for progression to severe COVID-19, including hospitalization or death.
In addition, in March 2022, Massachusetts General Hospital (MGH), in partnership with NYU Langone Health, started a multi-center phase 2 clinical trial which was launched to investigate a new BCG vaccine treatment for pediatric type 1 diabetes, even in subjects with established disease. Thus, strategic activities by major players are increasing in the region and are anticipated to grow, thus driving the growth of the market studied over the next few years.
Therefore, owing to the aforementioned factors, the North American region is expected to have significant growth over the forecast period.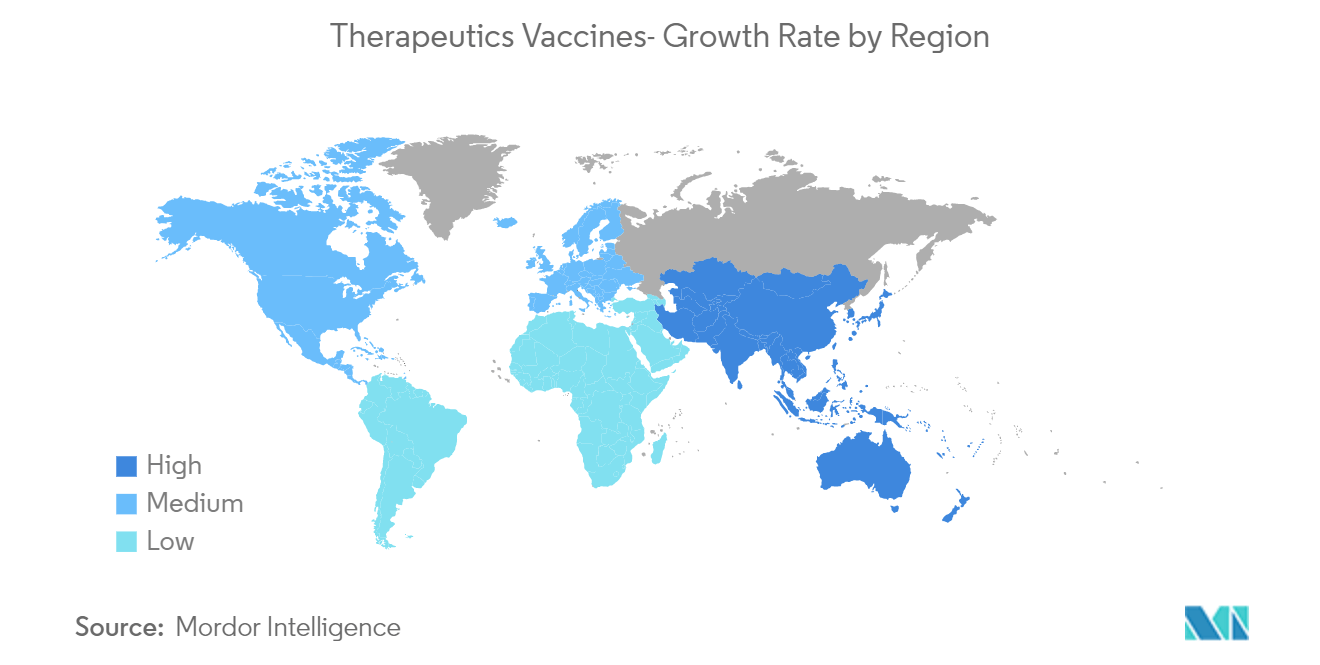 To understand geography trends, Download Sample Report
Competitive Landscape
The market for therapeutic vaccines is fragmented in nature due to the presence of several companies globally. The studied market consists of many global and regional market players which hold most of the market shares and are well known. Some of the market players in the studied market are AstraZeneca, Pfizer Inc., GSK plc., Merck & Co. Inc., Novartis AG, Phio Pharmaceuticals Corp., and INOVIO Pharmaceuticals, among others.
Recent Development
In April 2022, a team at King's College London reportedly discovered the world's first cure for heart attacks using mRNA technology similar to the Covid vaccines.
In March 2022, the National Institute of Allergy and Infectious Diseases (NIAID), part of the National Institutes of Health (NIH), launched a Phase 1 clinical trial evaluating three experimental HIV vaccines based on a messenger RNA (mRNA) platform. NIAID is sponsoring the study, called HVTN 302, and the NIAID-funded HIV Vaccine Trials Network (HVTN), based at Fred Hutchinson Cancer Research Center in Seattle, is conducting the trial.
Table of Contents
1. INTRODUCTION

1.1 Study Assumptions and Market definition

1.2 Scope of the Study

2. RESEARCH METHODOLOGY

3. EXECUTIVE SUMMARY

4. MARKET DYNAMICS

4.1 Market Overview

4.2 Market Drivers

4.2.1 Rising Prevalence of Diseases

4.2.2 Favorable Government Funding For Vaccine Development

4.2.3 Increase in R&D Expenditure by Major Market Players

4.3 Market Restraints

4.3.1 Huge Capital Expenditures Associated with Vaccine Development

4.3.2 Stringent Regulatory Framework

4.4 Porter's Five Forces Analysis

4.4.1 Threat of New Entrants

4.4.2 Bargaining Power of Buyers/Consumers

4.4.3 Bargaining Power of Suppliers

4.4.4 Threat of Substitute Products

4.4.5 Intensity of Competitive Rivalry

5. MARKET SEGMENTATION (Market Size by Value - USD million)

5.1 Products

5.1.1 Autoimmune Disease Vaccines

5.1.2 Neurological Disease Vaccines

5.1.3 Cancer Vaccines

5.1.4 Infectious Disease Vaccines

5.1.5 Other Products

5.2 Technology

5.2.1 Allogeneic Vaccine

5.2.2 Autologous Vaccine

5.3 Geography

5.3.1 North America

5.3.1.1 United States

5.3.1.2 Canada

5.3.1.3 Mexico

5.3.2 Europe

5.3.2.1 Germany

5.3.2.2 United Kingdom

5.3.2.3 France

5.3.2.4 Italy

5.3.2.5 Spain

5.3.2.6 Rest of Europe

5.3.3 Asia-Pacific

5.3.3.1 China

5.3.3.2 Japan

5.3.3.3 India

5.3.3.4 Australia

5.3.3.5 South Korea

5.3.3.6 Rest of Asia-Pacific

5.3.4 Middle East and Africa

5.3.4.1 GCC

5.3.4.2 South Africa

5.3.4.3 Rest of Middle-East & Africa

5.3.5 South America

5.3.5.1 Brazil

5.3.5.2 Argentina

5.3.5.3 Rest of South America

6. COMPETITIVE LANDSCAPE

6.1 Company Profiles

6.1.1 Agenus Inc.

6.1.2 Argos Therapeutic Inc.

6.1.3 Celldex Therapeutic Inc.

6.1.4 Cytos Biotechnology AG

6.1.5 Dendreon Corp

6.1.6 GSK, plc.

6.1.7 Merck & Co. Inc.

6.1.8 Novartis AG

6.1.9 Pfizer, Inc.

6.1.10 Phio Pharmaceuticals Corp.

6.1.11 INOVIO Pharmaceuticals

6.1.12 AstraZeneca

6.1.13 BioNTech SE

*List Not Exhaustive

7. MARKET OPPORTUNITIES AND FUTURE TRENDS
**Subject to Availability
**Competitive Landscape covers- Business Overview, Financials, Products and Strategies and Recent Developments
You can also purchase parts of this report. Do you want to check out a section wise price list?
Frequently Asked Questions
What is the study period of this market?
The Global Therapeutic Vaccine Market market is studied from 2019 - 2027.
What is the growth rate of Global Therapeutic Vaccine Market?
The Global Therapeutic Vaccine Market is growing at a CAGR of 12.63% over the next 5 years.
Which region has highest growth rate in Global Therapeutic Vaccine Market?
Asia Pacific is growing at the highest CAGR over 2021- 2026.
Which region has largest share in Global Therapeutic Vaccine Market?
North America holds highest share in 2021.
Who are the key players in Global Therapeutic Vaccine Market?
Phio Pharmaceuticals Corp., GSK plc., Merck & Co., Inc., Pfizer Inc. , Agenus Inc. are the major companies operating in Global Therapeutic Vaccine Market.
80%

of our clients seek made-to-order reports. How do you want us to tailor yours?