Substrate Industry Overview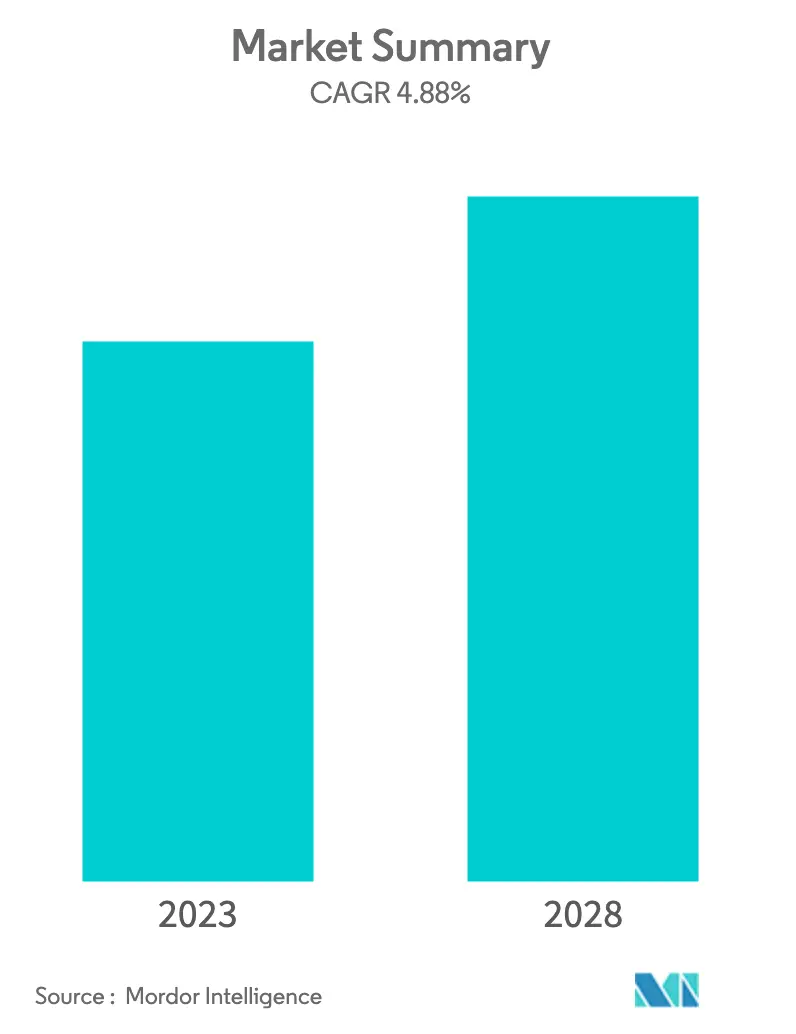 Study Period:
2019-2027
Fastest Growing Market:
Asia-Pacific
Largest Market:
Asia-Pacific
CAGR:
48.3 %

Major Players

*Disclaimer: Major Players sorted in no particular order
Need a report that reflects how COVID-19 has impacted this market and its growth?
Substrate Market Analysis
The FHE market among the global substrate market is expected to reach a CAGR of 48.3% during the forecast period. Due to the COVID-19 outbreak, there was a disruption in the electronics industry's supply chain, which challenged market growth. With reduced disposable incomes and depressed consumer sentiment, consumers chose to buy necessities, like food and cleaning products, and avoid non-essential, big-ticket purchases, like wearable devices.
The COVID-19 pandemic and the ensuing shortage of semiconductor components proved to be a shock to the global economy and the semiconductor industry; for the first time, the entire world and nearly all economic sectors were affected, and supply chain disruptions will continue to impact production capacities negatively even in and beyond the current year. Furthermore, due to COVID-19, the demand for healthcare monitoring devices increased significantly, and various partnerships have led to market growth.
Flexible hybrid electronics (FHE) is a novel electronic circuit manufacturing approach that combines the best of printed and conventional electronics. This combination of flexibility and processing capability is much desired since it reduces weight, enables new form factors, and maintains desirable functionality, such as data logging and Bluetooth connectivity.
The printed circuit board (PCB) industry has experienced significant growth in the last few years, primarily owing to the continuous development of consumer electronics devices and the increasing demand for PCBs in all electronics and electrical equipment.
Consumer electronics have been demanding new and different PCB functions. The development is related to the shape of the PCB or the accessory attached to it. PCB board cameras have developed significantly, with photo and video imaging and durability being the primary areas of improvement. These small cameras could take high-resolution images and videos with ease. Board cameras are poised to develop even further in the next few years, creating robust industry and consumer electronics solutions.
Geographically, Asia-Pacific countries, such as Taiwan, Japan, and China, occupy a significant share of the global PCB landscape. However, PCB production in Taiwan has been on a declining trend for a few years. According to the Taipei Printed Circuit Association (TPCA), Taiwan's printed circuit board market briefly dominated the world with a large marginal market share. Suppose the government creates a hub for sophisticated PCB manufacture on a global scale and pursues autonomy in the supply of PCB materials. In that case, Taiwan can preserve its technological edge for the coming three to five years.
Substrate Industry Segments
The study tracks the substrate industry into four base categories – PCB, FHE, SLP, and SIP.
A printed circuit board (PCB) connects electrical or electronic components using conductive tracks and supports them mechanically. They are used in almost all electronic products, including passive switch boxes.
FHE is the convergence of additive circuitry, passive devices, and sensor systems typically manufactured using printing methods and thin, flexible silicon chips. These devices differ from traditional electronics in terms of size and flexibility. The technology finds applications due to the economies and unique capabilities of printed circuitry that are capable of forming a new class of devices for consumer electronics, the Internet of Things (IoT), medical, robotics, and communication markets.
The PCB Market is Segmented by Application (Computing, Consumer, Industrial/Medical, Communication, Automotive, and Military/Aerospace). The substrate Like PCB (SLP) Market is Segmented By Application (Consumer Electronics, Automotive, Communication, and Other Applications). The System In the Package (SIP) Market is Segmented By Application (Telecom and Infrastructure (Servers and Base Stations), Automotive and Transportation, Mobile and Consumer, Medical and Industrial, Aerospace and Defense).
The market sizes and forecasts are provided in terms of value (USD million) for all the above segments.
By Application
Computing
Consumer
Industrial/Medical
Communication
Automotive
Military/Aerospace
Substrate Market Trends
In FHR Market, Industrial to Account for a Significant Share in the Market
Also, FHE-enabled soft robots have found applications in the Industry 4.0 era. Robotic exoskeletons designed to give mobility back to those who have lost it and assist with moving and lifting objects (e.g., crates, cartons, and boxes) to reduce workplace injury are early soft robotic applications.
One of the most critical uses for FHE is in communication, as wireless technology is essential for data transmission and system control (IoT). The term "Internet of Things" (IoT) refers to an emerging idea that encompasses a futuristic perspective on everyday life. It connects a vast array of intelligent devices (embedded with sensors and information transmitters) to enable machine-to-machine communication, which necessitates frequent data exchange and updates to the cloud without human intervention, allowing successful innovation in areas like smart homes, smart healthcare, smart cities, industry, and transportation systems.
Another application area for FHE is precision agriculture in the environmental landscape. Researchers printed a flexible strain sensor directly on the fruits using chitosan-based ink. These sensors provided good adhesion to the fruit and identified mechanical injuries. A graphene-on-tape adjustable sensor can measure water flow through plants. The sensor is developed by dropping a graphene film on a pre-patterned polydimethylsiloxane (PDMS) surface and then transferring the patterned graphene surface onto a target tape.
Another research area is developing a flexible and stretchable device with multiple sensing capabilities for plant health monitoring. Further, the reported plant wearable is designed by integrating temperature, humidity, and strain sensors. The strain sensors were developed by depositing a thin gold metal film on the PDMS substrate. The temperature and humidity sensors were fabricated on the same flexible PI/PDMS platform.
A multifunctional agricultural monitoring sensor is being developed to measure strain, impedance, temperature, and light intensity. The sensor is fabricated by combining CMOS, printable electronics, and transfer printing techniques, leading to hydration, temperature, strain, and light illuminance sensing capabilities on leaves. Unlike other reported sensors, these stretchable sensors can grow with the leaves, making them compatible with long-term monitoring.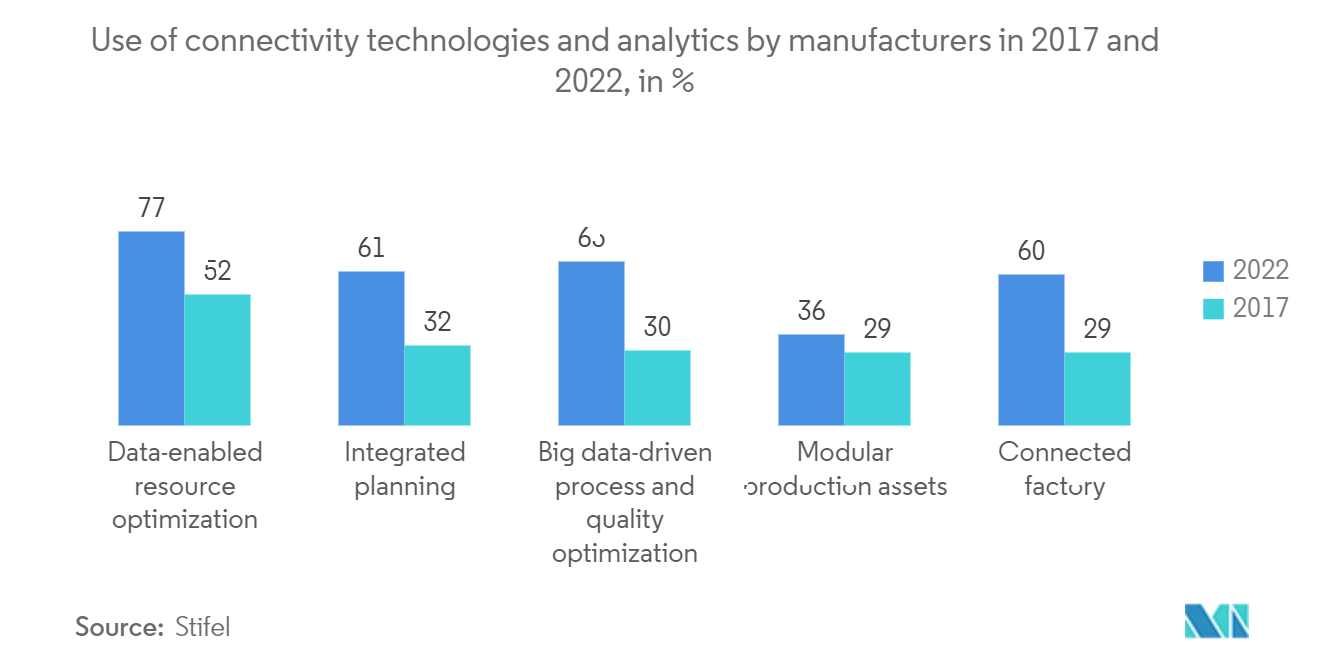 To understand key trends, Download Sample Report
Surge in Demand for Smart Consumer Electronics and Wearable Devices ​is Expected to Drive the SLP Market
Consumer electronics mostly include smartphones, smart bands, fitness devices, and wearables. Increasing demand for consumer electronics is expected to provide prospects for players in the SLP market. Due to the increasing power consumption in consumer electronics applications, batteries need to get bigger, while boards need to get smaller.
Smartphones would not exist without the compact, thin IC packaging substrates Compact, thin IC packaging substrates enable multiple electronic devices to function, as does the multilayer, thin PCB that connects all the devices. The advancement of smartphone functions and battery capacity requires higher densities and smaller, lighter motherboards. According to IBIDEN, it has achieved a micro-wiring technology employing the Modified Semi-Adaptive Process (MSAP) and a technique using the filled-via stack-up structure they have been offering in conventional full-via stacked structures (FVSS). ​
According to Yoon, fan-out wafer-level packaging is for high-end application processors going into premium products, the flagship smartphone models for handset vendors. SLP is meant for the motherboard of phones, reducing the space needed for such assemblies. Ball grid arrays or flip-chip packages are typically used for fine-pitch slots in a phone.
Flexible electronics typically consist of electrical circuits installed on a flexible plastic substrate, such as polyester or polyether ether ketone (PEEK). For the electrical contact to remain intact even after numerous flexing cycles, the conductive traces must either be made of a flexible metal with high fatigue strength or conductive polyester. The ideal material for the job is often a polymer.
Flexible electronics will actively participate in this expanding industry with fitness trackers, smartwatches, and tiny, real-time medical monitoring devices. Since every human body is slightly distinct in shape, flexible electronics are especially well adapted to this environment. Instead of being compelled to wear equipment too tightly to ensure contact, sensors may now conform to the skin's natural curves thanks to flexible electronics. Medical applications have been the focus of recent research in flexible electronics. Blood pressure monitors, oxygen monitors, glucose meters, and even blood-alcohol meters are being created in addition to step counters and calorie counters.
Efficient, flexible solar panels might become a reality as technology progresses exponentially. Flexible solar panels can be installed on surfaces other than roof-mounted racks, such as telephone poles, well casings, fence posts, and other similar structures.
Furthermore, Zhen Ding Technology, reportedly among the suppliers of Apple, has discussed its vision of SLP demand for smartphones, wearables, and other mobile devices requiring an ultra-thin and lightweight profile. The use of SLP enables compact design without sacrificing computing performance. Zhen Ding plans to build additional SLP production lines at its factory site in China.​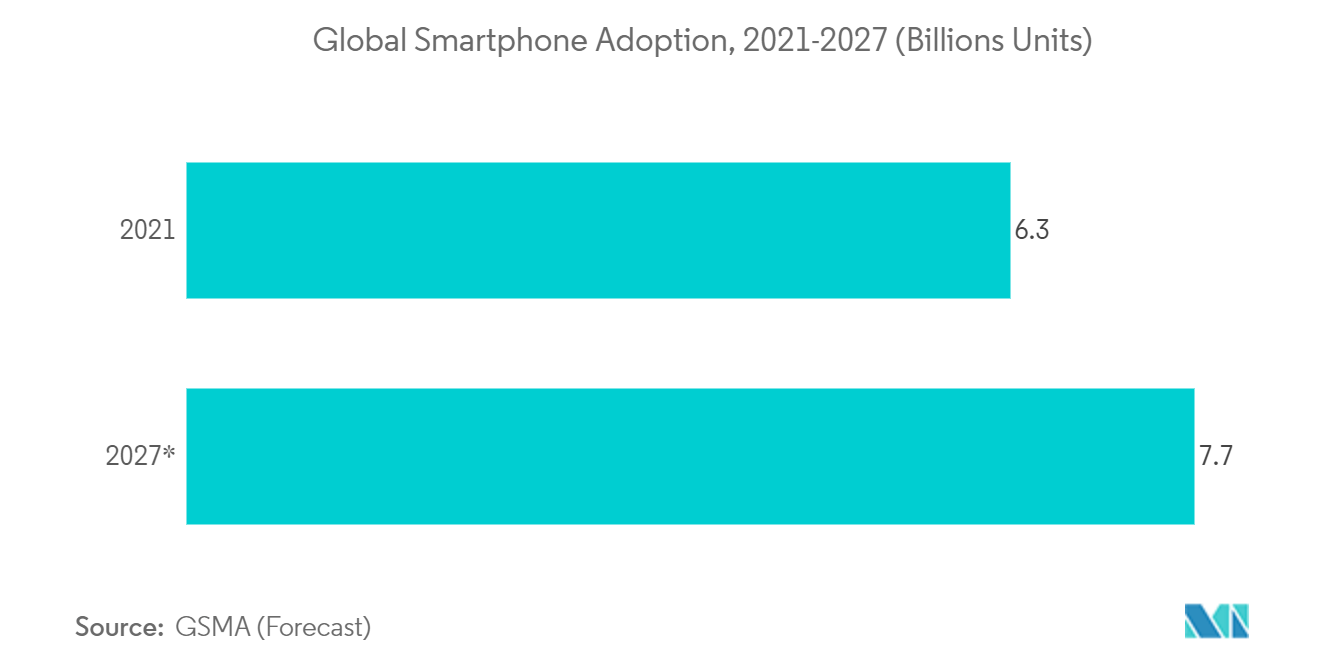 To understand geography trends, Download Sample Report
Substrate Market Competitor Analysis
The global substrate market is highly fragmented. Manufacturers globally have depended on designs, such as high-density interconnect (HDI) PCBs, to place more hardware in limited space. HDI PCBs use high-performance and coreless construction. Compared to traditional PCBs, they sport more densely packed wiring, miniaturized laser vias, capture pads, and other features. The industry's established players are leveraging their manufacturing capabilities and research and development capabilities to drive innovation and sustain their competitive position in the market.
In October 2022, the manufacturer of Powerelements for PCB contacting, Würth Elektronik ICS, launched a new generation of its tried-and-true lead-free high-current contacts: the second PowerPlus generation, LF PowerPlus 2.0, has the same torque and current-carrying capacity as the first generation but is now even easier to process and more effective to assemble. Würth Elektronik ICS provides reliable and effective high-current contacts for PCB contact in press-fit technology applications with the LF PowerPlus product family. They are perfect for fastening elements or attaching cables and components to the PCB, especially when high torques are needed or there is limited installation space.
In September 2022, TTM Technologies Inc.'s Radio Frequency & Specialty Components Business Unit, a microwave and RF-based technology specialist, signed a distribution agreement with RFMW, a pure play premier distributor for radio frequency ("RF") and microwave components and semiconductors. TTM will make available through RFMW the entirety of its line of RF&S goods, including its well-known Xinger brand product lineup. Opportunities will be identified and developed, technical sales support will be provided, and distribution will be included in the distribution services. The RFMW online store will also provide the TTM components.
Substrate Market Top Players
TTM Technologies Inc.

BECKER & MULLER SCHALTUNGSDRUCK GMBH

Advanced Circuits

Sumitomo Electric Industries Ltd

Wurth Elektronik Group (Wurth Group)
*Disclaimer: Major Players sorted in no particular order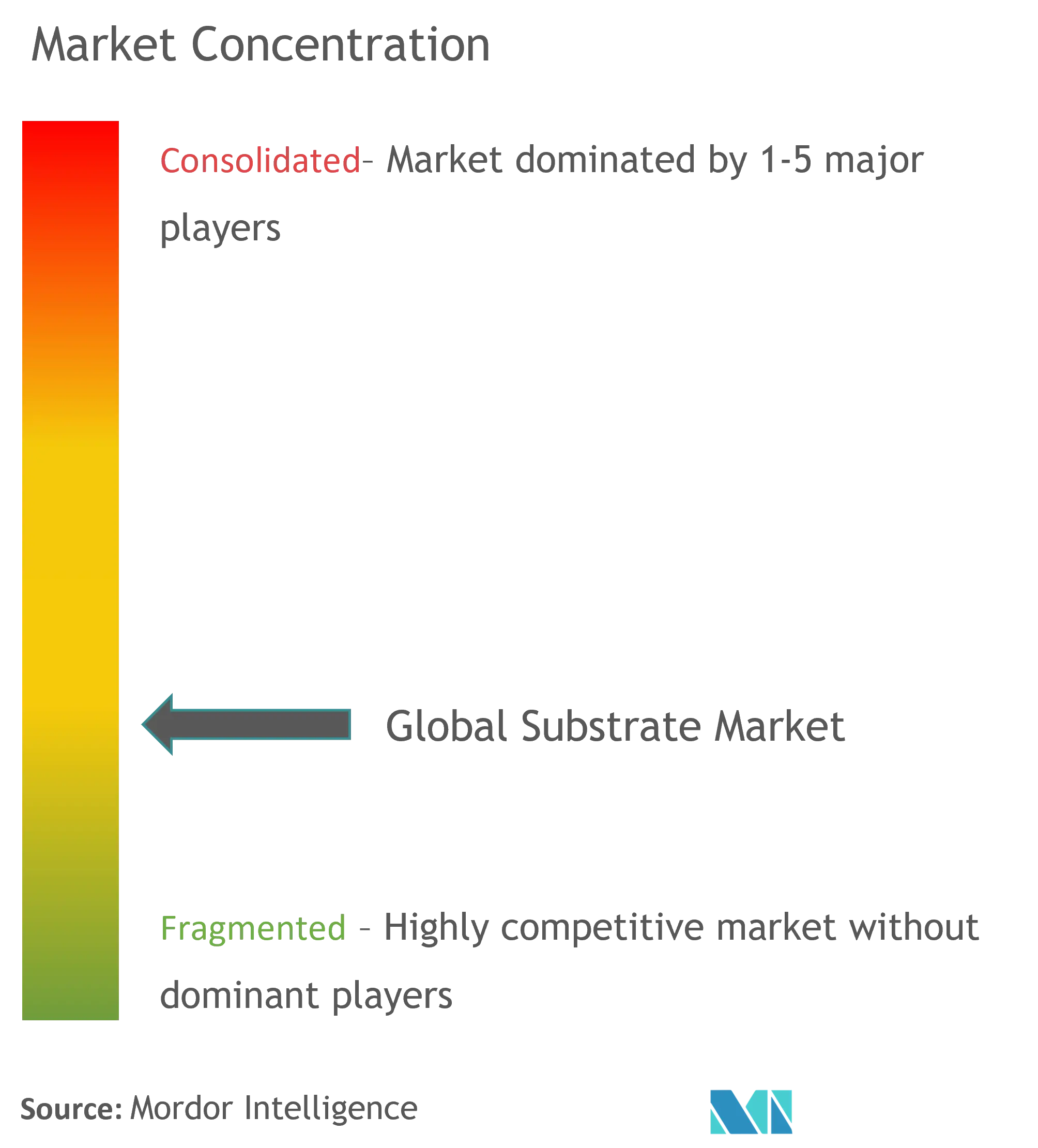 Substrate Market Recent Developments
December 2022: Viettel High Tech and AMD successfully completed a 5G mobile network field trial deployment powered by AMD Xilinx Zynq UltraScale+ MPSoC devices. Viettel High Tech, Vietnam's largest telecom operator with over 130 million mobile customers, has a long history of using AMD radio technology in previous 4G deployments and is now accelerating new networks with new 5G remote radio heads. It is designed to meet the increasing capacity and performance demands of mobile users worldwide.
February 2022: In order to support Department of Defense priorities, NextFlex, America's Flexible Hybrid Electronics (FHE) Manufacturing Institute, released Project Call 7.0 (PC 7.0), the most recent request for proposals. PC 7.0 aims to provide funding for initiatives that advance the development and adoption of FHE while addressing significant issues with advanced manufacturing. The total planned investment in furthering FHE since NextFlex's founding is predicted to be USD 128 million after the project value for PC 7.0 exceeds USD 11.5 million (project value and investment estimates include cost sharing).
Substrate Market Report - Table of Contents
1. INTRODUCTION

1.1 Study Assumptions and Market Definition

1.2 Scope of the Study

2. RESEARCH METHODOLOGY

3. EXECUTIVE SUMMARY

4. GLOBAL PCB MARKET

4.1 Current Market Overview - Trends/Dynamics/Market Demand Estimates and Projections

4.2 Factors Driving Market Growth

4.3 PCB Manufacturing Process and Technical Requirements

4.4 Technological Advancements in PCBs (Manufacturing Process and Materials Advancements)

4.5 Materials Used for PCBs along with their Specifications and Applications

5. MARKET SEGMENTATION

5.1 By Application

5.1.1 Computing

5.1.2 Consumer

5.1.3 Industrial/Medical

5.1.4 Communication

5.1.5 Automotive

5.1.6 Military/Aerospace

5.2 Analysis of Top 10 PCB Vendors

5.3 Market Outlook

6. GLOBAL FLEXIBLE HYBRID ELECTRONICS (FHE) MARKET

6.1 Current Market Overview - Trends/Dynamics/Market Demand Estimates & Projections

6.2 Factors Driving the Market Growth

6.3 FHE Manufacturing Process and Technical Requirements

6.4 Technological Advancement in FHE (Manufacturing Process and Materials Advancements)

6.5 Materials Used for FHEs along with their Specifications

6.6 Technological Roadmap of FHE

6.7 Applications and Use Cases

6.7.1 Automotive and Aeronautical

6.7.2 Wearable and Healthcare Monitoring

6.7.3 Consumer Goods

6.7.4 Industrial/Environmental

6.7.5 Smart Packaging and RFID

6.8 Analysis of FHE Vendors

6.9 Market Outlook

7. GLOBAL SUBSTRATE LIKE PCB (SLP) MARKET

7.1 Current Market Overview - Trends/Dynamics/Market Demand Estimates and Projections

7.2 Factors Driving the Market Growth

7.3 SLP Manufacturing Process and Technical Requirements

7.4 Technological Advancement in SLP (Manufacturing Process and Materials Advancements)

7.5 Materials Used for SLP with their Specifications

7.6 Technological Roadmap of SLP

7.7 MARKET SEGMENTATION

7.7.1 By Application

7.7.1.1 Consumer Electronics

7.7.1.2 Automotive

7.7.1.3 Communication

7.7.1.4 Other Applications

7.8 Analysis of SLP Vendors

7.9 Market Outlook

8. GLOBAL SYSTEM-IN-PACKAGE (SIP) MARKET

8.1 Current Market Overview - Trends/Dynamics/Market Demand Estimates and Projections

8.2 Factors Driving the Market Growth

8.3 SIP Manufacturing Process and Technical Requirements

8.4 Technological Advancement in SIP (Manufacturing Process and Materials Advancements)

8.5 Materials Used for SIP along with their Specifications

8.6 Technological Roadmap of SIP

8.7 MARKET SEGMENTATION

8.7.1 By Application

8.7.1.1 Telecom and Infrastructure (Servers and Base Stations)

8.7.1.2 Automotive and Transportation

8.7.1.3 Mobile and Consumer

8.7.1.4 Medical and Industrial

8.7.1.5 Aerospace and Defense

8.7.2 Analysis of SIP Vendors

8.7.3 Market Outlook
**Subject to Availability
Substrate Market Research FAQs
What is the study period of this market?
The Global Substrate Market market is studied from 2019 - 2027.
What is the growth rate of Global Substrate Market?
The Global Substrate Market is growing at a CAGR of 48.3% over the next 5 years.
Which region has highest growth rate in Global Substrate Market?
Asia-Pacific is growing at the highest CAGR over 2021- 2026.
Which region has largest share in Global Substrate Market?
Asia-Pacific holds highest share in 2021.
Who are the key players in Global Substrate Market?
TTM Technologies Inc. , BECKER & MULLER SCHALTUNGSDRUCK GMBH , Advanced Circuits , Sumitomo Electric Industries Ltd , Wurth Elektronik Group (Wurth Group) are the major companies operating in Global Substrate Market.
Global Substrate Industry Reports
In-depth industry statistics and market share insights of the Global Substrate sector for 2020, 2021, and 2022. The Global Substrate research report provides a comprehensive outlook of the market size and an industry growth forecast for 2023 to 2028. Available to download is a free sample file of the Global Substrate report PDF.
80%

of our clients seek made-to-order reports. How do you want us to tailor yours?