Regenerative Medicine Industry Overview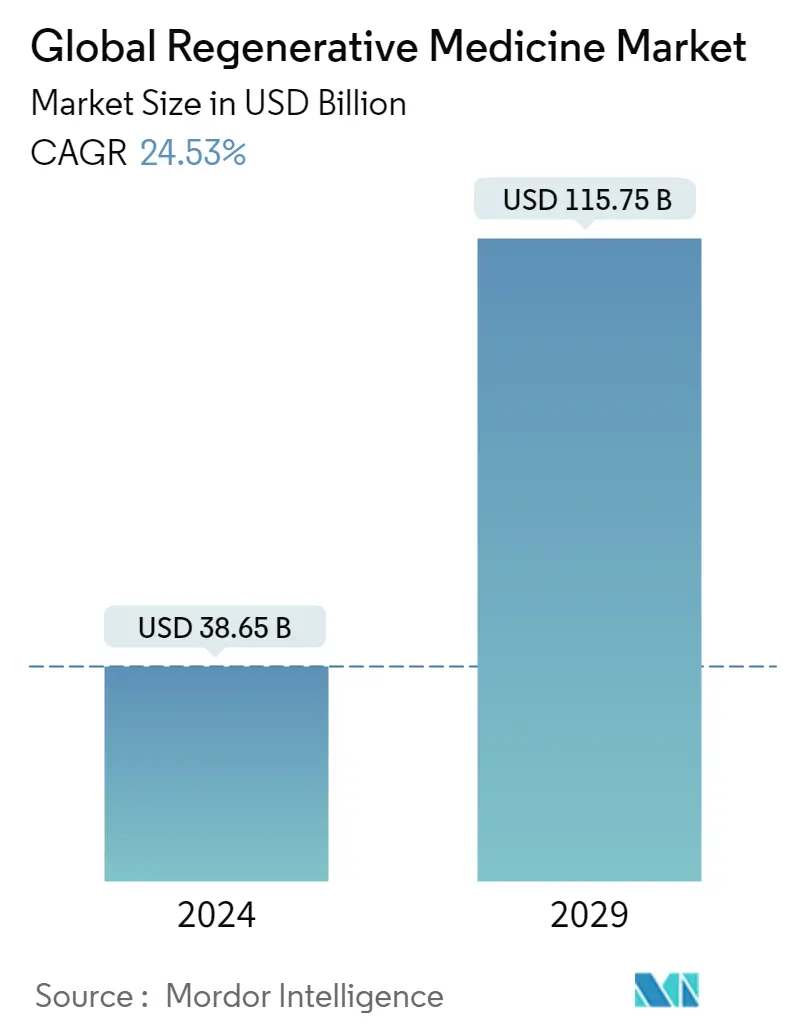 Study Period:
2018 - 2028
Fastest Growing Market:
Asia Pacific
Largest Market:
North America
CAGR:
19.2 %

Major Players

*Disclaimer: Major Players sorted in no particular order
Need a report that reflects how COVID-19 has impacted this market and its growth?
Regenerative Medicine Market Analysis
The Regenerative Medicine Market is projected to register a CAGR of 19.2% during the forecast period (2022-2027).
The COVID-19 pandemic is expected to have a significant impact on the market. The rising COVID-19 cases across the world are having a profound positive impact on the market, as mesenchymal stem cells are a safe and effective approach to the treatment of COVID-19 according to a 2020 research article published in the scientific journal Aging and Disease titled, 'Mesenchymal Stem Cell Therapy for COVID-19: Present or Future'. More than 10 projects have been registered in the official international registry for clinical trials, in the beginning of 2020, implicating the use of stem cells to patients with coronavirus pneumonia. However, it is still at an initial stage of the study in relation to the market studied. In May 2020, the Global Institute of Stem Cell Therapy and Research (GIOSTAR) received approval for a COVID-19 clinical trial in using stem cells to treat COVID-19 patients. In May 2020, a patent was granted to the Ministry of Economy, the United Arab Emirates, for the development of innovative and promising stem cell therapy for the COVID-19 treatment. Thus, these developments in stem cell research for COVID-19 is expected to boost the demand for the market growth for regenerative medicines.
The key factors propelling the growth of the global regenerative medicine market are the increasing adoption of stem cell technologies, gene therapies, and tissue engineering, and the technological advancements in regenerative medicine. There has been a rising trend of government initiatives and clinical trials that are associated with stem cell research, which promote the growth of the regenerative medicine market. For instance, in February 2022, Indian Council of Medical Research (ICMR) has released the National Guidelines for Stem Cell Research (NGSCR) 2017 which were framed in harmonization of international guidelines. Government has supported the ethical and scientific conduct of stem cell research through guidelines for stem cell research. The Department of Biotechnology (DBT) has supported projects for basic biology of stem cells; early and late translational research; developing gene editing technology for potential therapeutic applications and creation of animal models for various human diseases. The funds released by the DBT during the last three years and the current year in this area is INR 7345.58 Lakh. The funding agreement may accelerate the company's rapidly scaling business of providing cutting-edge reagents and tools to support life science researchers around the world working in the regenerative medicine field. As per Australian Government Department of Health 2019, the stem cell therapies mission was launched by the government of Australia. It is a research funding program, with an investment of around USD 150 million, over 9 years, to develop innovative, safe, and effective treatments for the patients suffering from incurable diseases where regenerative medicines could be developed by using stem cells. The California Stem Cell Research, Treatments and Cures Initiative of 2020 also got the approval from the government in 2019. The initiative authorizes USD 5.5 billion in state general obligation bonds to fund stem cell research, therapy development, and therapy delivery in the region. In November 2020, the Government of Canada and The Juvenile Diabetes Research Foundation (JDRF) Canada announced a new research funding to accelerate stem cell-based therapies for Type-1 diabetes. This funding was provided by the Canadian Institutes of Health Research Institute of Nutrition, Metabolism and Diabetes (CIHR-INMD), and The Juvenile Diabetes Research Foundation Canada, and it was USD 3 million from each of the three organizations for over five years.
According to the clinical trial registry as of August 26th, 2022, there were 1,868 clinical trials of stem cell therapy, of which 82 studies were specifically targeted towards regenerative medicines across the world. This is likely to increase the demand for stem cell-based products and regenerative medicines in the market over the next few years. According to clinicaltrials.gov database, the majority of active recruiting trials are present in the United States, Europe, and China, with rising support from Canada, the Middle East, and Australia. Acute lymphoblastic leukemia (ALL), acute megakaryoblastic leukemia (AML), and acute graft versus host disease (AGHD) are some of the current indications that are primarily being focused upon by majority of the universities, research centers, and companies. Thus, it is evident that there are growing initiatives associated with stem cells and regenerative medicines, and it is estimated that over the forecast period, the success rate and further approval will rise gradually, which is primarily expected to drive the growth of the market.
Regenerative Medicine Industry Segments
As per the scope of the report, regenerative medicines are used to repair, replace, and regenerate the tissues and organs affected by injury, disease, or the natural aging process. These medicines restore the functionality of cells and tissues and are used in several degenerative disorders, such as dermatology, neurodegenerative diseases, cardiovascular, and orthopedics. The Regenerative Medicine Market has been segmented by Type of Technology (Stem Cell Therapy, Biomaterial, Tissue Engineering, and Other Types of Technologies), Application (Bone Graft Substitutes, Osteoarticular Diseases, Dermatology, Cardiovascular, Central Nervous System, and Other Applications), and Geography (North America, Europe, Asia-Pacific, Middle East, and Africa, and South America). The market report also covers the estimated market sizes and trends for 17 different countries across major regions, globally. The report offers the value (in USD million) for the above segments.
By Type of Technology
Stem Cell Therapy
Biomaterial
Tissue Engineering
Other Types of Technologies
By Application
Bone Graft Substitutes
Osteoarticular Diseases
Dermatology
Cardiovascular
Central Nervous System
Other Applications
Geography

North America
United States
Canada
Mexico

Europe
Germany
United Kingdom
France
Italy
Spain
Rest of Europe

Asia-Pacific
China
Japan
India
Australia
South Korea
Rest of Asia-Pacific

Middle East and Africa
GCC
South Africa
Rest of Middle East and Africa

South America
Brazil
Argentina
Rest of South America
Regenerative Medicine Market Trends
This section covers the major market trends shaping the Regenerative Medicine Market according to our research experts:
Stem Cell Therapy is the Segment by Type of Technology that is Expected to be the Largest During the Forecast Period
There has been accelerated research happening in the field of the central nervous system, based on stem cells, to address a plethora of neurological conditions. Stem cells from the human blood and bone marrow have been extensively used in the isolation and production of hematopoietic stem cells (HSCs) that are used in the field of regenerative medicine. There has been renewed interest in adult stem cells as a novel pool from which undifferentiated stem cells can be taken and then used for various applications.
The research into adult stem cells has been fueled by their abilities to divide or self-renew indefinitely and generate all the cell types of the organ from which they originate potentially regenerating the entire organ from a few cells. The production of adult stem cells does not require the destruction of an embryo. Also, stem cell research has received considerable attention and has been extensively studied in the field of medicine. Recently, in April 2021, ExCellThera Inc. and Ossium Health announced a collaboration to evaluate and advance opportunities to employ adult stem cells from deceased donors from Ossium Health's first-in-the-world bone marrow bank in conjunction with ExCellThera's ECT-001 cell expansion and rejuvenation technology. Developments such as these are expected to boost the market growth.
The major market players are focusing on strategic initiatives, such as product launch, merger and acquisition to grow their presence in the market. For instance, In April 2022, the US Food and Drug Administration (FDA) approves BioCardia's Covid-19 stem cell therapy trial. Additionally, in October 2022, Century Therapeutics and Bristol Myers Squibb announced a research collaboration and license agreement to develop and commercialize up to four induced pluripotent stem cell-derived, engineered natural killer cell and/or T cell programs for hematologic malignancies and solid tumors. Similarly, in August 2020, Cipla Limited announced that its partner Stempeutics Research Pvt. Ltd has received regulatory approval from the Drug Controller General of India (DCGI) for the launch of Stempeucel in India. The product is indicated for the treatment of CLI due to Buerger's Disease and Atherosclerotic Peripheral Arterial Disease. Such developments in stem cell therapy are expected to drive segmental growth in the market.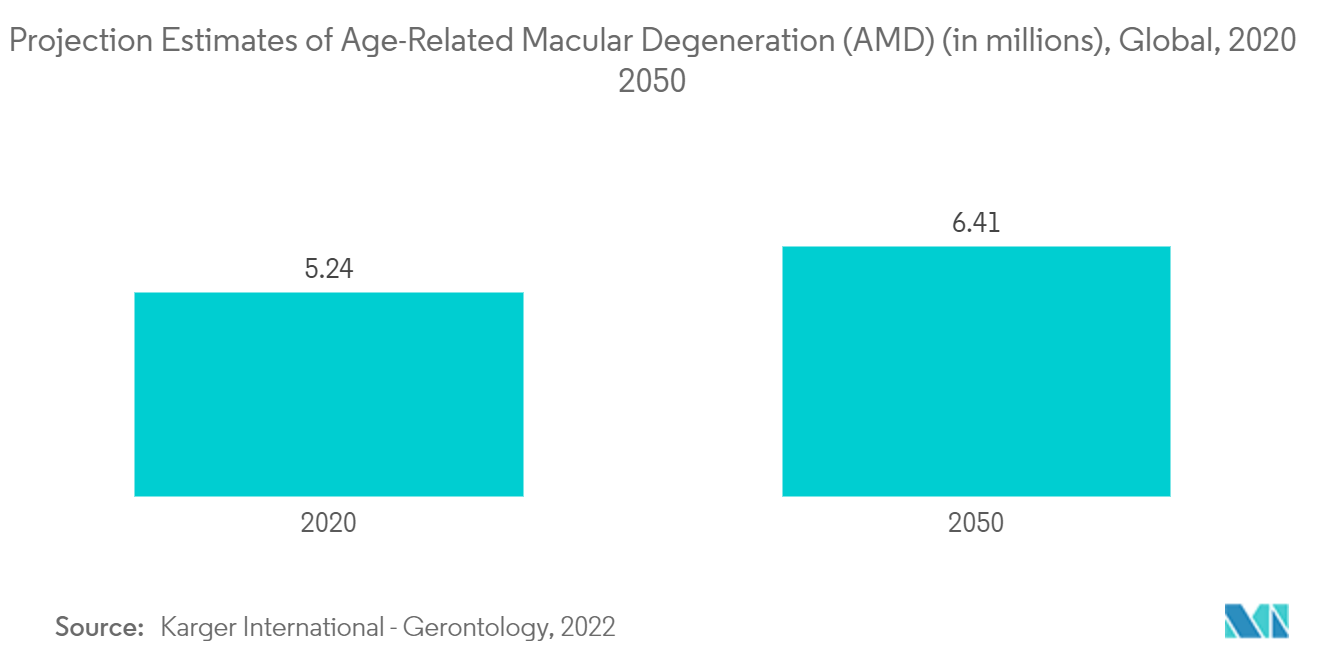 To understand key trends, Download Sample Report
North America Holds the Largest Share and is Expected to Follow the Same Trend Over the Forecast Period
North America is estimated to have the largest share, in terms of revenue, owing to the presence of major players and rapid advances in technology, along with high investments in stem cell and oncology research. The United States is the largest market in the North American region. There is an increasing prevalence of diseases, such as cancer and diabetes, which can now be cured by various stem cell therapies in the United States. Heart Disease & Stroke Statistical Fact Sheet 2020 estimates that a minimum of 40,000 infants are expected to be affected each year by congenital heart defects in the United States. Of these, about 25%, or 2.4 (per 1,000 live births), require treatment in the first year of life. In addition, according to National Center for Chronic Disease Prevention and Health Promotion, Division for Heart Disease and Stroke Prevention, data published in July 2022, in the United States, the prevalence of atrial fibrillation is estimated to rise to 12.1 million by the year 2030. According to Wake Forest Institute for Regenerative Medicine (WFIRM), data updated in 2021, Regenerative medicine has been called the "next evolution of medical treatments" by the United States Department of Health and Human Services. With its potential to heal, a new field of science is expected to revolutionize healthcare. Thus, the increasing popularity and demand are expected to drive the market in the region.
The increasing burden of chronic diseases is providing opportunities for market players. The major market players are focusing on R&D activities to introduce new stem cell therapies that help in the growth of regenerative medicines in the market. For instance, as per an article titled "NIH researchers identify potential age-related macular degeneration (AMD), drugs with stem-cell based research tool" published in December 2021, using a stem-cell-derived model, researchers have identified two drug candidates that may slow dry age-related macular degeneration (AMD), a leading cause of blindness for which no treatment exists. Thus, the research works on regenerative medicines are expected to boost market growth in the region. Additionally, the outbreak of COVID-19 is another factor in the growth of the regenerative medicine market in the country, as research activities are developing new therapeutics for COVID-19. However, its research is in the initial stage. For instance, in May 2020, Lineage Cell Therapeutics received a grant of USD 5 million from the California Institute for Regenerative Medicine (CIRM) to support the use of VAC, Lineage's allogeneic dendritic cell therapy for the development of a potential vaccine against SARS-CoV-2, the virus which causes COVID-19. Developments such as the ones mentioned above are expected to boost the market growth.
Therefore, the above-mentioned factors are expected to drive market growth in the region during the forecast period.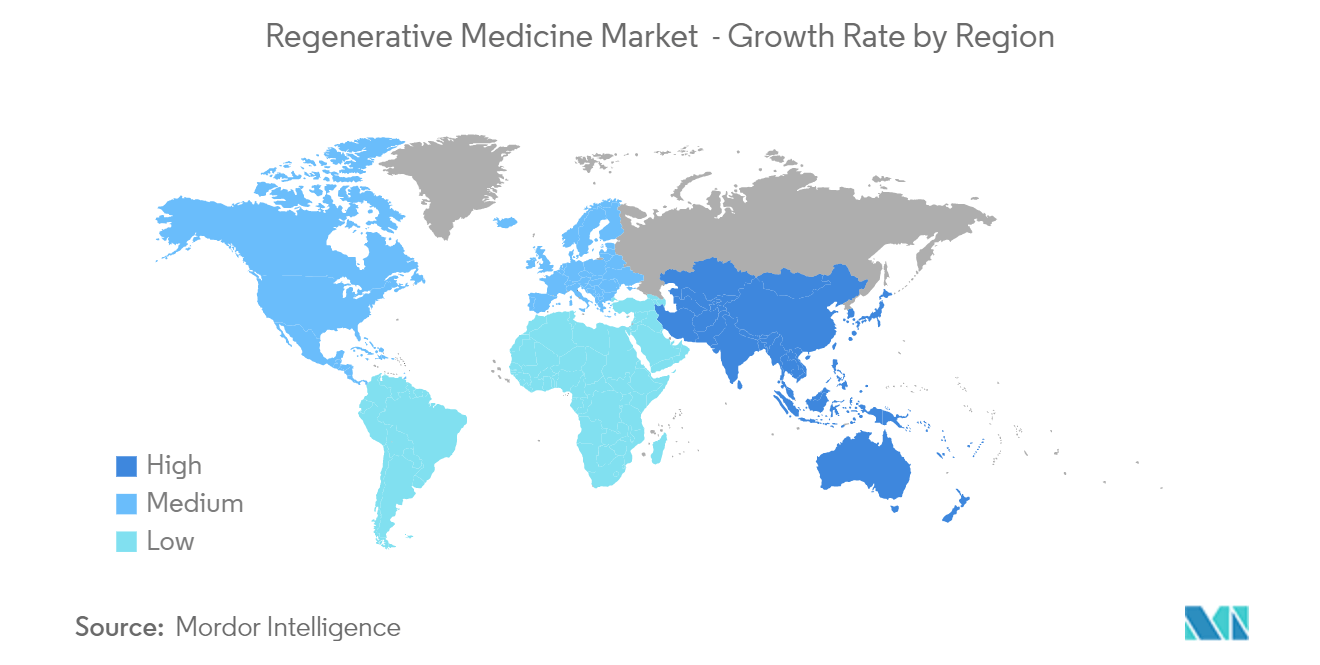 To understand geography trends, Download Sample Report
Regenerative Medicine Market Competitor Analysis
The global regenerative medicine market is highly competitive. The small-scale companies are also merging with large companies to develop tissue models for research and therapeutic purposes. Thus, companies are making considerable investments in novel technologies, thus driving the market. Moreover, In the coming years, few other players are expected to enter into the market. Some of the companies which are currently dominating the market are AbbVie Inc., Osiris Therapeutics (Smith & Nephew), Integra Lifesciences, Cook Biotech Incorporated, Organogenesis Inc., and Baxter International among others.
Regenerative Medicine Market Top Players
Organogenesis Inc.

Cook Biotech Incorporated

AbbVie Inc.

Osiris Therapeutics Inc. (Smith & Nephew)

Integra Lifesciences
*Disclaimer: Major Players sorted in no particular order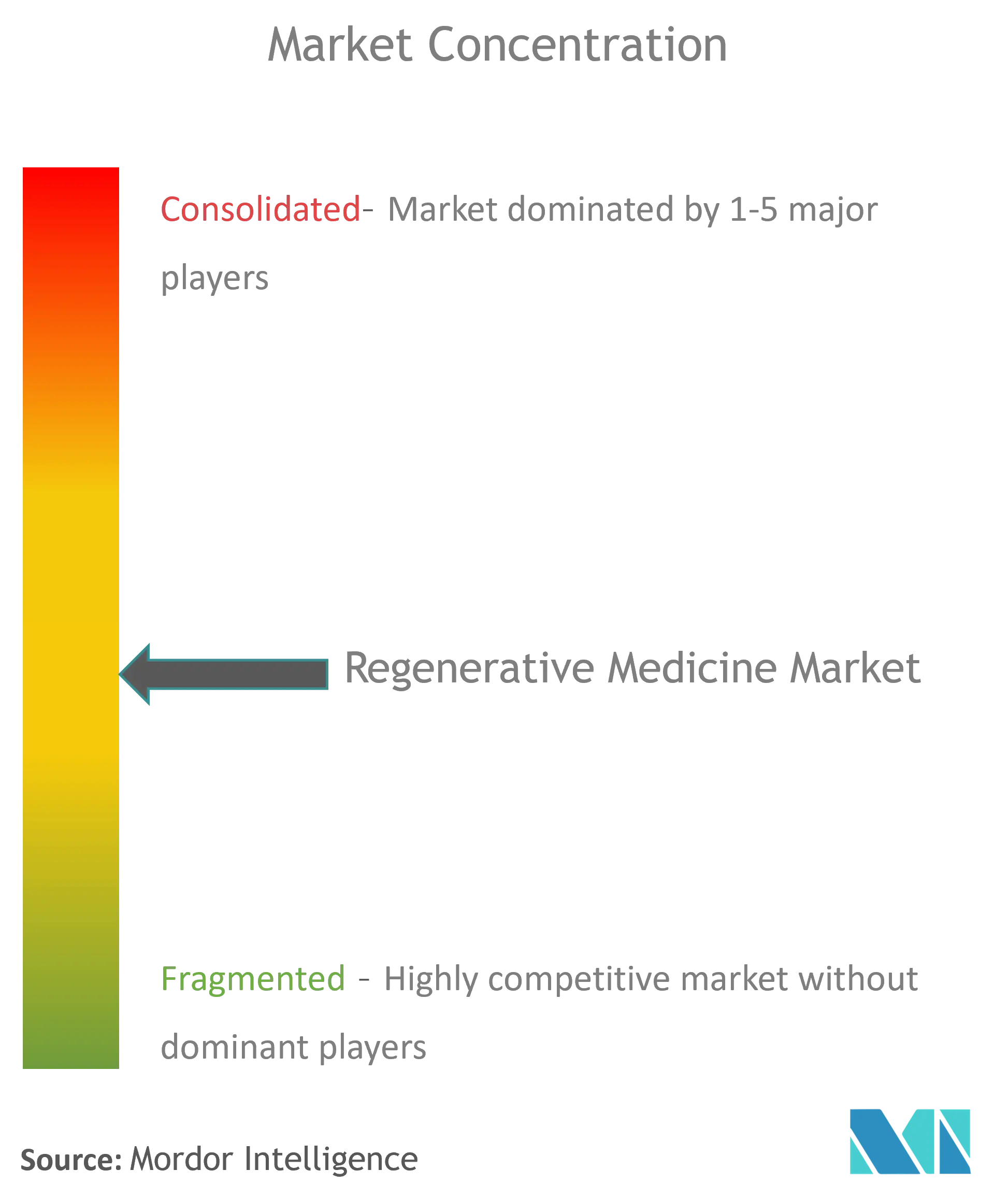 Regenerative Medicine Market Recent Developments
In April 2022, Autolus Therapeutics plc announced that the U.S. Food and Drug Administration (FDA) has granted Regenerative Medicine Advanced Therapy designation to its lead gene therapy obecabatagene autoleucel, a CD19-directed autologous chimeric antigen receptor T therapy that is being investigated in the ongoing FELIX Phase 2 study of Leukemia.
In June 2021, the RegeneratOR Test Bed was launched that brought together resources to advance the regenerative medicine field in the United States.
Regenerative Medicine Market Report - Table of Contents
1. INTRODUCTION

1.1 Study Assumptions and Market Definition

1.2 Scope of the Study

2. RESEARCH METHODOLOGY

3. EXECUTIVE SUMMARY

4. MARKET DYNAMICS

4.1 Market Overview

4.2 Market Drivers

4.2.1 Increasing Adoption of Stem Cell Technology

4.2.2 Technological Advancements in Regenerative Medicine

4.3 Market Restraints

4.3.1 Regulatory and Ethical Issues

4.3.2 High Cost of Treatments

4.4 Porter's Five Forces Analysis

4.4.1 Threat of New Entrants

4.4.2 Bargaining Power of Buyers/Consumers

4.4.3 Bargaining Power of Suppliers

4.4.4 Threat of Substitute Products

4.4.5 Intensity of Competitive Rivalry

5. MARKET SEGMENTATION

5.1 By Type of Technology

5.1.1 Stem Cell Therapy

5.1.2 Biomaterial

5.1.3 Tissue Engineering

5.1.4 Other Types of Technologies

5.2 By Application

5.2.1 Bone Graft Substitutes

5.2.2 Osteoarticular Diseases

5.2.3 Dermatology

5.2.4 Cardiovascular

5.2.5 Central Nervous System

5.2.6 Other Applications

5.3 Geography

5.3.1 North America

5.3.1.1 United States

5.3.1.2 Canada

5.3.1.3 Mexico

5.3.2 Europe

5.3.2.1 Germany

5.3.2.2 United Kingdom

5.3.2.3 France

5.3.2.4 Italy

5.3.2.5 Spain

5.3.2.6 Rest of Europe

5.3.3 Asia-Pacific

5.3.3.1 China

5.3.3.2 Japan

5.3.3.3 India

5.3.3.4 Australia

5.3.3.5 South Korea

5.3.3.6 Rest of Asia-Pacific

5.3.4 Middle East and Africa

5.3.4.1 GCC

5.3.4.2 South Africa

5.3.4.3 Rest of Middle East and Africa

5.3.5 South America

5.3.5.1 Brazil

5.3.5.2 Argentina

5.3.5.3 Rest of South America

6. COMPETITIVE LANDSCAPE

6.1 Company Profiles

6.1.1 Cook Biotech Incorporated

6.1.2 Organogenesis Inc.

6.1.3 Baxter International

6.1.4 Medtronic Plc

6.1.5 Thermo Fisher Scientific

6.1.6 Merck KgaA

6.1.7 Becton Dickinson and Company

6.1.8 ViaCyte, Inc.

6.1.9 PolarityTE Inc.

6.1.10 AbbVie Inc.

*List Not Exhaustive

7. MARKET OPPORTUNITIES AND FUTURE TRENDS
**Subject to Availability
**Competitive Landscape covers- Business Overview, Financials, Products and Strategies and Recent Developments
Regenerative Medicine Market Research FAQs
What is the study period of this market?
The Global Regenerative Medicine Market is studied from 2018 - 2028.
What is the growth rate of Global Regenerative Medicine Market?
The Global Regenerative Medicine Market is growing at a CAGR of 19.2% over the next 5 years.
Which region has highest growth rate in Global Regenerative Medicine Market?
Asia Pacific is growing at the highest CAGR over 2018 - 2028.
Which region has largest share in Global Regenerative Medicine Market?
North America holds highest share in 2021.
Who are the key players in Global Regenerative Medicine Market?
Organogenesis Inc., Cook Biotech Incorporated, AbbVie Inc., Osiris Therapeutics Inc. (Smith & Nephew), Integra Lifesciences are the major companies operating in Global Regenerative Medicine Market.
Global Regenerative Medicine Industry Reports
In-depth industry statistics and market share insights of the Global Regenerative Medicine sector for 2020, 2021, and 2022. The Global Regenerative Medicine research report provides a comprehensive outlook of the market size and an industry growth forecast for 2023 to 2028. Available to download is a free sample file of the Global Regenerative Medicine report PDF.
80%

of our clients seek made-to-order reports. How do you want us to tailor yours?