Oxygen Gas Sensors Market Size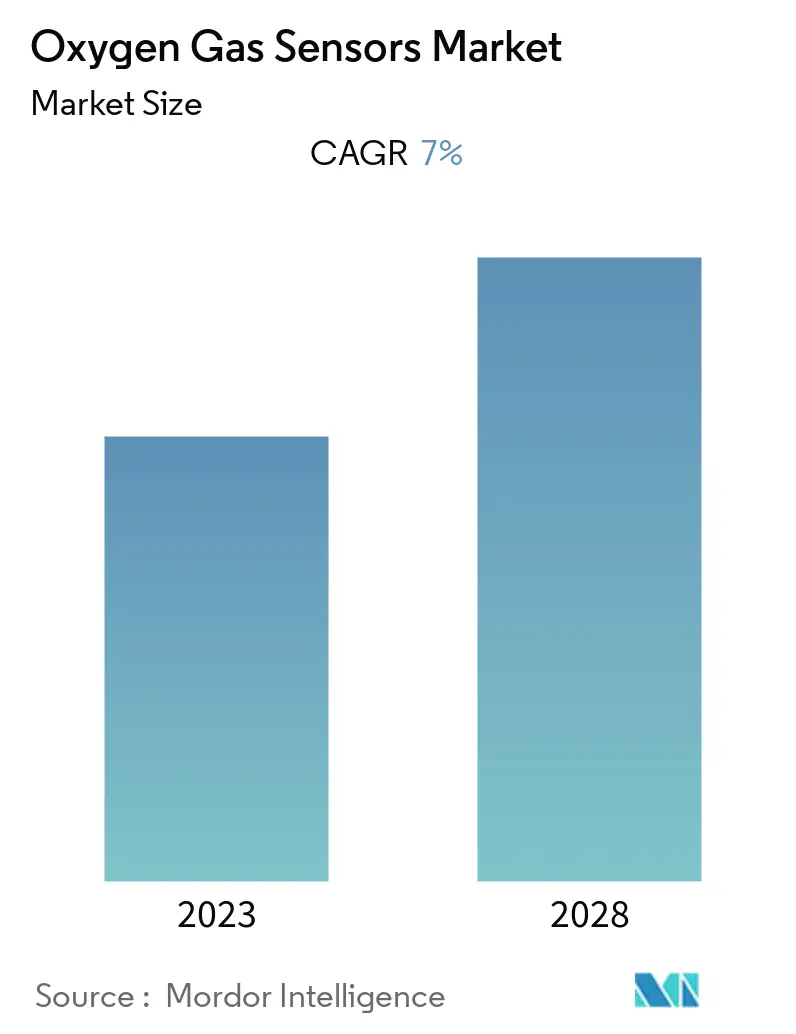 Study Period
2018 - 2028
Base Year For Estimation
2022
CAGR
7.00 %
Fastest Growing Market
Asia Pacific
Largest Market
Asia Pacific
Market Concentration
Low

Major Players

*Disclaimer: Major Players sorted in no particular order
Need a report that reflects how COVID-19 has impacted this market and its growth?
Oxygen Gas Sensors Market Analysis
The Oxygen Gas Sensors Market is expected to register a CAGR of 7% over the forecast period. The ability to reliably measure oxygen concentration or partial pressure and warn about abnormal conditions is critical in industrial safety environments, such as mines, oil production facilities, and chemical plants. This helps in driving the growth of the market.
The primary factor that has driven the market's growth over the years is the increasing number of applications for oxygen sensors, coupled with rapid technological advancements in sensing technologies. For instance, MTE-THOMSON recently introduced Planar Oxygen Sensor New Generation for the Fuel Injection system. This new sensor is equipped with the latest technology that does not have a reference chamber in the ceramic, which measures the oxygen in the atmosphere. This reference chamber is created electronically by the Engine Control Unit utilizing a new technology.
Furthermore, applications ranging from adjusting the air-fuel ratio in automobiles to controlling industrial processes increasingly demand oxygen sensors, as ascertaining oxygen levels accurately is essential. For instance, in August 2022, Premier Auto Trade announced a significant expansion to its Oxygen and Air Fuel Ratio Sensors range. The PAT range now includes over 800 Direct Fit Oxygen Sensors for petrol, LPG, and diesel vehicles with a spread across Japanese, Korean, USA, and European manufacturers. This covers over 14 million vehicle applications in Australia and New Zealand, making it the most extensive range in the Australian Aftermarket.
Moreover, environmental concerns play a crucial role in driving the growth of oxygen sensors. It is known that dissolved oxygen is a critical requirement for the maintenance of balanced populations of shellfish, fish, and other aquatic organisms in both estuarine and nearshore coastal waters. Various projects have been and are expected to be implemented to measure the dissolved oxygen in the water. Further, in August 2022, Maharashtra Startup Got INR 3.29 Cr support from the Government for Indigenous Development of Hydrogen Gas Detecting Technology. Multi Nano Sense Technologies signed an MoU Technology Development Board under DST for the indigenous development of Hydrogen Sensing & Analysis Technology.
Furthermore, ammonia, ozone, and chlorine are all toxic gases used in the decontamination stage of wastewater treatment and water purification plants. For instance, the government of India recently spent USD 34.83 billion on the Jal Jeevan mission implementation project. The scheme focuses on increasing local water sources, recharging existing sources, and will promote water harvesting and desalination.
Companies are rolling out new products lately to remain competitive in the market. Further, Crowcon Detection Instruments Ltd launched a long-life oxygen sensor in its Gasman portable gas detector. The new sensor has an extended lifespan, which reduces the total cost of ownership, and is also completely free of lead, helping organizations to comply with imminent changes to the restriction of hazardous substances (RoHS) regulations, and reducing harm to the environment.
The COVID-19 pandemic pushed healthcare to the limit, but oxygen management in hospitals has become a challenge for healthcare systems globally. The safety of healthcare providers and their patients is paramount within the healthcare environment. Moreover, the pandemic resulted in constrained growth in sectors, such as automotive, oil and gas, and chemicals, as well as the manufacturing of ventilators, respirators, and other medical device/equipment necessary for the critical care of patients.
Oxygen Gas Sensors Market Trends
This section covers the major market trends shaping the Oxygen Gas Sensors Market according to our research experts:
Automotive Sector to Occupy a Significant Market Demand
Oxygen gas sensors are majorly employed in automobile exhausts to measure the amount of oxygen entering the car cylinders accurately. This instrument is used to manage the released emission of petrol, diesel, and gas engines. The growing fleet of automotive vehicles, combined with tight government emission control regulations, is expected to stimulate automotive oxygen gas sensors sales in the future.
Furthermore, the growing retrofitting of automotive oxygen gas sensors for vintage vehicles is expected to provide considerable opportunities for stakeholders in the coming years. In August 2022, the Indian government launched India's first double-decker electric bus in Mumbai. It is working to create an integrated electric vehicle (EV) mobility ecosystem with a low carbon footprint and high passenger density emphasizing urban transportation reform.
Rapid advancements in coating materials for automotive oxygen gas sensors are expected to usher in new paradigms in the worldwide automotive oxygen sensor market. Most players now use High-Temperature Co-fired Ceramic (HTCC) green tapes with oxygen sensors to create high-strength and long-lasting vehicle sensors.
Furthermore, in August 2022, Bosch announced a more than USD 200 million investment to produce fuel cell stacks in Anderson, S.C. A fuel cell operates by using hydrogen to generate electrical energy. As the hydrogen ions pass over the fuel cell plates, they combine with oxygen to create electricity. The only by-product is water, allowing the vehicle to run with zero local carbon emissions.
Moreover, the industry is governed by strict policies and regulations employed by both national and international authorities, making it mandatory to utilize these systems. The industry depends on oxygen sensors to meet the emission standards governments and concerned authorities set. For instance, most gasoline-powered vehicles are equipped with catalytic converters to comply with the U.S. Environmental Protection Agency's stricter regulation of exhaust emissions.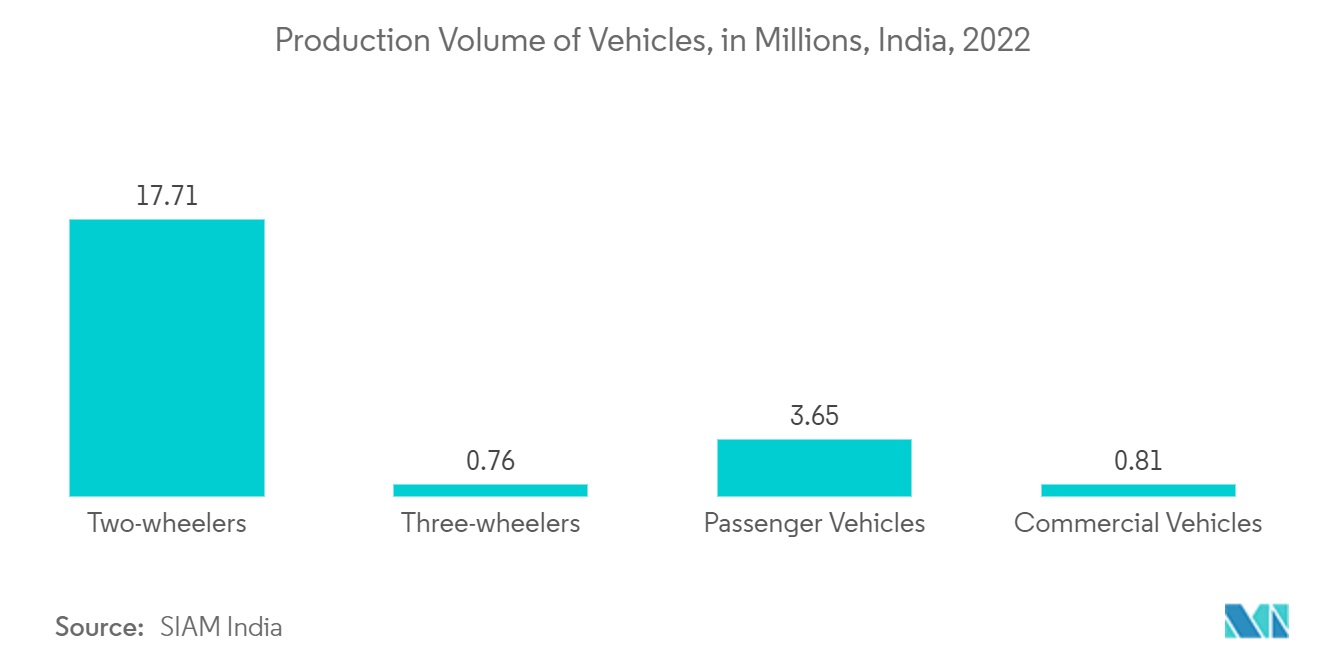 To understand key trends, Download Sample Report
Asia-Pacific to Mark the Fastest Growth Rate
The automotive sector in this region is expected to be the significant driver for incorporating oxygen sensors due to the increasing automobile production. According to IBEF, the Indian passenger car market is predicted to reach a value of USD 54.84 billion by 2027. Indian automotive industry is targeting to increase the export of vehicles by five times during 2016-2026. Furthermore, in FY 2022, total automobile exports from India stood at 5,617,246.
In addition, in March 2022, MG Motors, owned by China's SAIC Motor Corp, announced plans to raise USD 350-500 million in private equity in India to fund its future needs, including EV expansion. In addition, Two-wheeler EV maker HOP Electric Mobility, a diversified business venture of Rays Power Infra, is looking at investing INR 100 crore (USD 13.24 million) over the next two years to extend manufacturing capacity for Electric Vehicles. The increased usage of automobiles in the region consequently drives the market for oxygen gas sensors.
Furthermore, the government of India encourages foreign investment in the automobile sector and has allowed 100% FDI under the automatic route. Furthermore, in February 2022, carmakers, including Tata Motors Ltd, Suzuki Motor Gujarat, Mahindra and Mahindra, Hyundai, and Kia India Pvt. Ltd received PLI as part of the government's plan to increase local vehicle manufacturing and attract new investment. The 20 automobile companies proposed an investment of around INR 45,000 crore (USD 5.95 billion). Such government policies and initiatives in the automotive sector may further drive the studied market demand in the future.
The region's industrial manufacturing is also set to increase due to developing economies and government initiatives like "make in China" and "make in India." The growth of the industrial sector is expected to boost the oxygen sensors market due to its wide applications in the industrial sector.
The chemical and petrochemical sectors have many applications for oxygen sensors. The region is home to one of the most extensive explorations in the world. For instance, According to IBEF, under the Union Budget 2022-2023, the government allotted INR 209 crores (USD 27.43 million) to the Department of Chemicals and Petrochemicals. Furthermore, an investment of INR 8 lakh crore (USD 107.38 billion) is estimated in the Indian chemicals and petrochemicals sector by 2025.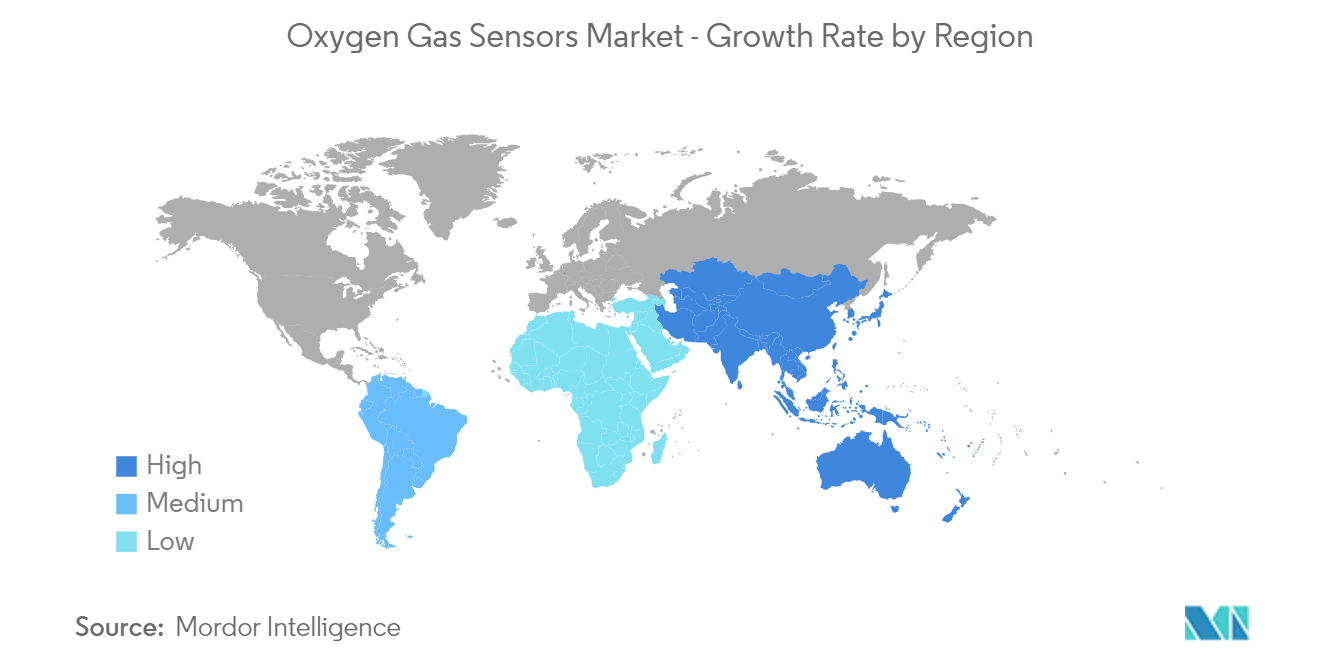 To understand geography trends, Download Sample Report
Oxygen Gas Sensors Industry Overview
The Oxygen Gas Sensors Market is highly fragmented due to the presence of a large number of players and low-entry barriers. The major players include ABB, Honeywell, Eaton, GE, and other companies continuously invest in strategic partnerships and product developments to gain market share.
July 2022 -Suzhou Institute of Biomedical Engineering and Technology (SIBET) researchers announced the development of an electrochemical/fluorescent dual-mode biosensor for circulating tumor DNA based on methylene blue and red-emissive carbon nanodots.
March 2022- Sea-Bird Scientific has announced the release of the SBS 83 Optical Oxygen Sensor, which will become the standard for Navis floats as part of the GO-BGC program, which aims to build a network of chemical and biological sensors to monitor global ocean health.
Oxygen Gas Sensors Market Leaders
Robert Bosch GmbH

ABB Limited

Honeywell International Corporation

Eaton Corporation

General Electric Company
*Disclaimer: Major Players sorted in no particular order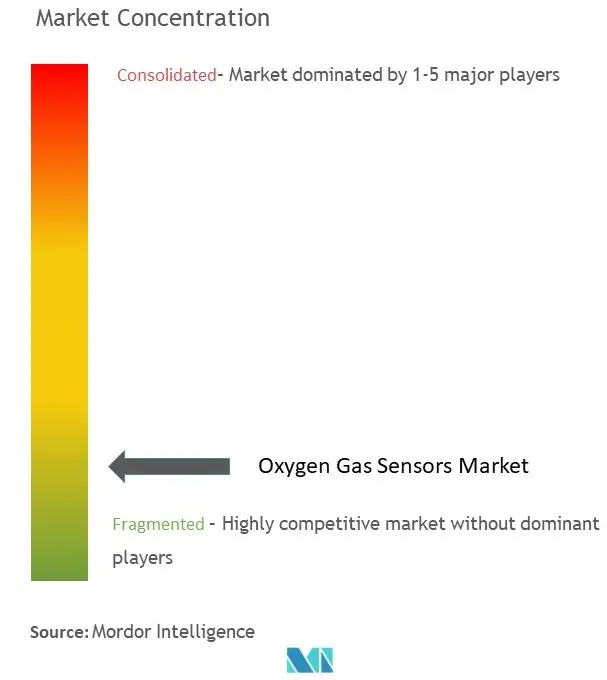 Oxygen Gas Sensors Market News
August 2022- Endress+Hauser introduced new Liquid Analysis disinfection sensors and accessories for use in a broader range of applications, including the CCS55D Memosens Free amperometric Bromine sensor, CCS58D Memosens Ozone sensor, and Flowfit CYA27 assembly. The CYA27 group is designed to be freely configurable, allowing it to accommodate a variety of sensors, such as disinfection, pH, conductivity, and dissolved oxygen. It also includes flow monitoring and diagnostic indicator options to ensure accurate measurement in various disinfection applications.
August 2022- D.O. Meter started utilizing Analog Dissolved Oxygen Sensor & Arduino. Dissolved oxygen is the extent of free, non-compound oxygen in water or other liquids. It's one of the essential parameters when assessing water quality due to its influence on the organisms living within a body of water.
May 2022- Angst+Pfister Sensors and Power designed a new type of oxygen sensor for the metal, ceramic, and polymer Additive Manufacturing procedures. The unique long-life digital oxygen sensors and sensor modules for AM offer ppm signal resolution and no cross-influence from most other gases.
Oxygen Gas Sensors Market Report - Table of Contents
1. INTRODUCTION

1.1 Study Deliverables

1.2 Study Assumptions

1.3 Scope of the Study

2. RESEARCH METHODOLOGY

3. EXECUTIVE SUMMARY

4. MARKET DYNAMICS

4.1 Market Overview

4.2 Introduction to Market Drivers and Restraints

4.3 Market Drivers

4.3.1 Government Regulations to Ensure Safety in Work Places

4.4 Market Restraints

4.4.1 Lack of Awareness of Applications and Usage of Oxygen Sensors in SMEs

4.5 Value Chain Analysis

4.6 Industry Attractiveness - Porter's Five Forces Analysis

4.6.1 Threat of New Entrants

4.6.2 Bargaining Power of Buyers

4.6.3 Bargaining Power of Suppliers

4.6.4 Threat of Substitute Products

4.6.5 Intensity of Competitive Rivalry

5. MARKET SEGMENTATION

5.1 By Type

5.1.1 Potentiometric

5.1.2 Amperometric

5.1.3 Resistive

5.1.4 Other Types

5.2 By Technology

5.2.1 Infrared

5.2.2 Catalytic

5.2.3 Other Technologies

5.3 By End User Industry

5.3.1 Chemical and Petrochemical

5.3.2 Automotive

5.3.3 Medical and Life Sciences

5.3.4 Industrial

5.3.5 Water and Wastewater

5.3.6 Smart Buildings

5.3.7 Other End User Industries

5.4 By Geography

5.4.1 North America

5.4.1.1 United States

5.4.1.2 Canada

5.4.2 Europe

5.4.2.1 Germany

5.4.2.2 United Kingdom

5.4.2.3 France

5.4.2.4 Russia

5.4.2.5 Rest of the Europe

5.4.3 Asia Pacific

5.4.3.1 China

5.4.3.2 Japan

5.4.3.3 India

5.4.3.4 South Korea

5.4.3.5 Rest of the Asia Pacific

5.4.4 Latin America

5.4.4.1 Brazil

5.4.4.2 Argentina

5.4.4.3 Mexico

5.4.4.4 Rest of the Latin America

5.4.5 Middle East & Africa

5.4.5.1 United Arab Emirates

5.4.5.2 Saudi Arabia

5.4.5.3 South Africa

5.4.5.4 Rest of the Middle East & Africa

6. COMPETITIVE LANDSCAPE

6.1 Company Profiles

6.1.1 Robert Bosch GmbH

6.1.2 ABB Limited

6.1.3 Honeywell International Corporation

6.1.4 Eaton Corporation

6.1.5 General Electric Company

6.1.6 Figaro Engineering Inc.

6.1.7 Advanced Micro Instruments Inc.

6.1.8 Yokogawa Electric Corporation

6.1.9 City Technology Limited

6.1.10 Delphi Automotive PLC

6.1.11 Hamilton Company

6.1.12 Sensore Electronic GmbH

6.1.13 Aeroqual Limited

6.1.14 AlphaSense Inc.

6.1.15 Control Instruments Corporation

6.1.16 Fujikura Limited

6.1.17 Membrapor AG

6.1.18 Mettler-Toledo International Inc.

6.1.19 Francisco Albero SAU

6.1.20 Maxtec LLC

*List Not Exhaustive

7. INVESTMENT ANALYSIS

8. FUTURE OF THE MARKET
Oxygen Gas Sensors Industry Segmentation
An oxygen sensor is an electronic device that measures the proportion of oxygen (O2) in the gas or liquid being analyzed. The most common application is to measure the exhaust-gas oxygen concentration for internal combustion engines in automobiles and other vehicles to calculate and, if required, dynamically adjust the air-fuel ratio so that catalytic converters can work optimally. And it is also used to determine whether the converter is performing correctly.
The studied market is segmented by different types, such as Potentiometric, Amperometric, and Resistive in Infrared and Catalytic technologies among various End-user Industries, such as Chemical and Petrochemical, Automotive, Medical and Life Sciences, Industrial, Water and Wastewater, Smart Buildings in multiple geographies. The impact of COVID-19 on the market and impacted segments are also covered under the scope of the study. Further, the disruption of the factors affecting the market's expansion in the near future has been covered in the study regarding drivers and restraints. The market sizes and forecasts are provided regarding value (USD million) for all the above segments.
By Type
Potentiometric
Amperometric
Resistive
Other Types
By Technology
Infrared
Catalytic
Other Technologies
By End User Industry
Chemical and Petrochemical
Automotive
Medical and Life Sciences
Industrial
Water and Wastewater
Smart Buildings
Other End User Industries
By Geography

North America
United States
Canada

Europe
Germany
United Kingdom
France
Russia
Rest of the Europe

Asia Pacific
China
Japan
India
South Korea
Rest of the Asia Pacific

Latin America
Brazil
Argentina
Mexico
Rest of the Latin America

Middle East & Africa
United Arab Emirates
Saudi Arabia
South Africa
Rest of the Middle East & Africa
Oxygen Gas Sensors Market Research FAQs
What is the current Oxygen Gas Sensors Market size?
The Oxygen Gas Sensors Market is projected to register a CAGR of 7% during the forecast period (2023-2028).
Who are the key players in Oxygen Gas Sensors Market?
Robert Bosch GmbH, ABB Limited, Honeywell International Corporation, Eaton Corporation and General Electric Company are the major companies operating in the Oxygen Gas Sensors Market.
Which is the fastest growing region in Oxygen Gas Sensors Market?
Asia Pacific is estimated to grow at the highest CAGR over the forecast period (2023-2028).
Which region has the biggest share in Oxygen Gas Sensors Market?
In 2023, the Asia Pacific accounts for the largest market share in the Oxygen Gas Sensors Market.
Oxygen Gas Sensors Industry Report
Statistics for the 2023 Oxygen Gas Sensors market share, size and revenue growth rate, created by Mordor Intelligence™ Industry Reports. Oxygen Gas Sensors analysis includes a market forecast outlook to 2028 and historical overview. Get a sample of this industry analysis as a free report PDF download.
Oxygen Gas Sensors Report Snapshots
80%

of our clients seek made-to-order reports. How do you want us to tailor yours?