Ophthalmology is a branch of medicine that deals with the anatomy, physiology, and diseases of the eye. An ophthalmologist is a specialist in medical and surgical eye problems, who performs operations on eyes. They are specially trained to provide the full spectrum of eye care, from prescribing glasses and contact lenses to complex and delicate eye surgery. The devices include glasses, lenses, diagnostics, lasers, solutions, and surgical instruments. The global ophthalmology drug and device market is expected to register a CAGR of 5.3% during the forecast period of 2018-2023.
Growth in Cataract Volume
Cataract volume has registered a rapid increase in the recent years. The aging population is expected to burden all areas of health care, and ophthalmologists provide approximately 90% of their procedure-based services to seniors. Cataract surgery is the most frequent surgical procedure performed in many countries and provides significant improvements in quality of life, to elderly population at low costs.
With an increase in the demand for ophthalmological devices, projecting future cataract surgery needs are vital for health human resource, hospital, and surgical center management and planning.
Other factors, such as availability of new drugs and devices and prevalence of eye disease are expected to drive the market over the forecast period.
Strict FDA Guidelines for Drug Approval
There are many regulations by agencies, such as the FDA, to ensure the safety and efficacy of products. Tighter regulations on the label contents are being seriously enforced, as there were frequent occurrences of violations.
The cost of complying with FDA guidelines is expected to drive many small pharmacies out of business or force them to consolidate. For example, these regulations would impose a beyond-use date for bevacizumab and other biologics of only five days, but it takes 14 days just to test the sterility of these drugs, which means the regulations for compounded ophthalmology drugs besides bevacizumab, such as ophthalmology mitomycin, and triamcinolone acetonide plus moxifloxacin hydrochloride injection, will become much more expensive or even unavailable.
Additionally, increasing healthcare cost and economic slowdown in developed countries are also restraining the market's growth.
North America to Dominate the Market
The ophthalmology drug and device market has been segmented by surgical device, drug, and geography. By surgical device, the market has been segmented into glaucoma surgery devices, cataract surgery devices, refractive surgery devices, vitreoretinal surgery devices, and diagnostic & monitoring devices. By drug, the market has been segmented into anti glaucoma drugs, ophthalmology infection drugs, ophthalmology inflammation drugs, ophthalmology lubricants, mydriasis drugs, and ophthalmology swelling. By geography, the market has been segmented into North America, Europe, Asia-Pacific, Middle East & Africa, and South America.
Due to the presence of well-established healthcare facilities and the rise in geriatric population in the region, North America dominates the ophthalmology drug and device market.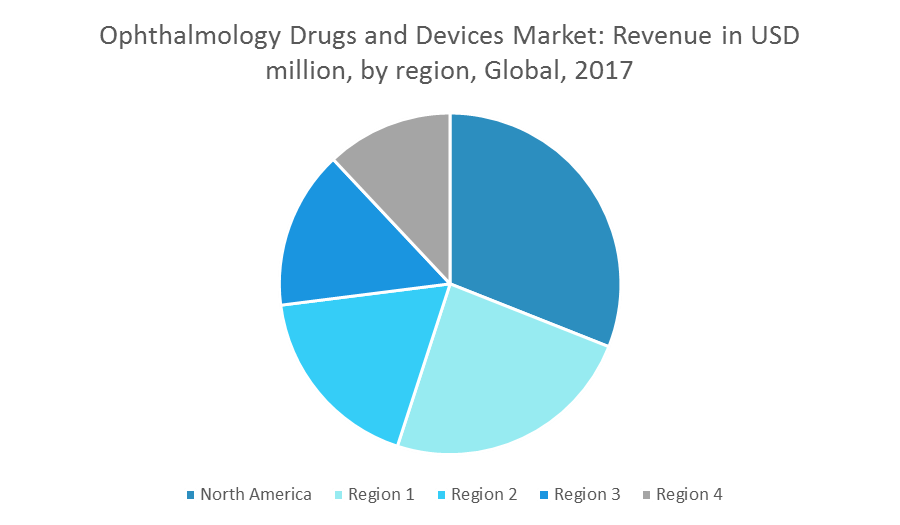 Key Developments in the Market
November 2017: Bausch & Lomb got Vyzulta approved for reduction of intraocular pressure, in patients with open-angle glaucoma or ocular hypertension.
November 2017: Zeiss introduced cloud-based cataract surgery planning platform, Veracity Surgical, and announced the integration with leading EMRs.
The major players in the market include - Carl Zeiss Meditec AG, Alcon Inc., Johnson & Johnson, Topcon Corporation, Nidek Co. Ltd, Haag-Streit Group, Ziemer Ophthalmology Systems AG, Essilor International SA, and Bausch & Lomb Inc., amongst others.
Reasons to Purchase This Report
Analysis of the global ophthalmology drug and device market, with region-specific assessments and competition analysis on global and regional scales.
Analyzing various perspectives of the industry with the help of Porter's five forces analysis.
The treatment type that is expected to dominate the market.
Regions that are expected to witness the fastest growth during the forecast period.
Identify the latest developments, market shares, and strategies employed by the major market players.
3 months analyst support along with the Market Estimate sheet (in excel).
Customization of the Report
This report can be customized to meet your requirements. Please connect with our analyst, who will ensure you get a report that suits your needs.
1. Introduction
1.1 Study Deliverables
1.2 Market Definition
1.3 General Study Assumptions
2. Research Methodology
2.1 Introduction
2.2 Analysis Methodology
2.3 Study Phases
2.4 Secondary Research
2.5 Discussion Guide
2.6 Econometric Forecast Model
2.7 Expert Validation
2.8 Study Timeline
3. Executive Summary
4. Key Inferences
5. Market Overview
5.1 Current Market Scenario
5.2 Market Overview
5.3 Porter's Five Forces Analysis
5.3.1 Bargaining Power of Suppliers
5.3.2 Bargaining Power of Buyers
5.3.3 Degree of Competition
5.3.4 Threat of Substitution
5.3.5 Threat of New Entrants
6. Drivers, Restraints, Opportunities, and Challenges (DROC) Analysis
6.1 Market Drivers
6.1.1 Demographic Shift and Impact of Prevalence of Eye Disease
6.1.2 Availability of New Drugs and Devices
6.1.3 Growth in Cataract Volume
6.2 Market Restraints
6.2.1 Increasing Healthcare Costs
6.2.2 Economic Slowdown in Developed Markets
6.2.3 Strict FDA Guidelines for Drug Approval
6.3 Opportunities
6.4 Challenges
7. Market Segmentation
7.1 Surgical Device
7.1.1 Glaucoma Surgery Devices
7.1.1.1 Glaucoma Drainage Devices
7.1.1.2 Glaucoma Lasers
7.1.1.3 Glaucoma Stents and Implants
7.1.1.4 Other Glaucoma Surgery Devices
7.1.2 Cataract Surgery Devices
7.1.2.1 Intraocular Lenses
7.1.2.2 Phacoemulsification Devices
7.1.2.3 Ophthalmic Viscoelastic Devices
7.1.3 Refractive Surgery Devices
7.1.3.1 Microkeratomers
7.1.3.2 Lasers
7.1.4 Vitreoretinal Surgery Devices
7.1.4.1 Photocoagulation Lasers
7.1.4.2 Illumination Devices
7.1.4.3 Vitrectomy Machines & Packs
7.1.4.4 Other Vitreoretinal Surgery Devices
7.1.5 Diagnostic & Monitoring Devices
7.1.5.1 Fundus Cameras
7.1.5.2 Ophthalmoscopes
7.1.5.3 Retinoscopes
7.1.5.4 Keratometers
7.1.5.5 Tonometers
7.1.5.6 Wavefront Aberrometers
7.1.5.7 Corneal Topography
7.1.5.8 Autorefractors
7.1.5.9 Visual Field Analyzers
7.1.5.10 Slit Lamps
7.1.5.11 Optical Coherence Tomography Scanners
7.1.5.12 Ophthalmic Ultrasound Imaging Systems
7.1.5.13 Other Diagnostic & Monitoring Devices
7.2 By Drugs
7.2.1 Anti Glaucoma Drugs
7.2.2 Ophthalmic Infection Drugs
7.2.3 Ophthalmic Inflammation Drugs
7.2.4 Ophthalmic Lubricants
7.2.5 Mydriasis Drugs
7.2.6 Ophthalmic Swelling
7.3 By Geography
7.3.1 North America
7.3.1.1 US
7.3.1.2 Canada
7.3.1.3 Mexico
7.3.2 Europe
7.3.2.1 Germany
7.3.2.2 UK
7.3.2.3 France
7.3.2.4 Italy
7.3.2.5 Spain
7.3.2.6 Rest of Europe (RoE)
7.3.3 Asia-Pacific
7.3.3.1 Japan
7.3.3.2 China
7.3.3.3 India
7.3.3.4 South Korea
7.3.3.5 Australia
7.3.3.6 Rest of Asia-Pacific (RoAP)
7.3.4 Middle East & Africa
7.3.4.1 GCC Countries
7.3.4.2 South Africa
7.3.4.3 Rest of Middle East & Africa (RoMEA)
7.3.5 South America
7.3.5.1 Brazil
7.3.5.2 Argentina
7.3.5.3 Rest of South America (RoSA)
8. Competitive Landscape
8.1 Mergers and Acquisitions
8.2 Agreements, Collaborations, and Partnerships
8.3 New Product Launches
9. Company Profiles
9.1 Carl Zeiss Meditec AG
9.2 Alcon Inc.
9.3 Johnson & Johnson
9.4 Topcon Corporation
9.5 Nidek Co. Ltd
9.6 Haag-Streit Group
9.7 Ziemer Ophthalmic Systems AG
9.8 Essilor International SA
9.9 Bausch & Lomb Inc.
10. Future of the Market