LiDAR Market Size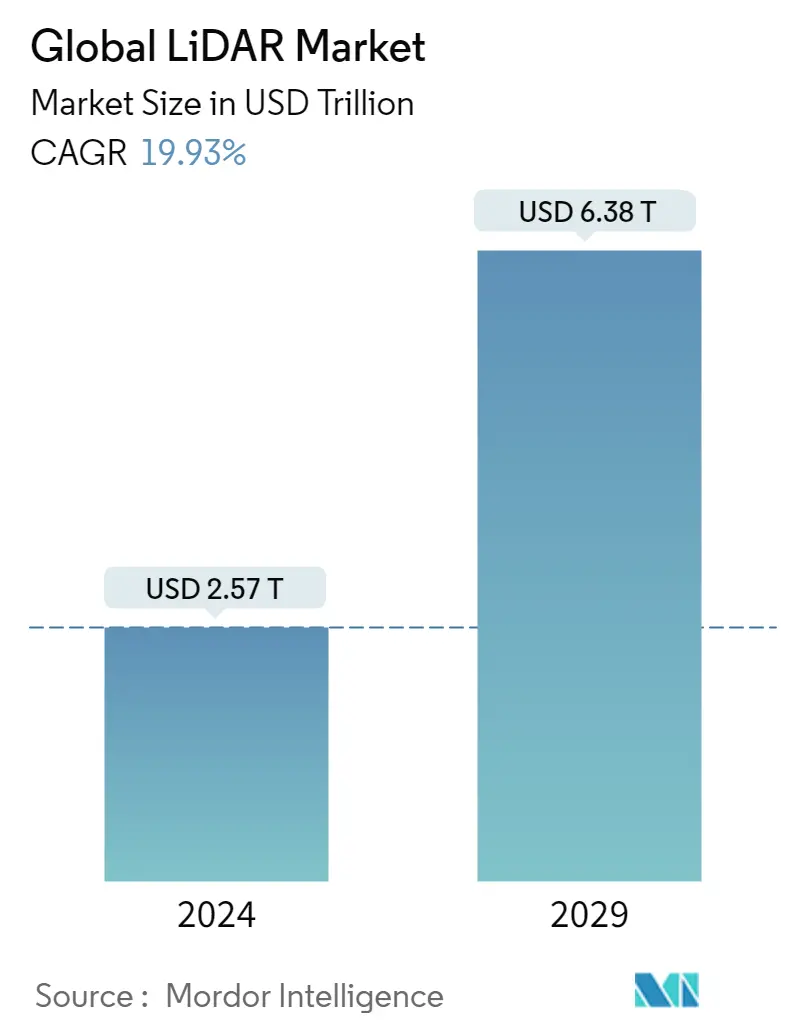 Study Period
2018 - 2028
Market Size (2023)
USD 2.25 Billion
Market Size (2028)
USD 7.23 Billion
CAGR (2023 - 2028)
26.28 %
Fastest Growing Market
Asia-Pacific
Largest Market
North America

Major Players

*Disclaimer: Major Players sorted in no particular order
Need a report that reflects how COVID-19 has impacted this market and its growth?
LiDAR Market Analysis
The LiDAR Market size is estimated at USD 2.25 billion in 2023, and is expected to reach USD 7.23 billion by 2028, growing at a CAGR of 26.28% during the forecast period (2023-2028).
One of the primary factors augmenting the LiDAR market growth is the increasing use of LiDAR systems in UAVs, the use of LiDAR in engineering and construction applications, the use of LiDAR in geographical information systems (GIS) applications, the emergence of 4D LiDAR, and the loosening of regulations surrounding the use of commercial drones in various applications. The market's expansion is being held back by safety concerns around UAVs and autonomous vehicles, as well as the accessibility of affordable and lightweight photogrammetry devices.
Globally, and especially in developing nations, the size and scope of engineering and civil construction activities have greatly increased to accommodate the growing population. All stages of building activities, from surveying and mapping to conducting project feasibility studies, call for an increasing amount of technology. LiDAR technologies can easily and accurately give a detailed survey of vast areas. Additionally, global positioning system-assisted laser scanners and extremely sensitive cameras assist engineers in creating designs that meet project criteria and accurate feasibility assessments. Many LiDAR service providers have expanded as a result of this.
According to US Census Bureau, between 2002 and 2021, the United States saw a huge increase in the value of public residential construction spending. In comparison to 2020, the public sector spent over USD 9 billion on residential development projects in 2021. The highest increase occurred in 2020, when public residential spending increased to USD 9.19 billion, a significant increase over USD 6.89 billion the previous year. The overall value of new residential construction in the US is expected to increase over the coming years.
In the oil and gas and mining sector, LiDAR technology allows scientists and mapping professionals to examine built and natural environments across a wide range of scales with greater accuracy, precision, and flexibility than ever before. The encouragement from the government in automation and the adoption of LiDAR in various government sector activities, like flood relief and management, are also driving the industry's growth. In India, the Transport Ministry mandated the use of LiDAR systems in surveying areas before constructing a new highway.
For instance, in August 2021, A Bozeman, a high-tech laser company, scored a multimillion-dollar contract to scan and map methane emissions for one of the nation's largest gas utility companies. The company signed USD 12 million contract with Southern California Gas Company / SoCalGas to survey gas leaks with its LiDAR (Light Detection and Ranging) technology.
The COVID-19 outbreak affected industries around the world. The automotive industry is one of the significant adopters of LiDAR. The outbreak has resulted in the shutdown of various production plants impacting the demand. Semiconductor materials scarcity has further aggravated the situation. The China Association of Automobile Manufacturers revised its predictions for 2020, projecting a 10% drop in sales for the first half of the year and 5% for the full year on account of the COVID-19 outbreak. According to the SMMT, car output was to fall by 18% in 2020 as a result of COVID-19 closing all the major UK plants.
LiDAR Market Trends
Robotic Vehicles are among the Factors Driving the Market
This segment is considering using LiDAR technology in robotic cars, automotive guided vehicles (AGVs), uncrewed vehicles, and drones. ADAS (Advanced Driver Assist System) is an acronym for Advanced Driver Assist System. LiDAR is one of the most advanced technologies currently being used to develop self-driving cars and autonomous vehicles. LiDAR (Light Detection And Ranging) can be used by autonomous drones, robots, and vehicles for navigation, obstacle detection, and collision avoidance.
LiDAR enables self-driving vehicles, AGVs, and other drones to make precise judgments without human error, making them less susceptible to crashes. This has increased in recent years due to technological advancements and the relative cost reduction of LiDAR sensors. A self-driving car can see the world with a continuous 360-degree view thanks to LiDAR. It also allows for highly accurate depth information.
When mounted on an AGV, a LiDAR sensor sends out a series of laser pulses that measure the distance between objects and the vehicle. This compiled data creates a full 360° environmental map of the operational area. The resulting mapping allows the AGV to navigate the facility without additional infrastructure.
Using LiDAR in robotic vehicles entails using multiple LiDARs to map the vehicle's surroundings. The use of LiDAR is required for a high level of sensor redundancy to ensure the safety of its passengers. The proper development of fully autonomous or robotic vehicles for passengers is still in the works, and LiDAR is expected to play a significant role in these as well.
LiDAR for robotic navigation provides critical distance measurement information about the environment and the vehicle's position on objects. Rapidly expanding e-commerce and a greater emphasis on workplace safety are driving massive growth in the Autonomous Mobile Robot (AMR) and Automatic Guided Vehicle (AGV) markets. Such factors will drive up demand for LiDAR applications in robotic vehicles.
For example, RoboSense, a Smart LiDAR Sensor Systems provider, held a new product launch in November 2022, RS-LiDAR-E1 (E1), a flash solid-state LiDAR that sees 360° based on its in-house, custom-developed chips, and flash technology platform. E1 will help partners bridge the gap in smart driving perception and improve the all-scenario perception capability of automated and autonomous vehicles as a critical piece to realizing the core functions of autonomous driving.
Furthermore, mobile robots operating outside can rely on geolocation capabilities such as GPS, as well as sensing technologies such as Lidar, to determine where they are and where they are going. LiDAR sensors are classified as navigation or obstacle avoidance sensors. The demand for Robot vehicles is expected to increase as E-commerce sales increase due to their wide range of applications. The market for LiDARs for robotic vehicle applications will be fueled by an increase in E-commerce sales.
For instance, Velodyne Lidar Inc. announced in June 2022 that Boston Dynamics would use its lidar sensors in its robots as part of a multi-year agreement. According to the company, its Lidar sensors enable mobile robots (AMR) to operate autonomously in a variety of conditions, including changing temperatures and rainstorms. Robots can use their sensors to obtain real-time 3D perception data for localization, mapping, object classification, and object tracking.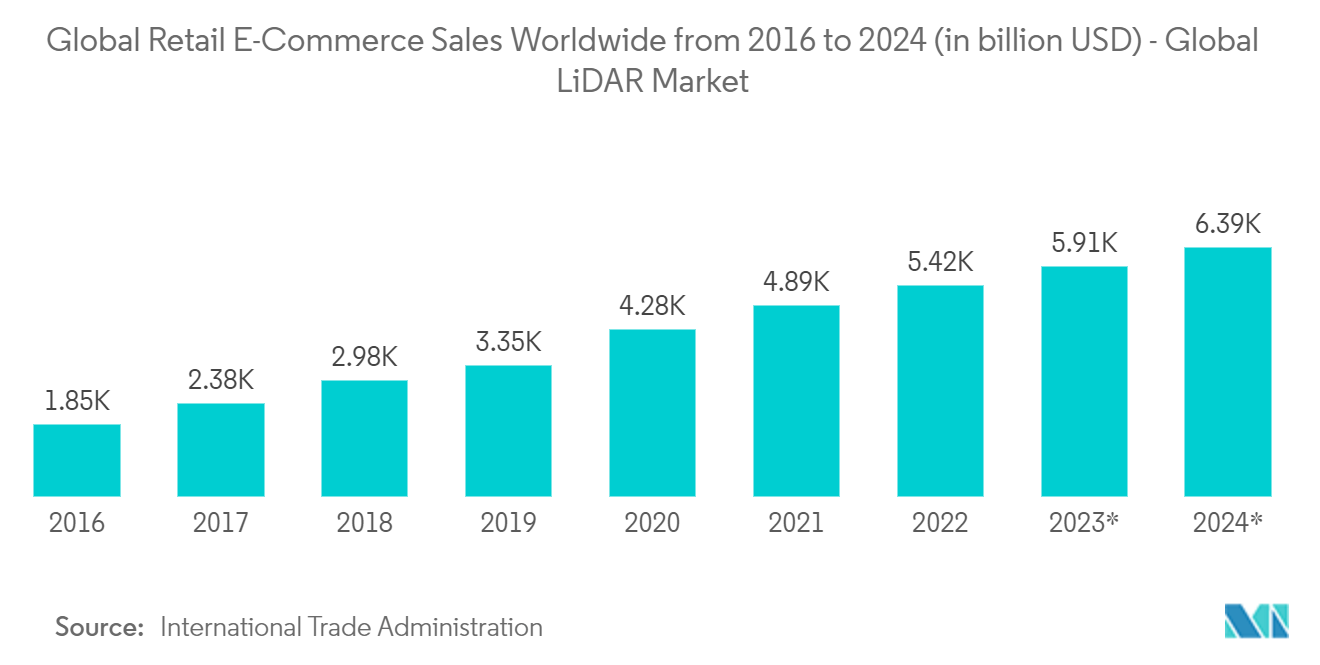 To understand key trends, Download Sample Report
Latin America is Expected to Observe Significant Growth
Latin America has dense forest cover and can be identified as a developing economy, indicating significant expansion and excavation opportunities. Owing to the native nature of the region, coupled with LiDAR technology, the region is expected to witness solid growth in the studied market.
According to the Food and Agriculture Organization (FAO) of the United Nations, 49% of the total area of Latin America and the Caribbean is covered by forests. The region's forest cover includes 891 million hectares, representing approximately 22% of the global forest area. The region is home to 57% of the world's primary forests, which makes it vital for biodiversity and conservation.
Research studies have been published showing the use of LiDAR technology for mapping the tree diversity in the tropical forest region of Choco-Columbia. The study published in April 2021 outlines the method to map various metrics integrating discrete light detection and ranging (LiDAR), among other technologies, which shows the possibility of integrating inventories of vegetation and remote sensing data for building accurate maps of tree α-diversity in tropical forest regions. Further, the study mentioned that using LiDAR data was instrumental in deriving the forest structural metrics associated with optical and SAR image data.
Furthermore, according to FAO, 14% of the total forest area has been earmarked for productive functions. The region's significant forest resources create a wide-open prospect for the adoption of the Lidar technology for its adoption in forestry. LiDAR-equipped drones can be used over these forest areas to create 3D models that illustrate the impact of human activity. Furthermore, owing to the capacity of LiDAR to penetrate tree cover makes it exceptionally useful for the region's thick forest-covered area.
In addition to the applications of technology in forestry, the region is marked for its farming lands. FAO has titled Latin America and the Caribbean as the pillar for world food security with a mission of driving the necessary agri-food systems transformation to feed 10 billion people by 2050. Such ambitious goals, coupled with increasing regional agricultural exports, are expected to support the adoption of the technology in the sector.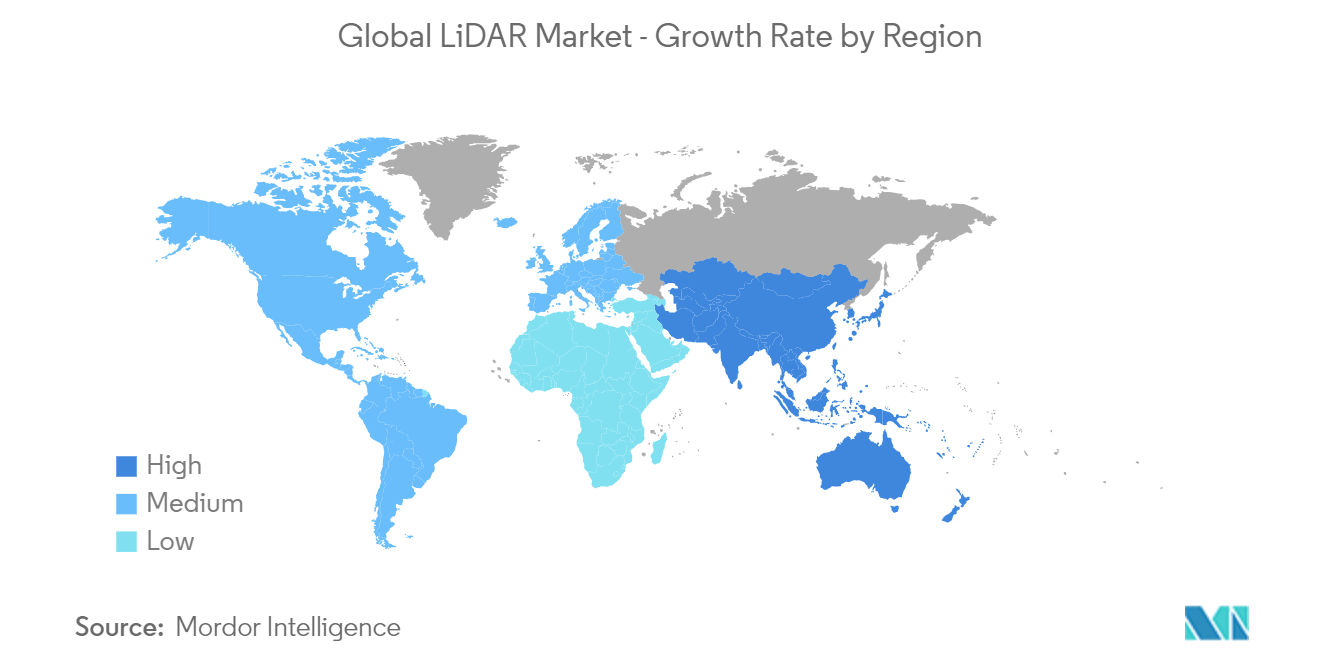 To understand geography trends, Download Sample Report
LiDAR Industry Overview
The LiDAR Market is fragmented due to many large and small players churning the competition in the market. Through product and technology launches, strategic partnerships, acquisitions, expansion, and collaboration, these players try to gain a competitive edge in the market. Key players in the market are Sick AG, Teledyne Optech, Quanergy Systems Inc., Velodyne LiDAR, 3D Laser Mapping Ltd, Denso Corporation, etc.
In June 2022, the new Leica Chiroptera-5 bathymetric LiDAR sensor offers a 40% higher point density, a 20% improvement in water depth penetration, and better topographic sensitivity to produce more precise hydrographic maps. This most recent mapping technology improves the sensor's topographic sensitivity, point density, and depth penetration compared to earlier generations. The new technology provides high-resolution LiDAR data to assist various applications, including nautical charting, coastal infrastructure design, environmental monitoring, and risk assessments for landslides and erosion.
In May 2022, Optical Phased Array (OPA) technology from Quanergy Systems Inc., LiDAR sensors, and smart 3D solutions supplier successfully detected objects at a distance of 250 meters. This advances the path towards the productization of its S3 Series LiDAR, a true solid-state sensor using an industry-first, scalable CMOS silicon manufacturing process created for cost-effective, mass-market production by increasing the range demonstrated earlier in the year by 2.5 times what was demonstrated in 2021.
LiDAR Market Leaders
Sick AG

Velodyne LiDAR

Leica Geoystems AG

Faro Technologies Inc.

Denso Corporation
*Disclaimer: Major Players sorted in no particular order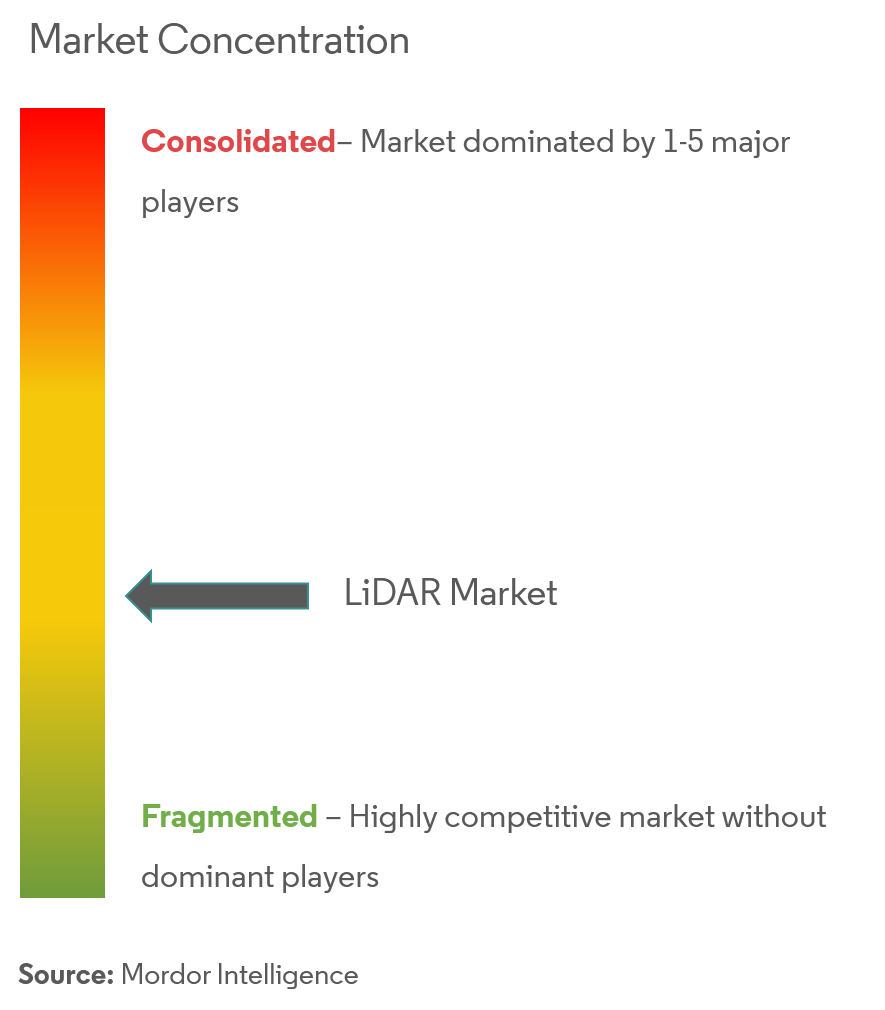 LiDAR Market News
May 2022: A smart LiDAR system technology provider, RoboSense LiDAR, has established a strategic alliance with dSPACE, the most well-known supplier of simulation and validation tools. In order to speed up the development, testing, and validation of LiDAR in intelligent driving applications, many RoboSense LiDAR sensors will be incorporated into the dSPACE simulation and validation toolchain.
Jan 2022: The Innoviz360 is a next-generation sensor that Innoviz Technologies Ltd, a supplier of high-performance, dependable, and cheap LiDAR sensors and perception software, is adding to its product range. With the Innoviz360, Innoviz continues to show that it can develop and introduce new product lines after fulfilling its InnovizTwo LiDAR promises. The perception software from Innoviz, which transforms the raw point cloud data from the third-generation LiDAR into excellent outputs for exceptional object detection, categorization, and tracking, will be sold with this third-generation LiDAR solution.
LiDAR Market Report - Table of Contents
1. INTRODUCTION

1.1 Study Assumptions and Market Definition

1.2 Scope of the Study

2. RESEARCH METHODOLOGY

3. EXECUTIVE SUMMARY

4. MARKET INSIGHTS

4.1 Market Overview

4.2 Industry Attractiveness - Porter's Five Forces Analysis

4.2.1 Threat of New Entrants

4.2.2 Bargaining Power of Buyers

4.2.3 Bargaining Power of Suppliers

4.2.4 Threat of Substitutes

4.2.5 Intensity of Competitive Rivalry

4.3 Market Drivers

4.3.1 Fast Paced Developments and Increasing Application of Drone

4.3.2 Increasing Adoption in the Automotive Industry

4.4 Market Challenges

4.4.1 High Cost of The LiDAR Systems

4.5 Industry Value Chain

4.6 Technology Snapshot

4.6.1 Measurement Process Options

4.6.2 Laser Options

4.6.3 Beam Steering Options

4.6.4 Photodetector Options

4.7 Impact of COVID-19 on the Market

5. MARKET SEGMENTATION

5.1 Application

5.1.1 Robotic Vehicles

5.1.2 ADAS

5.1.3 Environment

5.1.3.1 Topography

5.1.3.2 Wind

5.1.3.3 Agriculture and Forestry

5.1.4 Industrial

5.2 Type

5.2.1 Aerial (Topographic and Bathymetric)

5.2.2 Terrestrial (Mobile and Static)

5.3 Geography

5.3.1 North America

5.3.2 Europe

5.3.3 Asia-Pacific

5.3.4 Latin America

5.3.5 Middle-East and Africa

6. COMPETITIVE LANDSCAPE

6.1 Company Profiles

6.1.1 Leica Geosystems AG (Hexagon AB)

6.1.2 Sick AG

6.1.3 Trimble Inc.

6.1.4 Quanergy Systems Inc.

6.1.5 Faro Technologies Inc.

6.1.6 Teledyne Optech

6.1.7 Velodyne LiDAR Inc.

6.1.8 Topcon Corp.

6.1.9 RIEGL Laser Measurement Systems GmbH

6.1.10 Leosphere (Vaisala)

6.1.11 Waymo

6.1.12 RoboSense LiDAR

6.1.13 Denso Corporation

6.1.14 Innoviz Technologies Ltd

6.1.15 Neptec Technologies Corp. (Maxar)

*List Not Exhaustive

7. MARKET OUTLOOK
LiDAR Industry Segmentation
LiDAR, which stands for Light Detection and Ranging, is a remote sensing method that uses light in the form of a pulsed laser to measure ranges (variable distances) to the Earth. These light pulses—combined with other data recorded by the airborne system— generate precise, three-dimensional information about the shape of the Earth and its surface characteristics.
The report covers the LiDAR market share by Company and is segmented by Application (Robotic Vehicle, ADAS, Environment (Topography, Wind, and Agriculture and Forestry), and Industrial), Type (Aerial and Terrestrial), and Geography. The report offers the market size in value terms in USD for all the abovementioned segments.
Application
Robotic Vehicles
ADAS

Environment
Topography
Wind
Agriculture and Forestry

Industrial
Type
Aerial (Topographic and Bathymetric)
Terrestrial (Mobile and Static)
Geography
North America
Europe
Asia-Pacific
Latin America
Middle-East and Africa
LiDAR Market Research FAQs
How big is the Global LiDAR Market?
The Global LiDAR Market size is expected to reach USD 2.25 billion in 2023 and grow at a CAGR of 26.28% to reach USD 7.23 billion by 2028.
What is the current Global LiDAR Market size?
In 2023, the Global LiDAR Market size is expected to reach USD 2.25 billion.
Who are the key players in Global LiDAR Market?
Sick AG, Velodyne LiDAR, Leica Geoystems AG, Faro Technologies Inc. and Denso Corporation are the major companies operating in the Global LiDAR Market.
Which is the fastest growing region in Global LiDAR Market?
Asia-Pacific is estimated to grow at the highest CAGR over the forecast period (2023-2028).
Which region has the biggest share in Global LiDAR Market?
In 2023, the North America accounts for the largest market share in the Global LiDAR Market.
Light Detection and Ranging Industry Report
Statistics for the 2023 Global LiDAR market share, size and revenue growth rate, created by Mordor Intelligence™ Industry Reports. Global LiDAR analysis includes a market forecast outlook to for 2023 to 2028 and historical overview. Get a sample of this industry analysis as a free report PDF download.
Global LiDAR Market Report Snapshots
80%

of our clients seek made-to-order reports. How do you want us to tailor yours?