Glass Bottle and Container Market Size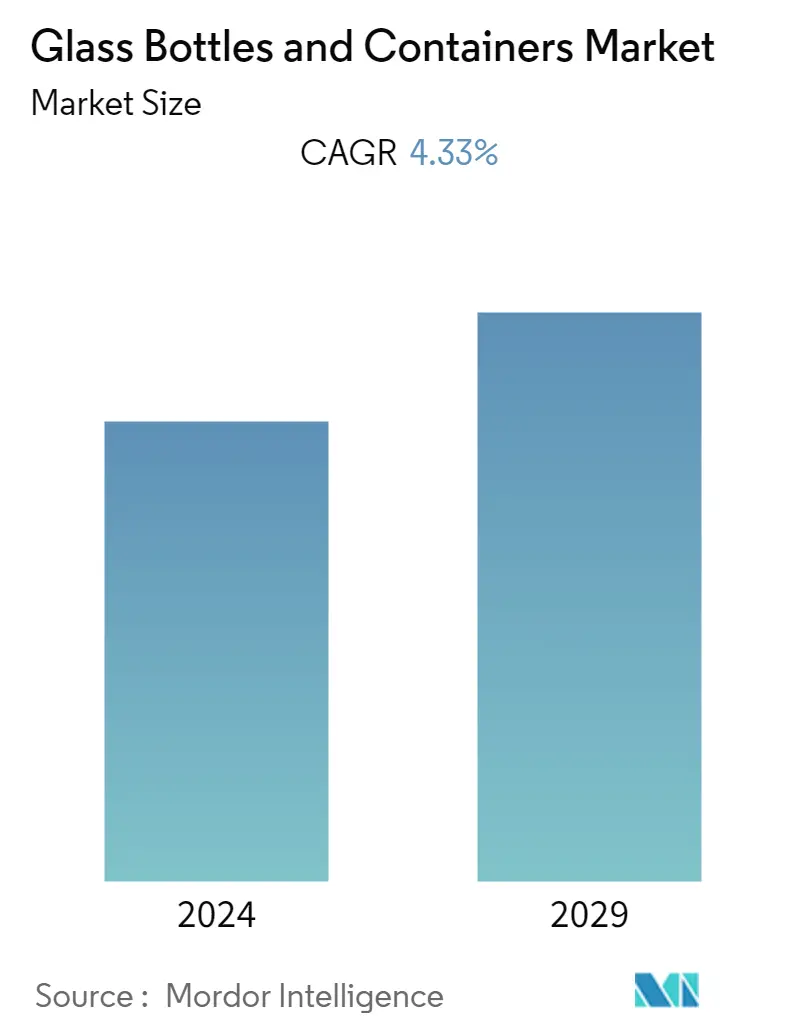 Study Period
2018 - 2028
Base Year For Estimation
2022
CAGR
4.33 %
Fastest Growing Market
Asia Pacific
Largest Market
Asia Pacific
Market Concentration
Low

Major Players

*Disclaimer: Major Players sorted in no particular order
Need a report that reflects how COVID-19 has impacted this market and its growth?
Glass Bottle and Container Market Analysis
The glass bottles and containers market size is expected to grow from 796.15 billion units in 2023 to 984.01 billion units by 2028, at a CAGR of 4.33% during the forecast period (2023-2028).
Increasing consumer demand for safe and healthier packaging is helping glass packaging grow in different categories. Also, innovative technologies for embossing, shaping, and adding artistic finishes to glass make glass packaging more desirable among end users. Furthermore, factors such as the increasing demand for eco-friendly products and the rising demand from the food and beverage market are stimulating the market's growth.
There has been an increasing transparency trend in food packaging over the past few years. Beyond the labeled listed ingredients, consumers also want to see the physical product before purchasing. Many companies, especially dairy products, have started offering them in transparent glass containers to capture this trend.
Glass bottles and transparent containers have a timeless, elegant design that appeals to consumers. The transparency of glass also adds a premium and refined look to products, making them more appealing on shelves or displays. These factors would drive segment growth over the forecast period.
Another factor driving the market's growth is the increasing demand for glass bottles from the healthcare industry. The rise in the disposable income of people is also a significant factor propelling the development of the market, as consumers tend to demand more effective and aesthetic packaging design.
Moreover, the increasing number of people with diabetes significantly supports the growth of glass bottles for injectable pharmaceuticals. According to the World Health Organization (WHO), around 422 million people worldwide have had diabetes in recent years. The increase in this number drives the demand for insulin, thereby contributing to the market's growth.
However, glass bottles and containers are fragile and need proper handling and care of operation and logistics. This stands as a significant challenge for companies deploying glass packaging solutions. Due to its weight and bulkiness, glass packaging is unsuitable for long-distance transportation. As a traditional industry constraint, this is the main reason that the glass packaging industry is primarily locally oriented. In addition, the carbon footprint due to glass manufacturing is also expected to hinder the market's growth.
With the increase in the awareness of sustainable packaging among consumers and industries, especially after witnessing the pandemic, there will be huge scope for growth in sustainable packaging. After the lockdown, consumers are more focused on adopting a healthier lifestyle and have started looking for sustainable solutions, especially for products related to the food and beverage sector.
The surge in demand, owing largely to the growing purchasing power, modern retail, urbanization, and increasing awareness about health and hygiene among consumers, is expected to create significant growth opportunities for the glass packaging industry in the post-COVID world.
Glass Bottle and Container Market Trends
Wine and Spirits to Lead the Non-alcoholic Beverages Segment
The glass bottle is most favored in wine packaging, especially colored glass, the reason being that wine should not be exposed to sunlight. Otherwise, it gets spoiled. The increasing consumption of wine is expected to spearhead the glass packaging demand during the forecasted period. Wine manufacturers are becoming increasingly innovative to attract customers with the packaging and are developing new concepts and designs. For example, Vinebox ships customers a box of nine single-serve wines packaged in cylindrical 100 ml glass containers four times a year.
The wine packed in glass bottles offers a premium experience through the design, elegant feel, and heritage. The unique design provides the feeling of luxury that other packaging materials could not offer. Wine is also used for gifting purposes on occasions in the developed country. Therefore, the wine packed in unique glass bottles gains an advantage over the other packaging solutions.
The brands and packaging manufacturers focus on developing lightweight glass bottles to reduce carbon footprints. In addition, the brands and companies are also carrying out experiments and studies to develop lightweight bottles for sparkling wine called champagne. French glassmaker Verallia Group and Champagne Telmont announced the success of their most recent experiment of using an 800-gram champagne glass bottle in 2023. The new lighter glass bottles will generate around 4% less carbon dioxide per bottle produced.
The United States, France, Italy, Germany, and the United Kingdom are the top five countries in terms of wine consumption. According to the International Organization of Vine and Wine, wine consumption in the United States increased by 2.8% in 2022 compared to 2021. Furthermore, bottled wine represented the major portion of the trade volume globally, accounting for 53% in terms of trade volume and 68% in terms of trade value for the year 2022. The bottled wine trade value increased by 7% in 2022 compared to 2021. Bottled wine exports were high in most countries compared to other packaging types. For instance, Italy exported 57% of wine in bottles, France 72%, Chile 58%, Germany 73%, Portugal 76%, the United States 52%, Argentina 76%, Australia 35%, and Spain 34%.
The increasing consumption and trade of spirits worldwide are driving the demand for glass bottles for spirits. The United States is the second-largest market for spirits in the world, according to the Distilled Spirits Council of the United States. The spirits export in the United States nearly quadrupled over the past two decades, reaching around USD 2.1 billion in 2022 from USD 551 million in 2022. The export of whiskey in the United States stood at around 23.3 million gallons from January to June 2023. Out of the total whiskey exports, bottled whiskey accounts for around 55.44% of the total. This showcases a fair impact on the market.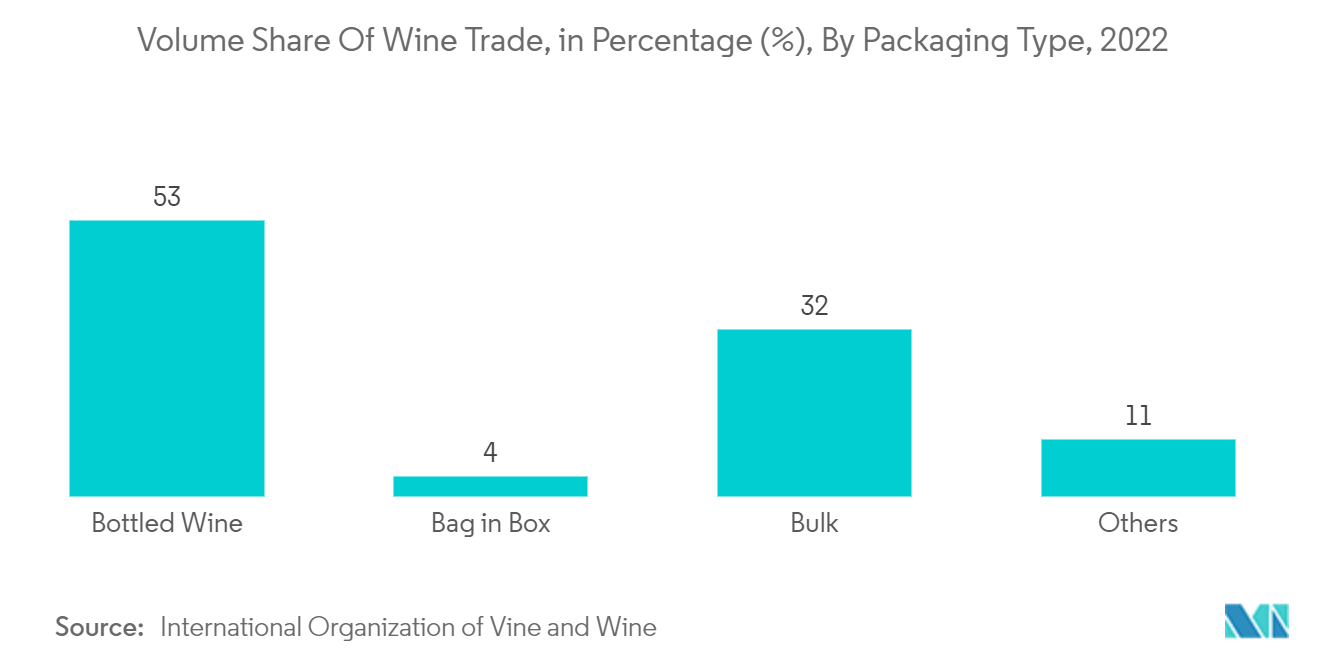 To understand key trends, Download Sample Report
Asia-Pacific to Hold the Largest Market Share
The packaging industry in China is growing at a fast and steady rate due to the country's expanding economy and growing middle class with more purchasing power. The need for beverage packaging is increasing because China's beverage market has grown significantly recently.
Each beverage category will have challenges and opportunities, but new trends in the Chinese consumer lifestyle are shaping the demand for glass packaging. China has seen a rise in the consumption of alcoholic and non-alcoholic drinks across all industries in its large urban centers. Some of the most preferred beverages by millionaires in China are Red Wine, Whiskey, and Champagne.
The increase in the consumption of alcoholic beverages in India is expected to support the growth of glass bottles and containers. The glass bottle is most favored in alcoholic beverages, wildly colored glass for wine because wine gets spoiled if exposed to the sunlight. Also, the increasing consumption of wine is expected to spearhead the glass packaging demand during the forecasted period. For Example, according to Agriculture and Agri-Food Canada, the volume of wine consumption across India is projected to reach 52.2 million liters in 2025.
Moreover, the demand for the market will also be impacted by the growth in non-alcoholic beverages. Soft drinks are the most significant pillar on which the business of non-alcoholic drinks rests. Glass bottles retain a 35% share of sales for Coke in India. In May 2022, Coca-Cola India Pvt. Ltd started promoting returnable glass bottles again in select states across the company's top-selling brands, such as Coca-Cola, Thums Up, and Sprite. In some markets, glass bottles comprise 30% of beverage sales in 2022.
The growth in domestic beer during the past years is expected to support growth in glass packaging. The retail sales of beer in South Korea reached USD 19.27 billion in 2022 from USD 15.98 billion in 2018. The market has experienced growth in the past years and is anticipated to show similar signs of change in the years ahead (Agriculture and Agri-Food Canada).
Apart from the countries already discussed in the study under the Asia-Pacific region, other countries like Australia, Taiwan, Thailand, Malaysia, Singapore, Vietnam, etc., also have a high potential scope for gaining a considerable share in the market studied. The growth in the sale of alcoholic beverages, acquisitions, and mergers drives the market for glass packaging in the region.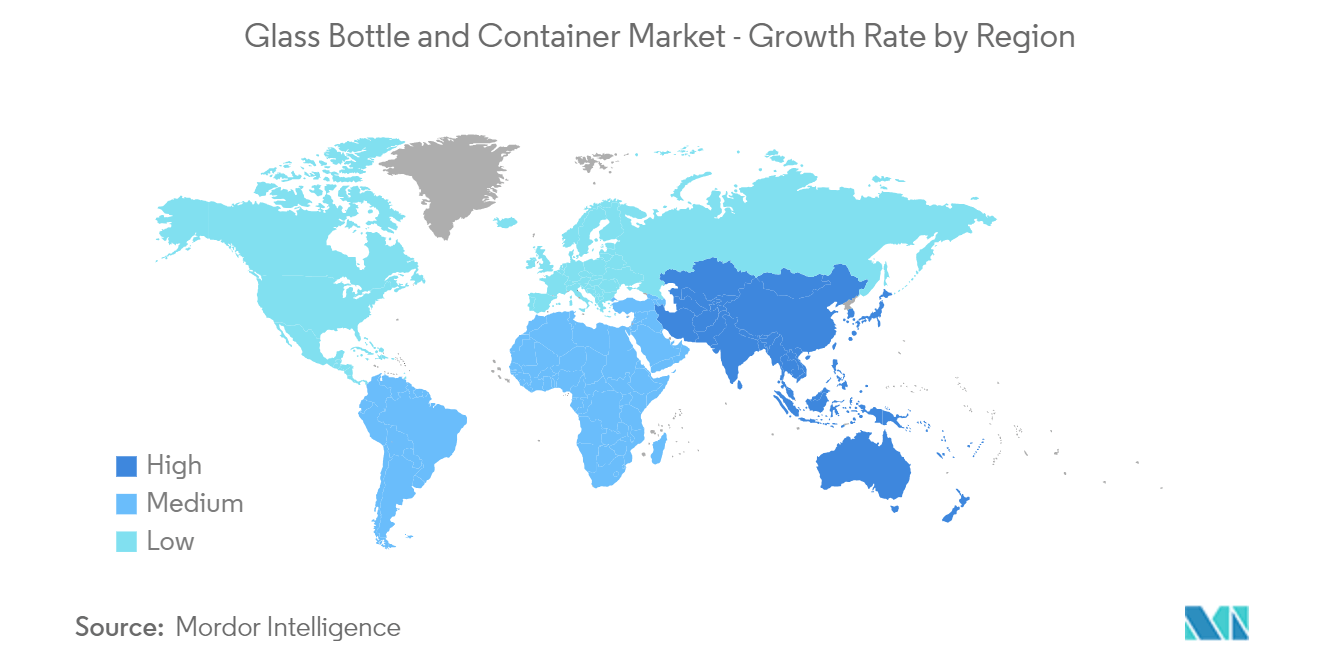 To understand geography trends, Download Sample Report
Glass Bottle and Container Industry Overview
The glass bottles and containers market is primarily dominated by a handful of major companies, including Gerresheimer AG, Owens-Illinois (O-I), Ardagh Packaging Group PLC, and Piramal Glass Ltd. These industry leaders operate across various regions and maintain diversified product portfolios. Nevertheless, the industry faces fierce competition, as numerous other companies also manufacture similar products.
Strong and reputable brands are expected to maintain a competitive edge due to their established market presence and ability to offer advanced product offerings. Additionally, the infusion of significant capital investments raises the barriers to exit for existing players, further intensifying competition within the sector.
In September 2023, Ardagh Glass Packaging unveiled its initiative to construct an environmentally sustainable furnace at its Obernkirchen facility with the aim of reducing greenhouse gas emissions. The NextGen furnace is anticipated to commence the production of commercial glass containers by the end of 2023, boasting the capacity to manufacture up to 350 tonnes (t) of glass bottles daily.
In July 2023, the beverage industry witnessed a surge in glass packaging innovation, resulting in the introduction of the Drinktainer, a wide-mouth product designed to enhance the drinking experience. FX Matt Beverage Co. and O-I Glass collaborated to bring this innovation to market. The Drinktainer represents the successful outcome of a new partnership between the two companies.
Glass Bottle and Container Market Leaders
O-I Glass, Inc.

Vidrala SA

Ardagh Group S.A.

Verallia Packaging

Wiegand-Glas GmbH
*Disclaimer: Major Players sorted in no particular order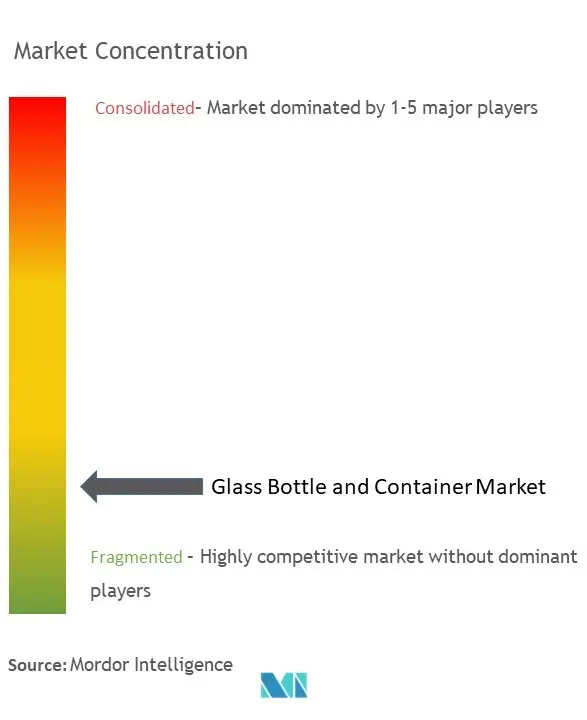 Glass Bottle and Container Market News
August 2023: O-I Glass, a prominent manufacturer of glass packaging for the food and beverage industry, introduced its innovative "Cento per Cento Sicily" bottles. These bottles showcase a distinct circular economy concept through a custom bottom logo. The entire production of these bottles takes place at O-I's facility in Marsala, Italy. Crafted from a minimum of 90% recycled glass, locally sourced from Sicily, these containers are not only eco-friendly but also remarkably lightweight, weighing a mere 410 grams. This design ensures optimal energy efficiency during the manufacturing process.
January 2023: As part of the company's strategic plan for the years 2022-2024, O-I Glass announced the construction of three new furnaces, one for each year, aimed at augmenting production capacity by approximately 400 kilotons annually by 2024. The first furnace, located in Jacutinga, Brazil, was successfully commissioned in late 2022. The remaining two furnaces, presently under construction, are slated to become fully operational in 2024 and are situated in Campo Bom, Brazil, and Pescia, Italy. These cutting-edge furnaces will be powered by Oxy-combustion technology, promising to curtail CO2 emissions by approximately 18% when compared to conventional methods.
Glass Bottle and Container Market Report - Table of Contents
1. INTRODUCTION

1.1 Study Assumptions and Market Definition

1.2 Scope of the Study

2. RESEARCH METHODOLOGY

3. EXECUTIVE SUMMARY

4. MARKET INSIGHTS

4.1 Market Overview

4.2 Industry Attractiveness - Porter's Five Forces Analysis

4.2.1 Bargaining Power of Suppliers

4.2.2 Bargaining Power of Buyers

4.2.3 Threat of New Entrants

4.2.4 Threat of Substitutes

4.2.5 Intensity of Competitive Rivalry

4.3 Industry Value Chain Analysis

4.4 Post-COVID Impact on Glass Bottles and Containers Market

4.5 Impact of Ukraine-Russia Conflict on Glass Bottles and Containers Market

4.6 Cost Analysis With Key Drivers (Components and Energy Consumption) - Components of Glass Container

5. MARKET DYNAMICS

5.1 Market Drivers

5.1.1 Growing Demand from Food and Beverage Industry

5.1.2 Sustainability and Recyclability Initiatives Moving Packagers and Consumer Brands to Glass Packaging

5.2 Market Restraints

5.2.1 High Carbon Footprint due to Glass Manufacturing

5.2.2 Operation and Logistical Concerns

6. MARKET SEGMENTATION

6.1 By End-user Vertical

6.1.1 Bevarages

6.1.1.1 Alcoholic

6.1.1.1.1 Beer and Cider

6.1.1.1.2 Wine and Spirits

6.1.1.1.3 Other Alcoholic Beverages

6.1.1.2 Non-alcoholic

6.1.1.2.1 Carbonated Soft Drinks

6.1.1.2.2 Milk

6.1.1.2.3 Water and Other Non-alcoholic Beverages

6.1.2 Food

6.1.3 Cosmetics

6.1.4 Pharmaceutical

6.1.5 Other End-user Verticals

6.2 By Geography

6.2.1 North America

6.2.1.1 United States

6.2.1.2 Canada

6.2.2 Europe

6.2.2.1 United Kingdom

6.2.2.2 Germany

6.2.2.3 France

6.2.2.4 Italy

6.2.2.5 Spain

6.2.2.6 Poland

6.2.2.7 Russia

6.2.2.8 Rest of Europe

6.2.3 Asia-Pacific

6.2.3.1 China

6.2.3.2 India

6.2.3.3 Japan

6.2.3.4 South Korea

6.2.3.5 Rest of Asia-Pacific

6.2.4 Middle East and Africa

6.2.4.1 United Arab Emirates

6.2.4.2 Saudi Arabia

6.2.4.3 South Africa

6.2.4.4 Rest of Middle East and Africa

6.2.5 Latin America

6.2.5.1 Brazil

6.2.5.2 Mexico

6.2.5.3 Argentina

6.2.5.4 Rest of Latin America

7. COMPETITIVE LANDSCAPE

7.1 Company Profiles

7.1.1 O-I Glass, Inc.

7.1.2 Vidrala SA

7.1.3 Ardagh Group S.A.

7.1.4 Wiegand-glas GmbH

7.1.5 Verallia Packaging

7.1.6 Vetropack Holding Ltd

7.1.7 Stoelzle Oberglas GmbH (CAG-holding GmbH)

7.1.8 Gaasch Packaging

7.1.9 Beatson Clark

7.1.10 Vitro SAB de CV

7.1.11 Schott AG

7.1.12 Glassworks International Limited

7.1.13 Gerresheimer AG

7.1.14 Middle East Glass Manufacturing Co SAE

7.1.15 Berlin Packaging LLC

7.1.16 BA VIDRO SA (BA Glass BV)

7.1.17 PGP Glass Private Limited

7.1.18 VERESCENCE FRANCE

7.1.19 SGD SA (SGD Pharma)

7.1.20 Saver Glass SAS (The Carlyle Group Inc.)

*List Not Exhaustive

8. INVESTMENT ANALYSIS

9. FUTURE OF THE MARKET
**Subject to Availability
Glass Bottle and Container Industry Segmentation
Glass bottles and containers provide an ideal way to keep consumables safe, fresh, and healthy for a longer period and ease of transport. Glass bottles and containers are majorly used in the alcoholic and non-alcoholic beverage industry due to their ability to maintain chemical inertness and sterility and non-permeability.
The glass bottles and containers market is segmented by end-user vertical (beverages (alcoholic (beer and cider, wine & spirits, and other alcoholic beverages) and non-alcoholic (carbonated soft drinks, milk, and water and other non-alcoholic beverages)), food, cosmetics, pharmaceutical, and other end-user verticals) and geography (North America, Europe, Asia-Pacific, Latin America, and Middle East & Africa).
The market sizes and forecasts are provided in terms of consumption volume (in units) for all the above segments.
By End-user Vertical

Bevarages

Alcoholic
Beer and Cider
Wine and Spirits
Other Alcoholic Beverages

Non-alcoholic
Carbonated Soft Drinks
Milk
Water and Other Non-alcoholic Beverages

Food
Cosmetics
Pharmaceutical
Other End-user Verticals
By Geography

North America
United States
Canada

Europe
United Kingdom
Germany
France
Italy
Spain
Poland
Russia
Rest of Europe

Asia-Pacific
China
India
Japan
South Korea
Rest of Asia-Pacific

Middle East and Africa
United Arab Emirates
Saudi Arabia
South Africa
Rest of Middle East and Africa

Latin America
Brazil
Mexico
Argentina
Rest of Latin America
Glass Bottle and Container Market Research FAQs
What is the study period of this market?
The Glass Bottles and Containers Market is studied from 2018 - 2028.
What is the growth rate of Glass Bottles and Containers Market?
The Glass Bottles and Containers Market is growing at a CAGR of 4.33% over the next 5 years.
Which region has highest growth rate in Glass Bottles and Containers Market?
Asia Pacific is growing at the highest CAGR over 2018 - 2028.
Which region has largest share in Glass Bottles and Containers Market?
Asia Pacific holds highest share in 2022.
Who are the key players in Glass Bottles and Containers Market?
O-I Glass, Inc., Vidrala SA, Ardagh Group S.A., Verallia Packaging , Wiegand-Glas GmbH are the major companies operating in Glass Bottles and Containers Market.
Glass Bottle and Container Industry Report
Statistics for the 2023 Glass Bottles and Containers market share, size and revenue growth rate, created by Mordor Intelligence™ Industry Reports. Glass Bottles and Containers analysis includes a market forecast outlook to for 2023 to 2028 and historical overview. Get a sample of this industry analysis as a free report PDF download.
Glass Bottles and Containers Market Report Snapshots
80%

of our clients seek made-to-order reports. How do you want us to tailor yours?