The global fuel additives market is expected to register a CAGR of 4.92% during the forecast period, 2019-2024. The market is driven by factors, such as enactment of stringent environmental regulations, rising global passenger traffic contributing to the growth of the aviation market, and increasing demand for clean and efficient fuel.
Fuel additives are an integral part of automotive, industrial, and aerospace applications. In this report, the principal end-user industry segments taken into consideration are diesel, gasoline, jet fuel, and other applications.
Stringent Regulations to Drive the Demand for Fuel Additives
Fuel additives aid in minimizing emission and enhancing the performance of the vehicle. Environmental concerns related to depletion of resources are creating considerable demand for fuel additives. Subsequently, public health concerns and environmental effects of the additives also come into consideration. As a result, the US Environmental Protection Agency (EPA) enacted the Clean Air Act, focusing on the impacts of the fuel additives (both gasoline and diesel), which mandates the registration of fuel additives used in the automotive industry. Governments across the world are also currently focusing on enhancing fuel economy as per the Corporate Average Fuel Economy (CAFE) standards. Such a shift in focus has further increased the importance of fuel additives.
Diesel Fuel Additives Witnessing Stable Growth
The global diesel fuel additives market is exhibiting stable growth on account of increasing applications, technological advancements, and the growing demand from the end-user industries. Diesel additive is the major application of fuel additives. Fuel additives are designed to meet the increasingly stringent environment norms, as several countries are implementing regulations to control emissions. These regulations, increasing demand for clean and efficient fuel, and depleting crude reserves are the main drivers for the market. The diesel additives market is witnessing an increase in demand due to the increasing consumption of Ultra-Low-Sulfur Diesel (ULSD), which requires higher concentration of additives. However, growing development of hybrid engines and plug-in electric vehicles in developed economies is acting as a hurdle for the growth of the diesel fuel additives market.
North America to stand out as the Dominant Region
The demand for fuel additives in the North American region is growing at a healthy rate, owing to the increasing government regulations on emissions, along with increasing investments in the development of newer additives. Gasoline fuel additives have been one of the most dynamic segments of the industry in the past decade, and will continue to likely offer opportunities, especially for better performing products. Additionally, fuel ethanol is the most excessively used fuel additive in the United States. Growing demand for fuel additives, abundant availability of biomass feedstock used for the production of biofuels, and mandates issued by the US Environment Protection Agency (EPA) on biofuels consumption are anticipated to drive the demand for fuel additives in the United States.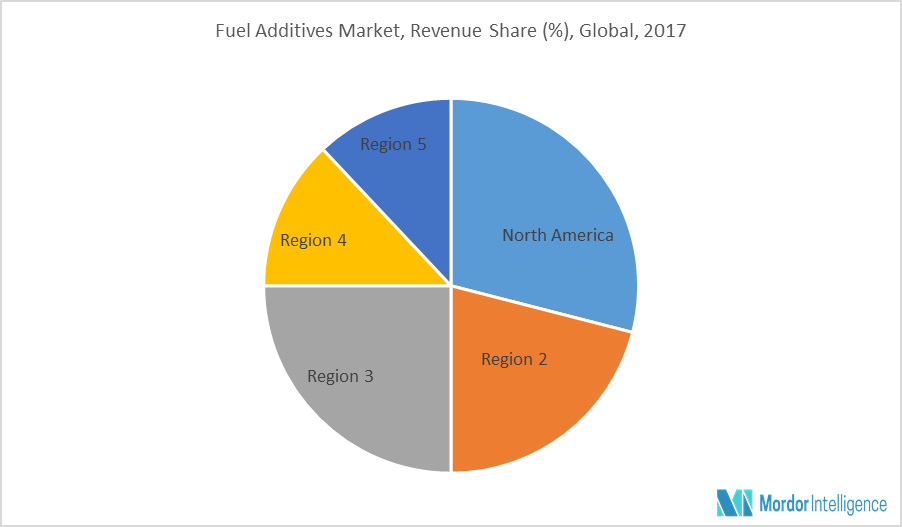 Key Developments in the Market
November 2017 – Agreement between Eni SpA and major car manufacturer FCA to reduce CO2 emissions
April 2017 – Lanxesscompleted the acquisition of Chemtura
Major Players: BASF SE, Afton Chemical Corporation, Chevron Corporation, Evonik Industries, Lanxess, and Total, among others.
Reasons to Purchase this Report
Current and future of the global fuel additives market in the developed and emerging markets
Analyzing various perspectives of the market with the help of Porter's five forces analysis
The product type that is expected to dominate the market
Countries that are expected to witness fastest growth during the forecast period
Identifying the latest developments, market shares, and strategies employed by the major market players
3-month analyst support, along with the Market Estimate sheet (in Excel)
Customization of the Report
This report can be customized to meet your requirements. Please connect with our representative, who will ensure you to get a report that suits your needs
1. Introduction
1.1 Scope of the Report
1.2 Study Assumptions
1.3 Study Deliverables
1.4 Research Phases
2. Executive Summary
3. Market Insights
3.1 Industry Value Chain Analysis
3.2 Industry Attractiveness - Porter's Five Forces Model
3.2.1 Bargaining Power of Suppliers
3.2.2 Bargaining Power of Buyers
3.2.3 Threat of New Entrants
3.2.4 Threat of Substitute Products
3.2.5 Degree of Competition
3.3 Patent Analysis
4. Market Dynamics
4.1 Drivers
4.1.1 Enactment of Stringent Environmental Regulations
4.1.2 Rising Global Passenger Traffic Contributing to the Growth of Aviation Market
4.2 Restraints
4.2.1 Increasing Demand and Penetration of Battery Electric Vehicles (BEVs)
4.2.2 High Costs of R&D Activities
4.3 Opportunities
4.3.1 Accelerating Demand for Ultra-low-Sulfur Diesel (ULSD)
4.3.2 Other Opportunities
5. Market Segmentation & Analysis (Market Size, Growth, and Forecast)
5.1 By Product Type
5.1.1 Deposit Control
5.1.2 Cetane Improvers
5.1.3 Lubricants
5.1.4 Antioxidants
5.1.5 Anticorrosion
5.1.6 Cold Flow Improvers
5.1.7 Antiknock Agents
5.1.8 Other Product Types
5.2 By Application
5.2.1 Diesel
5.2.2 Gasoline
5.2.3 Jet Fuel
5.2.4 Other Applications
6. Regional Market Analysis (Market Size, Growth and Forecast)
6.1 Asia-Pacific
6.1.1 China
6.1.2 India
6.1.3 Japan
6.1.4 South Korea
6.1.5 Rest of Asia-Pacific
6.2 North America
6.2.1 United States
6.2.2 Canada
6.2.3 Mexico
6.2.4 Rest of North America
6.3 Europe
6.3.1 Germany
6.3.2 United Kingdom
6.3.3 Italy
6.3.4 France
6.3.5 Rest of Europe
6.4 South America
6.4.1 Brazil
6.4.2 Argentina
6.4.3 Rest of South America
6.5 Middle East & Africa
6.5.1 Saudi Arabia
6.5.2 South Africa
6.5.3 Rest of Middle East & Africa
7. Future of the Market
8. Competitive Landscape
8.1 Mergers, Acquisitions, Joint Ventures, Collaborations, and Agreements
8.2 Market Share Analysis**
8.3 Strategies Adopted by Leading Players
9. Company Profiles (Overview, Financials**, Products and Services, Recent Developments, and SWOT Analysis)
9.1 Afton Chemical
9.2 Baker Hughes (General Electric)
9.3 BASF SE
9.4 Chevron Corporation
9.5 Clariant
9.6 Croda International PLC
9.7 Dorfketal Chemicals (I) Pvt Ltd
9.8 Eni SpA
9.9 Evonik Industries AG
9.10 Exxon Mobil Corporation
9.11 Innospec Inc.
9.12 LANXESS
9.13 QAFAC
9.14 Royal Dutch Shell PLC
9.15 The Lubrizol Corporation
9.16 Total
9.17 VeryOne SaS (EURENCO)
*List not exhaustive
10. Disclaimer
**Subject to availability on public domain