Market Snapshot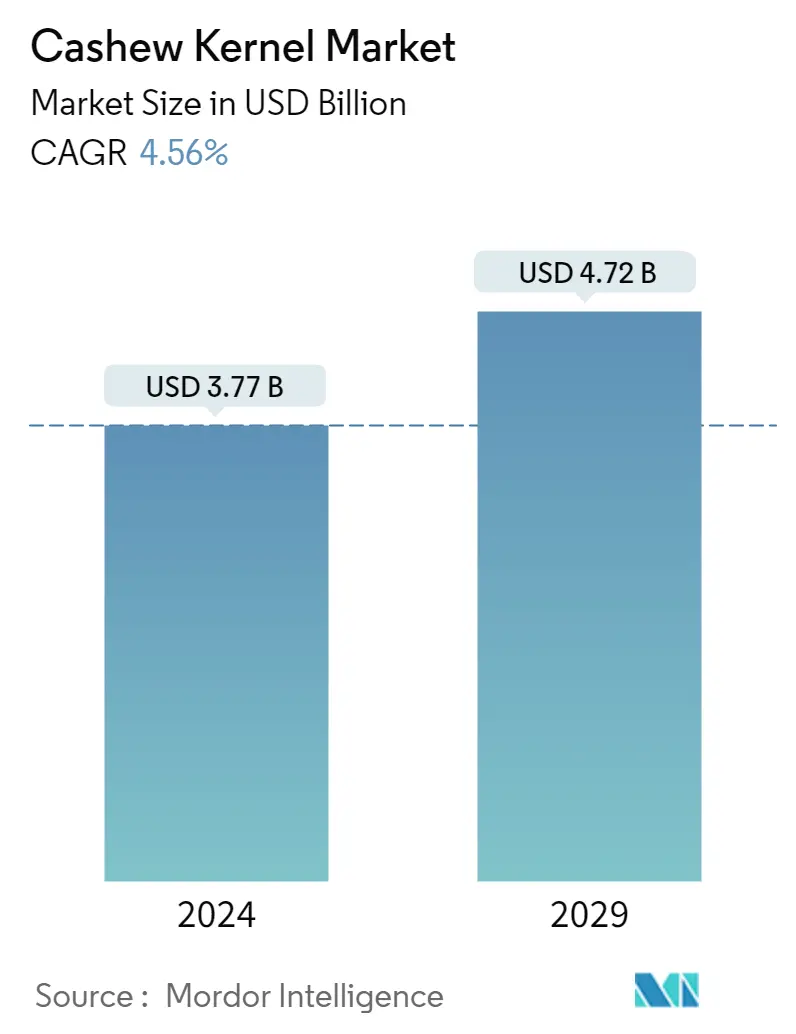 Study Period:
2017-2027
Base Year:
2021
Fastest Growing Market:
Europe
Largest Market:
Asia-Pacific
CAGR:
5.3 %
Need a report that reflects how COVID-19 has impacted this market and its growth?
Market Overview
The cashew kernel market is projected to register a CAGR of 5.3% during the forecast period (2022-2027).
COVID-19 has a direct and negative impact on the cashew kernel market, globally. The lockdowns in different countries have disrupted the demand for cashew kernels due to the lack of purchasing power, resulting from reduced income in most countries. The cashew market value chain has been affected negatively, as a result of a disrupted distribution channel, which tends to lower the end-products of cashew nuts in the market. Producers from West Africa suffered the loss as they are unable to export cashew to Vietnam and India for processing due to the lockdown and disrupted transport systems. The delay in collection and shipment further reduced the overall cashew kernel supply.
Cashews are relatively high in fiber when compared with peanuts, which help in gaining a healthy weight by improving digestive function. The rising trend of healthy cashew snacks with high usage of edible cashew kernels as one of the main ingredients in sweets and cooking, especially in Asian cuisine and key ingredient in muesli, energy bars, cookies, chocolate, and ice creams that improves bone health. According to the Global Cashew Council, in year 2020/2021, Cote D'Ivoire was the top producer of Raw Cashew Nut (RCN) accounted with 900,000 metric ton, follwed by India with 691,000 metric ton, Vietnam with 450,000 metric ton, Nigeria with 260,000 metric ton, Cambodia with 190,000 metric ton, and many others. Additionally, according to a study published in the British Journal of Nutrition, the risk of coronary heart disease can be reduced by 37% in people who consume nuts more than four times a week. With such results, it is expected that more cashew may be used in the manufacture of snack bars, which are a healthy alternative to high-calorie chocolate bars, thus further influencing the consumption of cashew in the developed and developing countries and driving the cashew kernel market, globally. Furthermore, rising number of processing units in African countries of the raw cahew nuts is futher incline to propel demand of the maret studied in coming yeras.
The cashew kernel market witnessed a rapid shift in the consumption pattern across North America and Asia-Pacific in recent years, primarily due to assorted cashew products occupying an increased share in the retail market space. Asia-Pacific is the largest consumer with the growing consumption inclining toward the use of cashew kernels in daily diets and healthy ready-to-eat snacks.
India is one of the top consumer of cashew kernels in the world and accounts for 25% of the supply. The consumption is projected to increase for culinary and confectionary applications. The main peaks of the consumption are from October to January, during the Diwali and Navratri festivals. The Indian Directorate General of Foreign Trade (DGFT) increased the minimum import price for whole and broken cashew kernel in June 2019. The high penetration rate of cashew-based retail manufacturers in the developed and emerging markets and the successful implementation of initiatives in cashew production and processing in Africa are further expected to drive the global cashew kernel market during the forecast period.
Scope of the Report
The cashew kernel is a raw nut after going through the processing and grading of cashew nuts in the processing operation units. The market is analyzed for cashew kernels, processed product form is excluded from the study.
The Cashew Kernel Market is Segmented by Grade(White Whole, Scorched Wholes, Dessert Wholes, White Pieces, Scorched Pieces, and Dessert Pieces) and by Geography (North America, Europe, Asia-Pacific, South America, and Africa). The report covers the analysis of the cashew kernel market by Production(Volume), Consumption (Volume and Value), Import (Volume and Value), Export (Volume and Value), and Price(USD per Metric Ton). The report offers market size and forecasts in terms of value (USD thousand) and volume (metric ton) for all the above segments.
Grade
White Wholes
Scorched Wholes
Dessert Wholes
White Pieces
Scorched Pieces
Dessert Pieces
Geography (Production Analysis(volume), Consumption Analysis and Market Value(Volume and Value),Import Market Analysis (Volume and Value),Export Market Analysis (Volume and Value), and Price Trend Analysis)

North America
United States
Canada
Mexico

Europe
Germany
United Kingdom
France

Asia-Pacific
India
China
Australia
Viet Nam
Philippines
Indonesia

South America
Brazil
Argentina

Africa
Nigeria
Benin
Tanzania
Cote d'lvoire
Ghana
Guinea-Bissau
Mozambique
Burkina Faso
Key Market Trends
Increasing Demand From the European Countries
In Europe, consumers are willing to spend more on quality foods. Consumers are also looking for new products due to increased health awareness and nutritional facts. Cashew kernels are primarily used in the European market as a roasted-and-salted snack. Lately, cashew kernel also turns out to be attractive to industrial users and is used for cookies and cereals, and is also promoted as a topping on ice cream. The United Kingdom is the second-largest consumer of cashew kernels in the region. In 2020, the per capita consumption of cashews in the United Kingdom was estimated to be 0.9 kg/year. The United Kingdom is the largest market in Europe for Fair Trade Certified products.
The rising demand for cashew kernel for health benefits, majorly distributed in snacks and other dietary options, coupled with the rise in consumption and imports of the European region, is further boosting the demand of the market. For instance, cashew nut kernels are used as an ingredient in various healthy food and functional food products, such as in breakfast cereals (e.g. Qnola), cashew nut butter (e.g. Pip&Nut), and chocolate products with cashew nuts (e.g. Squirrel Sisters). The Netherlands, Germany, United Kingdom, and the growing markets in Central and Eastern Europe offer opportunities for developing country suppliers. According to ITC Trade, in 2019, the import volume of cashew nuts in Germany reached 59,231 metric ton which was valued at USD 425.7 million.
France is another major cashew consuming country in Europe. The consumption of flavored cashew nuts and additional coatings over the kernels are also gaining popularity in the French market. The W320 is the leading grade in the imports in the European region. As per the ITC Trade Map, Vietnam (USD 89,886 thousand), India (USD 14,572 thousand), the Netherlands (USD 11,394 thousand), Germany (USD 6,109 thousand), and Brazil (USD 4,148 thousand) are some of the major exporters of cashew kernel to France in 2021. In the newer markets, such as Eastern Europe, there is an inclination in cashew kernel grades toward the superior types, notably from the pieces to the wholes.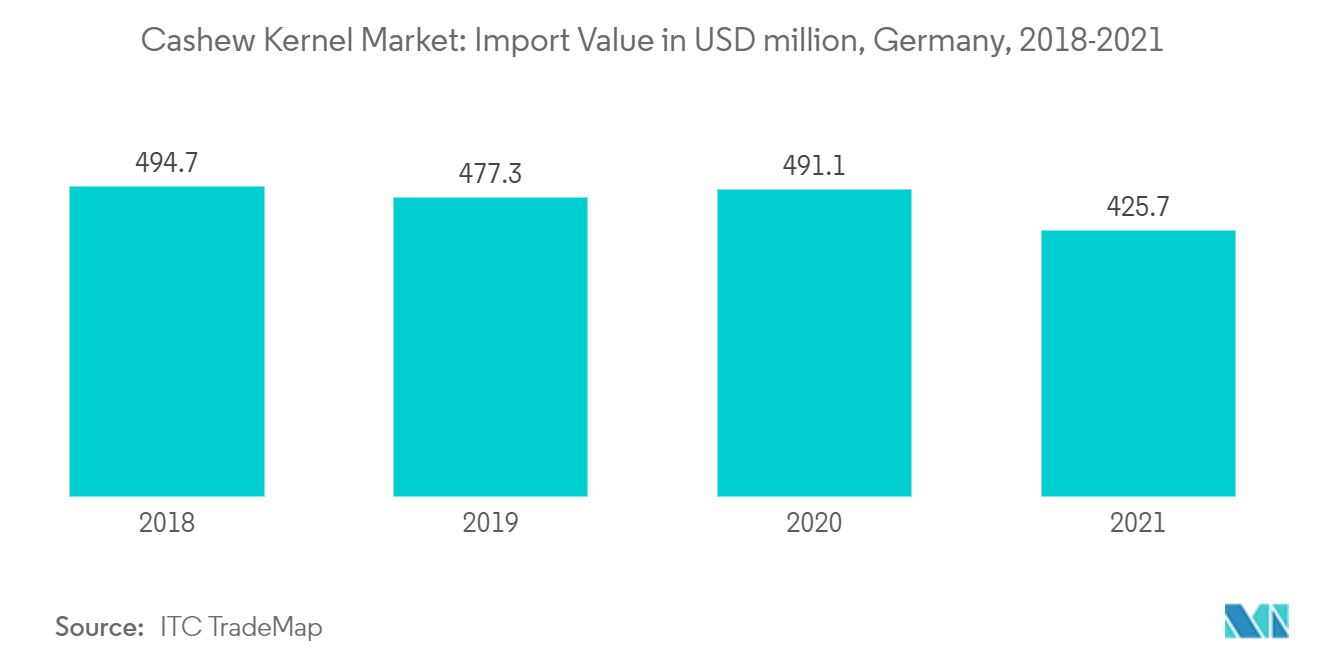 To understand key trends, Download Sample Report
Asia-Pacific is the Largest Consumer
The Asia-Pacific region is the largest consumer of cashew nuts in the world. Cashews are also increasingly consumed as snacks, owing to their high nutritional content. The shell of the nut is known to be a good source of an important liquid, known as cashew nut shell liquid (CNSL) in commercial applications. CNSL is a dark brown, sticky liquid extracted from the honeycomb structure of fresh shells. It is one of the few major economic sources of natural phenols.
India is the top consumer of cashew kernels in the world and accounts for 25% of the supply. The consumption is projected to increase for culinary and confectionery applications. Cashews are also increasingly consumed as a snack, owing to their high nutrition content. In India, cashew kernels are roasted, salted, flavored, and coated with spices, honey, etc. As per International Nut and Dried Fruit Council, cashew kernel consumption in 2020 was 166,306 metric ton which had decreased from 207,184 metric ton from the previous year as COVID affected the market severely. The main peak in consumption is from October to January, during the Diwali and Navratri festivals. The importance of sweet dishes in Asian cuisines is attributed to the rise in demand for these kernels in the region. Dessert wholes are used mainly as an ingredient, used by restaurant owners for the preparation of cuisines, including cashews. In India, dessert wholes are graded as SSW (Scorched Wholes Seconds) and DW (Dessert Wholes) and should not be broken than 5%.
The Chinese consumers are also looking for diverse nut flavors and products. In China, roasted nuts and seeds, biscuits and cakes, and dried bean curd and candies or chocolates are the most consumed products during snack time. Among others, roasted nuts and seeds, such as cashews and almonds, are the most saleable snack, which occupies the dominant position among all snack foods. The roasted nuts and seeds registered the highest sales rate in the Chinese snack food market, as taste, nutritional added value, and health benefits play an important role. The changing food habits and rising consumption of cashew among the affluent Chinese population has propelled the Indian exporters to increase their exports to China. For instance, in April 2019, Yalin International, a Chinese firm, invested USD 1.48 million in setting up a new cashew nut processing plant in Tanzania. The plant is targeting to export the products to China and other International markets.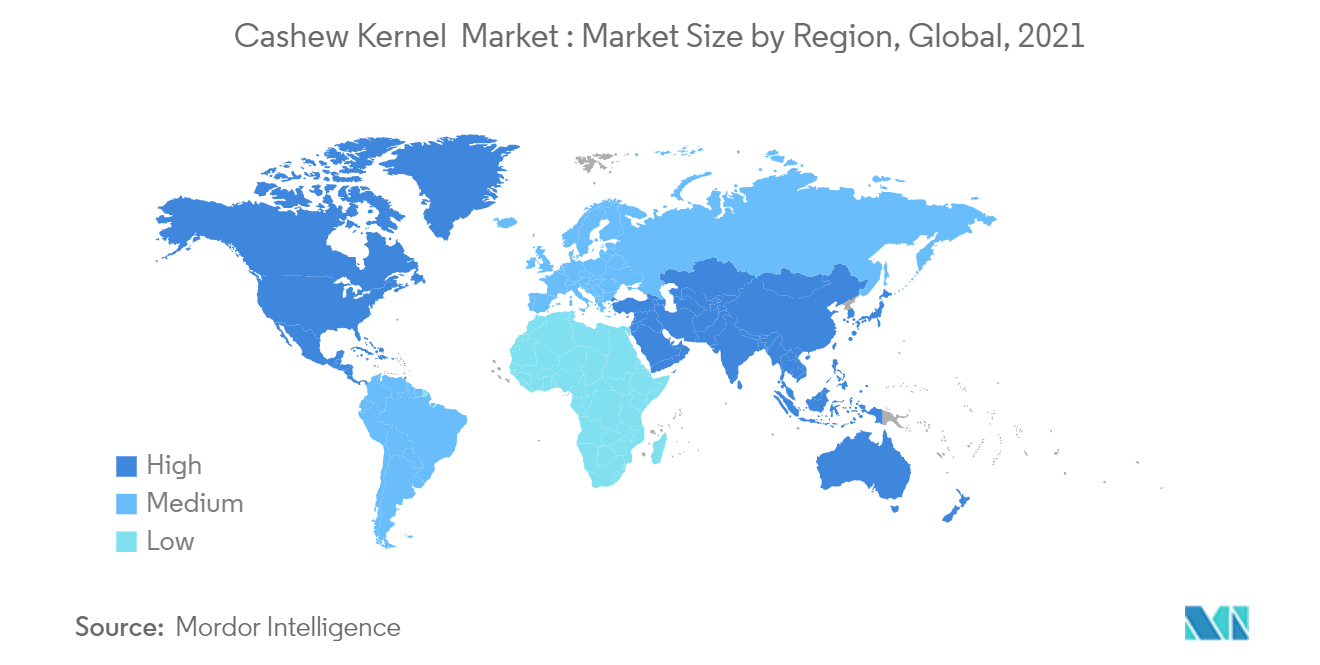 To understand geography trends, Download Sample Report
Recent Developments
In July 2022, Cashew Coast collaborated with SAP for delivering quality and efficiency in cashew farming, processing, and distribution through the digital transformation of small-holder farmer plantations by data analysis with the Rural Sourcing Management solution.
In June 2021, the government of India issued authority to the Agricultural and Processed Food Products Export Development Authority (APEDA) for issuing the Registration-Cum-Membership Certificate (RCMC) for cashew kernels in the country.
In September 2020, Alphonsa has invested in Pasteurisation, Packing and Food Safety equipment for cashew kernels to cater to the growing customer demand for high-quality cashew nuts processed and packed to individual customer specifications measures.
Table of Contents
1. INTRODUCTION

1.1 Study Assumptions & Market Definition

1.2 Scope of the Study

2. RESEARCH METHODOLOGY

3. EXECUTIVE SUMMARY

4. MARKET DYNAMICS

4.1 Market Overview

4.2 Market Drivers

4.3 Market Restraints

4.4 Value Chain/Supply Chain Analysis

5. MARKET SEGMENTATION

5.1 Grade

5.1.1 White Wholes

5.1.2 Scorched Wholes

5.1.3 Dessert Wholes

5.1.4 White Pieces

5.1.5 Scorched Pieces

5.1.6 Dessert Pieces

5.2 Geography (Production Analysis(volume), Consumption Analysis and Market Value(Volume and Value),Import Market Analysis (Volume and Value),Export Market Analysis (Volume and Value), and Price Trend Analysis)

5.2.1 North America

5.2.1.1 United States

5.2.1.2 Canada

5.2.1.3 Mexico

5.2.2 Europe

5.2.2.1 Germany

5.2.2.2 United Kingdom

5.2.2.3 France

5.2.3 Asia-Pacific

5.2.3.1 India

5.2.3.2 China

5.2.3.3 Australia

5.2.3.4 Viet Nam

5.2.3.5 Philippines

5.2.3.6 Indonesia

5.2.4 South America

5.2.4.1 Brazil

5.2.4.2 Argentina

5.2.5 Africa

5.2.5.1 Nigeria

5.2.5.2 Benin

5.2.5.3 Tanzania

5.2.5.4 Cote d'lvoire

5.2.5.5 Ghana

5.2.5.6 Guinea-Bissau

5.2.5.7 Mozambique

5.2.5.8 Burkina Faso

6. MARKET OPPORTUNITIES AND FUTURE TRENDS

7. ASSESSMENT OF THE IMPACT OF COVID-19 ON THE MARKET
Frequently Asked Questions
What is the study period of this market?
The Cashew Kernel Market market is studied from 2017 - 2027.
What is the growth rate of Cashew Kernel Market?
The Cashew Kernel Market is growing at a CAGR of 5.3% over the next 5 years.
Which region has highest growth rate in Cashew Kernel Market?
Europe is growing at the highest CAGR over 2021- 2026.
Which region has largest share in Cashew Kernel Market?
Asia-Pacific holds highest share in 2021.
80%

of our clients seek made-to-order reports. How do you want us to tailor yours?