The global biomedical temperature sensor market was valued at USD 5.59 billion in 2017, and is expected to reach a value of USD 7.55 billion by 2023, projecting a CAGR of 5.13% during the forecast period (2018 - 2023). The scope of the report is segmented by type CMOS sensors, fiber optic sensors, infrared sensors, and end-users are limited to pharmaceutical, healthcare. While, the region considered in the scope of the report include North America, Europe, Asia pacific, Middle East & Africa, and Latin America.
Growing Applications from Healthcare
From past few years, the demand for temperature sensors in the healthcare sector is increasing due to increase in investments from the government to have safe and reliable healthcare infrastructure. The increasing technological proliferation in emerging economies has made this market highly competitive with the emergence of new players. The rising demand for accurate information, rapid technological innovation, increasing demand from healthcare sector are some of the primary drivers that are responsible for increasing demand of the market during the forecast period.
Fiber Optic Sensors (FoS) are Progressively Reaching a Stage of Maturity as a Sensing Technology in Biomedical Applications
Fiber Bragg gratings (FBGs) and Fabry–Perot interferometry (FPI) are the key technologies for biophysical sensing, for parameters, such as pressure, temperature, and strain, at single or multiple points. Fiber optic sensors (FoS) can operate as in vivo diagnostic elements, or to assist other endoscopic devices, or external to the organism in smart textiles. The latest developments in FBG and FPI technologies have found applications in diagnostics, which include cardiovascular, urology, gastroenterology, vitreoretinal, and robotic surgery, which is expected to cater the markets during the forecast period.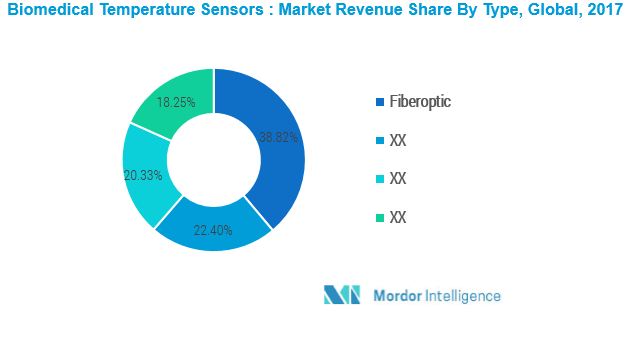 North America Has the Largest Market Share Followed By Europe
Matured markets in these regions have facilitated the deployment of these systems. The positive outlook of economic conditions and growing industry trends is driving the market in Asia-Pacific, which is expected to be fastest growing regions during the forecast period.
Key Developments in the Market
March 2018: LumaSense Technologies, Inc., announced the release of version 1.5 of LumaSpec RT. This thermal imaging software offers high-speed, real-time data acquisition and image analysis for industrial users. The update includes several new features, including a new scene-tracking feature that will make monitoring more accurate and consistent. Monitoring with the Scene Recognition feature allows users to avoid having to manually adjust software settings due to scene changes from slight target or camera movements.
The major players include - GE Healthcare, Honeywell International Inc., Stmicroelectronics N.V., First Sensor AG, Medtronic PLC, Smiths Medical, Measurement Specialties, Inc., Analog Devices, Inc., Texas Instruments, NXP Semiconductor N.V., LumaSense Technologies, Zephyr Technology Corp., Covidien and, Nonin Medical Inc., among others.
Reasons to Purchase this Report
The growing applications in healthcare act as a driver to the global market scenario
Analyze various perspectives of the market with the help of Porter's five forces analysis
Solutions and type of security that are expected to dominate the market
Regions that are expected to witness fastest growth during the forecast period
Identify the latest developments, market shares, and strategies employed by the major market players
3-month analyst support, along with the Market Estimate sheet (in excel)
Customization of the Report
This report can be customized to meet your requirements. Please connect with our representative, who will ensure you get a report that suits your needs
1. Introduction
1.1 Key Study Deliverables
1.2 Key Study Assumptions
1.3 Market Definition
2. Research Methodology
3. Executive Summary
4. Market Dynamics
4.1 Market Overview
4.2 Market Drivers
4.2.1 Growing Demand for fitness devices
4.2.2 Increasing spendings on diagnostics
4.3 Market Restraints
4.3.1 High costs of the systems
4.4 Porter's Five Forces Model – Industry Attractiveness
4.4.1 Bargaining Power of Suppliers
4.4.2 Bargaining Power of Consumers
4.4.3 Threat of New Entrants
4.4.4 Threat of Substitutes
4.4.5 Intensity of Competitive Rivalry
5. Technology Snapshot
6. Biomedical Temperature Sensors Market Breakdown by Type
6.1 Thermocouples
6.2 Thermistors
6.3 Resistance Temperature Detectors (RTDs)
6.4 Liquid Crystal temperature Sensors
6.5 Fibre Optic Sensors
6.6 Infrared Sensors
6.7 Others
7. Biomedical Temperature Sensors Market Breakdown by End-user Industry
7.1 Pharmaceutical
7.2 Healthcare
7.3 Others
8. Biomedical Temperature Sensors Market Breakdown by geography
8.1 North America
8.2 Europe
8.3 Asia Pacific
8.4 Middle East & Africa
8.5 Latin America
9. Company Profiles of Biomedical Temperature Sensors Market
9.1 GE Healthcare
9.2 Honeywell International Inc.
9.3 Stmicroelectronics N.V.
9.4 First Sensor AG
9.5 Medtronic PLC
9.6 Smiths Medical
9.7 Measurement Specialties, Inc.
9.8 Analog Devices, Inc.
9.9 Texas Instruments
9.10 NXP Semiconductor N.V.
9.11 LumaSense Technologies
9.12 Zephyr Technology Corp.
9.13 Covidien
9.14 Nonin Medical Inc.
10. Investment Analysis
10.1 Recent Mergers and Acquisitions
10.2 Investor Outlook
11. Future Outlook of Biomedical Temperature Sensors Market