Bioinformatics is the application of computational technology to gather, store, analyze, and integrate biological data. This data is used to procure information that can be applied to gene-based drug discovery and development, protein structure studies, and in order to determine the therapeutic efficacy of drugs. The global bioinformatics market is expected to register a CAGR of 19.8% during 2018-2023 (the forecast period).
Growth in Proteomics and Genomics
With the completion of the Human Genome Project (in 2001) and the Human Proteome Project, a vast amount of data has generated, which has given a new dimension to the profiling of proteomic and genomic analyses. The data generated, out of these projects, has driven the growth of the global bioinformatics market, due to the growing demand for tools and platforms for data management, data retrieval, sequence alignment, structure prediction, and other bioinformatics applications.
Other factors driving the market include increasing government spending and rise in R&D initiatives.
Rising Data Complexity Concerns
A large amount of genomic and proteomic data, generated through various sequencing and structure prediction methods, are highly complex. The complexity of the generated data ranges from missing values to excess unwanted information. Data dissemination has been a major challenge for the growth of the bioinformatics market.
Reimbursement hurdles for the manufacturer and high-capital investment are also restraining the market growth.
North America to Dominate the Market
The bioinformatics market has been segmented on the basis of technology, application, end user, and geography. By geography, the market has been segmented into North America, Europe, Asia-Pacific, the Middle East & Africa, and South America.
Owing to the factors, like the growing demand for bioinformatics across genomics and proteomics research, technological advancements, increasing research funding, and the presence of a large number of market players and research institutes in the region, North America dominates the global bioinformatics market.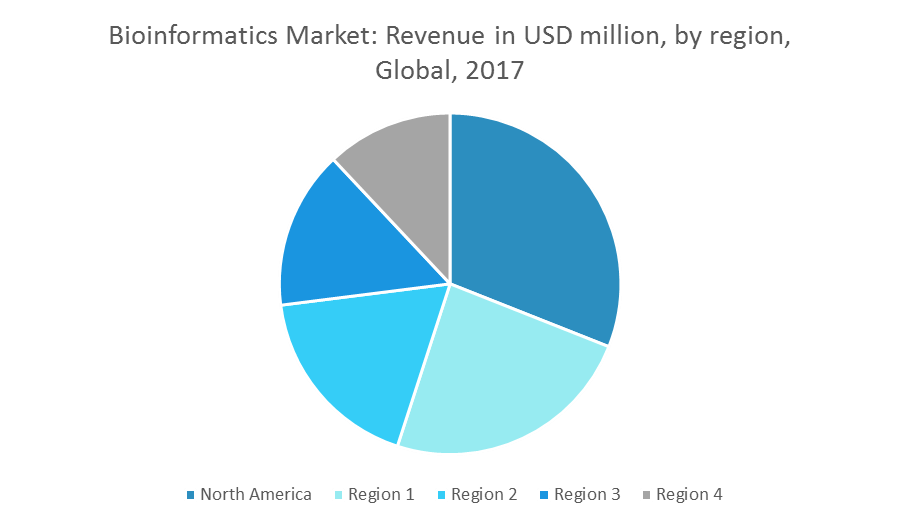 Key Developments in the Market
January 2018: Thermo Fisher Scientific introduced Ion GeneStudio S5 Series, a line of highly versatile next generation sequencers.
November 2017: Biomillenia collaborated with QIAGEN for the use of QIAGEN's Microbial Genomics Pro Suite, in order to generate next-generation sequence data on microbes identified using Biomillenia's proprietary microbiome-on-a-chip technology.
August 2016: Agilent Technologies and Eurofins Genomics collaborated to expand SureVector cloning system
January 2016: PerkinElmer had a strategic collaboration with Attivio to launch a new solution in the PerkinElmer Signals&#8482 data discovery platform.
Major Players: AGILENT TECHNOLOGIES, AFFYMETRIX, ILLUMINA, QIAGEN, PERKINELMER, ACCELRYS, INC., and GENEVA BIOINFORMATICS SA, among others.
Reasons to Purchase This Report
Market analysis for the Global Bioinformatics Market, with region-specific assessments and competition analysis on the global and regional scale
Analyzing various market perspectives, with the help of Porter's five forces analysis
The treatment type that is expected to dominate the market
Regions that are expected to witness fastest growth during the forecast period
Identify the latest developments, market shares, and strategies that are employed by the major market players
3 months analyst support, along with the Market Estimate sheet (in excel)
Customization of the Report
This report can be customized to meet your requirements. Please connect with our analyst, who will ensure you get a report that suits your needs.
1. Introduction
1.1 Market Definition
2. Research Methodology
3. Executive Summary
4. Key Inferences
5. Market Overview
5.1 Current Market Scenario
5.2 Porter's Five Forces Analysis
5.2.1 Bargaining Power of Suppliers
5.2.2 Bargaining Power of Consumers
5.2.3 Threat of New Entrants
5.2.4 Threat of Substitute Product And Services
5.2.5 Degree of Competition
6. Drivers, Restraints, Opportunities and Challenges Analysis (DROC)
6.1 Market Drivers
6.1.1 Increasing Demand for Nucleic Acid And Protein Sequencing
6.1.2 Increasing Initiatives from Governments And Private Organizations
6.1.3 Accelerating Growth of Proteomics And Genomics
6.1.4 Increasing Research on Molecular Biology And Drug Discovery
6.2 Market Restraints
6.2.1 Lack of Well-defined Standards And Common Data Formats for Integration of Data
6.2.2 Data Complexity Concerns and Lack of User-Friendly Tools
6.3 Opportunities
6.4 Key Challenges
7. Market Segmentation
7.1 By Products & Services
7.1.1 Knowledge Management Tool
7.1.2 Bioinformatics Platform
7.1.2.1 Sequence Analysis Platform
7.1.2.2 Sequence Alignment Platform
7.1.2.3 Sequence Manipulation Platform
7.1.2.4 Structural and Functional Analysis Platform
7.1.2.5 Other Bioinformatics Platforms
7.1.3 Bioinformatics Services
7.1.3.1 Sequencing Services
7.1.3.2 Database and Management Services
7.1.3.3 Data Analysis
7.1.3.4 Other Bioinformatics Services
7.1.4 By Application
7.1.4.1 Microbial Genome
7.1.4.2 Gene Engineering
7.1.4.3 Drug Development
7.1.4.4 Personalized Medicine
7.1.4.5 Omics
7.1.4.6 Others
7.1.5 By End User
7.1.5.1 Pharmaceutical
7.1.5.2 Animal Study
7.1.5.3 Agriculture
7.1.5.4 Forensic Science
7.1.5.5 Others
7.1.6 Market Segmentation,By Geography
7.1.6.1 North America
7.1.6.1.1 United states
7.1.6.1.2 Canada
7.1.6.1.3 Mexico
7.1.6.2 Europe
7.1.6.2.1 France
7.1.6.2.2 United kingdom
7.1.6.2.3 Germany
7.1.6.2.4 Spain
7.1.6.2.5 Italy
7.1.6.2.6 Rest of Europe
7.1.6.3 Asia-Pacific
7.1.6.3.1 India
7.1.6.3.2 China
7.1.6.3.3 Japan
7.1.6.3.4 Australia
7.1.6.3.5 South Korea
7.1.6.3.6 Rest of Asia-Pacific
7.1.6.4 Middle East Africa
7.1.6.4.1 GCC
7.1.6.4.2 South Africa
7.1.6.4.3 Rest of Middle East & Africa
7.1.6.5 South America
7.1.6.5.1 Brazil
7.1.6.5.2 Argentina
7.1.6.5.3 Rest of South America
8. Competitive Landscape
8.1 Mergers & Acquisition Analysis
8.2 Agreements, Collaborations, and Partnerships
8.3 New Products Launches
9. Key Players
9.1 Illumina Inc.
9.2 Life Technologies (Thermo Fischer Scientific)
9.3 Qiagen NV
9.4 Agilent Technologies
9.5 PerkinElmer
9.6 ABM
9.7 Accelrys Inc.
9.8 Geneva Bioinformatics SA
9.9 Ontoforce
9.10 Data4Cure
9.11 Life Map Sciences (Biotime)
10. Future Market Outlook