The Europe electrophysiology market is expected to register a good CAGR during the forecast period, 2018 to 2023. The electrophysiology is a biomedical field, which deals with the study of electric activity in the human body.
Growing Incidence of Arrhythmia and Heart Failure
In Europe, 1-2% of the total healthcare expenditure is attributed to heart failure. According to European Heart Network AISBL, it is estimated that around 3.9 million deaths in Europe and over 1.8 million deaths in the European Union occur due to cardiovascular diseases each year. It is expected that this number would increase further more by 2030. Since, electrophysiology devices have their major applications in detecting heart failure rates, the increasing number of heart failures is expected to drive the market during the forecast period. The other factors, such as high adoption rates in emerging markets due to technological advancements, rapid growth in aging population, increasing demand for catheter ablation procedures are also driving the market.
Lack of Skilled and Experienced Electrophysiologists
According to European Union of Medical Specialists only a few percent of cardiologists hold a specialization in electrophysiology. Although not a favorable percentage, the electrophysiology workforce is more or less stable in the Europe. However, due to lack of mobility among the majority of established electro physiologist, there exists a distinct lag in geographical dispersion of the EPs, resulting in a rift between the demand and supply, and a visible disparity among electro physiologists. The lack of skilled electro physiologists is acting as a major restraint for the Europe electrophysiology market.
Additionally, unfavorable healthcare reforms, is also responsible for hindering the growth of the market.
Germany Lead the Market in Europe Region
The Germany electrophysiology market holds the largest market share in 2017 in Europe region due to the presence of well-established healthcare facilities and rise in the number of arrhythmia and heart failure cases in the region.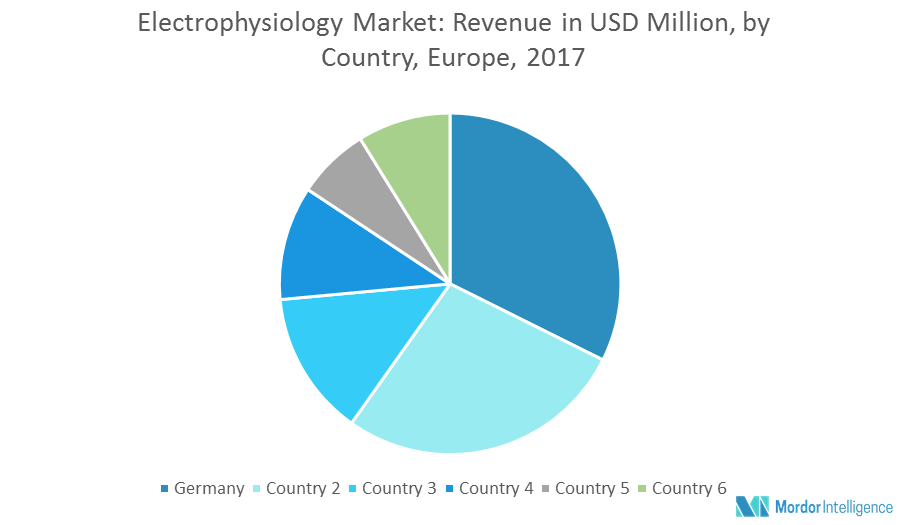 Key Developments in the Market:
January 2018 - BioSig Technologies, a medical device company, which is developing a biomedical signal processing platform designed to address the demand for electrophysiology market, has partnered with Mr. Charles Austin and JK advisors to scale up operational activities
The major players include - Abbott Laboratories, Boston Scientific, Biotronik SE & Co. KG, GE Healthcare, Hansen Medical, Johnson & Johnson, Medtronic Inc., Siemens Healthcare, and Nihon Kohden Corporation, among others.
Reasons to Purchase this Report
Current and future Europe electrophysiology market outlook in the developed and emerging markets
Analyzing various perspectives of the market with the help of Porter's five forces analysis
The segment that is expected to dominate the market
Regions that are expected to witness fastest growth during the forecast period
Identifying the latest developments, market shares, and strategies employed by the major market players
3-month analyst support, along with the Market Estimate sheet (in excel)
Customization of the Report
This report can be customized to meet your requirements. Please connect with our representative, who will ensure you to get a report that suits your needs
1. Introduction
1.1 Market Definition
2. Research Methodology
3. Executive Summary
4. Key Inferences
5. Market Overview
5.1 Current Market Scenario
5.2 Porter's Five Forces Analysis
5.2.1 Bargaining Power of Suppliers
5.2.2 Bargaining Power of Consumers
5.2.3 Threat of New Entrants
5.2.4 Threat of Substitute Product and Services
5.2.5 Competitive Rivalry within the Industry
6. Drivers, Restraints, Opportunities and Challenges Analysis (DROC)
6.1 Market Drivers
6.1.1 Growing Incidence Of Arrhythmia And Heart Failure
6.1.2 High Adoption Rates In Emerging Markets Due To Technological Advancements
6.1.3 Rapid Growth In Aging Population
6.1.4 Increasing Demand For Catheter Ablation Procedures
6.2 Market Restraints
6.2.1 Lack Of Skilled And Experienced Electrophysiologists
6.2.2 Unfavorable Healthcare Reforms
6.3 Opportunities
6.4 Key Challenges
7. Market Segmentation
7.1 By Product
7.1.1 Electrophysiology Monitoring Devices
7.1.1.1 Electrocardiograph (ECG)
7.1.1.2 Electroencephalograph (EEG)
7.1.1.3 Electrocorticograph (ECOG)
7.1.1.4 Electromyograph (EMG)
7.1.1.5 Electroretinograph (ERG)
7.1.1.6 Electrooculograph (EOG)
7.1.2 Holter Monitoring Devices
7.1.2.1 X-Ray Systems
7.1.2.2 Imaging And 3D Mapping Systems
7.1.2.3 Diagnostic Electrophysiology Catheters
7.1.3 Electrophysiology Treatment Devices
7.1.3.1 Implantable Cardioverter Defibrillators (ICDS)
7.1.3.2 Pacemakers
7.1.3.3 Cardiac Resynchronization Therapy Devices (CRTS)
7.1.3.4 Catheters
7.1.3.4.1 Radiofrequency Electrophysiology Ablation Catheters
7.1.3.4.2 Cryoablation Electrophysiology Catheters
7.1.3.4.3 Laser Ablation Catheters
7.1.3.4.4 Microwave Ablation Catheters
7.2 By Geography
7.2.1 Europe
7.2.1.1 France
7.2.1.2 Germany
7.2.1.3 United Kingdom
7.2.1.4 Italy
7.2.1.5 Spain
7.2.1.6 Rest of Europe
8. Competitive Landscape
8.1 Mergers & Acquisition Analysis
8.2 Agreements, Collaborations, and Partnerships
8.3 New Products Launches
9. Key Players
9.1 Abbott Laboratories
9.2 Biotronik Se & Co. Kg
9.3 Boston Scientific
9.4 GE Healthcare
9.5 Hansen Medical
9.6 Johnson & Johnson
9.7 Medtronic Inc.
9.8 Nihon Kohden Corporation
9.9 Siemens Healthcare
List Not Exhaustive
10. Future of the Market