The Europe contact adhesives market is estimated to grow at a significant CAGR during the forecast period, 2018 - 2023. Germany is expected to hold the largest share of the market, owing to the significant growth of the automotive and footwear leather industries.
Demand from Automotive Industry to Propel Market Growth
Contact adhesives have a range of characteristics and physical properties, such as good cohesion, adhesion, elasticity, high cohesive strength, flexibility, improved peel strength, high elastic modulus of substrate, and resistance to thermal expansion. They provide environmental resistance to corrosion, UV light, salt water, rain, and other weathering conditions, maintaining adhesive chemistry and physical bond, and therefore, have a wide range of applications. The market is quite extensive and includes several applications, like interior and exterior automotive trim and seat coverings.
The European automotive industry has a multiplier effect in the European economy as it provides employment to around 12 million people and accounts for 4% of the GDP. The European Automotive Commission has doubled the funds available for cooperative research and innovation in the automotive sector for the period 2014 - 2020 with the aim to preserve the technological leadership in the automotive sector. The funding is focused on green vehicles, decarburization of conventional engines, safety, and information technology infrastructure. According to the European Automobile Manufacturers Association, the automotive production in Europe grew by 2.5% in a year-on-year basis in the year 2016 over 2015, reaching a total of 21,696,968 vehicles.
Furniture Industry to Hold the Largest Market Share
Contact adhesives are used in the furniture made from wood, in millwork, doors, cabinetry made from wood, and laminated countertops. The different types of adhesives that are used in bonding furniture are polyurethane adhesives that are used that to cure exposure to moisture and provide environmental resistance, and hot-melt adhesives that are used for assembly work and for bonding decorative edging, as well as they increase the structural bonding of wood and aid in joining the wood with other materials.
IKEA, Steinhoff, and JYSK are the major furniture manufacturers with their base in the region. All these companies are expected to have a considerable growth during the forecast period. This growth will act as a driver for the furniture segment and will ensure the stronghold of the segment in the region.
Germany to Dominate the Market
The automotive adhesives market revenues in Germany are anticipated to grow due to norms implemented by the government to control carbon emission levels, the automotive industry has chosen alternative methods to improve the fuel efficiency of vehicles. One way is to use composite materials that can reduce the weight of the vehicle, and, in turn, increase the fuel efficiency. This process requires the use of adhesives, due to which the contact adhesives market is expected to grow in the future. The major applications of contact adhesives lie in the shoe manufacturing industry. As most of the big athletic shoe brands, such as Puma and Adidas, originate from this region and has many manufacturing plants scattered across the region.
The packaging industry has a high market potential, with increasing trends and growing demand from consumers. The construction sector is expected to grow at a moderate rate during the forecast period. Overall, the market for contact adhesives is expected to grow at a moderately high rate during the forecast period.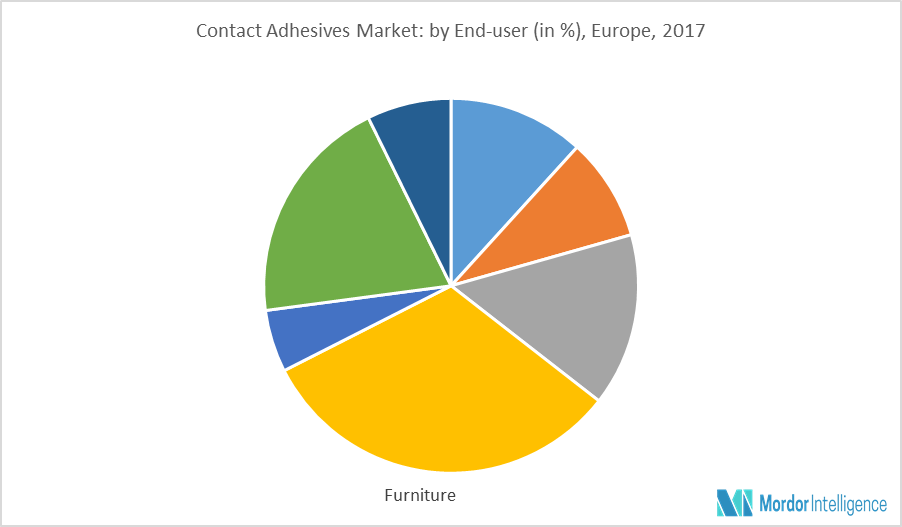 Notable Developments in the Market
September 2017: H.B. Fuller Company acquired Royal Adhesives and Sealants
August 2016: Adhesives division of Alfagres S.A. has been acquired by Henkel AG & Co. KGaA
Major Players: Henkel AG & Co. KGaA, H.B. Fuller Co, Bostik (Arkema), and 3M, among others.
Reasons to Purchase this Report
To understand the impact of growing furniture industry on the market.
Analyzing various perspectives of the market with the help of Porter's five forces analysis
To understand the dominating technology and end-user in the market
To identify the countries that are expected to witness the fastest growth during the forecast period
Identify the latest developments, market shares, and strategies employed by the major market players
3-month analyst support, along with the Market Estimate sheet (in Excel)
Customization of the Report
This report can be customized to meet your requirements. Please connect with our representative, who will ensure you get a report that suits your needs.
1. Introduction
1.1 Scope of the Report
1.2 Research Phases
1.3 Study Deliverables
2. Executive Summary
3. Market Insights
3.1 Industry Value Chain Analysis
3.2 Industry Attractiveness – Porter's Five Forces Analysis
3.2.1 Bargaining Power of Suppliers
3.2.2 Bargaining Power of Consumers
3.2.3 Threat of New Entrants
3.2.4 Threat of Substitute Products and Services
3.2.5 Degree of Competition
4. Market Dynamics
4.1 Drivers
4.1.1 Accelerating Demand from Automotive Industry
4.1.2 Significant Growth of the Furniture Industry
4.2 Restraints
4.2.1 Regulations pertaining to VOC emission
4.2.2 Other Restraints
4.3 Opportunities
4.3.1 Shifting Focus Towards Water-borne Adhesives
4.3.2 Other Opportunities
5. Market Segmentation and Analysis (Market Size, Growth and forecast)
5.1 By Technology
5.1.1 Water Borne
5.1.2 Solvent Borne
5.1.3 Others
5.2 By Polymer
5.2.1 Neoprene
5.2.2 SBR
5.2.3 Acrylic Copolymer
5.2.4 Others
5.3 By End-user Industry
5.3.1 Consumer Durables
5.3.2 Packaging
5.3.3 Automotive
5.3.4 Furniture
5.3.5 Footwear Leather
5.3.6 Construction
5.3.7 Others
6. Regional Market Analysis (Market Size, Growth, and Forecast)
6.1 Germany
6.2 United Kingdom
6.3 Italy
6.4 France
6.5 Spain
6.6 Russia
6.7 Rest of Europe
6. Competitive Landscape
6.1 Mergers & Acquisitions, Joint Ventures, Collaborations and Agreements
6.2 Market Share Analysis**
6.3 Strategies Adopted by Leading Players
7. Company Profiles (Overview, Financials**, Products & Services, and Recent Developments)
7.1 3M
7.2 Adco (Uk) Limited
7.3 Arkema Group (Bostik SA)
7.4 Collano Adhesives AG
7.5 Delo Industrial Adhesives
7.6 H.B. Fuller Company
7.7 Helmitin Inc.
7.8 Henkel Ag & Co. KgaA
7.9 Huntsman International LLC
7.10 Itw Performance Polymers (Illinois Tool Works Inc.)
7.11 Jowat Se
7.12 Mapei S.p.A
7.13 Pyrotek Inc.
7.14 Royal Adhesives & Sealants, LLC
7.15 Sika AG
7.16 DowDuPont
7.17 Intact Adhesives (KMS Adhesives)
*List not exhaustive
8. Disclaimer
**Subject to availability on public domain