The global bone cancer therapy market is expected to register a CAGR of 6.0% during the forecast period 2018 to 2023. North America dominates the market due to growing prevalence of bone cancer diseases in the region.
Increasing Incidence of Bone Cancer
According to American Cancer Society (ACS), in 2017, an estimated 3,260 people of all ages (1,820 men and boys and 1,440 women and girls) in the United States were diagnosed with primary bone cancer. Around 400 to 1,000 new cases of osteosarcoma are diagnosed annually in the United States and a similar incidence of osteosarcoma has been reported in Europe. Osteosarcoma accounts for about 3-5% of juvenile cancers. Thus growing incidence of bone cancer couple with growing government initiatives for bone cancer awareness, and aging population globally are anticipated to drive the market of global bone cancer.
Unavailability of Effective Treatment Coupled with Side Effects
Osteosarcoma is a relatively rare cancer, however, about 800 to 900 new cases of osteosarcoma are diagnosed in the United States, annually. About 50% are reported in children and teens. The treatment options for these patients are restricted to few options. In addition, the side effects of available treatment options often are significant and may lead to damage of other organs of body or may lead to other health related severe issues. Additionally, cancer cost is expected to grow in the range of 6% to 9%, annually, during forecast period. Thus, unavailability of effective treatment and side effects of cancers drugs along with rising cost of bone cancer is likely to impede the growth of global bone cancer market.
North America to Dominate the Market
North America dominates the global bone cancer therapy market owing to high prevalence of bone cancer in the region and aging population, coupled with high favorable reimbursement policies in the region. Developing countries are expected to account minimum share owing to less awareness regarding bone cancer among the populations and less availability of effective treatment option for bone cancer in the region. However, penetration of key players in the region coupled with aging populations are anticipated to drive the market growth of bone cancer in the emerging countries of Asia Pacific.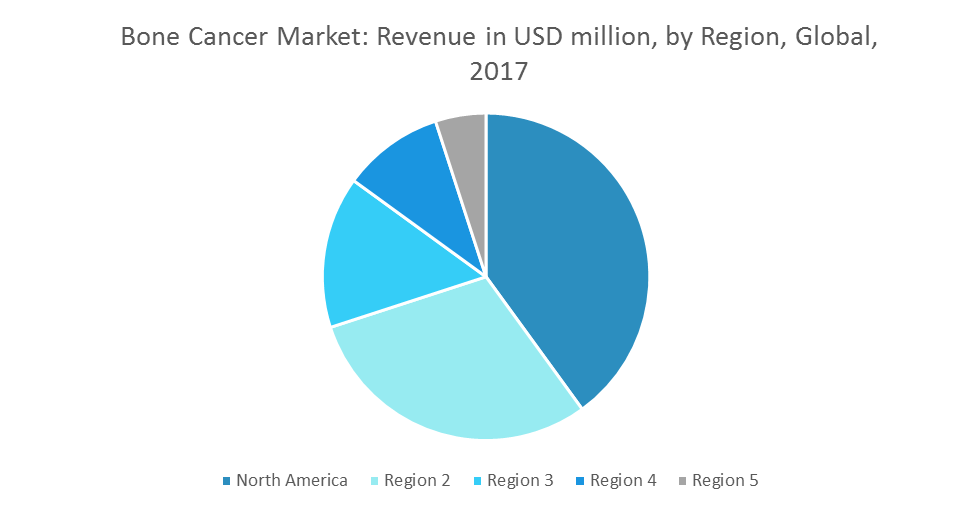 Key Developments in the Market
September 2016: Dr Reddy's Laboratories (DRL) expanded strategic collaboration with Amgen to market and distribute Xgeva (denosumab), Vectibix (panitumumab) and Prolia (denosumab) in India
Major Players: Amgen Inc., AstraZeneca, Bristol-Meyrs Squibb Company, Bayer AG, F. Hoffmann-La Roche AG, Merck & Co., Novartis AG, Pfizer Inc., amongst others.
Reasons to Purchase this Report
Current and future global bone cancer therapy market outlook in the developed and emerging markets
Analyzing various perspectives of the market with the help of Porter's five forces analysis
The segment that is expected to dominate the market
Regions that are expected to witness fastest growth during the forecast period
Identify the latest developments, market shares and strategies employed by the major market players
3 months analyst support along with the Market Estimate sheet (in excel)
Customization of the Report
This report can be customized to meet your requirements. Please connect with our representative, who will ensure you to get a report that suits your needs.