The suspension system of a car has two primary purposes, which is, to maintain contact between the wheel and the tarmac (to maintain traction) and to prohibit road shocks and undulations from reaching the passenger cabin. Over the years' suspension systems have evolved from leaf to coil-overs to the now trending fad of air suspension systems. Initially, their use was limited to commercial vehicles, luxury cars, and buses. This statement can be verified by the fact that almost all major bus manufacturers such as Volvo, Scania, Daimler, etc. use air suspensions in most of their buses.
Earlier control of air suspension system was done manually by switches at the helm of the driver, but the trend has been shifting towards electronically controlled air suspension systems (ECAS). Though manually controlled systems hold larger share, their electronic counterparts are growing at a faster rate. Wabco (formerly Meritor Wabco), one of the leading suppliers of electronically controlled suspension systems has witnessed a 30 percent rise in sales of OptiRide their ECAS system in China alone. This trend is bound to continue due to the rising adoption rate of air suspension systems in heavy-duty and commercial vehicles.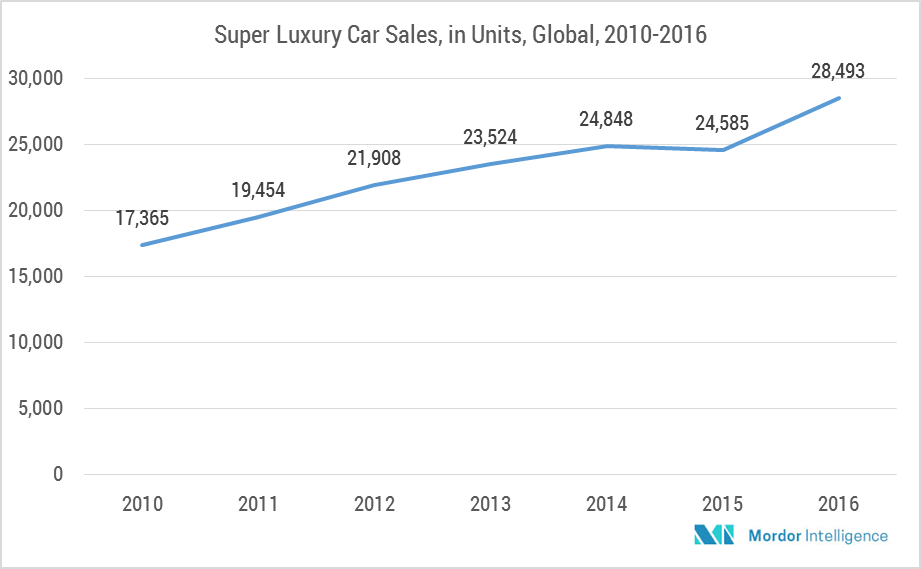 Source: Mordor Intelligence Analysis
Market Dynamics
Air suspension systems also have high demand in the aftermarket as air ride kits, which many street riders deploy for ride adjustability, ride height change, etc. They are also used in track racing for the controllability and tunability. Although air suspension adoption rate is increasing in buses and commercial vehicles, passenger vehicles still do not deploy them because of their high-cost setup and increased expertise required for their service and maintenance. Some of the major issues with air suspensions include leaky bellows and electrical problems (with sensors, solenoids, control unit, relay). Future opportunities that manufacturers of ECAS can look at is the integration of different systems, such as, electronic stability program (ESP), Electronic stability control (ESC), etc. in the form of smart suspension systems.
Geographical Analysis
Regarding market share, North America leads in the geographical segment because of high presence of luxury and commercial vehicles. It is followed by Europe and then APAC, APAC though being the largest market for vehicle sales is not on par because of the presence of economically weaker countries in the region. Dependent markets, such as rubber molded components market is also poised to experience a healthy growth owing to the demand for air suspension systems.
Key Developments in the Market
March 2018: Porsche Mission E Cross Turismo headed for production and it will be equipped with toughened fender liners and an air suspension system which raises the ride height by around 2 inches gives the show enhanced soft-road credibility
August 2017: Tesla's new vehicle, Model 3 is expected to be equipped with a smart air suspension. This smart air suspension is linked to the dual motor configuration of Model 3
Major Players – Dunlop Systems and Components, Vibracoustic, Continental, Hendrickson International, among others.
Reasons to Purchase this Report
Analyzing various perspectives of the market with the help of Porter's five forces analysis
Detailed analysis on the product type that is expected to dominate the market
Detailed analysis on the regions that are expected to witness fastest growth during the forecast period
Identifying the latest developments, market shares, and strategies employed by the major market players
3-month analyst support, along with the Market Estimate sheet in excel
Customization of the Report
This report can be customized to meet your requirements. Please connect with our analyst, who will ensure you get a report that suits your needs
1. Introduction
1.1 Research Methodology
1.2 General Study Assumptions
2. Research Methodology
2.1 Introduction
2.2 Analysis Methodology
2.3 Study Assumptions
2.4 Econometric Forecast Model
3. Executive Summary
4. Market Overview and Technology Trends
4.1 Current Market Scenario
4.2 Technology Trends
4.3 Porter's Five Forces Analysis
4.3.1 Bargaining Power of the Suppliers
4.3.2 Bargaining Power of the Consumers
4.3.3 Threat of New Entrants
4.3.4 Threat of Substitute Products and Services
4.3.5 Competitive Rivalry within the Industry
5. Market Dynamics
5.1 Drivers
5.1.1 Growing Demand for Luxury Vehicles
5.2 Restraints
5.2.1 High Adoption Cost of Advanced Suspension Systems
5.3 Opportunities
5.3.1 Advance Electronically Controlled Air Suspension
6. Global Automotive Air Suspension Market, By End-user
6.1 OEM
6.2 Aftermarket
7. Global Automotive Air Suspension Market, By Control Type
7.1 Electronically Controlled Air Suspension
7.2 Non-electronically Controlled Air Suspension
8. Global Automotive Air Suspension Market, By Application Type
8.1 Passenger Vehicles
8.2 Commercial Vehicles
9. Global Automotive Air Suspension Market, By Geography
9.1 North America
9.1.1 United States
9.1.2 Canada
9.1.3 Mexico
9.1.4 Rest of the North America
9.2 Europe
9.2.1 Spain
9.2.2 United Kingdom
9.2.3 Germany
9.2.4 Russia
9.2.5 France
9.2.6 Rest of the Europe
9.3 Asia-Pacific
9.3.1 China
9.3.2 India
9.3.3 Japan
9.3.4 Rest of the Asia-Pacific
9.4 South America
9.4.1 Brazil
9.4.2 Argentina
9.4.3 Rest of the South America
9.5 Middle East & Africa
9.5.1 Saudi Arabia
9.5.2 South Africa
9.5.3 Rest of the Middle East & Africa
10. Competitive Landscape
10.1 Introduction
10.2 Market Share Analysis
11. Company Profiles
11.1 Airlift Company
11.2 Dunlop Systems and Components
11.3 Vibracoustic
11.4 Wabco
11.5 Stemco
11.6 Continental
11.7 Arnott
11.8 Hendrickson International
11.9 Mando Corporation
11.10 Suncore Industries
11.11 Bwi Group
11.12 Wheels India
12. Future Outlook of the market
13. Disclaimer