Automated Guided Vehicle (AGV) Market Size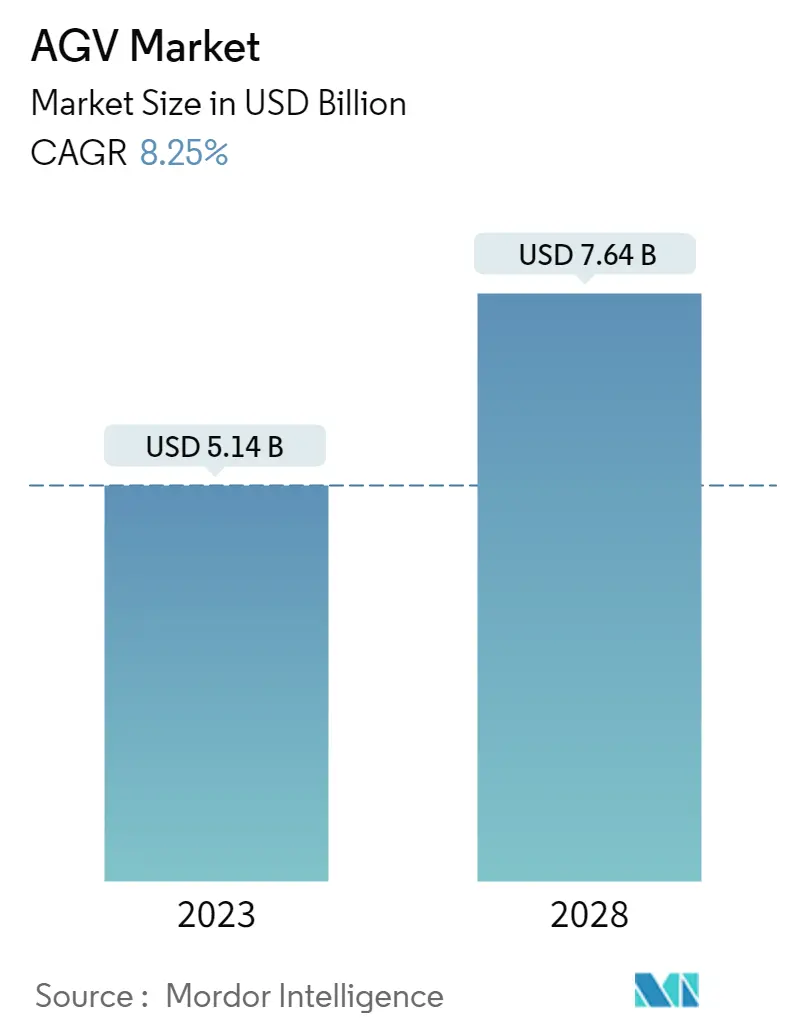 Study Period:
2018 - 2028
Fastest Growing Market:
Asia Pacific
Largest Market:
Asia Pacific
CAGR:
31.4 %

Major Players

*Disclaimer: Major Players sorted in no particular order
Need a report that reflects how COVID-19 has impacted this market and it's growth?
Automated Guided Vehicle (AGV) Market Analysis
The automated guided vehicle market is expected to register a CAGR of 31.4% during the forecast period. Rising technological advancements, increased demand for automation in industries, increased demand for robots in manufacturing and warehousing facilities, and growing emerging markets are just a few of the key factors driving the growth of Automated Guided Vehicle.
The automotive industry is increasingly incorporating automation and AGVs into its manufacturing floors. For instance, the SEAT plant in Martorell, Spain, is transforming into a digitalized and smart factory. The company implemented AGVs with SLAM navigation, 4G connectivity, and induction battery charging. The facility has eight AGVs for outdoor operation and over 200 AGVs that deliver parts inside the assembly workshops at the Martorell and Barcelona factories.
Several key players in the market studied are integrating their hardware equipment with navigational software to offer high efficiency. For instance, Toyota, a company offering Wire, RFIS, and Tape AGVs, alongside Laser AGVs, introduced two AGVs in partnership with Bastian solutions that use Autonomous Navigation Technology software from BlueBotics, which acts like an operating system for autonomous mobile robots or automated guided vehicles. Furthermore, in February 2021, SafeLog launched warehouse robots in Europe that can operate individually or in a "swarm". It also offers automated guided vehicle solutions that do not need a control station connection. The company adds that the latest model of the SafeLog AGV L1 lifts loads of up to 1500 kg.
In December 2021, GWC, Qatar's logistics, and supply chain solutions provider, and GAUSSIN, a significant company in clean and smart freight transport, formed a partnership to test Gaussin's zero-emission electric tractors and yard automation solutions in several GWC warehouses, including GWC Al WukairLogistic Park in Qatar.
Moreover, companies providing system interfaces and AGV system components are collaborating for advancement in technology. For instance, in August 2021, Quanergy Systems Inc. partnered with industrial automation distributor Power Motion, a provider of OPA-based solid-state LiDAR sensors and smart 3D solutions for automotive and IoT. This partnership enables the delivery of 2D and 3D LiDAR solutions applicable for industrial automation applications such as automated guided vehicles (AGV), mobile robots, and forklifts throughout the South-Central United States.
The continuously increasing R&D expenditure and the rising number of production establishments worldwide are driving the demand for automation worldwide in mid-range industries, especially in the healthcare and pharmaceutical sectors. In November 2021, as a trial project for Swissport's new air cargo terminal in Frankfurt, LödigeIndustries, a prominent supplier of air cargo terminal equipment, is supplying its first Automated Guided Vehicle (AGV). The 10ft AGV is designed to transport a range of ULDs, including 15ft containers, and can replace human transport of ULDs by Slave Pallet Mover or other ground handling equipment, with a load capacity of 6,800 kg.
Furthermore, with workers quarantined worldwide, large industrial buildings, such as factories or warehouses that transport heavy materials manually, have experienced a halt situation, thus, severely impacting the global supply chain. DHL reported that only 5-10% of the fulfillment centers in the United States were using automated picking already. It also noted that the COVID-19 crisis is another reason to automate warehouses, which may drive quicker adoption in the coming years.
Automated Guided Vehicle (AGV) Industry Segmentation
Automated guided vehicles (AGVs) are wholly automated transport systems that operate with unmanned vehicles. Automated guided vehicles offer many advantages, such as reduced operational cost, enhanced workforce safety, and decrement in production time. The growing execution of mobile robots worldwide and measures to improve workplace safety and productivity are other factors leading to the adoption of AGV.
The Automated Guided Vehicle (AGV) Market is segmented by Product Types, such as Automated Forklifts, Automated Tow/Tractor/Tugs, Unit Load, Assembly lines, and Special Purpose among various End-user Industries, such as Food & Beverage, Automotive, Retail, Electronics & Electrical, General Manufacturing, Pharmaceuticals in multiple geographies. The market sizes and forecasts are provided in terms of value (USD million) for all the above segments. The impact of COVID-19 on the market and impacted segments are also covered under the scope of the study. Furthermore, the disruption of the factors affecting the market's expansion in the near future has been covered in the study regarding drivers and restraints.
By Product Type
Automated Fork Lift
Automated Tow/Tractor/Tugs
Unit Load
Assembly Line
Special Purpose
By End User Industry
Food & Beverage
Automotive
Retail
Electronics & Electrical
General Manufacturing
Pharmaceuticals
Other End User Industries
By Geography
North America
Europe
Asia Pacific
Latin America
Middle East & Africa
Automated Guided Vehicle (AGV) Market Trends
This section covers the major market trends shaping the Automated Guided Vehicle (AGV) Market according to our research experts:
Rapid Growth of E-commerce Demanding Higher Efficency
Despite growth in the manufacturing industry, considerable demand from the warehousing and logistics sector is dedicated to e-commerce activity. Furthermore, the Canadian warehouse portfolio majorly comprises e-commerce, which is estimated to make up more than 50% of the warehouse business in the country.
The deployment of AGVs provides an opportunity for different areas in e-commerce. Specifically, the AGVs seem suited for fulfillment operations involving large quantities of small orders for large SKU ranges spread across large warehouse areas. Using autonomous robots to perform horizontal traveling can increase order fulfillment efficiency.
With the introduction of always-on e-commerce, the demand for faster responses, and the need to manage a more significant number of stock-keeping units with fewer errors, warehouses need to scale up and meet the standards of an intelligent, efficient, and automated warehouse. Such increasing globalization and the rise of online retail and bulk retail have increased demand for AGVs in the retail industry.
The rising demand for e-commerce companies to cater to the increasing number of single-day delivery orders, both in advanced and emerging economies, has resulted in a significant increase in efficiency owing to the commercial viability of these schemes. E-commerce warehouses carry out the single-day delivery method with the aid of AGVs. According to the IBEF, India has significant potential in the e-commerce industry, the market value of India's e-commerce industry was approximately USD 84 billion in 2021, growing at an exponential rate, and it is expected to reach USD 350 billion by 2030.
According to the U.S. Census Bureau, retail e-commerce sales in the United States totaled nearly USD 250 billion from January to March 2022, representing a 2.4% increase over the previous quarter. The rapidly changing retail market compels distribution centers to seek out and implement innovative, flexible, and automated approaches to e-commerce order fulfillment.
Moreover, supply chains began using AGVs in distribution centers in response to increased e-commerce demand, allowing industries to function at high productivity. AGVs' use has expanded in sectors like pharmaceuticals to keep up with demand and maintain sanitation. AGVs were utilized by hospitals and other healthcare facilities to undertake the contactless transfer of food, trash bins, linens, and sterile supplies. For instance, the U.S. retail e-commerce sales for the second quarter of 2022 were USD 257.3 billion, up 2.7% from the first quarter of 2022, according to the Census Bureau of the Department of Commerce. Such a rise in e-commerce purchases will push companies to deploy automated material handling equipment in their operation process to enhance smooth workflow.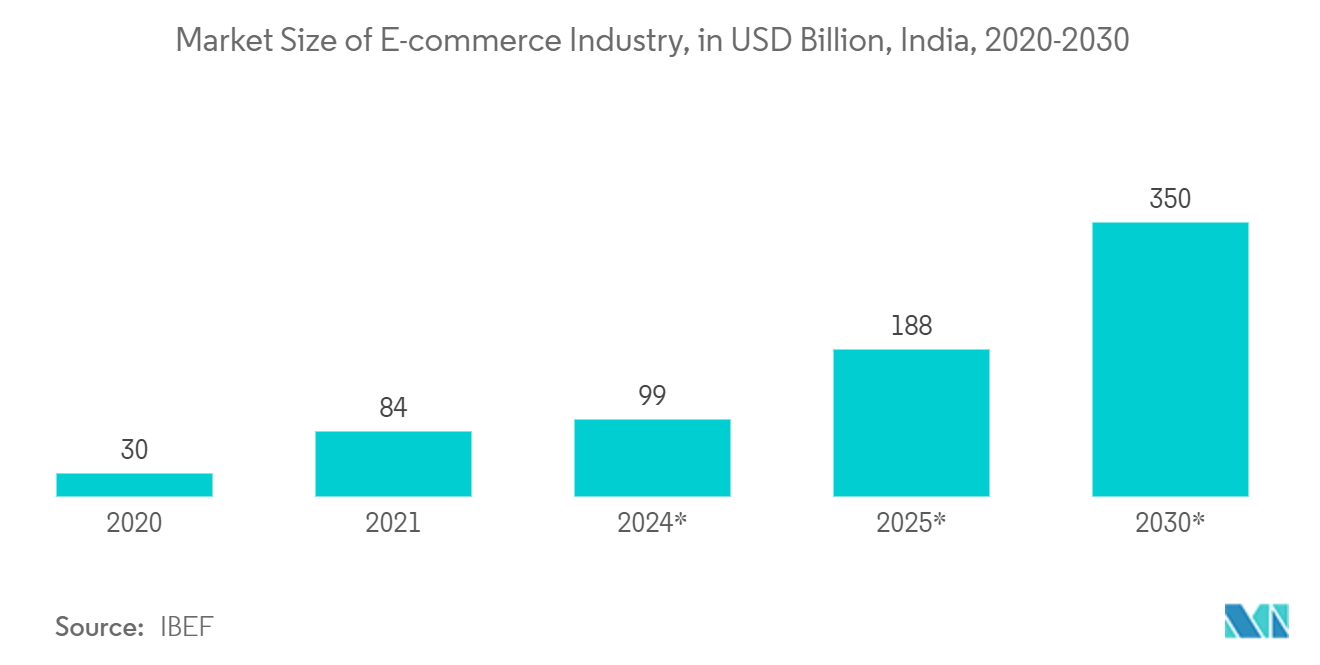 To understand key trends, Download Sample Report
Asia Pacific is expected to Witness a Significant Growth
Asia-Pacific is the world's largest AGV consumer. Because of the fragmented market, it is easy to find affordable automation services, and also, the increased production in the automobile sector is driving up demand for AGVs in this region.
In December 2021, the KION Group established a new forklift truck manufacturing in Jinan, China. Jinan is the fifth-largest production site in China for the KION Group. Industrial vehicles from KION's Linde Material Handling and Baolibrands are likely to be constructed in the future on a 2,400,000-square-foot site, which is roughly comparable to over 31 soccer fields.
Moreover, with the increasing e-commerce demand in emerging countries, such as India, China, and neighboring countries, e-commerce companies have significantly been deploying AGVs at warehouses. According to the IBEF, India's e-commerce market is anticipated to be worth USD 350 billion by 2030. Furthermore, India's e-commerce market is expected to reach USD 220 billion in gross merchandise value (GMV), and there are expected to be about 530 million shoppers by 2025.
In addition, universities in Thailand are collaborating with manufacturing plants to deliver Automated Guided Vehicles (AGVs). For instance, the Sirindhorn International Thai-German School of Engineering (TGGS) recently collaborated with the BMW Manufacturing plant in Rayong, Thailand. The project began with a vision from BMW for using AGVs that automatically carries heavy parts in the production line. A tailor-made AGV was developed by the university research team that exactly fits into the production process requirements while keeping the investment cost reasonably economical compared to imported solutions.
Furthermore, in October 2021, BlueBotics, a provider of natural navigation technology for automated guided vehicles (AGVs) and autonomous mobile robots (AMRs), signed a distribution agreement with Thailand'sThailand's Planet T & S Co. Ltd. to expand its Asian reach. Planet T & S was a BlueBoticsnavigation customer before embarking on this distribution arrangement. As a result, the company has assembled several ANT-driven AGVs that it presently offers in Thailand.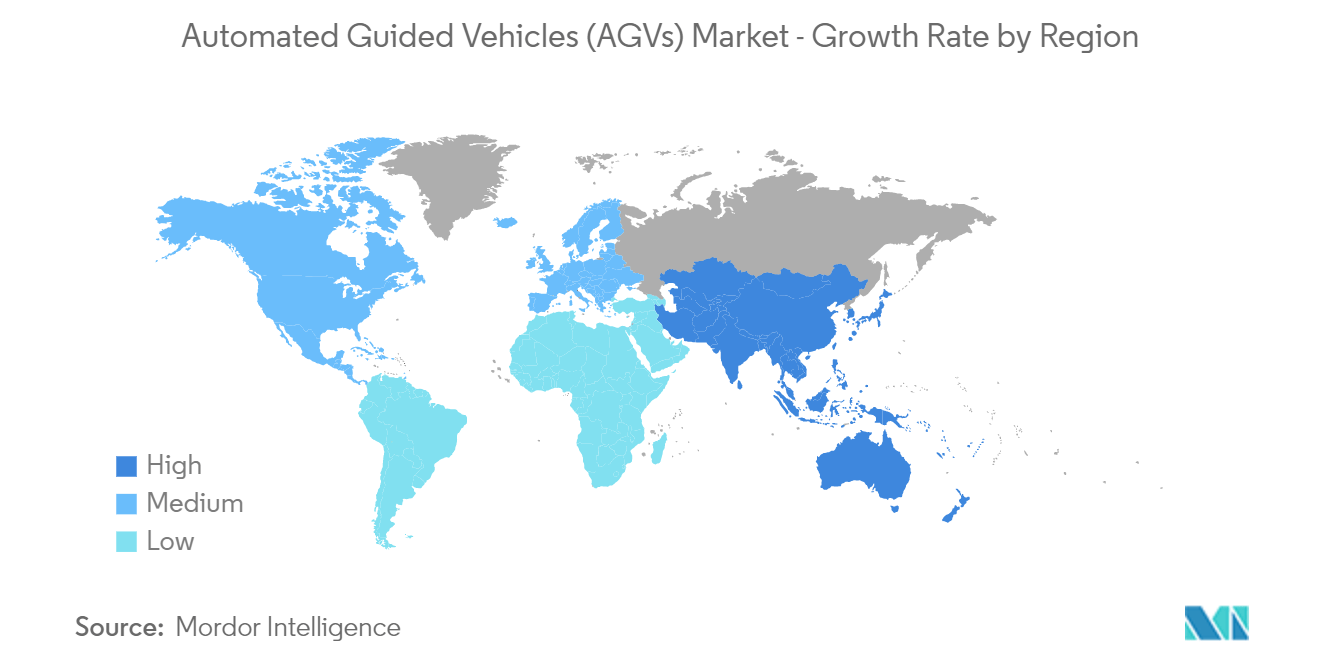 To understand geography trends, Download Sample Report
Automated Guided Vehicle (AGV) Industry Overview
The global automated guided vehicle is moderately fragmented due to many automatic guided vehicle (AGV) market players. Factors, such as digital transformation and the advent of integrated Industry 4.0 with IoT deliver considerable growth prospects to automated guided vehicle industries. Key players are Amerden Inc., Swisslog Holding, SSI Schaefer Systems International DWC LLC, etc.
In December 2021, Lotus Cars Ltd introduced AGVs, robots, and other cutting-edge automation, such as assembly lines, to increase flexibility and productivity. It combined manufacturing aluminum chassis and steel subassemblies into a single facility to reduce production downtime and improve operational efficiency.
In April 2021, JBT introduced the Warehouse Freezer AGV, which can operate from -10°F to 110°F. The automated guided vehicle (AGV) can lift 2,500 pounds and has a three-stage hydraulic mast with integrated side shift and tilt. It also has a variety of lift heights ranging from 357 inches (or less) to 422 inches (or more) to the top of its forks. The Warehouse Freezer AGV can even travel bidirectionally at up to 5.9 feet per second and has an 11.5-foot minimum aisle width. It also has a 48 VDC battery and two lift rates of 10 and 11 inches per second for lowering and expanding. The freezer is the 'last frontier' for Automated Guided Vehicle as a food machinery company element.
Automated Guided Vehicle (AGV) Market Leaders
KUKA AG

Jungheinrich AG

Murata Machinery Ltd

Daifuku Co. Ltd

SSI Schaefer AG
*Disclaimer: Major Players sorted in no particular order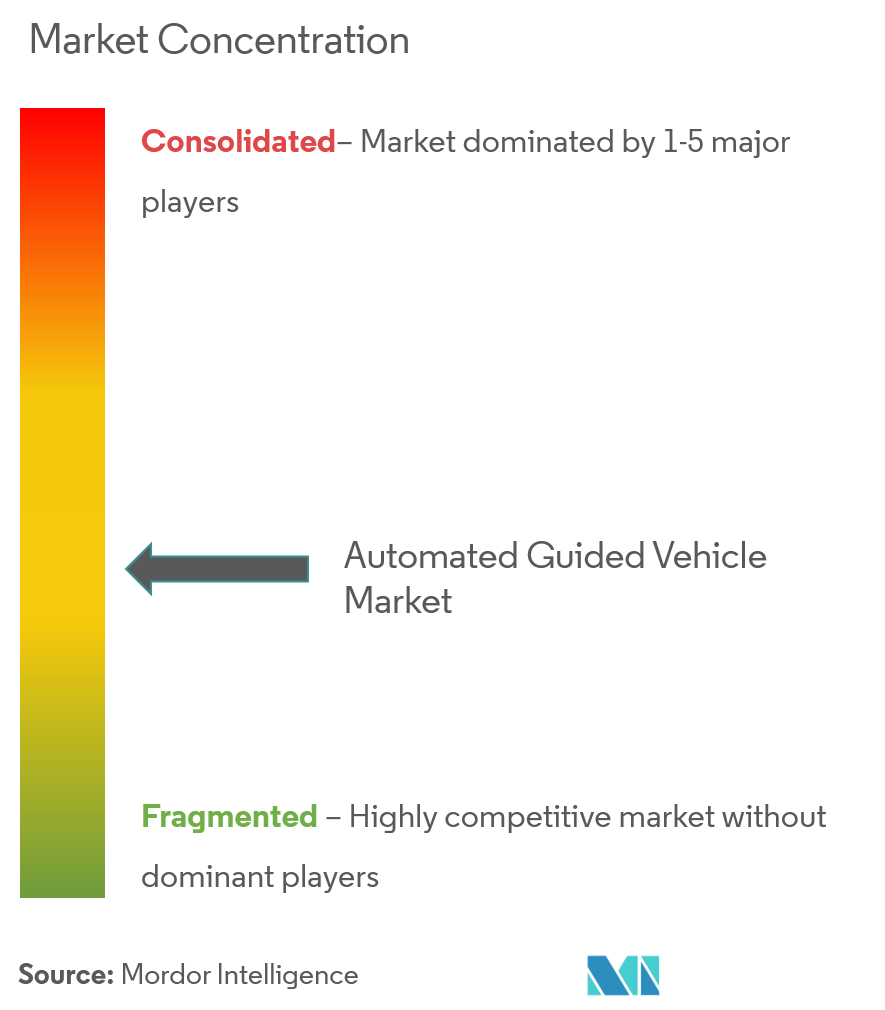 Automated Guided Vehicle (AGV) Market News
March 2022 - Third Wave Automation (TWA), a provider of autonomous materials handling solutions, and CLARK Material Handling Company, a manufacturer of forklift trucks and aftermarket parts, announced a partnership and the spring 2023 release of the "TWA Reach," a new automated reach truck. The TWA Reach will combine the capabilities of the NPX reach truck with TWA automation technology and intelligent fleet management capabilities.
March 2022 - KNAPP, a technology partner for intelligent value chains, and Covariant, a major global AI robotics company, strengthened their collaboration to develop AI-powered robot solutions further and expand their market presence. So far, KNAPP and Covariant have collaborated on several projects, with KNAPP's picking robot, the Pick-it-Easy Robot, at the forefront of their efforts. The robot's ability to handle a wide range of items and its suitability for various sector applications has demonstrated its value in improving warehouse efficiency across multiple industries.
February 2022 - The KION Group launched the European research project IMOCO. The project aims to facilitate intelligent trucks to navigate autonomously in a warehouse or factory. IMOCO, which stands for 'intelligent motion control,' is devoted to the safe usage of mobile robotic systems in fast-moving intralogistics environments.
February 2021 - SafeLog launched warehouse robotics(AGV L1) that operates individually or in a swarm and can lift a load of up to 1500 kg to 3000 kg. The robot is equipped with agent-based control, which helps users to eliminate investment in a higher-level central control station. Further, the automated guided vehicle is being deployed in production and intralogistics.
Automated Guided Vehicle (AGV) Market Report - Table of Contents
1. INTRODUCTION

1.1 Study Assumptions and Market Definition

1.2 Scope of the Study

2. RESEARCH METHODOLOGY

3. EXECUTIVE SUMMARY

4. MARKET INSIGHT​

4.1 Market Overview

4.2 Industry Value Chain Analysis

4.3 Industry Attractiveness - Porter's Five Forces Analysis

4.3.1 Bargaining Power of Suppliers

4.3.2 Bargaining Power of Consumers

4.3.3 Threat of New Entrants

4.3.4 Intensity of Competitive Rivalry

4.3.5 Impact of COVID-19 on the Market

5. MARKET DYNAMICS

6. Market Drivers

6.1 Rapid Growth of E-commerce Demanding Higher Efficiency

6.2 Increasing Investments in Technology and Robotics

7. Market Restraints

7.1 Limitation of Real-Time Wireless Control Due to Communication Delays

8. MARKET SEGMENTATION

8.1 By Product Type

8.1.1 Automated Fork Lift

8.1.2 Automated Tow/Tractor/Tugs

8.1.3 Unit Load

8.1.4 Assembly Line

8.1.5 Special Purpose

8.2 By End User Industry

8.2.1 Food & Beverage

8.2.2 Automotive

8.2.3 Retail

8.2.4 Electronics & Electrical

8.2.5 General Manufacturing

8.2.6 Pharmaceuticals

8.2.7 Other End User Industries

8.3 By Geography

8.3.1 North America

8.3.2 Europe

8.3.3 Asia Pacific

8.3.4 Latin America

8.3.5 Middle East & Africa

9. COMPETITIVE LANDSCAPE

9.1 Company Profiles

9.1.1 KUKA AG

9.1.2 Jungheinrich AG

9.1.3 Murata Machinery Ltd

9.1.4 Daifuku Co. Ltd

9.1.5 SSI Schaefer Systems International DWC LLC

9.1.6 Swisslog Holding

9.1.7 Dematic Corp.

9.1.8 Toyota Material Handling

9.1.9 Scott Technology Limited

9.1.10 John Bean Technologies (JBT) Corporation

9.1.11 Systems Logistics SPA

9.1.12 Seegrid Corporation

*List Not Exhaustive

10. INVESTMENT ANALYSIS

11. FUTURE OF THE MARKET
Automated Guided Vehicle (AGV) Market Research FAQs
What is the study period of this market?
The AGV Market is studied from 2017 - 2027.
What is the growth rate of AGV Market?
The AGV Market is growing at a CAGR of 31.4% over the next 5 years.
Which region has highest growth rate in AGV Market?
Asia Pacific is growing at the highest CAGR over 2017-2027.
Which region has largest share in AGV Market?
Asia Pacific holds highest share in 2021.
Who are the key players in AGV Market?
KUKA AG, Jungheinrich AG , Murata Machinery Ltd , Daifuku Co. Ltd , SSI Schaefer AG are the major companies operating in AGV Market.
AGV Industry Report
Statistics for the 2023 AGV market share, size and revenue growth rate, created by Mordor Intelligence™ Industry Reports. AGV analysis includes a market forecast outlook to 2028 and historical overview. Get a sample of this industry analysis as a free report PDF download.
80%

of our clients seek made-to-order reports. How do you want us to tailor yours?