The demand for polyurethanes (PU) in Asia-Pacific market is expected to grow significantly during the forecast period, 2018-2023. China is estimated to be the largest market for polyurethanes in Asia-Pacific. Polyurethane based foams are used as insulating materials in homes, refrigerators, and many other uses. Insulating foams help consumer save on their heating and cooling costs. In addition to providing temperature and moisture control, insulation is often used to provide noise reduction. The insulation also proves to be helpful during the summer season by reducing the air-conditioning use.
Growing Demand from Construction Industry
Asia-Pacific is the world's largest construction market across the globe. With rising demand for infrastructure that promote energy-efficient structures, home builders and consumers are gradually moving towards building strategies that deliver performance and energy savings in long run. Owing to the various infrastructure development initiatives by the government of India, the construction industry has seen a surge in the recent years. Additionally, over the past few years, India, because of their business potential, has become the major hosts of numerous international and national events. This, in turn, has increased the demand for hotels, shopping malls, high-rise buildings, arenas, thereby, boosting the demand for polyurethanes market.
Elastomers Leading the Way
PU elastomer is the largest non-foam application segment in Asia-Pacific. The development of PU elastomers in Asia-Pacific is mainly driven by the growth of the footwear industry in China. The shift of footwear production from Western nations to China is expected to drive the footwear industry market during the forecast period. However, shoe production is also being shifted from China to India due to the lower labor costs in country. However, the utilization of PU elastomers in India and ASEAN countries has been increasing, as a result of the increasing production of shoes, sporting goods, industrial materials, and consumer goods.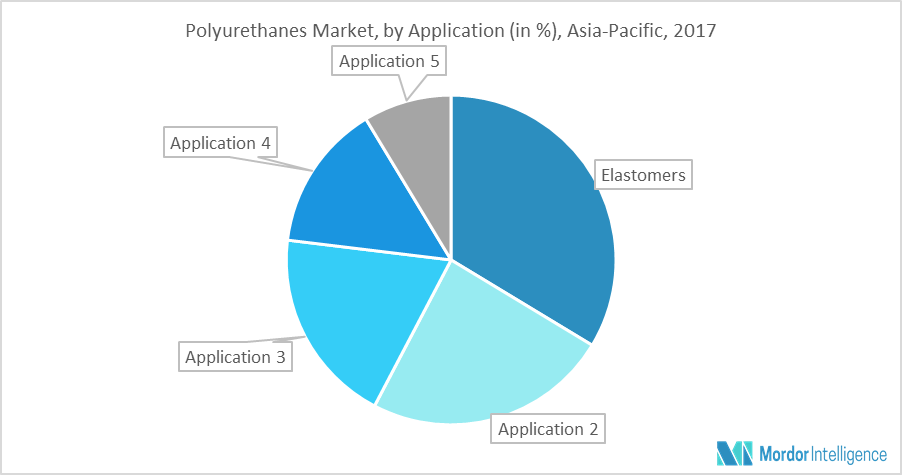 China to Lead the Market
The increase in the demand of PU market in China is considered to be the primary reason for growth of production facilities in the region. The growth of market in this region is mainly due to availability of labor, raw materials, and local government support. Robust growth in end-user industries, such as construction, automotive, footwear, and electronics has resulted in China dominating the demand for polyurethanes market. However, the consumption of PU elastomers in India and ASEAN countries has been increasing, as a result of the increasing production of shoes, sporting goods, industrial materials, and consumer goods.
Notable Developments in Market
March 2018: DowDuPont products are available on 0elem.com to serve the customers in China
September 2017: Dow introduced new VORASURF Polyurethane Additives
Major Players: BASF SE, Bayer, DowDuPont, Nippon Polyurethane Industry and Chemtura Corp., among others.
Reasons to Purchase this Report
To understand the impact of end-user applications on the market
Analyzing various perspectives of the market with the help of Porter's five forces analysis
Countries expected to witness the fastest growth during the forecast period
Identifying the latest developments, market shares, and strategies employed by the major market players
3-month analyst support, along with the Market Estimate sheet (in Excel)
Customization of the Report
The report can be customized to meet your requirements. Please connect with our representative, who will ensure you to get a report that suits your needs
1. Introduction
1.1 Research Phases
1.2 Study Deliverables
1.3 Scope of the Report
2. Executive Summary
3. Market Insights
3.1 Indstry Value Chain Analysis
3.2 Industry Attractiveness - Porter's Five Forces Analysis
3.2.1 Bargaining Power of Suppliers
3.2.2 Bargaining Power of Consumers
3.2.3 Threat of New Entrants
3.2.4 Threat of Substitute Products and Services
3.2.5 Degree of Competition
3.3 Policies and Regulations
4. Market Dynamics
4.1 Drivers
4.1.1 Growing Demand from Bedding, Carpet & Cushioning Industry
4.1.2 Growing Demand from Construction industry
4.2 Restraints
4.2.1 Competition from Fiberglass and polystyrene Industries
4.3 Opportunities
4.3.1 Increasing demand for Bio-Based Polyurethane
4.3.2 Other Opportunities
5. Market Segmentation and Analysis (Market Size, Growth, and Forecast)
5.1 By Application
5.1.1 Foams
5.1.1.1 Rigid Foam
5.1.1.2 Flexible Foam
5.1.2 Coatings
5.1.3 Adhesives & Sealants
5.1.4 Elastomers
5.1.5 Others
5.2 By End-user Industry
5.2.1 Furniture & interiors
5.2.2 Construction
5.2.3 Electronics & Appliances
5.2.4 Automotive
5.2.5 Others (Footwear, Industrial, Textiles, Fibers, Medical, and Marine)
6. Regional Market Analysis (Market Size, Growth, and Forecast)
6.1 India
6.2 China
6.3 Japan
6.4 South Korea
6.5 Rest of Asia-Pacific
7. Competitive Landscape
7.1 Mergers and Acquisitions, Joint Ventures, Collaborations, and Agreements
7.2 Market Share Analysis***
7.3 Strategies Adopted by Leading Players
8. Company Profiles (Overview, Financials**, Products & Services, and Recent Developments)
8.1 BASF SE
8.2 Bayer AG
8.3 Nippon Polyurethane Industry Co., Ltd.
8.4 Wanhua Industrial Group
8.5 Huntsman Corp.
8.6 Recticel SA
8.7 Mitsui Chemicals
8.8 DowDuPont
8.9 KUMHO MITSUI
8.10 Shandong Dongda Inov Polyurethane Co. Ltd.
8.11 Chemtura Corp.
8.12 Foamcraft Inc.
8.13 FoamPartner Group
8.14 Future Foam Inc.
8.15 FXI-Foamex Innovations
8.16 Hebei Cangzhou Dahua Group Co. Ltd
8.17 Nitto Denko Corporation
8.18 INOAC Corp.
8.19 Saint-Gobain Performance Plastics Corp.
8.20 Sekisui Alveo AG
8.21 Hansa Group AG
*List not exhaustive
9. Disclaimer
**Subject to availability on public domain