Market Dynamics
The global ascorbic acid market is expected to witness a high growth rate in the coming decade, owing to vitamin deficiency concerns caused due to changing lifestyles and dietary habits around the world. Due to the rowing demand and the availability of low-cost manufacturing facilities in China, Asia-Pacific is expected to be the fastest growing market for ascorbic acid during the forecast period.
The North American and European markets are set to grow due to the rising health issues like diabetes, in turn fueling the demand for ascorbic acid as a substitute for low-calorie sweetener.
Market Segmentation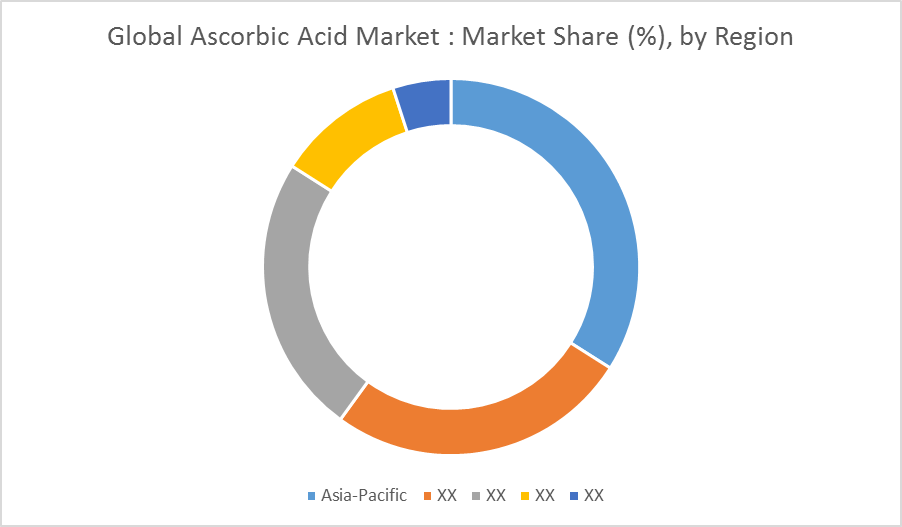 Ascorbic acid, a common source of vitamin C, is used in various important end-use industries. The market is segmented based on end user into pharmaceuticals, food & beverages, personal care, and others. In the pharmaceutical industry, ascorbic acid finds a major application in the manufacturing of antioxidants. The food & beverage industry holds a major share and is growing at a high rate, owing to the rising health issues, thus acting as a substitute for sweeteners. Vitamin C and its salts are used in cosmetics and personal care product formulation, owing to slow deterioration caused by exposure to the air and their ability to control finished product pH. Vitamin C rejuvenates skin and reduces wrinkles and aging. The global personal care or cosmetic market is expected to witness significant gains at over 5%. Rising demand for anti-aging creams, sunscreen lotions, and other bio-based products, owing to varying climatic dynamics, is expected to fuel vitamin C demand. The report also analyses the demand pattern of various markets based on geography, which includes North America, Europe, Asia-Pacific, Latin America, and Rest of the World, where Asia-Pacific occupies the largest market share.
Competitive Landscape
Leading manufacturers and suppliers in the ascorbic acid industry include:
DSM
Northeast Pharmaceutical Group
Spec-chem
Shandong Luwei Pharmaceutical
Topscience
Bactolac Pharmaceutical Inc.
Luckerkong Biotech
Aland Nutraceuticals Group
King-pharm
Chengxin Pharma
FreShine
Reasons to Purchase the Report
Analyzing outlook of the market with the recent trends and Porter's five forces analysis
Market dynamics, including factors that propel the present market scenario along with growth opportunities of the market in the years to come
Market segmentation analysis including qualitative and quantitative research, incorporating the impact of economic and non-economic aspects
Regional and country-level analysis integrating the demand and supply forces that are influencing the growth of the market
Competitive landscape involving the market shares of major players, along with the key strategies adopted for development in the past five years
Comprehensive company profiles covering the product offerings, key financial information, recent developments, SWOT analysis, and strategies employed by the major market players
3 month analyst support, along with the Market Estimates sheet (in excel)
Customization of the Report
This report can be customized to meet your requirements. Please connect with our analyst, who will ensure you get a report that suits your needs.
1. Introduction
1.1 Key Deliverables of the Study
1.2 Study Assumptions
1.3 Market Definition
2. Research Approach & Methodology
2.1 Introduction
2.2 Study Timeline
2.3 Study Phases
2.3.1 Secondary Research
2.3.2 Statistical Analysis
2.3.3 Expert Validation
3. Market Overview
3.1 Market Trends
4. Market Dynamics
4.1 Drivers
4.2 Restraints
4.3 Opportunities
4.4 Porter's Five Force Analysis
4.4.1 Bargaining Power of Suppliers
4.4.2 Bargaining Power of Buyers
4.4.3 Threat of New Entrants
4.4.4 Threat of Substitute Products & Services
4.4.5 Degree of Competition
5. Market Segmentation
5.1 By End User
5.1.1 Pharmaceutical
5.1.2 Food & Beverages
5.1.3 Personal Care
5.1.4 Others
5.2 By Geography
5.2.1 North America
5.2.1.1 US
5.2.1.2 Canada
5.2.1.3 Mexico
5.2.1.4 Rest of North America
5.2.2 Europe
5.2.2.1 UK
5.2.2.2 France
5.2.2.3 Germany
5.2.2.4 Russia
5.2.2.5 Italy
5.2.2.6 Rest of Europe
5.2.3 Asia-Pacific
5.2.3.1 China
5.2.3.2 Japan
5.2.3.3 India
5.2.3.4 Australia
5.2.3.5 Rest of Asia-Pacific
5.2.4 South America
5.2.4.1 Brazil
5.2.4.2 Argentina
5.2.4.3 Rest of South America
5.2.5 Africa
5.2.5.1 South Africa
5.2.5.2 Rest of Africa
6. Competitive Landscape
6.1 Strategy Adopted by Key Players
6.2 Most Active Companies in the Past Five Years
6.3 Market Share Analysis
7. Company Profiles
7.1 DSM
7.2 Northeast Pharmaceutical Group
7.3 Shandong Luwei Pharmaceutical
7.4 Bactolac Pharmaceutical Inc.
7.5 Aland Nutraceuticals Group
7.6 DuPont
7.7 FreShine
7.8 Luckerkong Biotech
7.9 King-pharm
7.10 Top Science
7.11 BASF
7.12 Dishman Group
7.13 GlaxoSmithKline Plc
7.14 CSPC Pharmaceutical Group
8. Appendix
8.1 Disclaimer
8.2 Sources
8.3 Sources