Antimicrobial Coatings Market
With the consistent rise in food-poisoning cases and hospital acquired infections, the demand for and usage of anti-microbial coatings is augmenting in healthcare and food-processing industries. Additionally, owing to rising healthcare spending in emerging countries such as India and China, the demand for and usage of anti-microbial coatings are expected to increase during the forecast period.
Augmented Use of Anti-Microbial Coating in Medical Equipment Manufacturing
Anti-microbial coatings, owing to their inherent characteristic of inhibiting germ and bacterial development, are used in many industries. Healthcare is the major industry with maximum usage of anti-microbial coatings. It is used majorly on surgical devices as it helps to inhibit the spread of germs and bacteria among patients, doctors and caretakers. As a result, hospitals are now focusing on using medical equipment coated with antimicrobial coatings. Additionally, with growing consumer awareness regarding hospital acquired infections, consumers are opting for hospitals with better medical facilities and equipment. Consequently, making healthcare sector major consumer of antimicrobial coatings.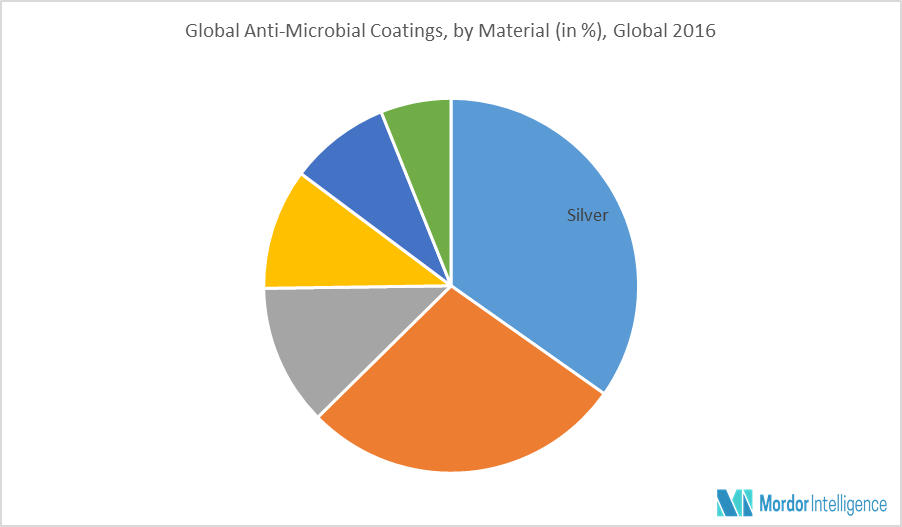 Silver Coatings Dominate the Antimicrobial Coatings Market
Silver is proven to be the most effective antimicrobial material and has the least toxicity to humans. It was rapidly adapted as a microbial deterrent in the health care. Silver in its ionized form has anti-microbial properties and the non-ionized form is inert. Some of the mechanisms that are proposed for the microbial effect of silver are protein inactivation, DNA association, and entering the cell. Due to these properties, it is extensively used as an anti-microbial agent in wound dressings, cotton fibers, endotracheal tubes, water filtration equipment, glass, food and pharmaceutical packaging, and white goods etc.
The United States is Witnessing a Healthy Growth in Anti-Microbial Paints Market
The preference for anti-microbial coated medical equipment in the United States is increasing due to the various initiatives taken by the government as well as the hospitals in the country to prevent nosocomial infections.
Moreover, the United States medical and surgical equipment production is expected to grow by around 5% yearly, which in turn, provides an opportunity for the growth of anti-microbial coatings market in the health care industry. There is also an increase in the application of anti-microbial coatings in public and high traffic areas to inhibit the spread of pathogens that can cause disease in the country. Increasing health care spending of consumers, along with increasing awareness for food safety is pushing manufacturers to opt for anti-microbial coatings to meet consumer needs, which in turn, are propelling the anti-microbial coatings market.
Antimicrobial Coatings Market Major Players:
Akzonobel
BASF SE
Sherwin Williams
PPG Industries
Lonza Group Ltd.
Troy Corporation
Notable Developments in Antimicrobial Coatings Market
October 2017: RPM International Inc. announced that its USL Group had acquired Ekspan Holdings Limited, a provider of movement control products and services for bridges and major structures.
Reasons to Purchase Antimicrobial Coatings Market Report
Analyzing various perspectives of the market with the help of Porter's five forces analysis
Which application is expected to dominate the market?
Which regions are expected to witness fastest growth during the forecast period?
Identify the latest developments, market shares and strategies employed by the major market players
3 months analyst support along with the Market Estimate sheet (In excel)
Customize Antimicrobial Coatings Market Report
This report can be customized to meet your requirements. Please connect with our representative, who will ensure you to get a report that suits your needs.
1. Introduction
1.1 Research Phases
1.2 Study Deliverables
1.3 Scope of the Report
2. Executive Summary
3. Antimicrobial Coatings Market Insights
3.1 Industry Value Chain Analysis
3.2 Industry Attractiveness – Porter's Five Forces Analysis
3.2.1 Bargaining Power of Suppliers
3.2.2 Bargaining Power of Consumers
3.2.3 Threat of New Entrants
3.2.4 Threat of Substitute Products and Services
3.2.5 Degree of Competition
3.3 Raw Material Analysis
4. Market Dynamics
4.1 Antimicrobial Coatings Market Drivers
4.1.1 Augmented use of anti-microbial coating in medical equipment manufacturing
4.1.2 Increasing demand for germ resistant durable goods
4.2 Antimicrobial Coatings Market Constraints
4.2.1 Lack of Technological Awareness in Developing and Under Developed Nations
4.2.2 Volatility in Raw Material Prices
4.3 Antimicrobial Coatings Market Opportunities
4.3.1 Increasing R&D activities
4.3.2 Development of multi-functional coatings
5. Market Segmentation and Analysis (Market Size, Share, and Forecast)
5.1 Antimicrobial Coatings Market By Material
5.1.1 Silver
5.1.2 Copper
5.1.3 Polymeric
5.1.4 Organic
5.1.5 Others (includes Zinc-Oxide, Zirconium, Titanium dioxide and Zinc Omadine)
5.2 Antimicrobial Coatings Market By Application
5.2.1 Building & Construction
5.2.2 Food Processing
5.2.3 Heating, Ventilation and Air Conditioning
5.2.4 Home Appliances
5.2.5 Healthcare
5.2.6 Marine
5.2.7 Others
6. Regional Market Analysis (Market Size, Share, and Forecast)
6.1 Asia-Pacific
6.1.1 China
6.1.2 India
6.1.3 Japan
6.1.4 Indonesia
6.1.5 South Korea
6.1.6 Australia & New Zealand
6.1.7 ASEAN Countries
6.1.8 Rest of APAC
6.2 Europe
6.2.1 Germany
6.2.2 United Kingdom
6.2.3 France
6.2.4 Italy
6.2.5 Russia
6.2.6 Rest of Europe
6.3 North America
6.3.1 United States
6.3.2 Canada
6.3.3 Mexico
6.3.4 Rest of North America
6.4 South America
6.4.1 Brazil
6.4.2 Argentina
6.4.3 Rest of South America
6.5 Middle East & Africa
6.5.1 Saudi Arabia
6.5.2 South Africa
6.5.3 United Arab Emirates
6.5.4 Rest of MEA
7. Antimicrobial Coatings Market Competitive Landscape
7.1 Mergers & Acquisitions, Joint Ventures, Collaborations and Agreements
7.2 Market Share Analysis**
7.3 Strategies Adopted by Leading Players
8. Antimicrobial Coatings Market Companies (Overview, Financials**, Products & Services, and Recent Developments)
8.1 AK Coatings, Inc.
8.2 AkzoNobel
8.3 AST Products, Inc.
8.4 BASF SE
8.5 Biointeractions Ltd.
8.6 Covalon Technologies Ltd.
8.7 DowDuPont
8.8 Hydromer, Inc.
8.9 Lonza Group Ltd.
8.10 Mankiewicz Gebr. & Co.
8.11 PPG Industries
8.12 Royal DSM
8.13 RPM International Inc.
8.14 Sciessent LLC
8.15 Sherwin Williams
8.16 Sono-Tek Corporation
8.17 Specialty Coating Systems, Inc.
8.18 Troy Corporation
*List Not Exhaustive
9. Disclaimer
**Subject to availability on public domain