The global agricultural chelates market has grown exponentially in the last few years. The market size is projected to reach USD 744.1 million by 2023, at a CAGR of approximately 8%. Emerging markets in the countries, like India and China, are the primary target markets of the industry. Increasing demand for food, soil degradation, and need for micronutrients are some of the major driving factors for the market. The agricultural chelates market report can be segmented on the basis of type into EDTA, EDDHA, DTPA, IDHA, and others. EDTA and DTPA chelates account for more than 50% of the market share and are projected to grow at a CAGR of 7.3% and 7.5%, respectively, during the forecast period due to the demand for higher yield in agricultural crops.
Increasing Demand for Higher Yield Driving the Chelates Market
Agricultural production across the globe will need to be doubled over next 36 years to meet the demand of a 9 billion population. Therefore, technology will continue to play a major role in order to achieve any progress towards completing this goal. Increase in urbanization and lesser availability of arable land is motivating farmers to adopt more efficient techniques. There is a broader acceptance and recognition of the increasing benefits of chelated micronutrient fertilizers. Since the amount of arable land per person is declining and the population is expanding, the crop-yields must increase to meet food production requirements. As a result, the market is expected to observe the most dramatic increase in the demand for agricultural chelates.
Environment Concerns over Non-Biodegradable Chelates Will Restrict the Market
The non-biodegradable nature of chelating agents has resulted in large-scale environmental problems. These agents accumulate in the soil and cause an imbalance in the soil's microflora. The degradation of these chelating agents is relatively slow. Chelating agents, such as EDTA, which is the most commonly used chelate in agriculture due to its low cost, pose a problem to users because of their inability to break down naturally, which may lead to many environmental problems if it enters the water system. In the water system, these agents continue to bind to the micronutrients, leading to concentrated levels of biometals that are hazardous to the native ecosystems.
Asia Pacific to Dominate the Global Agricultural Chelates Market
The Asia-Pacific agricultural chelates market is estimated to grow at a CAGR of 6.6% in the forecast period (2018 – 2023), from an initial market value of USD 184.1 million in 2017. The Asia-Pacific region has the highest market value for agricultural chelates which is majorly led by China, India, and Australia. The Asia-Pacific agricultural chelates market is growing at a high rate in the forecast period due to the increase in population in the region.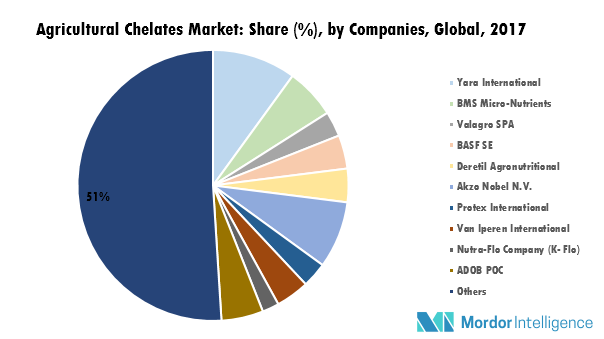 Major Players: BASF SE, Deretil Agronutritional, Shandong Iro Chelating Chemicals, Akzo Nobel N.V., Haifa Chemicals Ltd, Protex International, Van Iperen International, Valagro SpA, The Anderson's Plant Nutrient, Verdesian Life Sciences , ATP Nutrition, Dow-DuPont, Yara International, Agmin Chelates Pty Ltd, Grigg Brothers, Bms Micro-Nutrients, PPC ADOB, and Aries Agro Ltd, among others.
Reasons to Purchase this Report
Identify the dominating and the fastest growing regions in the global agricultural chelates market and their growth trends during the forecasted period
Analyzing various perspectives of the market with the help of Porter's five forces analysis
To understand the regions that are expected to witness the fastest growth during the forecast period
Identify the latest developments, market shares, and strategies employed by the major market players
3-month analyst support, along with the Market Estimate sheet (in Excel).
Customization of the Report
This report can be customized to meet your requirements. Please connect with our representative, who will ensure you to get a report that suits your needs.
1. Introduction
1.1 Key Findings of the Study
1.2 Market Definition
2. Research Scope and Methodology
2.1 Study Deliverables
2.2 Study Assumptions
2.3 Research Methodology
2.4 Research Phases
3. Market Dynamics
3.1 Drivers
3.1.1 Micronutrient-Deficiency
3.1.2 Increasing Demand for Good Quality Higher Crop Yields
3.1.3 Chelation Reduces Micronutrient Toxicity
3.2 Restraints
3.2.1 High-Cost of Chelating Agents
3.2.2 Environmental Concern Over Non-Biodegradable Chelates
4. Industry Analysis
4.1 Porter's Five Forces Analysis
4.1.1 Bargaining Power of Suppliers
4.1.2 Bargaining Power of Buyers
4.1.3 Threat of New Entrants
4.1.4 Threat of Substitute Products and Services
4.1.5 Degree of Competition
5. Market segmentation
5.1 By Type
5.1.1 EDTA
5.1.2 EDDHA
5.1.3 DTPA
5.1.4 IDHA
5.1.5 Others
5.2 By Application
5.2.1 Soil
5.2.2 Foliar
5.2.3 Hydroponics
5.2.4 Others
5.3 By Crop-Application
5.3.1 Crop-Based
5.3.1.1 Grains & Cereals
5.3.1.2 Oilseeds & Pulses
5.3.1.3 Fruits & Vegetables
5.3.2 Non-Crop-Based
5.3.2.1 Turf & Ornamental Grass
5.3.2.2 Others
5.4 By Geography
5.4.1 North America
5.4.1.1 US
5.4.1.2 Canada
5.4.1.3 Mexico
5.4.1.4 Rest of North America
5.4.2 Europe
5.4.2.1 Spain
5.4.2.2 UK
5.4.2.3 France
5.4.2.4 Germany
5.4.2.5 Russia
5.4.2.6 Italy
5.4.2.7 Rest of Europe
5.4.3 Asia-Pacific
5.4.3.1 China
5.4.3.2 India
5.4.3.3 Japan
5.4.3.4 Australia
5.4.3.5 Rest of Asia-Pacific
5.4.4 South America
5.4.4.1 Brazil
5.4.4.2 Argentina
5.4.4.3 Rest of South America
5.4.5 Africa
5.4.5.1 South Africa
5.4.5.2 Rest of Africa
6. Competitive landscape
6.1 Strategies Adopted by Leading Players
6.2 Most Active Companies in the Past Five Years
6.3 Market Share Analysis
7. Company Profiles
7.1 Agmin Chelates Pty Ltd.
7.2 Akzo Nobel N.V.
7.3 Aries Agro ltd
7.4 ATP Nutrition
7.5 BASF SE
7.6 BMS Micro-Nutrients
7.7 DABEER
7.8 Deretil Agronutritional
7.9 DowDuPont
7.10 Grigg Brothers
7.11 Haifa Chemicals Ltd.
7.12 Laboratorio Jaer SA
7.13 Nufarm Limited
7.14 Nutra-Flo Company (K- Flo)
7.15 PPC ADOB
7.16 Protex International
7.17 Shandong Iron Chelating Chemicals
7.18 Valagro SPA
7.19 Van Iperen International
7.20 Verdesian Life Sciences
7.21 Yara International
8. Future of the Market
8.1 Geographical Outlook
8.2 Industry Outlook
9. Appendix
10. Disclaimer