The Africa food preservative market was valued at USD 152.0 million in 2017, and is expected to register a CAGR of 2.3%, during the forecast period (2018-2023). Food preservatives are a growing segment in the food additives market, as they are extensively used for preventing spoilage and decomposition.
Growing Processed Food Market Accentuating the Market for Preservatives
Food preservatives manufacturers are seeing an increased demand from food manufacturers to preserve freshness, safety, taste, appearance, and texture of processed foods. The growing market for processed food compliments the growth of the food preservative market in Africa. The changing lifestyle of people has also impacted their food habits. Consumers prefer convenience food, as it has high flavor profile and shelf life. In developed countries, like the United States, processed food accounts for about 50% of the daily diet. Consumers in developing countries, like India and China, are also likely to follow a similar diet in the near future. The growing market for processed food acts as a prominent driver for the food preservative market. A large number of processed food manufacturers are aiming to shift from synthetic to natural additives in their products to cater to the needs of the health conscious consumer. Thus, the natural preservative segment is expected to see high growth in the near future.
Market Segmentation
Over time, preservatives have become necessary additives in most food products, as they provide benefits, like extending the longevity of products and helping in keeping them free from bacteria. The growing trend of having a healthy lifestyle has led to an increase in demand for food that contain natural ingredients, such as natural food preservatives in Africa. Natural preservatives account for about 17% of the total share of Africa food preservative market. A majority of natural preservatives in use now, are antioxidants that are found in a majority of fruits and vegetables. These compounds act as free radical scavengers and bacterial growth inhibitors.
South Africa Dominates the Food Preservative Market
The African region, which accounts for around 5% share in the global preservative market, is a growing food industry; this has resulted in the growing demand for food preservates. South Africa accounts for the largest market share in the region, with more than 40% of the market, and is expected to register the highest CAGR during the forecast period. This industry is predominantly dominated by a few national and multinational food manufacturers, who have established market shares and control both production capacity and sales in most food ingredients categories, such as food preservatives.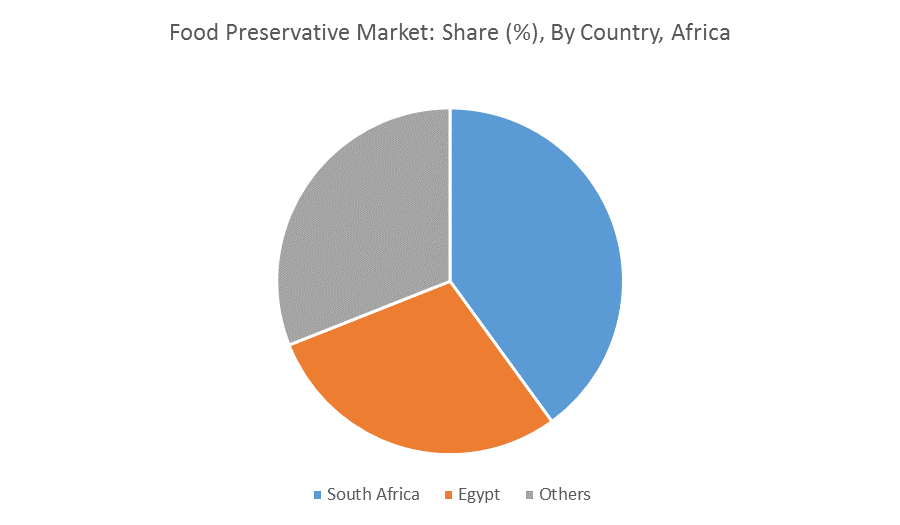 Key Developments
October 2017: Cargill expanded its food starch line-up in 'clean label' push
December 2017: Cargill, the US agri-food business, joined forces with Techstars, a network for entrepreneurs, and water-to-energy services provider Ecolab to work on "some of the industry's biggest challenges, including food security and food safety".
Cooperative Landscape
Major Players: Cargill Inc, Kerry Group, Corbion Purac, Royal DSM, Jungbunzlauer Ag, Brenntag Inc., DuPont, Celanese Corp, Chr Hansen, Archer Daniel Midland, BASF SE, Akzo Nobel, Albemarle Corporation, JEY'S F.I. INC, and Cognis, among others. To gain market share, these companies are adapting numerous market strategies, like innovative product development, partnerships, mergers and acquisitions, and expansion of existing facilities.
Reasons to Purchase this Report
Analyzing outlook of the market with the recent trends and Porter's five forces analysis
Market dynamics, which essentially consider the factors that impel the present market scenario, along with growth opportunities in the market, in the years to come
Market segmentation analysis, including qualitative and quantitative research incorporating the impact of economic and non-economic aspects
Regional and country level analysis, integrating the demand and supply forces that influence the growth of the market
Competitive landscape involving the market share of major players, along with the key strategies adopted for development in the past five years
Comprehensive company profiles covering the product offerings, key financial information, recent developments, SWOT analysis, and strategies employed by major market players
3-month analyst support, along with the Market Estimate sheet in excel
Customization of the Report
Value chain analysis
Consumer behavior analysis in country level
1. Introduction
1.1 Research methodology
1.2 Market Definition
1.3 Report Description
2. Key Findings
3. Market Overview & Dynamics
3.1 Introduction
3.2 Drivers
3.2.1 Supply chain complexities in the Food industry
3.2.2 Expanding Processed Foods market
3.2.3 Penetration of Organized Retail sector
3.2.4 Increasing demand from Emerging countries
3.3 Restraints
3.3.1 Consumers Awareness on Ill effects of Chemical preservatives
3.3.2 High Costs of natural preservatives
3.3.3 Demand for Clean label solutions
3.4 Opportunities
3.4.1 Growing innovations in Natural preservatives segment
3.4.2 Wider Acceptance of GSFA for improved International Trade
3.5 Porter's Five Forces Analysis
3.5.1 Bargaining power of Suppliers
3.5.2 Bargaining power of Buyers
3.5.3 Degree of Competition
3.5.4 Threat of Substitution
3.5.5 Threat of new entrants
4. Market Segmentation by Type
4.1 Preservatives Market, by Types
4.1.1 Natural Food preservatives
4.1.2 Chemical Food Preservatives
4.1.2.1 Sorbates
4.1.2.2 Benzonates
4.1.2.3 Others
4.2 By Application
4.2.1 Dairy & Frozen products
4.2.2 Bakery
4.2.3 Meat, Poultry & Seafood Products
4.2.4 Beverages
4.2.5 Confectionery
4.2.6 Oils & Fats
4.2.7 Others
4.3 By Geography
4.3.1 Africa
4.3.1.1 South Africa
4.3.1.2 Egypt
4.3.1.3 Others
5. Competitive Landscape Overview
5.1 Market Share Analysis
5.2 Strategies by leading players
5.3 New Product Developments &Other Innovations
6. Company Profiles
6.1 Cargill Inc
6.2 Kerry Group
6.3 Corbion Purac
6.4 Royal DSM
6.5 Jungbunzlauer Ag
6.6 Brenntag Inc.
6.7 DuPont
6.8 Celanese Corp
6.9 Chr Hansen
6.10 Archer Daniel Midland
6.11 BASF SE
6.12 Akzo Nobel
6.13 Albemarle Corporation
6.14 JEY'S F.I. INC
6.15 Cognis
7. Appendix
List of Tables
1. Africa food Preservatives market revenue, by Country, 2018-2023($ Million)
2. Africa food Preservatives market revenue, by Type, 2018-2023($ Million)
3. South Africa: Preservatives market Revenue,by Type, 2018-2023 ($Million)
4. Egypt: Preservatives market Revenue,by Type, 2018-2023 ($Million)
5. Others: Preservatives market Revenue,by Type 2018-2023 ($Million)
6. Africa: food additives market revenue, by Application, 2018-2023($ Million)
7. South Africa: Preservatives market Revenue,by Application, 2018-2023 ($Million)
8. Egypt: Preservatives market Revenue,by Application, 2018-2023 ($Million)
9. Others: Preservatives market Revenue,by Application 2018-2023 ($Million)