The 3D gaming consoles market is expected to register a CAGR of 14.82% over the forecast period of 2018–2023.
3D gaming consoles are video game consoles, which can support stereoscopic gameplays on integrated displays. The stereoscopic images improve the experience of the gameplay and provide realism to it by creating the illusion of depth, and providing accurate structural localization, and offer a better feeling of surface materials in the gaming environment. The video game industry can grow from traditional 2D gaming to 3D gaming because of digital 3D display technologies, advanced gaming software tools and applications and gaming console accessories. 3D graphics games have commercialized the video games industry. 3D technology has successfully entered into home entertainment through 3D tv and personal computers. With manufacturers willing to provide more realistic and immersive experience to gamers, the interest in 3D gaming consoles is expected to grow in the forecast period.
Increasing Competition from Gaming PCs and Mobile Devices
In the early periods of 3D gaming, dedicated consoles were mostly preferred as they were readily available at public gaming zones at nominal charges on a pay-to-use policy. Increased number of console vendors in the market and marginally reduced prices of legacy home consoles, due to the introduction of advanced gaming equipment in the market, rocketed the penetration levels of home consoles.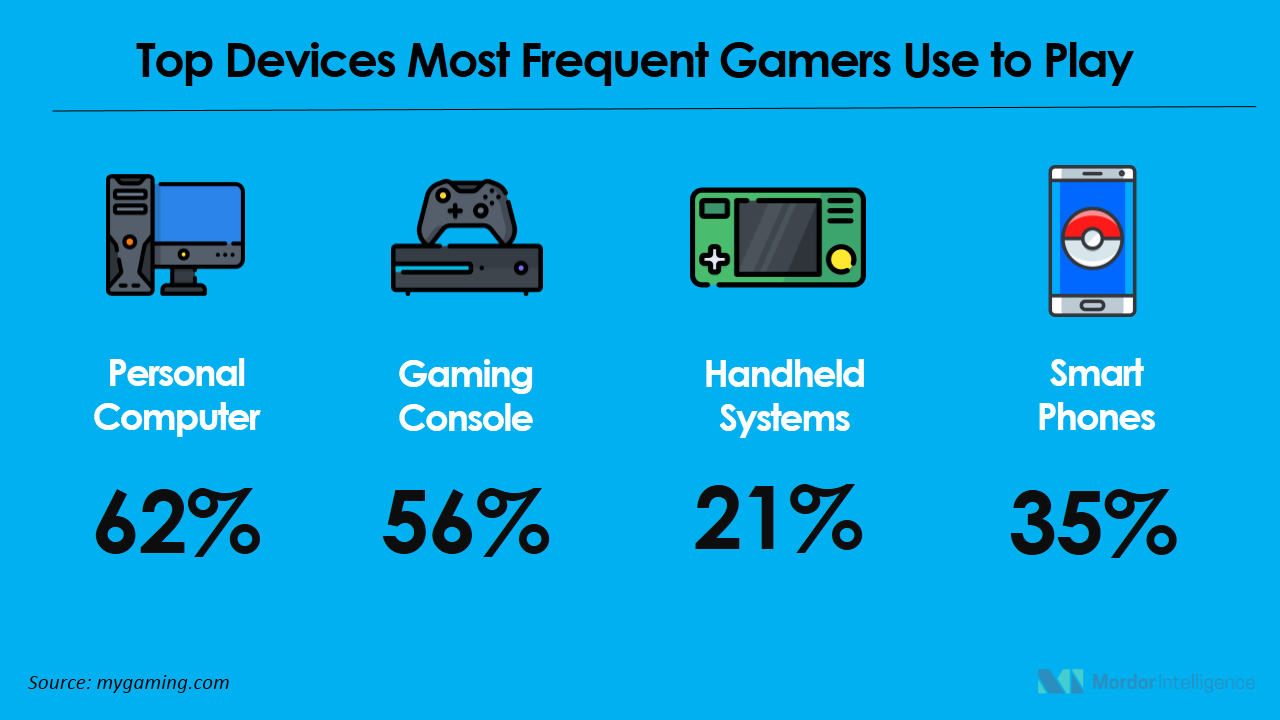 Online gaming vlogs and multiplayer experience have taken the sales of gaming PCs and home consoles to a whole new level. However, in the recent times, with additional mods and gadgets like 3D vision glasses, graphics enhancers, and polarized monitors that allow a PC to run 3D games, the share of people tending towards 3D gaming consoles is falling rapidly. One of the significant factors affecting the decision of gamers is the high price of the 3D gaming consoles.
Asia-Pacific to Spearhead Growth
Asia-Pacific is the most massive revenue generating economy for the entire gaming industry. Countries, like China, Japan, Australia and South Korea are the prime gaming hot spots of the world, which are estimated to generate more than 40% of the gaming industry's revenues annually. The region is estimated to have more than 1.5 billion active gamers creating a vast market for 3D gaming consoles in the region.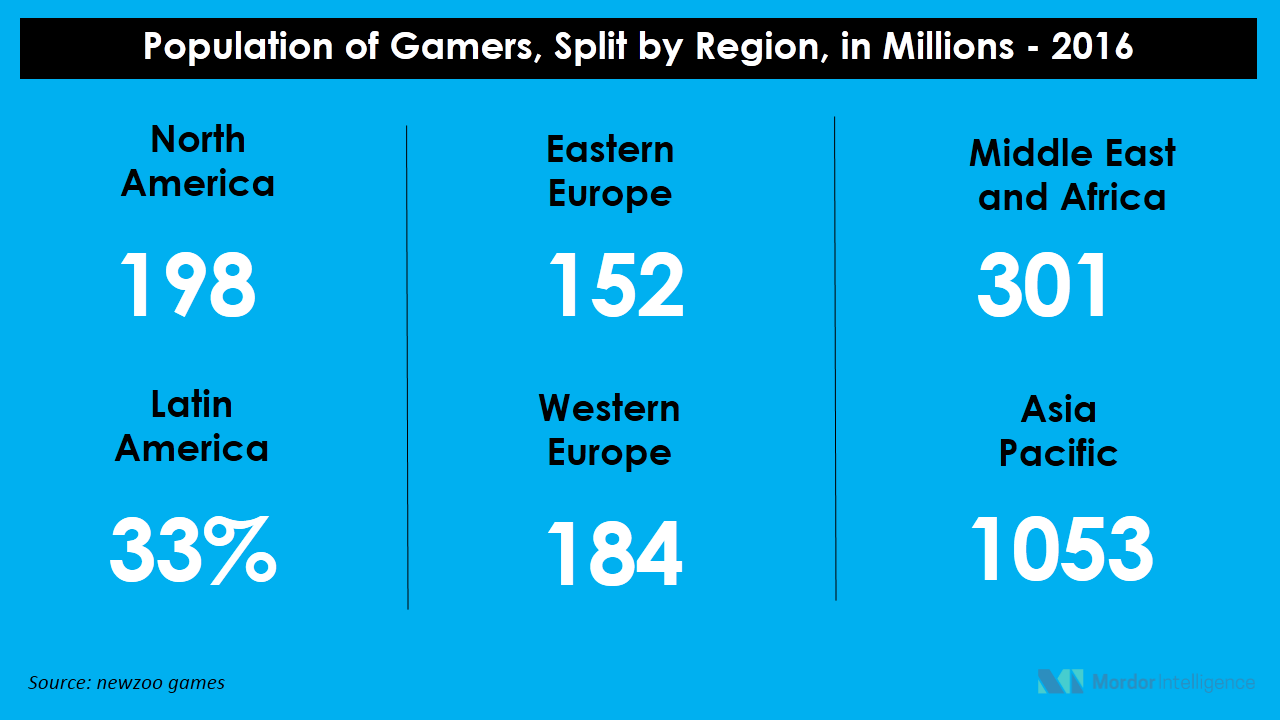 The easy availability of the 3D gaming hardware and software in the region, as most of the prime vendors like Nintendo are based in the region, provides the region with a competitive edge over others. With increasing penetration of home consoles and PC based gaming, the demand for 3D gaming consoles in the region is expected to grow exponentially in the near future.
Key Developments in the Market
March 2018: Redbox announced the expansion of Nintendo Switch game rentals to kiosks in Denver, Salt Lake City, and Nashville. Combined with an initial rollout in October 2017 in Portland, Seattle, and San Antonio, more than 2,000 Redbox kiosks were established across six markets featuring Nintendo Switch games for rent.
The major players include Microsoft Corporation, Sony Computer Entertainment, Nintendo Co., Ltd, Logitech, Inc., Linden Research, Inc., Electronic Art, Inc., and Activision Publishing, Inc., among others.
Reasons to Purchase the Report
Current and future 3D gaming consoles market outlook in the developed and emerging markets.
Analyzing various perspectives of the market with the help of Porter's Five Forces Analysis.
The segment that is expected to dominate the market.
Regions that are expected to witness the fastest growth during the forecast period.
Identify the latest developments, market shares, and strategies employed by the major market players.
3-month analyst support along with the Market Estimate sheet (in Excel).
Customization of the Report
This report can be customized to meet your requirements. Please connect with our representative, who will ensure you get a report that suits your needs.
1. Introduction
1.1 Study Deliverables
1.2 Study Assumptions
1.3 Research Methodology
1.4 Key Findings
2. Executive Summary
3. Market Overview
3.1 Overview
3.2 Value Chain Analysis
3.3 Industry Attractiveness - Porter's Five Forces Analysis
3.3.1 Bargaining Power of Suppliers
3.3.2 Bargaining Power of Consumers
3.3.3 Threat of New Entrants
3.3.4 Threat of Substitute Products and Services
3.3.5 Competitive Rivalry
3.4 Industry Policies
4. Market Dynamics
4.1 Drivers
4.1.1 Growing Popularity of 3D Devices
4.1.2 Development Autostereoscopic Technology
4.2 Restraints
4.2.1 Higher Game Development Costs
4.2.2 Requirement of Additional Accessories
4.2.3 Emergence of VR and AR Games
4.2.4 Strong Competition form PCs
4.3 Opportunities
4.3.1 Increasing Penetration of the Gaming Market
5. Market Segmentation
5.1 By Component
5.1.1 Hardware
5.1.2 Software
5.2 By Console
5.2.1 Home Consoles
5.2.2 Hand Held Consoles
5.2.3 Micro Consoles
5.2.4 Dedicated Consoles
5.3 By Platform
5.3.1 Microsoft Xbox
5.3.2 Sony PlayStation
5.3.3 Nintendo Wii
5.3.4 Others
5.4 By Technology
5.4.1 Xbox Illumiroom
5.4.2 Auto Stereoscopy
5.4.3 Leap Motion Technology
5.4.4 Polarized Shutter Technology
5.4.5 Compatible 3D Glasses
5.4.6 Others
5.5 By Region
5.5.1 North America
5.5.1.1 United states
5.5.1.2 Canada
5.5.1.3 Rest of North America
5.5.2 Europe
5.5.2.1 United Kingdom
5.5.2.2 Germany
5.5.2.3 France
5.5.2.4 Rest of Europe
5.5.3 Asia-Pacific
5.5.3.1 China
5.5.3.2 Japan
5.5.3.3 India
5.5.3.4 Rest of Asia-Pacific
5.5.4 Rest of the World
6. Vendor Market Share
7. Company Profiles
7.1 A4Tech Co., Ltd
7.2 Activision Publishing, Inc.
7.3 Electronic Art, Inc.
7.4 Guillemot Corporation S.A. (Thrustmaster)
7.5 Kaneva, LLC
7.6 Linden Research, Inc.
7.7 Logitech, Inc.
7.8 Microsoft Corporation
7.9 Nintendo Co. Ltd
7.10 Oculus VR
7.11 Saitek Industries, Ltd
7.12 Sony Computer Entertainment
*List not Exhaustive
8. Investment Analysis
9. Future of the Market
10. Disclaimer