Instantánea del mercado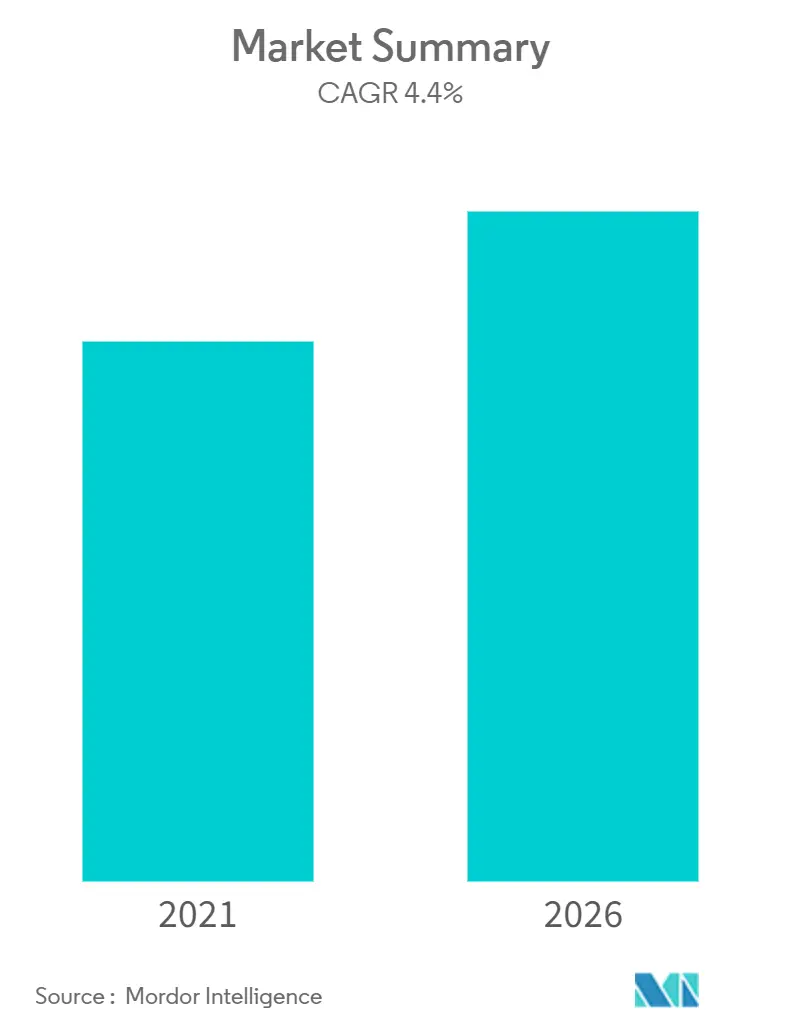 Study Period:
2016 - 2026
Base Year:
2021
CAGR:
4.4 %
Need a report that reflects how COVID-19 has impacted this market and its growth?
Visión general del mercado
Se proyecta que el mercado de cosechadoras combinadas de la India registre una CAGR del 4,4% durante el período de pronóstico (2021-2026). Durante el COVID-19, el negocio de equipos agrícolas experimentó una fuerte caída en las ventas, y el negocio más afectado puede ser la red de concesionarios debido a la interrupción de la cadena de suministro. Además, las unidades de fabricación no estaban 100% activas, lo que resultó en una fuerte disminución de las ventas en 2019-2020. Por lo tanto, la pandemia global ha causado un impacto negativo en el mercado indio de cosechadoras. Las cosechadoras en India se utilizan principalmente para cosechar granos y cereales en comparación con otros tipos de cultivos en el país. Los agricultores prefieren las cosechadoras combinadas autopropulsadas a las cosechadoras montadas en tractor debido a su alta eficiencia. Por lo tanto, el mercado de las cosechadoras en la India está dominado por las cosechadoras autopropulsadas,
Alcance del Informe
El informe define una cosechadora como una máquina grande y versátil que se utiliza para cosechar varios tipos de cultivos realizando simultáneamente las operaciones de cosechar, trillar y aventar. El mercado indio de cosechadoras está segmentado por tipo (cosechadoras autopropulsadas, cosechadoras de orugas y cosechadoras accionadas por tractor).
Tendencias clave del mercado
Aumento del costo de la mano de obra agrícola
El uso de la cosechadora era limitado debido a la disponibilidad de mano de obra abundante, los bajos costos de mano de obra y el alto costo de las máquinas. Sin embargo, con programas de trabajo rural, como MGNREGA, el escenario de las cosechadoras en India cambió. La Ley Nacional de Garantía de Empleo Rural Mahatma Gandhi (MGNREGA) va más allá de proporcionar una red de seguridad social para garantizar el derecho al empleo. Con la disminución de la oferta de mano de obra y el aumento de los costos laborales, se ha vuelto más rentable para los agricultores indios contratar una cosechadora para cortar y triturar. Hay un aumento constante en el costo laboral de los trabajadores calificados y de campo.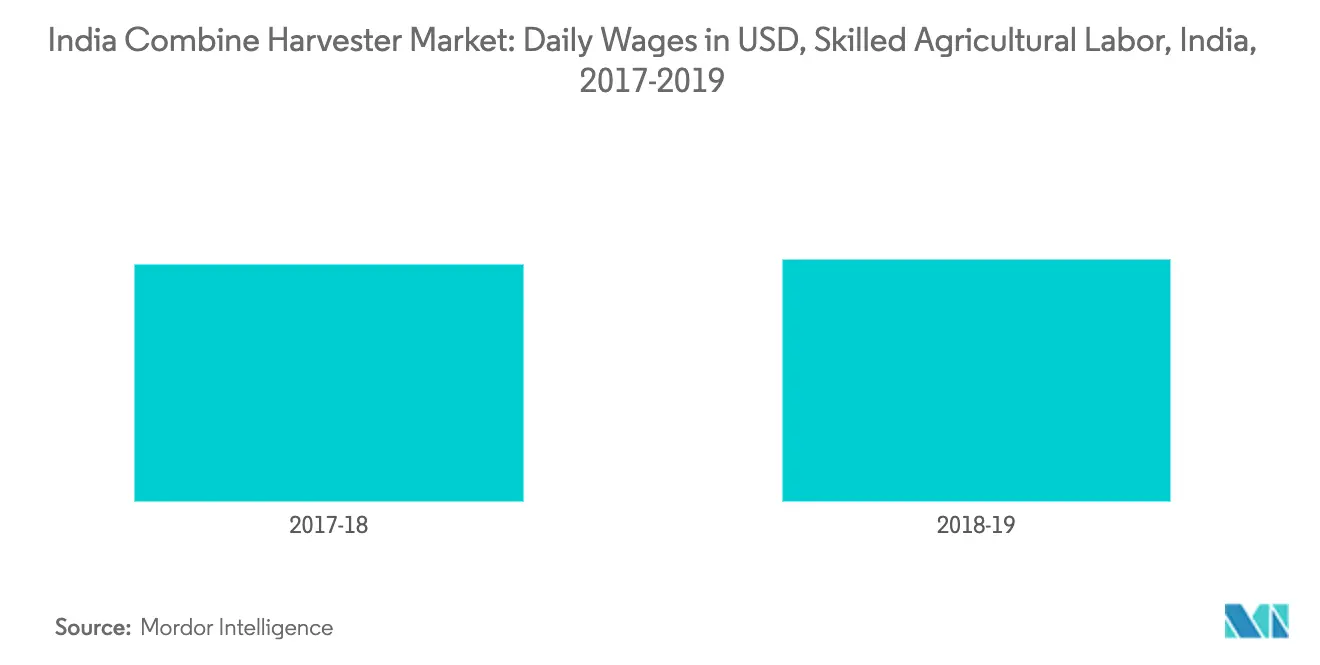 To understand key trends, Download Sample Report
La cosechadora autopropulsada domina el mercado
Las cosechadoras autopropulsadas ostentan la mayor cuota de mercado en cuanto a la segmentación por tipo de cosechadora. Las cosechadoras combinadas autopropulsadas tienen la mayor eficiencia cuando se trata del área cosechada por hora. Sin embargo, las cosechadoras combinadas autopropulsadas tienen un precio más alto, y dado que los agricultores dependen en gran medida de la contratación personalizada de negocios para mejorar la utilización de la capacidad, la necesidad de asegurar una clientela comercial (pequeños agricultores) antes de la temporada de cosecha se vuelve esencial. Las cosechadoras combinadas autopropulsadas a menudo se transportan desde áreas de cosecha temprana, como Punjab y Haryana, a otros estados, como Madhya Pradesh y Maharashtra, donde las cosechas se realizan más tarde en la temporada. En 2016 se vendieron en el país alrededor de 5.910 unidades de cosechadoras.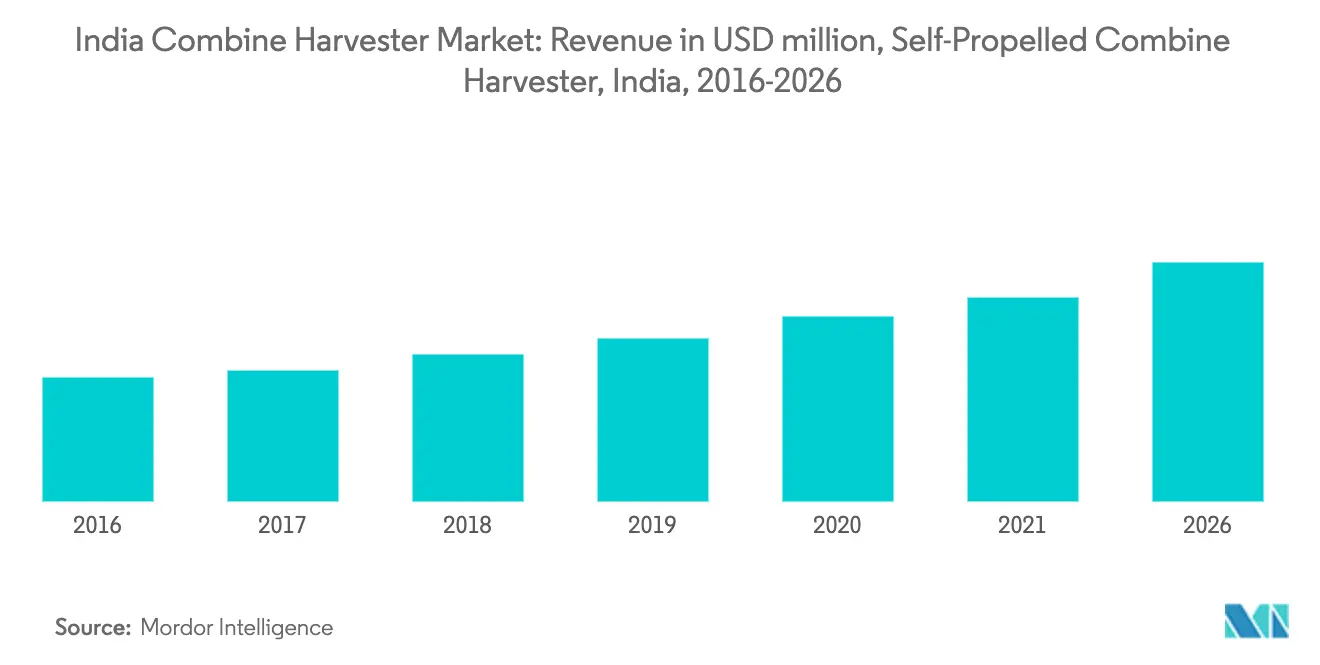 Panorama competitivo
El mercado indio de cosechadoras está consolidado, con los principales actores capturando la mayor parte de la participación. En este mercado, las empresas compiten en función de la calidad y la promoción del producto y se centran en iniciativas estratégicas para lograr cuotas de mercado destacadas. Las empresas están invirtiendo fuertemente en el desarrollo de nuevos productos y están colaborando y adquiriendo otras empresas. Se espera que el factor anterior aumente las cuotas de mercado de las empresas al mismo tiempo que fortalece sus actividades de I+D.
Recent Developments
In October 2020, Class India launched the next generation of Crop Tiger Terra Trac combine harvester, which is more durable and performance-oriented and has a trackmaster system that allows the owner to monitor his harvester and get real-time information on location, engine hours, threshing hours, etc.
In December 2018, Tafe launched a free-of-cost tractor rental platform JFarm Services in Telangana. The aim is to increase easy access to farm mechanization solutions through the rental of tractors and modern farm equipment to these small and marginal farmers.
Table of Contents
1. INTRODUCCIÓN

1.1 Supuestos de estudio y definición de mercado

1.2 Alcance del estudio

2. METODOLOGÍA DE INVESTIGACIÓN

3. RESUMEN EJECUTIVO

4. DINÁMICA DEL MERCADO

4.1 Visión general del mercado

4.2 Indicadores de mercado

4.3 Restricciones del mercado

4.4 Atractivo de la industria: análisis de las cinco fuerzas de Porter

4.4.1 El poder de negociacion de los proveedores

4.4.2 El poder de negociación de los compradores

4.4.3 Amenaza de nuevos participantes

4.4.4 Amenaza de productos sustitutos

4.4.5 La intensidad de la rivalidad competitiva

5. SEGMENTACIÓN DE MERCADO

5.1 Por tipo

5.1.1 Cosechadora autopropulsada

5.1.2 Cosechadora de orugas

5.1.3 Cosechadora accionada por tractor

6. PANORAMA COMPETITIVO

6.1 Análisis de cuota de mercado

6.2 Estrategias más adoptadas

6.3 Perfiles de la empresa

6.3.1 Grupo PREET

6.3.2 John Deere India SA Limitado

6.3.3 CLAAS España

6.3.4 Nueva Hind Agro SA. Limitado

6.3.5 Tractores y Equipos Agrícolas (TAFE) Ltd

6.3.6 Tractores Mahindra

6.3.7 Kubota Maquinaria Agrícola India SA Limitado

6.3.8 Grupo Dasmesh

6.3.9 Industrias Agrícolas Panesar

6.3.10 Cosechadoras Balkar

6.3.11 Indo Farm Equipment Ltd

7. OPORTUNIDADES DE MERCADO Y TENDENCIAS FUTURAS

8. EVALUACIÓN DEL IMPACTO DE COVID-19 EN EL MERCADO
You can also purchase parts of this report. Do you want to check out a section wise price list?
Frequently Asked Questions
¿Cuál es el período de estudio de este mercado?
El mercado de India Combine Harvester Market se estudia desde 2016 hasta 2026.
¿Cuál es la tasa de crecimiento del mercado Cosechadora de la India?
El mercado de cosechadoras de la India está creciendo a una CAGR del 4,4 % en los próximos 5 años.
¿Quiénes son los jugadores clave que operan en el mercado India Cosechadora?
Claas India, Grupo Dasmesh, Grupo Preet, John Deere India Pvt. Ltd, NUEVA HIND AGRO Pvt. Ltd son las principales empresas que operan en India Combine Harvester Market.
80%

of our clients seek made-to-order reports. How do you want us to tailor yours?