Instantánea del mercado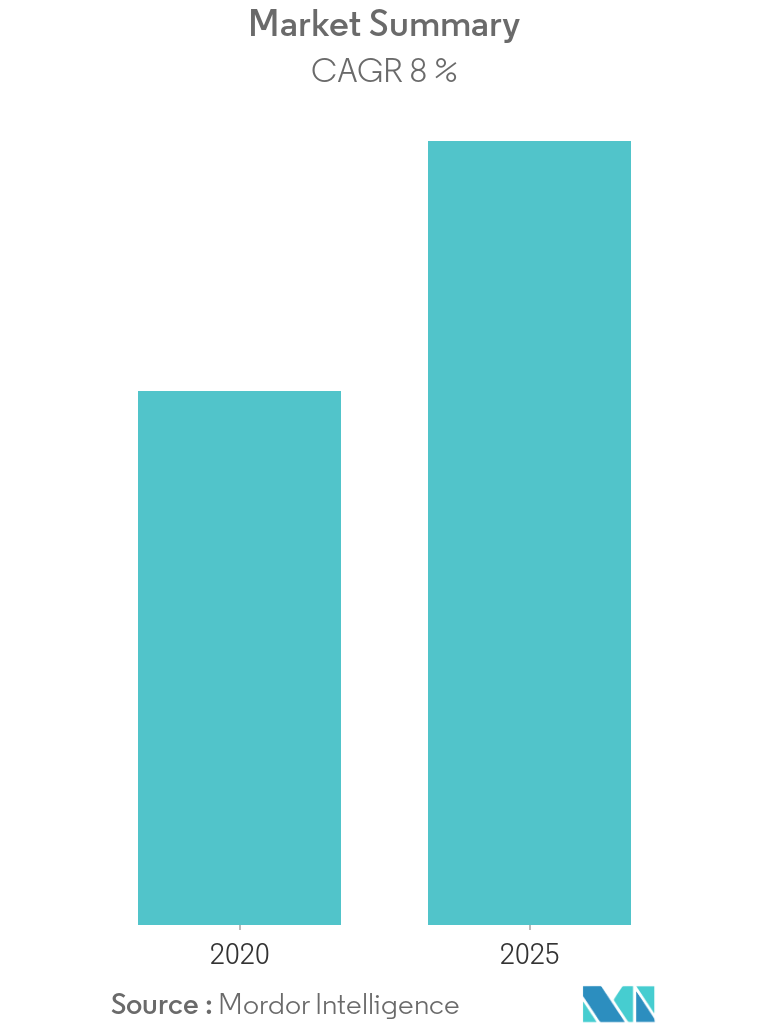 Study Period:
2018 - 2026
Base Year:
2021
Fastest Growing Market:
Asia Pacific
Largest Market:
Europe
CAGR:
8 %
Need a report that reflects how COVID-19 has impacted this market and its growth?
Visión general del mercado
Se espera que el mercado de servicios de ingeniería registre una CAGR del 8% durante el período de pronóstico, 2021 - 2026.
Según Consumer Technology Association, el gasto en ciudades inteligentes a nivel mundial alcanzaría los 35 350 millones de USD desde los 14 850 millones de USD de 2015. Las empresas de servicios de ingeniería son facilitadores fundamentales de esta visión global, ya que están actualizando la infraestructura para incorporar tecnología de detección y análisis de datos que podrían mejorar la vida de las personas. la gente. Por lo tanto, las nuevas inversiones para la expansión de la industria y las inversiones masivas en infraestructura en países como India, Indonesia y China ahora están impulsando el crecimiento de los servicios de ingeniería y diseño.
Además, otro factor que impulsa el mercado es la digitalización que ha llevado a las organizaciones a demandar soluciones de TI avanzadas como análisis de ingeniería, Internet de las cosas (IoT) e inteligencia artificial (IA) para obtener una ventaja sobre sus competidores y mantener el impulso de la industria. empresa. Este es el resultado de la creciente penetración de IoT industrial en varios verticales de la industria, con esto, la demanda de servicios de ingeniería ve un crecimiento exponencial para administrar la compleja infraestructura conectada.
Sin embargo, por otro lado, la inversión en proyectos de infraestructura sigue siendo lenta debido a problemas políticos y la falta de profesionales calificados, lo que resulta en el retraso de los proyectos en su conjunto.
Alcance del Informe
Las disciplinas de servicios de ingeniería consisten en ingeniería civil, eléctrica, mecánica y de tuberías, y estructural. El informe ofrece un análisis detallado de cómo los proveedores de servicios de ingeniería benefician a las diferentes industrias, como la aeroespacial y de defensa, la generación de energía eléctrica, las refinerías de petróleo y gas, etc. En el informe también se tienen en cuenta varios servicios, como la ingeniería de productos, la automatización de procesos y la gestión de activos. Según la geografía, en el informe se analizan América del Norte, Europa, América Latina, Asia-Pacífico y Oriente Medio y África.
By Engineering Disciplines
Civil
Mechanical
Electrical
Piping and Structural Engineering
By Delivery Model
Offshore
Onsite
By Services
Product Engineering
Process Engineering
Automation Related Services
Asset Management Related Services
By Industries
Aerospace and Defense
Automotive
Chemical and Petrochemical
Electric Power Generation
Municipal Utility Projects
Mining
Oil and Gas
Pharmaceuticals
Transportation
Telecommunications
Nuclear Projects
Other Industries ( Electronics and Electricals, Semiconductors, and Machinery)
Geography

North America
United States
Canada
Rest of North America

Europe
Germany
United Kingdom
France
Spain
Rest of Europe

Asia-Pacific
China
Japan
India
Rest of Asia-Pacific

Latin America
Brazil
Argentina
Rest of Latin America

Middle East and Africa
UAE
Saudi Arabia
South Africa
Rest of Middle East and Africa
Tendencias clave del mercado
Se espera que los servicios de ingeniería civil registren un crecimiento significativo
La creciente demanda de edificios respetuosos con el medio ambiente, junto con las iniciativas gubernamentales para renovar la infraestructura agotada del país y el aumento de las inversiones de los sectores público y privado en proyectos de construcción de infraestructura residencial, comercial, sanitaria y educativa a nivel mundial, están permitiendo que el mercado de la ingeniería civil se expanda exponencialmente.
Por ejemplo, en febrero de 2018, la Casa Blanca publicó el "Resumen legislativo para la reconstrucción de infraestructura en Estados Unidos", cuyo objetivo es aumentar la inversión en infraestructura de EE. UU. y acelerar la entrega de proyectos importantes. La Casa Blanca proporcionaría USD 200 000 millones para impulsar una inversión proyectada de USD 1,5 billones en nueva infraestructura en los próximos diez años.
Moreover, another factor driving the market share is the rising prominence of robots in the construction industry for taking up monotonous tasks that enhance worker safety, which helps in increasing the overall productivity, thus boosts the industry share.
For example, a Canadian based Novarc Technologies robotics company demonstrated its Spool Welding Robot (SWR). This robot would help in pipe welding applications that would solve the industrial automation problems. These robots would lower the cost of welding, thereby would have a positive outlook on the market.
Further, in the future, it is expected that engineering firms would augment their portfolios with digital and connected technology assets to capture a larger share of this market.
To understand key trends, Download Sample Report
Asia-Pacífico será testigo del crecimiento más rápido
La región de Asia-Pacífico está dominada por dos países altamente poblados, es decir, India y China. China está realizando importantes inversiones en infraestructura para expandir 163.000 kilómetros para gas, 37.000 para crudo y 40.000 para productos derivados del petróleo. El nuevo gasoducto de 40.000 km que se espera que conecte a 470 millones de nuevas personas para 2025. Tales inversiones brindan oportunidades para que los servicios de ingeniería estimulen la región, considerando los beneficios funcionales que los servicios de ingeniería pueden brindar.
Además, con niveles de urbanización que alcanzarán el 50 % en APAC para 2020, habrá un mayor consumo de productos y servicios, lo que alentará a varias industrias a desarrollar sus instalaciones y oficinas en estas economías. Por lo tanto, esto brindaría una amplia oportunidad para que el mercado de servicios de ingeniería aumente su presencia en la región.
Además, los gobiernos están invirtiendo en la industria de la aviación, con la intención de impulsar el comercio mundial en el país que está impulsando aún más el mercado. Por ejemplo, India planea abrir 100 aeropuertos adicionales para 2024, lo que incluiría el inicio de 1000 nuevas rutas que conectan ciudades y pueblos más pequeños del país. Por lo tanto, tales actividades de desarrollo incrementarían la construcción de infraestructura en la región, impactando positivamente en el mercado de servicios de ingeniería.
To understand geography trends, Download Sample Report
Panorama competitivo
El mercado de servicios de ingeniería es de naturaleza muy competitiva debido a la presencia de muchos actores globales como AECOM, Bechtel Corporation y Kiewit Corporation, entre muchos otros. Durante la última década, se ha observado una tendencia significativa de fusiones y alianzas de varias empresas de ingeniería globales para aumentar la presencia en el mercado. Los jugadores globales en el mercado son más adquisitivos y buscan adquirir jugadores más pequeños, lo que crea una barrera para los nuevos participantes. Algunos desarrollos recientes en el mercado son:
Octubre de 2019: Balfour Beatty se asoció con el Departamento de Transporte de Carolina del Norte (NCDOT) para mejorar el tráfico en un tramo de 5.1 millas de la US 70 en James City en el condado de Craven. El proyecto está diseñado para mejorar el acceso a los servicios comunitarios locales y mejorar el desarrollo económico en el área. Se espera que la obra esté terminada en 2023.
Octubre de 2019: AECOM anunció que había obtenido un contrato multimillonario con el aeropuerto de Heathrow como diseñador principal para su programa Future Terminal 2 (T2). Según este contrato de 8 años, AECOM diseñaría y brindaría servicios de gestión de proyectos para un nuevo sistema e infraestructura de manejo de equipaje para respaldar el crecimiento esperado en el número de pasajeros en la T2. Se espera que este proyecto dé como resultado un manejo de equipaje oportuno y eficiente, mejorando la experiencia del pasajero y ampliando la capacidad para transacciones futuras.
Table of Contents
1. INTRODUCTION

1.1 Study Deliverables

1.2 Study Assumptions

1.3 Scope of the Study

2. RESEARCH METHODOLOGY

3. EXECUTIVE SUMMARY

4. MARKET DYNAMICS

4.1 Market Overview

4.2 Introduction to Market Drivers and Restraints

4.3 Market Drivers

4.3.1 Evolution of Industrial IoT

4.3.2 Increasing Renovation Activities

4.4 Market Restraints

4.4.1 Political Problems and Lack of Skilled Professionals

4.5 Industry Value Chain Analysis

4.6 Industry Attractiveness - Porter's Five Force Analysis

4.6.1 Threat of New Entrants

4.6.2 Bargaining Power of Buyers/Consumers

4.6.3 Bargaining Power of Suppliers

4.6.4 Threat of Substitute Products

4.6.5 Intensity of Competitive Rivalry

5. MARKET SEGMENTATION

5.1 By Engineering Disciplines

5.1.1 Civil

5.1.2 Mechanical

5.1.3 Electrical

5.1.4 Piping and Structural Engineering

5.2 By Delivery Model

5.2.1 Offshore

5.2.2 Onsite

5.3 By Services

5.3.1 Product Engineering

5.3.2 Process Engineering

5.3.3 Automation Related Services

5.3.4 Asset Management Related Services

5.4 By Industries

5.4.1 Aerospace and Defense

5.4.2 Automotive

5.4.3 Chemical and Petrochemical

5.4.4 Electric Power Generation

5.4.5 Municipal Utility Projects

5.4.6 Mining

5.4.7 Oil and Gas

5.4.8 Pharmaceuticals

5.4.9 Transportation

5.4.10 Telecommunications

5.4.11 Nuclear Projects

5.4.12 Other Industries ( Electronics and Electricals, Semiconductors, and Machinery)

5.5 Geography

5.5.1 North America

5.5.1.1 United States

5.5.1.2 Canada

5.5.1.3 Rest of North America

5.5.2 Europe

5.5.2.1 Germany

5.5.2.2 United Kingdom

5.5.2.3 France

5.5.2.4 Spain

5.5.2.5 Rest of Europe

5.5.3 Asia-Pacific

5.5.3.1 China

5.5.3.2 Japan

5.5.3.3 India

5.5.3.4 Rest of Asia-Pacific

5.5.4 Latin America

5.5.4.1 Brazil

5.5.4.2 Argentina

5.5.4.3 Rest of Latin America

5.5.5 Middle East and Africa

5.5.5.1 UAE

5.5.5.2 Saudi Arabia

5.5.5.3 South Africa

5.5.5.4 Rest of Middle East and Africa

6. COMPETITIVE LANDSCAPE

6.1 Company Profiles

6.1.1 AECOM Engineering company

6.1.2 Bechtel Corporation

6.1.3 Kiewit Corporation

6.1.4 WSP Global Inc

6.1.5 STRABAG SE

6.1.6 NV5 Global

6.1.7 Barton Malow

6.1.8 Gilbane Building Company

6.1.9 Jones Lang LaSalle Incorporated

6.1.10 Balfour Beatty US

6.1.11 Brasfield & Gorrie, LLC

6.1.12 New York Engineers

6.1.13 Trylon Engineering Pty Ltd

*List Not Exhaustive

7. INVESTMENT ANALYSIS

8. MARKET OPPORTUNITIES AND FUTURE TRENDS
**Subject to Availability
You can also purchase parts of this report. Do you want to check out a section wise price list?
Frequently Asked Questions
¿Cuál es el período de estudio de este mercado?
El mercado de Servicios de ingeniería se estudia desde 2018 hasta 2026.
¿Cuál es la tasa de crecimiento del mercado Servicios de ingeniería?
El mercado de servicios de ingeniería está creciendo a una CAGR del 8 % en los próximos 5 años.
¿Qué región tiene la tasa de crecimiento más alta en el mercado Servicios de ingeniería?
Asia Pacífico está creciendo a la CAGR más alta durante 2021-2026.
¿Qué región tiene la mayor participación en el mercado Servicios de ingeniería?
Europa tiene la participación más alta en 2021.
¿Quiénes son los jugadores clave que operan en el mercado Servicios de ingenieria?
AECOM Engineering company, Bechtel Corporation, Kiewit Corporation, STRABAG SE, NV5 Global son las principales empresas que operan en el mercado de servicios de ingeniería.
80%

of our clients seek made-to-order reports. How do you want us to tailor yours?