Instantánea del mercado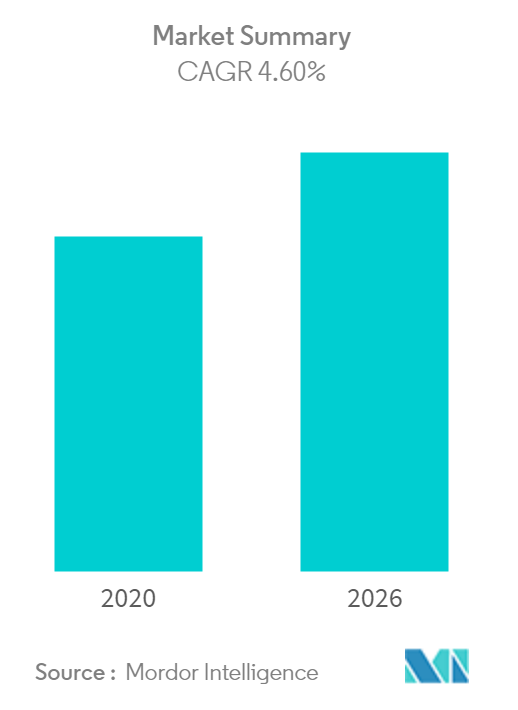 | | |
| --- | --- |
| Study Period: | 2016 - 2026 |
| Largest Share by End User: | Food and Beverages |
| Fastest Growing by End User: | Personal Care and Cosmetics |
| CAGR: | 4.60 % |
Need a report that reflects how COVID-19 has impacted this market and it's growth?
Visión general del mercado
El mercado de colágeno de China se situó en 80,14 millones de dólares en 2020 y se prevé que registre una CAGR del 4,60 % para alcanzar los 104,94 millones de dólares en 2026.
Alcance del Informe
Tendencias clave del mercado
Segmento más grande por usuario final: <span style="font-family: 'regular_bold';color:#0e7db3;">alimentos y bebidas</span>
Por usuario final, los alimentos y bebidas siguieron siendo el segmento más grande. En 2020, el sector ostentaba una participación del 93,45% tanto en volumen como en valor. Esto se puede atribuir a la multifuncionalidad del colágeno que, además de brindar beneficios nutricionales, ofrece textura, estabilizador, espesante, etc. Esto aumenta su popularidad entre los formuladores de alimentos.
Además, los fabricantes están presentando lanzamientos de productos innovadores para abordar los desafíos de aplicación que enfrentan los fabricantes de alimentos, ampliando aún más el alcance del producto. Por ejemplo, Gelita AG ofrece colágeno aplicable en F&B que se centra en el sabor y el olor neutros.
El segmento fue seguido por Animalfeed, que tuvo una participación del 3,34 % en volumen y del 3,23 % en valor en 2020. Además, el cuidado personal y los cosméticos siguieron siendo el sector de más rápido crecimiento con un valor proyectado CAGR de 7,35 % durante el período de pronóstico.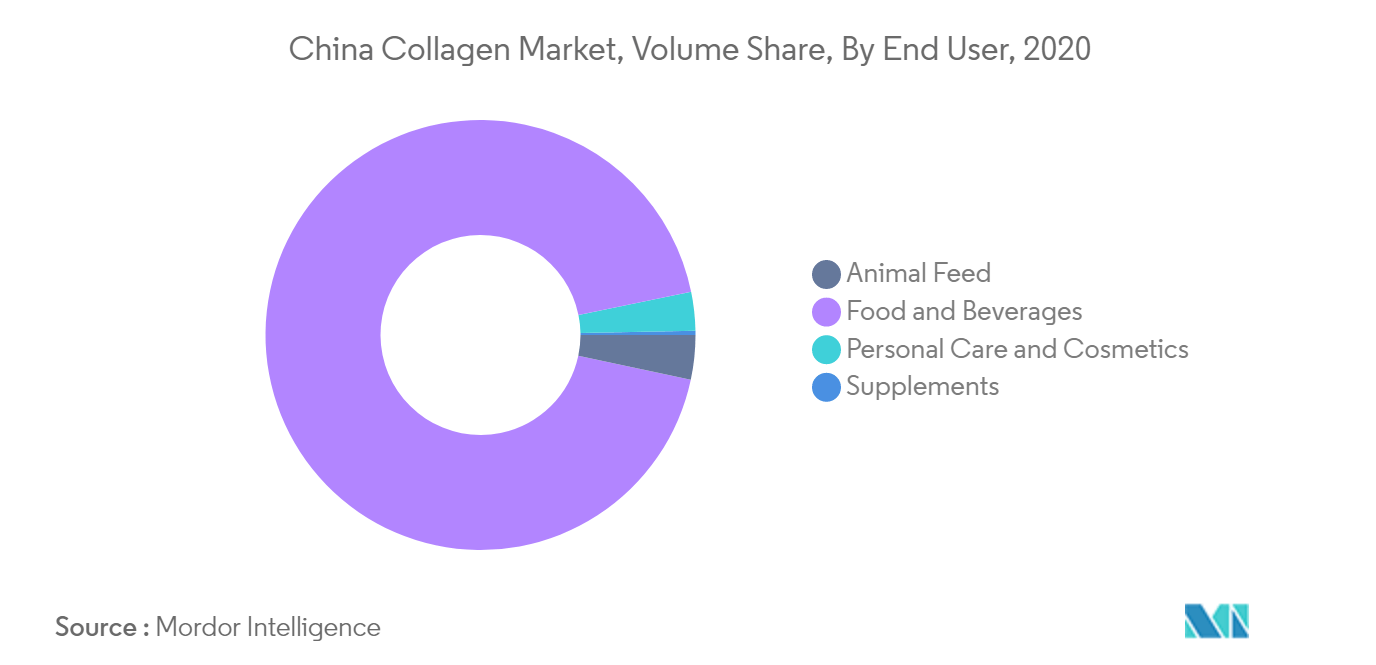 To understand key trends, Download Sample Report
Panorama competitivo
El mercado de colágeno de China está fragmentado, con las cinco principales empresas ocupando el 0,00%. Los principales actores en este mercado son (ordenados alfabéticamente).
Principales actores
*Disclaimer: Major Players sorted in no particular order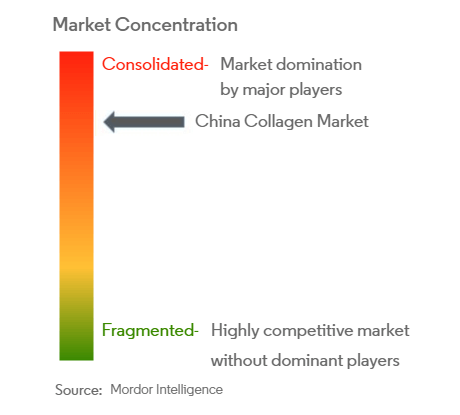 Recent Developments
February 2021: PB Leiner announced to enter the marine collagen market by 2022. PB Leiner and Zhejiang Shengda Ocean Co. Ltd from Zhoushan (P.R. China) established a joint venture to construct the plant. The new plant will be located in China and will deliver customers all over the world. The venture will allow PB Leiner to offer its customers a more diversified range of high-quality collagen peptides.

January 2021: Rousselot, a Darling Ingredients brand producing collagen-based solutions, launched MSC-certified marine collagen peptides: Peptan®, at the virtual Beauty & Skincare Formulation Conference 2021. This ingredient is sourced from 100% wild-caught marine white fish, certified by the Marine Stewardship Council (MSC), and it is majorly used in premium nutricosmetics and dietary supplements. The ingredient is produced in Rousselot's facilities in France and is available across the world. The major driving factors behind the launch are the rising new product developments with collagen sourced from wild-caught ocean fish and the rising demand for fish collagen beauty and dietary supplement products.

October 2019: Gelita partnered with Geltor, a biodesign company creating high-value designer proteins through fermentation, to develop, produce, and market the first ingestible animal-free collagen proteins. Through this partnership, Geltor would design and produce premium biodesigned collagen, whereas GELITA would conduct clinical research and commercialize the product as an addition to its existing collagen portfolio. Expanding its portfolio will consolidate GELITA's position as an industry leader and help it meet market demand.
Table of Contents
1. Resumen ejecutivo y hallazgos clave

2. Introducción

2.1 Supuestos de estudio y definición de mercado

2.2 Alcance del estudio

2.3 Metodología de investigación

3. Tendencias clave de la industria

3.1 Marco regulatorio (*Solo para los principales países)

3.2 Análisis de la cadena de valor y del canal de distribución

4. Segmentación de mercado

4.1 por formulario

4.1.1 Basado en animales

4.1.2 Base marina

4.2 Por usuario final

4.2.1 Alimentación animal

4.2.2 Cuidado Personal y Cosméticos

4.2.3 Comida y bebidas

4.2.3.1 Panadería

4.2.3.2 Bebidas

4.2.3.3 Cereales de desayuno

4.2.3.4 Confitería

4.2.4 Suplementos

4.2.4.1 Nutrición del Anciano y Nutrición Médica

4.2.4.2 Nutrición Deportiva/Rendimiento

5. Panorama competitivo

5.1 Movimientos estratégicos clave

5.2 Análisis de cuota de mercado

5.3 Perfiles de la empresa

6. Apéndice

6.1 Apéndice-1 Referencias

6.2 Apéndice-2 Lista de tablas y figuras

7. Preguntas estratégicas clave para los directores ejecutivos de proteínas
Frequently Asked Questions
¿Cuál es el período de estudio de este mercado?
El mercado de colágeno de China se estudia desde 2018 hasta 2028.
¿Cuál es la tasa de crecimiento del mercado colágeno de China?
El mercado de colágeno de China está creciendo a una CAGR del 4,93 % en los próximos 5 años.
¿Qué región tiene la tasa de crecimiento más alta en el mercado de colágeno de China?
Alimentos y bebidas está creciendo a la CAGR más alta entre 2018 y 2028.
¿Qué región tiene la mayor participación en el mercado de colágeno de China?
El cuidado personal y los cosméticos tienen la participación más alta en 2020.
¿Quiénes son los jugadores clave que operan en el mercado Colágeno de China?
Darling Ingredients Inc., GELITA AG, Luohe Wulong Gelatin Co. Ltd, Nitta Gelatin Inc., Tessenderlo Group son las principales empresas que operan en el mercado de colágeno de China.
80%

of our clients seek made-to-order reports. How do you want us to tailor yours?