Instantánea del mercado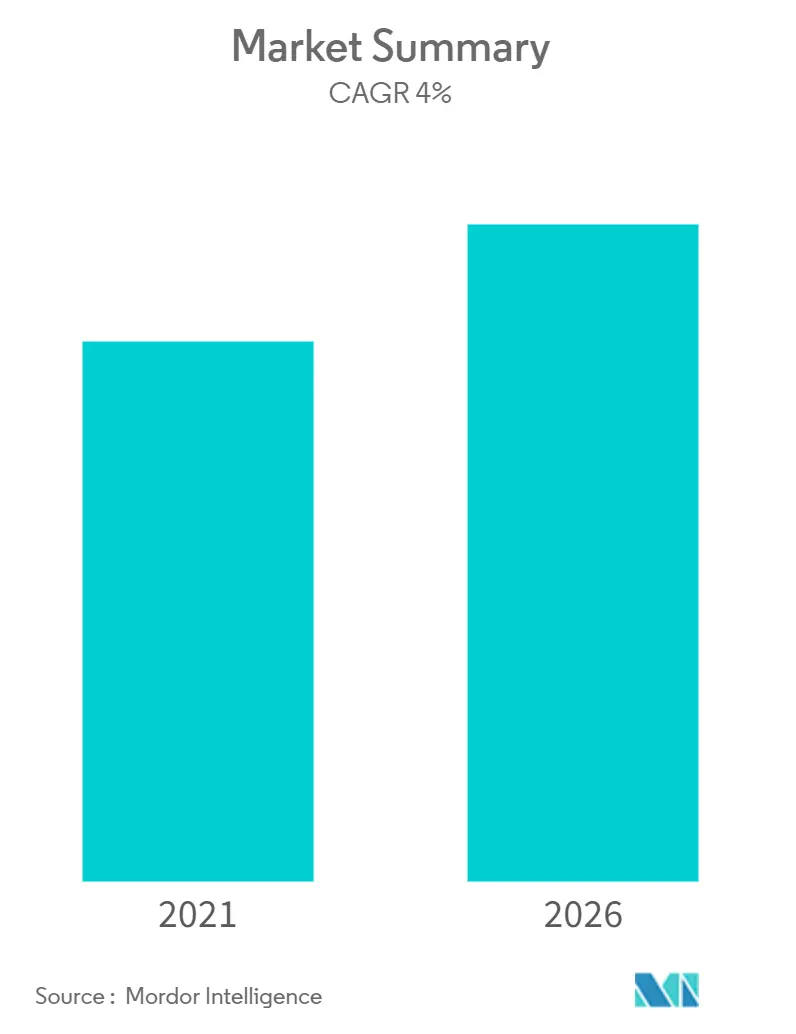 Study Period:
2016 - 2026
Base Year:
2021
Fastest Growing Market:
North America
Largest Market:
Asia Pacific
CAGR:
4 %
Need a report that reflects how COVID-19 has impacted this market and its growth?
Visión general del mercado
Se proyecta que el mercado global de agroquímicos registre una CAGR de 4.0% durante el período de pronóstico (2021-2026).
El COVID-19 ha afectado la producción y abastecimiento del mercado de agroquímicos. La pandemia mundial ha afectado el buen funcionamiento de varias industrias en todo el mundo y ha afectado el funcionamiento del mercado de agroquímicos. ​En términos de oferta, una escasez a corto plazo de trabajadores migrantes en medio de cuellos de botella en la distribución creó una gran brecha entre la cantidad de trabajadores necesarios para la producción de agroquímicos y los disponibles. La producción de cultivos también disminuyó debido a la falta de mano de obra en las grandes plantaciones, lo que ha reducido la demanda de agroquímicos durante la pandemia.
El aumento de la población en todo el mundo, acompañado de una mayor riqueza, está viendo un cambio en los patrones de consumo. Existe la necesidad no solo de aumentar la producción para satisfacer la demanda, sino también de garantizar que se satisfagan las necesidades nutricionales de una población cada vez más próspera. La reducción de la tierra cultivable y la pérdida de cultivos debido a los ataques de plagas provocan desperdicios, lo que plantea un desafío crítico para garantizar la seguridad alimentaria y nutricional. El mercado de agroquímicos es una importante industria de apoyo a la agricultura, que impulsa la producción agrícola. Estos factores están apoyando el crecimiento del mercado.
Asia-Pacífico domina el mercado, mientras que se prevé que América del Norte sea el mercado de más rápido crecimiento. Los sobreprecios y los innovadores métodos de producción ecológicos están emergiendo constantemente en el mercado de agroquímicos. Existe una necesidad cada vez mayor de equilibrar el uso juicioso de los mejores productos químicos y minimizar el impacto de ese uso.
Alcance del Informe
Los agroquímicos se utilizan para prevenir el deterioro de los cultivos por insectos, infestaciones de plagas y enfermedades. El informe de mercado global Agroquímicos ofrece las últimas tendencias, factores de crecimiento, competitividad de la industria, oportunidades de inversión y un perfil detallado de los mejores jugadores del mercado durante el período de pronóstico. El mercado global de agroquímicos está segmentado por tipo de producto (fertilizantes, pesticidas, adyuvantes y reguladores del crecimiento de las plantas), aplicación (basada en cultivos y no basada en cultivos) y geografía (América del Norte, Europa, Asia-Pacífico, América del Sur y África).
By Product Type
Fertilizers
Pesticides
Adjuvants
Plant Growth Regulators
By Application

Crop Based
Grains and Cereals
Pulses and Oilseeds
Fruits and Vegetables

Non-crop Based
Turf and Ornamental Grass
Other Non-crop Based
By Geography

North America
United States
Canada
Mexico
Rest of North America

Europe
Spain
United Kingdom
France
Germany
Russia
Italy
Rest of Europe

Asia Pacific
China
India
Japan
Australia
Rest of Asia Pacific

South America
Brazil
Argentina
Rest of South America

Africa
South Africa
Rest of Africa
Tendencias clave del mercado
Aumento de la adopción de bioplaguicidas
Con la creciente conciencia sobre el impacto de los insecticidas químicos en la salud de los humanos, se ha observado un cambio gradual hacia el uso de biopesticidas por parte de los agricultores. Por lo tanto, los bioplaguicidas están ganando popularidad en el mercado. Es probable que el segmento sea testigo de una tasa de crecimiento significativa durante el período de pronóstico. Este tipo de crecimiento está respaldado por el hecho de que la mayoría de los países modificaron sus políticas para minimizar el uso de pesticidas químicos y, en cambio, promovieron el uso de biopesticidas. Debido a un menor número de regulaciones sobre aprobaciones de productos y al bajo costo del desarrollo de productos, la industria agrícola está adoptando en gran medida los biopesticidas. Se necesitan casi USD 250,0 millones y 10 años para desarrollar nuevos productos pesticidas. Además, se requieren de 12 a 13 años y aproximadamente USD 130,0 millones para el desarrollo de cultivos transgénicos. Sin embargo,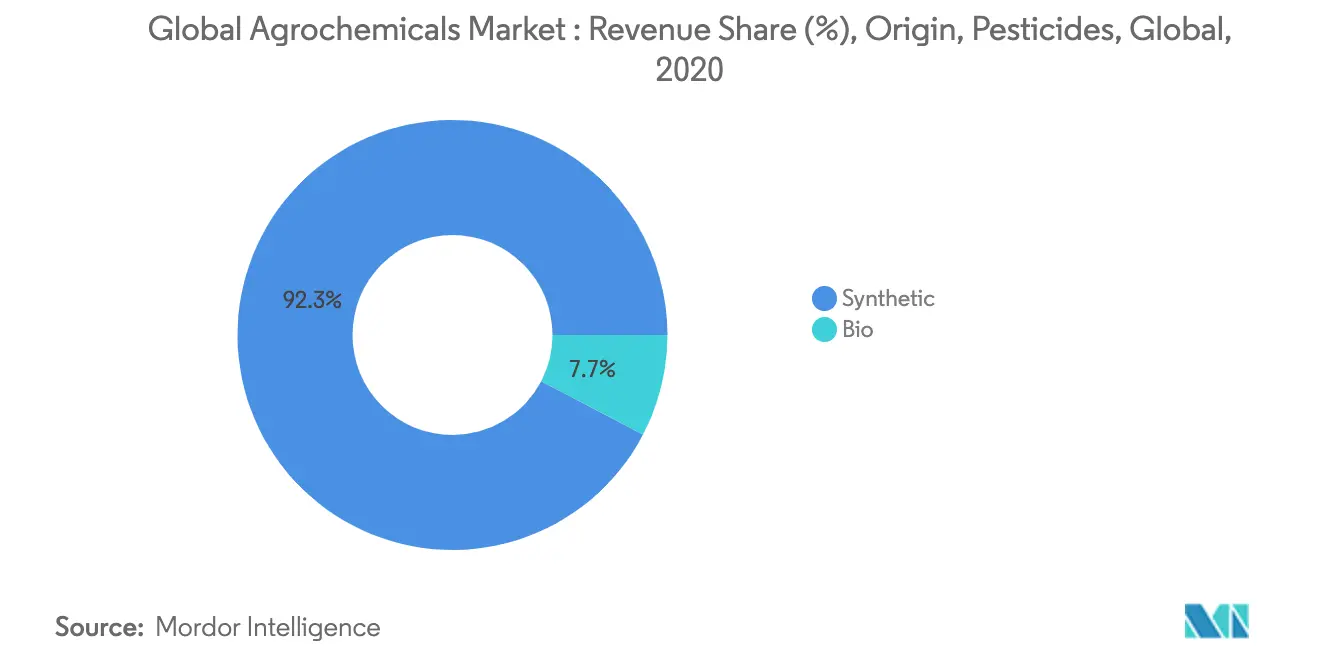 To understand key trends, Download Sample Report
Asia-Pacífico domina el mercado
China representa la mayor participación entre otros países en el mercado mundial de fertilizantes. El consumo chino de fertilizantes inorgánicos de N, P y K se está reduciendo debido a la reducción del área de cultivo. La superficie de cultivo de frutas y hortalizas está aumentando, mientras que la superficie de cereales está disminuyendo. El mercado chino de fertilizantes está creciendo a un ritmo muy lento y constante, debido a la regulación gubernamental de cero residuos de fertilizantes inorgánicos en los cultivos alimentarios desde 2013. La gran producción de cultivos de cereales, como el arroz y el trigo en la India, es el factor principal apoyando el crecimiento del mercado. El consumo de pesticidas está aumentando constantemente en la India. En 2018-2019, los agricultores de todo el país utilizaron 72 515 toneladas métricas de pesticidas. Los datos revelan que solo ocho estados representan más del 70,0% del consumo total de pesticidas en la India. Con un énfasis cada vez mayor en el medio ambiente y la sostenibilidad, varios gobiernos de la región están aplicando políticas de producción limpia y agricultura respetuosa con el medio ambiente, lo que puede conducir a una disminución en el uso de pesticidas sintéticos en el país. Sin embargo, el gobierno ha alentado el uso de pesticidas microbianos, que se espera que crezca rápidamente en los próximos años.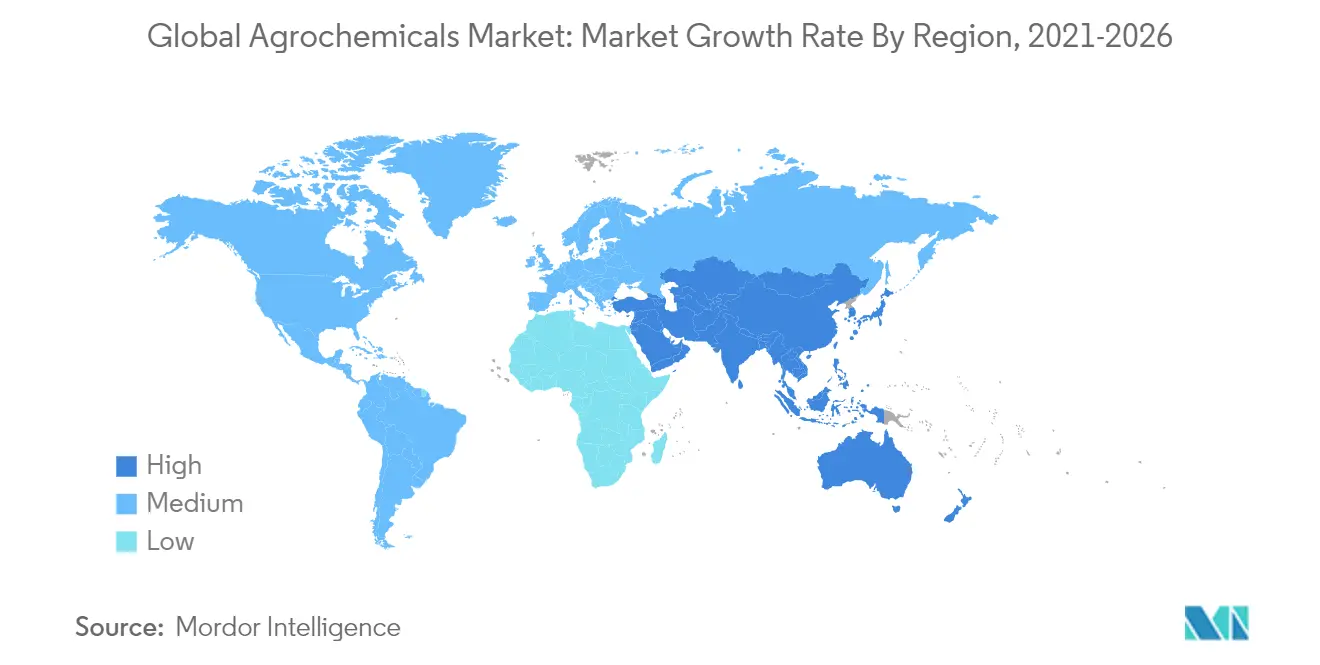 To understand geography trends, Download Sample Report
Panorama competitivo
El mercado de agroquímicos está fragmentado, con jugadores importantes, incluidos Bayer CropScience, Adama Agricultural Solutions, Yara International ASA, BASF SE, Corteva Agriscience y Nufarm, entre muchos otros. Lanzamientos de nuevos productos, fusiones y adquisiciones, y asociaciones son las principales estrategias adoptadas por estas empresas líderes en el mercado. Además, estas empresas se están enfocando en invertir en innovaciones, colaboraciones y expansiones para aumentar su participación de mercado.
Recent Developments
In January 2020, Corteva Agriscience launched the Cerefit fungicide in Canada. Cerefit is a dual mode-of-action fungicide that targets leaf diseases, which ultimately provides farmers increased yield potential.
In September 2019, Bayer Cropscience Ag launched the latest fungicide innovation, Iblo technology. This technology is based on the active ingredient, Isoflucypram, a member of a new subclass in the family of the highly valued SDHIs.
In June 2018, BASF SE expanded its global insecticide portfolio. The companies Inscalis insecticide received registration in prominent markets throughout the globe. It has received the first global registrations in Australia and India for the Inscalis insecticide. This insecticide is likely to be used for controlling piercing-sucking pests, including hemiptera, like aphids, whiteflies, psyllids, scales, and leafhoppers.
Table of Contents
1. INTRODUCTION

1.1 Study Assumptions and Market Definition

1.2 Scope of the Study

2. RESEARCH METHODOLOGY

3. EXECUTIVE SUMMARY

4. MARKET DYNAMICS

4.1 Market Overview

4.2 Market Drivers

4.3 Market Restraints

4.4 Industry Attractiveness - Porter's Five Force Analysis

4.4.1 Bargaining Power of Suppliers

4.4.2 Bargaining Power of Buyers/Consumers

4.4.3 Threat of New Entrants

4.4.4 Threat of Substitute Products

4.4.5 Intensity of Competitive Rivalry

5. MARKET SEGMENTATION

5.1 By Product Type

5.1.1 Fertilizers

5.1.2 Pesticides

5.1.3 Adjuvants

5.1.4 Plant Growth Regulators

5.2 By Application

5.2.1 Crop Based

5.2.1.1 Grains and Cereals

5.2.1.2 Pulses and Oilseeds

5.2.1.3 Fruits and Vegetables

5.2.2 Non-crop Based

5.2.2.1 Turf and Ornamental Grass

5.2.2.2 Other Non-crop Based

5.3 By Geography

5.3.1 North America

5.3.1.1 United States

5.3.1.2 Canada

5.3.1.3 Mexico

5.3.1.4 Rest of North America

5.3.2 Europe

5.3.2.1 Spain

5.3.2.2 United Kingdom

5.3.2.3 France

5.3.2.4 Germany

5.3.2.5 Russia

5.3.2.6 Italy

5.3.2.7 Rest of Europe

5.3.3 Asia Pacific

5.3.3.1 China

5.3.3.2 India

5.3.3.3 Japan

5.3.3.4 Australia

5.3.3.5 Rest of Asia Pacific

5.3.4 South America

5.3.4.1 Brazil

5.3.4.2 Argentina

5.3.4.3 Rest of South America

5.3.5 Africa

5.3.5.1 South Africa

5.3.5.2 Rest of Africa

6. COMPETITIVE LANDSCAPE

6.1 Most Adopted Strategies

6.2 Market Share Analysis

6.3 Company Profiles

6.3.1 Bayer CropScience AG

6.3.2 BASF SE

6.3.3 Corteva Agriscience AG

6.3.4 Archer-Daniels-Midland (ADM)

6.3.5 FMC Corporation

6.3.6 Adama Agricultural Solutions

6.3.7 Potash Corporation of Saskatchewan

6.3.8 Nufarm Ltd

6.3.9 Nutrien Ltd

6.3.10 Yara International ASA

*List Not Exhaustive

7. MARKET OPPORTUNITIES AND FUTURE TRENDS

8. AN ASSESSMENT OF COVID-19 IMPACT ON THE MARKET
You can also purchase parts of this report. Do you want to check out a section wise price list?
Frequently Asked Questions
¿Cuál es el período de estudio de este mercado?
El mercado de Agroquimicos Market se estudia a partir de 2016 - 2026.
¿Cuál es la tasa de crecimiento del mercado Agroquimicos?
El mercado de agroquímicos está creciendo a una CAGR del 4% en los próximos 5 años.
¿Qué región tiene la tasa de crecimiento más alta en el mercado Agroquímicos?
América del Norte está creciendo a la CAGR más alta durante 2021-2026.
¿Qué región tiene la mayor participación en el mercado Agroquímicos?
Asia Pacífico tiene la participación más alta en 2021.
¿Quiénes son los jugadores clave que operan en el mercado Agroquimicos?
Bayer Crop Science, BASF SE, Corteva Agriscience, Yara International ASA, Adama Agricultural Solutions son las principales empresas que operan en el mercado de agroquímicos.
80%

of our clients seek made-to-order reports. How do you want us to tailor yours?