Instantánea del mercado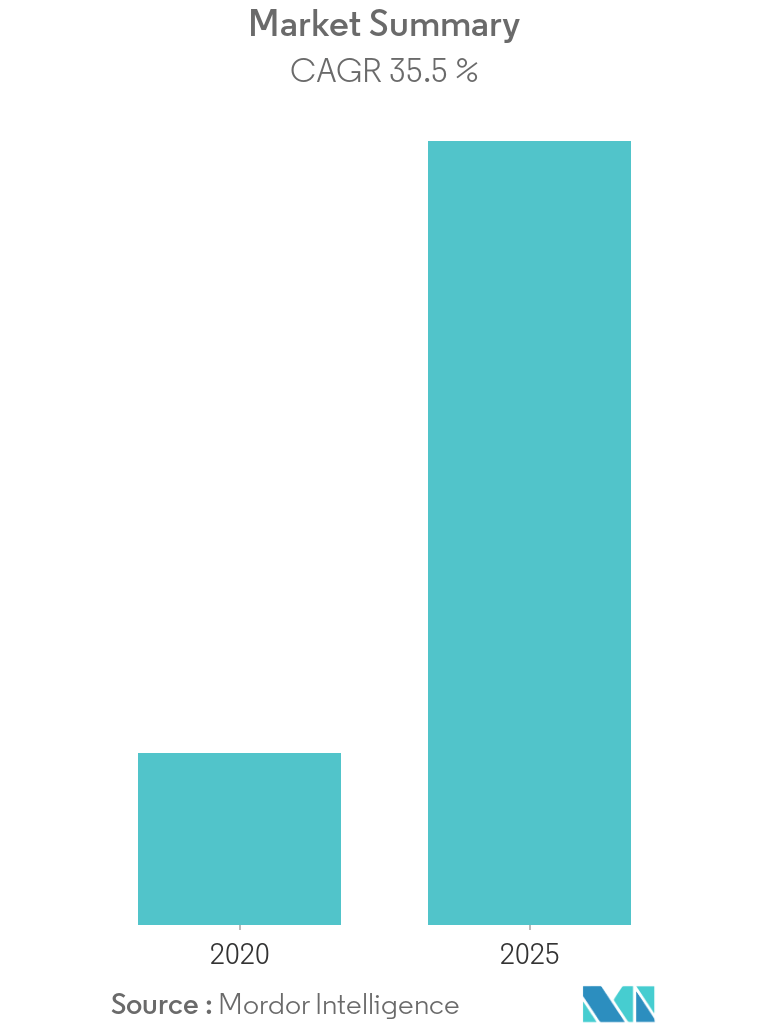 Study Period:
2019- 2026
Base Year:
2021
Fastest Growing Market:
Asia Pacific
Largest Market:
North America
CAGR:
35.5 %
Need a report that reflects how COVID-19 has impacted this market and its growth?
Visión general del mercado
Se proyecta que el mercado de Computación afectiva registre una CAGR de 35.5% durante el período de pronóstico (2021 - 2026). La pandemia de Covid-19 afectó positivamente al mercado de la computación afectiva, ya que las personas estaban más preocupadas por su salud y seguridad durante el confinamiento. El aumento de las infecciones por Covid-19 dio lugar al uso de equipos de medición de temperatura a base de Al, equipos de detección de Covid, máquinas de vacunación avanzadas, etc.
El surgimiento de la computación afectiva podría estimular el crecimiento de varias aplicaciones. El área principal de la computación afectiva es el diseño de dispositivos computacionales propuestos para mostrar capacidades emocionales naturales o que sean capaces de simular emociones de manera convincente.
Para personas con problemas de habla y minusválidos emocionales se ha desarrollado Gestele, un prototipo que se suma a las emociones, gestos o cualquier otra forma de comunicación de las personas afectadas. La computación afectiva también se puede utilizar para la personalización, como ajustar la luz, el tipo de música y la temperatura ambiente mediante la detección del estado de ánimo de una persona, etc.
El creciente uso de robots proporciona un incentivo adicional para la implementación de esta tecnología. El reciente avance de la robótica conduce a un inmenso aumento en la demanda de robots artificialmente inteligentes que se comporten de manera cortés y socialmente inteligente.
Un informe sobre Robótica Mundial de la Federación Internacional de Robótica (IFR) reveló que más de 381 000 robots industriales se enviaron a nivel mundial en 2017. Se prevé que este número alcance las 630 000 unidades para 2021. La adición de funciones, como la computación afectiva, puede hacer que estos robots industriales más aceptables y tienen una mejor interacción humano-computadora.
Los usuarios de dispositivos robóticos equipados con IA no quieren que les molesten con información sin importancia. Sin embargo, ese alto nivel de razonamiento requiere una comprensión del estado emocional de la persona. Con el reciente avance en el aprendizaje automático, las empresas están desarrollando nuevas formas de utilizar los avances en su beneficio.
Alcance del Informe
La computación afectiva es el estudio y desarrollo de sistemas y dispositivos que pueden reconocer, interpretar, procesar y simular los afectos humanos. Es un campo interdisciplinario que abarca la informática, la psicología y la ciencia cognitiva.
By End-User Industry
Healthcare
Automotive
Retail
Other End-User Industries
By Geography

North America
United States
Canada

Europe
United Kingdom
Germany
France
Rest of Europe

Asia Pacific
China
Japan
Australia
Rest of Asia Pacific

Rest of the World
Tendencias clave del mercado
Se espera que la atención médica sea uno de los principales destinatarios de la tecnología
El segmento de la salud tiene algunas de las aplicaciones más avanzadas y comercializadas para la computación afectiva. Algunos de los desarrollos iniciales en el dominio de la computación afectiva están destinados a ayudar a los profesionales de la atención médica, principalmente con tecnología que se espera que los ayude a comprender a los pacientes con discapacidades mentales.
La inteligencia artificial (IA) en medicina ha estado creciendo y se están realizando esfuerzos significativos para aumentar la contribución al dominio. Empresas como DeepMind, Babylon Health, etc., han estado acelerando sus esfuerzos hacia tales objetivos.
Además, hay varias empresas que están trabajando en dispositivos avanzados de monitorización de pacientes, que utilizan técnicas de codificación facial para monitorizar a los pacientes de forma continua. Sin embargo, en comparación con otros usuarios finales, los productos tardan en llegar al mercado minorista después de los procedimientos de aprobación en el sector de la salud.
En el escenario actual del mercado, Empatica es una de las pocas empresas que ofrece dispositivos informáticos portátiles efectivos para aplicaciones de atención médica. Los dispositivos de la compañía están aprobados por la Administración de Drogas y Alimentos de los Estados Unidos (FDA). La empresa ha limitado geográficamente sus operaciones para atender a sus clientes en Estados Unidos y Europa.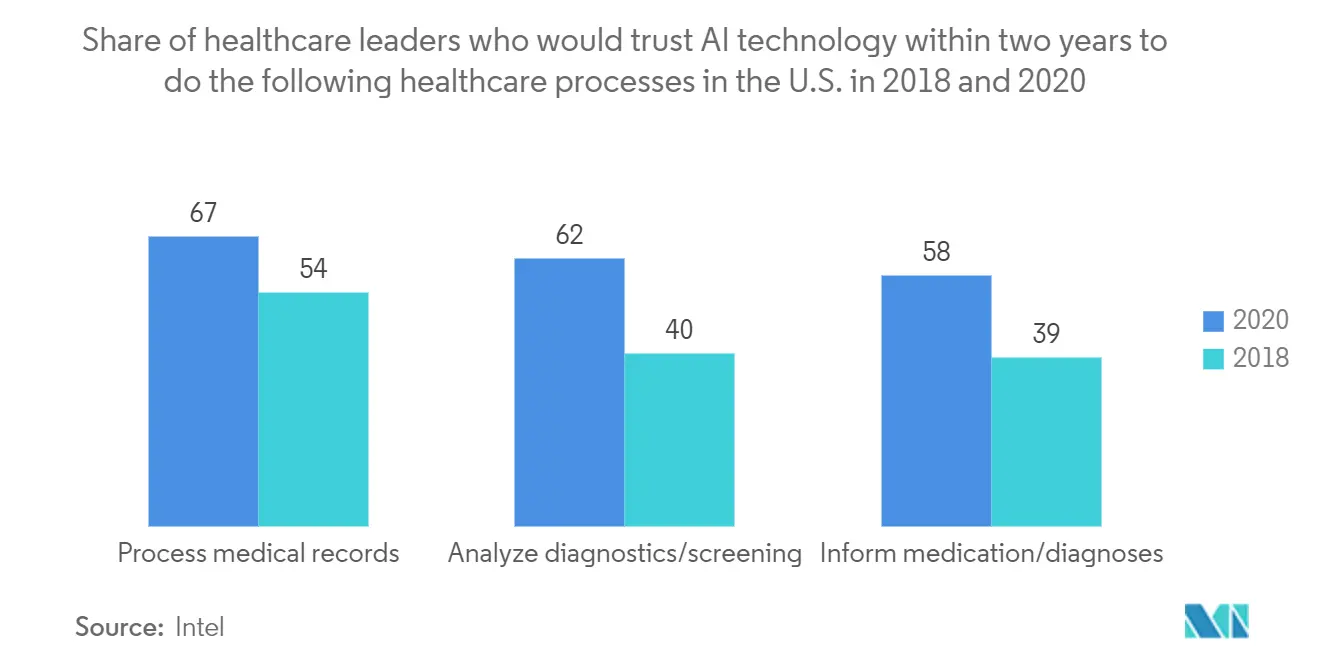 To understand key trends, Download Sample Report
Se espera que América del Norte tenga la mayor cuota de mercado
América del Norte es el mercado más grande para la computación afectiva a nivel mundial, liderado por Estados Unidos. La región cuenta con algunas de las organizaciones de investigación más activas que trabajan para desarrollar dispositivos informáticos afectivos innovadores capaces de servir a varias aplicaciones de usuarios finales, especialmente en el sector de la salud, la investigación de mercado y la automoción.
América del Norte fue una de las primeras regiones en adoptar la inteligencia artificial a gran escala. Con la infraestructura mejorada para la inteligencia artificial, la región cuenta con la infraestructura madura requerida para el despliegue de la computación afectiva.
Organizaciones de investigación como el MIT se han concentrado en la región realizando varios proyectos de investigación, que incluyen respuesta afectiva a señales hápticas, reconocimiento automático de estrés en situaciones de la vida real, etc., que se espera aumenten las inversiones en la región para el crecimiento de computación afectiva.
Hay grandes perspectivas futuras de que la computación afectiva converja con la robótica en el futuro debido a la plataforma de implementación que proporciona la robótica. La mayor tasa de adopción de la robótica en los Estados Unidos apunta hacia una mayor popularidad, mostrando así una mayor adopción por parte de los clientes hacia robots más inteligentes.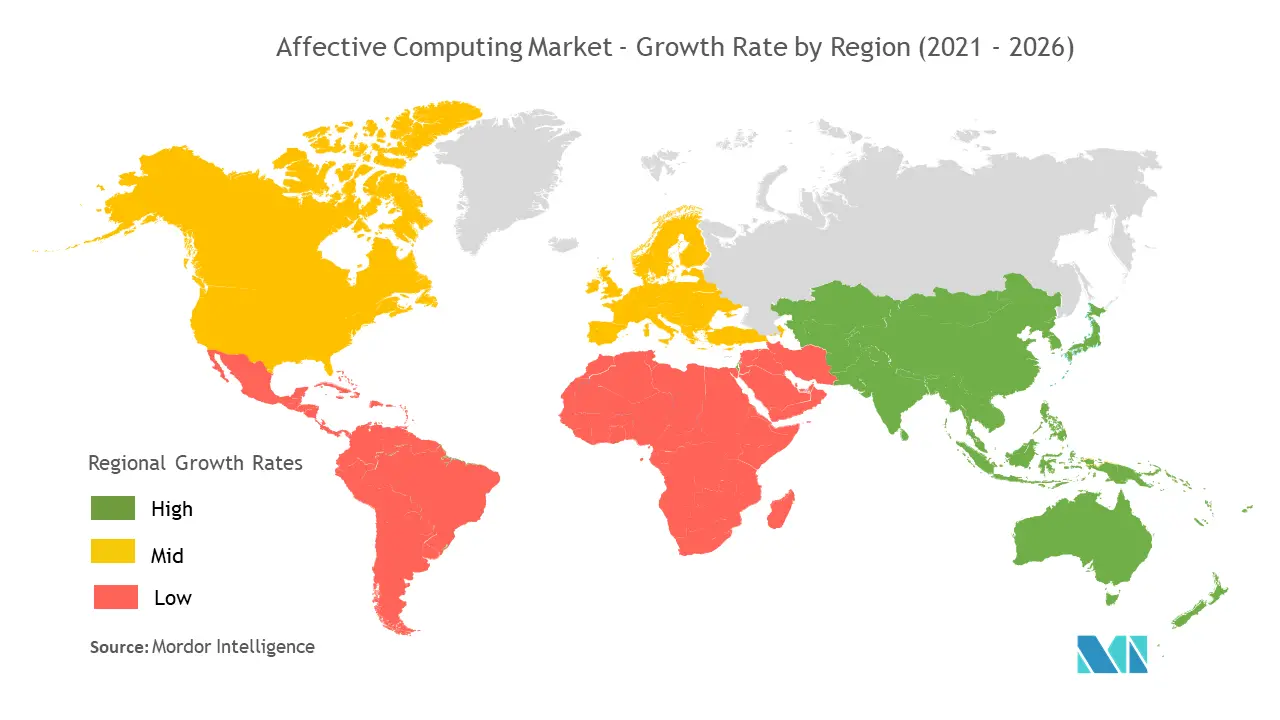 To understand geography trends, Download Sample Report
Panorama competitivo
El mercado de la computación afectiva está dominado actualmente por unos pocos jugadores con su experiencia tecnológica en tecnología de inteligencia artificial. Se espera que el mercado global esté casi consolidado por naturaleza, y los principales actores con una participación destacada en el mercado se están enfocando en expandir su base de clientes en países extranjeros aprovechando iniciativas estratégicas de colaboración para aumentar su participación de mercado y su rentabilidad. Affectiva Inc., CroudEmotion Ltd., Kairos AR, Inc., nViso AI son algunos de los principales actores presentes en el mercado actual.
Febrero de 2021: IBM anunció que Safexpress, la empresa líder en logística y cadena de suministro de la India, ha implementado 'PROPEL-i', una plataforma de logística nativa en la nube a medida y de extremo a extremo desarrollada en colaboración con IBM Global Business Services. La plataforma digital permite a la empresa lograr agilidad en la gestión de la demanda, obtener capacidades de modelado de precios dinámicos flexibles y avanzadas, y brindar a sus clientes visibilidad y transparencia mejoradas.
Recent Developments
January 2021 - Larsen & Toubro Infotech planned to expand its multi-year, global alliance with IBM to help businesses transform their operations through open hybrid cloud adoption. LTI will help their clients migrate and modernize core business applications leveraging IBM's open hybrid cloud platform built on Red Hat OpenShift. LTI has developed industry-ready solutions using hybrid cloud capabilities from IBM, including Cloud Pak for Data and Cloud Pak for Automation, and offerings that integrate IBM Watson solutions, to help their clients automate, secure, and update their business processes and applications. These include iDigitalization to automate workflow and digitize enterprise business processes, iMaximize to help modernize the enterprise integration landscape with pre-built accelerators, and Make the Shift to help overhaul legacy workloads.
February 2021 - IBM announced a collaboration with Shree Cement Limited, one of the top three cement producers in India, to run their database and core business applications using AIX and Red Hat on IBM POWER9-based IBM Power Systems. Shree Cement automated its key supply chain processes with Oracle Enterprise Command Center on Red Hat Enterprise Linux. This shift will help the company optimize operational decisions, improve processes, bring in supply chain efficiency, drive better cost and revenue decisions. The company has also integrated a third-party IoT solution on the same platform to track manufacturing plant data such as in-plant logistics, supply chain processes involving the movement of raw materials and trucks from yards to plants, and monitor production efficiencies.
August 2021 - Nuance Communications and Olympus' AI-based SeleCT analysis partnered and helped create the SeleCT Connect program. SeleCT Connect automatically sends CT studies directly from physicians and radiologists' picture archive and communication system (PACS) to the SeleCT QCT analysis service. Results automatically return to the patient record following analysis. The new service also allows SeleCT analysis results to be sent to a health system's electronic health record (EHR) for easier referring physician access.
Table of Contents
1. INTRODUCTION

1.1 Study Assumptions and Market Definition

1.2 Scope of the Study

2. RESEARCH METHODOLOGY

3. EXECUTIVE SUMMARY

4. MARKET DYNAMICS

4.1 Market Overview

4.2 Market Drivers

4.2.1 Increased Automation In Contact Centers

4.2.2 Increasing Adoption Of Cloud-based Solutions And Online Solutions

4.3 Market Restraints

4.3.1 High Approval Times In Healthcare

4.3.2 Privacy And Security Concerns

4.4 Industry Attractiveness - Porter's Five Forces Analysis

4.4.1 Threat of New Entrants

4.4.2 Bargaining Power of Buyers

4.4.3 Bargaining Power of Suppliers

4.4.4 Threat of Substitute Products

4.4.5 Intensity of Competitive Rivalry

5. TECHNOLOGY SNAPSHOT

5.1 Speech Recognition

5.2 Gesture Recognition

5.3 Facial Recognition

5.4 Other Types

6. MARKET SEGMENTATION

6.1 By End-User Industry

6.1.1 Healthcare

6.1.2 Automotive

6.1.3 Retail

6.1.4 Other End-User Industries

6.2 By Geography

6.2.1 North America

6.2.1.1 United States

6.2.1.2 Canada

6.2.2 Europe

6.2.2.1 United Kingdom

6.2.2.2 Germany

6.2.2.3 France

6.2.2.4 Rest of Europe

6.2.3 Asia Pacific

6.2.3.1 China

6.2.3.2 Japan

6.2.3.3 Australia

6.2.3.4 Rest of Asia Pacific

6.2.4 Rest of the World

7. COMPETITIVE LANDSCAPE

7.1 Company Profiles

7.1.1 Affectiva Inc.

7.1.2 CroudEmotion Ltd.

7.1.3 Kairos AR, Inc.

7.1.4 Nuance Communications Inc.

7.1.5 IBM Corporation

7.1.6 Beyond Verbal Communication, Ltd.

7.1.7 Nemesysco Ltd.

7.1.8 Realeyes Data Services Ltd.

7.1.9 audEERING GmbH

7.1.10 Eyesight Technologies Ltd.

7.1.11 Emotibot Technologies Limited

7.1.12 Amazon Web Services Inc.

*List Not Exhaustive

8. INVESTMENT ANALYSIS

9. MARKET OPPORTUNITIES AND FUTURE TRENDS
**Subject to Availability
You can also purchase parts of this report. Do you want to check out a section wise price list?
Frequently Asked Questions
¿Cuál es el período de estudio de este mercado?
El mercado de Computación afectiva se estudia desde 2019 hasta 2026.
¿Cuál es la tasa de crecimiento del mercado Computación afectiva?
El mercado de la computación afectiva está creciendo a una CAGR del 35,5 % en los próximos 5 años.
¿Qué región tiene la tasa de crecimiento más alta en Computación afectiva Market?
Asia Pacífico está creciendo a la CAGR más alta durante 2021-2026.
¿Que region tiene la mayor participacion en Computacion afectiva Market?
América del Norte tiene la participación más alta en 2021.
¿Quiénes son los jugadores clave que operan en el mercado Computacion afectiva?
Affectiva Inc., CroudEmotion Ltd., Kairos AR, Inc., IBM Corporation, Nuance Communications Inc. son las principales empresas que operan en el mercado de la computación afectiva.
80%

of our clients seek made-to-order reports. How do you want us to tailor yours?