Marktübersicht für Sterilisationsdienste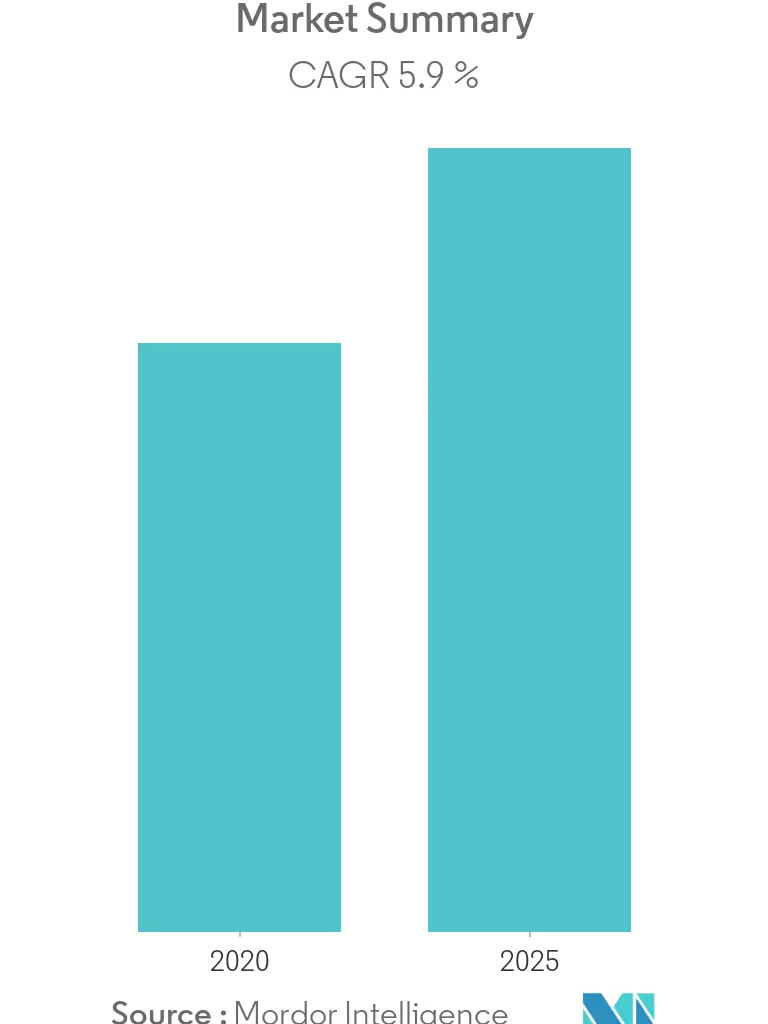 Study Period:
2018 - 2026
Fastest Growing Market:
Asia Pacific
Largest Market:
North America
CAGR:
5.9 %

Major Players

*Disclaimer: Major Players sorted in no particular order
Need a report that reflects how COVID-19 has impacted this market and it's growth?
Marktübersicht
Angesichts des hohen Einsatzes komplexer Geräte in medizinischen und lebensmittelverarbeitenden Einrichtungen sind die Sterilisationsdienste eine wichtige Praxis für ein gesundes Ökosystem. Die Gesundheitseinrichtungen erfordern ständig drei Prozesse, die Reinigung, Desinfektion und Sterilisation umfassen. Es gibt mehrere Richtlinien, die auf nationaler Ebene von der Regierung und einzelnen Unternehmen verabschiedet werden, was die Nachfrage nach Sterilisationsdiensten antreibt, insbesondere in Bezug auf Geräte, die für einen gesunden Lebensstil verwendet werden. In Gesundheitseinrichtungen spielen auch im Krankenhaus erworbene Infektionen eine entscheidende Rolle, um die Sterilisationsmethoden regelmäßig einzubeziehen. Die technologischen Fortschritte und das Bewusstsein in der Gesellschaft in den letzten Jahren haben mit der wachsenden Zahl der Bevölkerung zugenommen, die branchenübergreifend nach einem gesunden Lebensstil und besseren Einrichtungen sucht. Solche Faktoren treiben die Nachfrage nach Sterilisationsdiensten an. Es gibt jedoch bestimmte einschränkende Faktoren, wie z. B. schädliche Auswirkungen bestimmter chemischer Mittel, das Fehlen geeigneter Handbücher, um in einem begrenzten Zeitraum einen verbesserten und besseren Sterilisationsservice für ein System durchzuführen.
Umfang des Berichts
Mit dem Einsatz neuer und mehr medizinischer Geräte in den Gesundheitseinrichtungen muss die Art der Sterilisationsdienste von den auf diesem Markt tätigen Unternehmen verbessert werden. Mit dieser Perspektive wird der Umfang des Marktes nach Sterilisationsmethode, Geschäftstyp und Endbenutzer in verschiedenen Regionen der Welt segmentiert.
By Method
Ethylene Oxide (ETO) Sterilization
Gamma Sterilization
Steam Sterilization
Electron Beam Radiation Sterilization
Gamma Sterilization
By Business Type
Contract Sterilization Services
Sterilization Validation Services
By End User
Medical Device Companies
Hospitals and Clinics
Pharmaceutical & Biotechnology Industry
Other End Users
Geography

North America
United States
Canada
Mexico

Europe
France
Germany
United Kingdom
Italy
Spain
Rest of Europe

Asia-Pacific
China
Japan
India
Australia
South Korea
Rest of Asia-Pacific

Middle-East and Africa
GCC
South Africa
Rest of Middle-East and Africa

South America
Brazil
Argentina
Rest of South America
Wichtige Markttrends
Es wird geschätzt, dass Krankenhäuser und Kliniken im Prognosezeitraum einen großen Anteil halten werden
In den letzten Jahren ist die Zahl multispezialisierter Krankenhäuser und Kliniken in vielen Ländern gewachsen. Es besteht ein ständiger Druck, Wartezeiten zu verkürzen und Diagnoseverfahren für eine Vielzahl von Krankheiten zu verbessern. Der Patientenpool hat sich auch in mehreren großen Tier-I- und Tier-II-Städten vieler Länder erheblich vergrößert. Die Nachfrage nach einem gesunden Lebensstil und einem verbesserten Bewusstsein der Gesellschaft treibt die Nachfrage nach Sterilisationsanlagen an. Darüber hinaus hat mit dem stetigen Wachstum der Anzahl chirurgischer Eingriffe die Verwendung medizinischer Geräte und Verbrauchsmaterialien rapide zugenommen. Daher wird von den Endverbrauchern erwartet, dass die Krankenhäuser und Kliniken im Prognosezeitraum einen großen Anteil halten werden.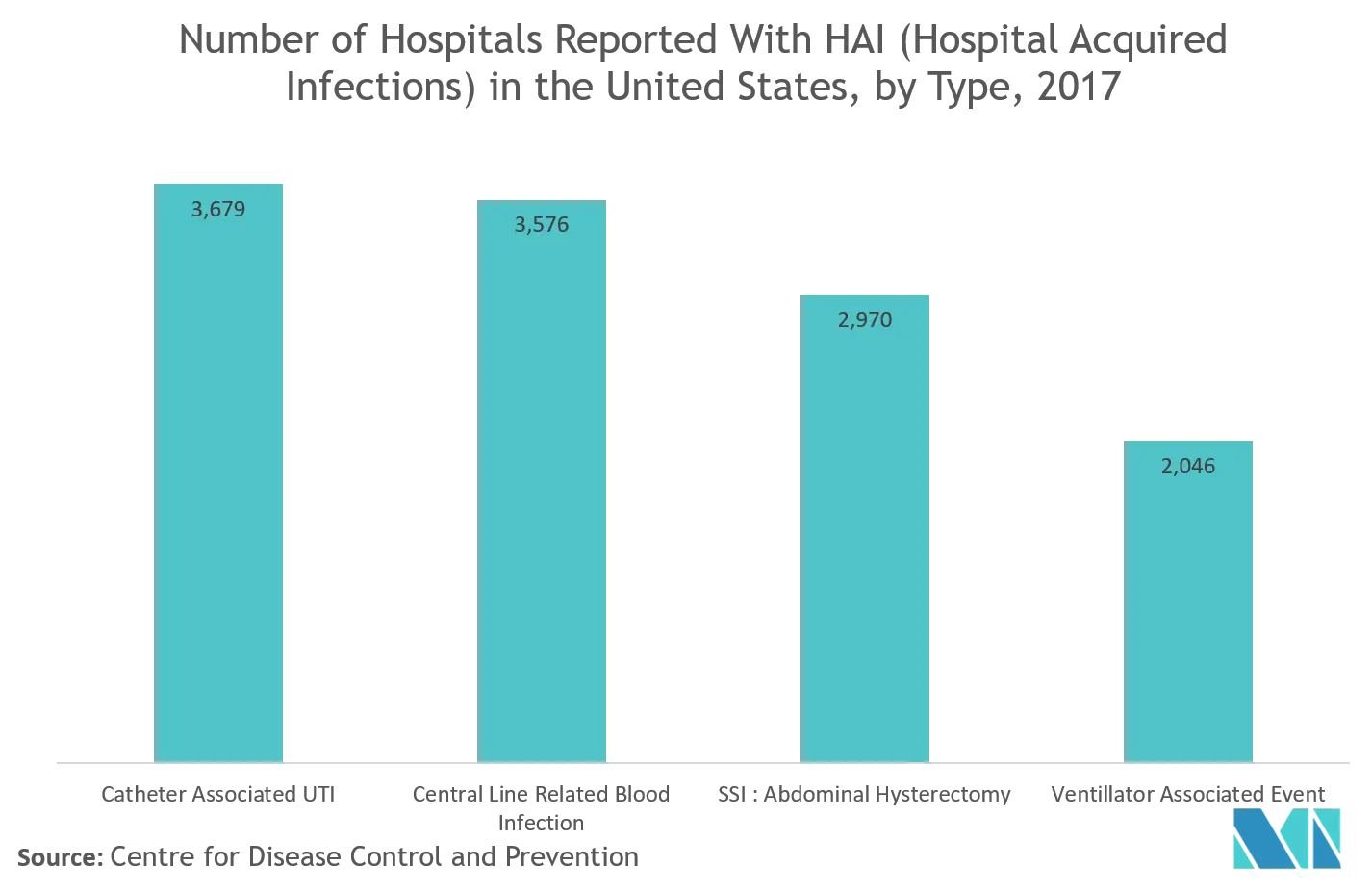 To understand key trends, Download Sample Report
Es wird geschätzt, dass Nordamerika den größten Anteil am Weltmarkt hat
In den Vereinigten Staaten treiben hohe Patientenaufnahmeraten, technologische Fortschritte in Gesundheitseinrichtungen, höhere Gesundheitsausgaben der Regierung, bessere Vertriebskanäle durch Sterilisationsdienstleister sowie bessere Erstattungsrichtlinien den untersuchten Markt an. Auch der Medizintourismus aus mehreren Schwellenländern treibt das Wachstum dieses Marktes voran. Darüber hinaus versuchen eine große Anzahl von Unternehmen zunächst, die Zulassung von Medizinprodukten zu erhalten, insbesondere durch die US-amerikanische FDA, die USA und Kanada werden zu einem integralen Bestandteil der Umsatzgenerierung für Instrumente in wichtigen Branchen wie dem Gesundheitswesen, der Lebensmittelverarbeitung und dem Gesundheitswesen Firmen. Darüber hinaus sind die Richtlinien in Bezug auf die Nutzung von Diensten in Gesundheitseinrichtungen von der Regierung gut definiert.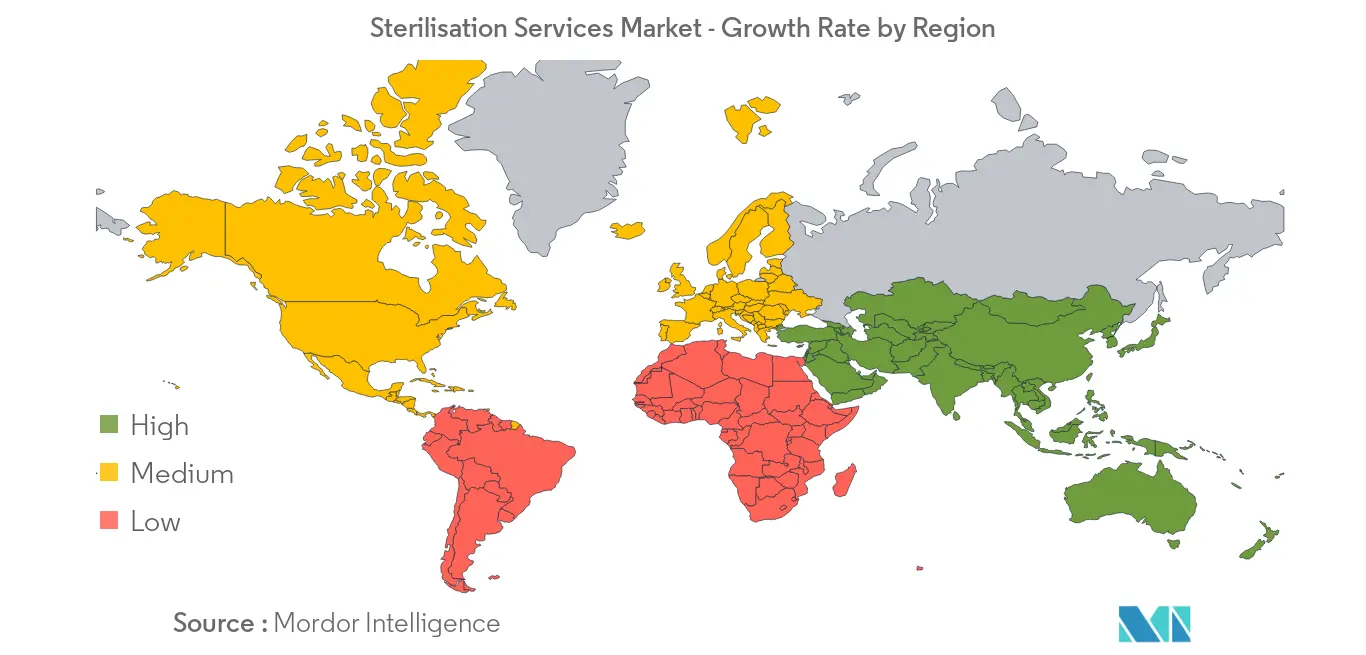 To understand geography trends, Download Sample Report
Wettbewerbslandschaft
Die großen Marktteilnehmer konzentrieren sich auf technologische Fortschritte und investieren mehr in die Dienstleistungen für die etablierten Einrichtungen in allen Branchen. Einige der Hauptakteure auf dem Markt sind unter anderem Johnson & Johnson, Steris Corporation, Stryker Corporation, Medistri und Cantel Medical.
Hauptakteure
Steris Corporation

Stryker Corporation

Medizin

Cantel Medical

B. Braun Medical Ltd
*Disclaimer: Major Players sorted in no particular order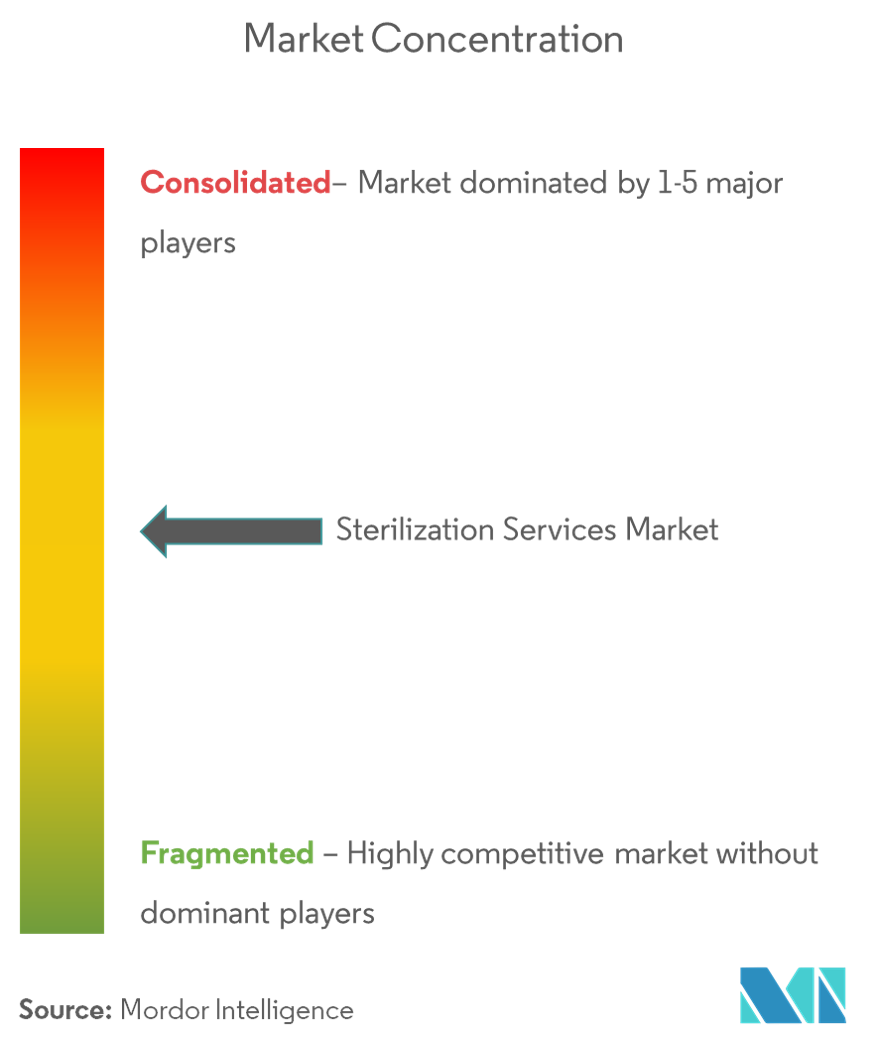 Table of Contents
1. INTRODUCTION

1.1 Study Deliverables

1.2 Study Assumptions

1.3 Scope of the Study

2. RESEARCH METHODOLOGY

3. EXECUTIVE SUMMARY

4. MARKET DYNAMICS

4.1 Market Overview

4.2 Market Drivers

4.2.1 Increased Hospital Acquired Infections

4.2.2 Technological Advancements in Use of Sterilization Agents and Equipment in Industrial Facilities

4.2.3 Growing Awareness Regarding Clealiness across All Facilities

4.3 Market Restraints

4.3.1 Harmful Effects of Certain Chemical Agents

4.3.2 Lack of Availability of Correct Manuals to Perform Sterilization Activities

4.4 Porter's Five Force Analysis

4.4.1 Threat of New Entrants

4.4.2 Bargaining Power of Buyers/Consumers

4.4.3 Bargaining Power of Suppliers

4.4.4 Threat of Substitute Products

4.4.5 Intensity of Competitive Rivalry

5. MARKET SEGMENTATION

5.1 By Method

5.1.1 Ethylene Oxide (ETO) Sterilization

5.1.2 Gamma Sterilization

5.1.3 Steam Sterilization

5.1.4 Electron Beam Radiation Sterilization

5.1.5 Gamma Sterilization

5.2 By Business Type

5.2.1 Contract Sterilization Services

5.2.2 Sterilization Validation Services

5.3 By End User

5.3.1 Medical Device Companies

5.3.2 Hospitals and Clinics

5.3.3 Pharmaceutical & Biotechnology Industry

5.3.4 Other End Users

5.4 Geography

5.4.1 North America

5.4.1.1 United States

5.4.1.2 Canada

5.4.1.3 Mexico

5.4.2 Europe

5.4.2.1 France

5.4.2.2 Germany

5.4.2.3 United Kingdom

5.4.2.4 Italy

5.4.2.5 Spain

5.4.2.6 Rest of Europe

5.4.3 Asia-Pacific

5.4.3.1 China

5.4.3.2 Japan

5.4.3.3 India

5.4.3.4 Australia

5.4.3.5 South Korea

5.4.3.6 Rest of Asia-Pacific

5.4.4 Middle-East and Africa

5.4.4.1 GCC

5.4.4.2 South Africa

5.4.4.3 Rest of Middle-East and Africa

5.4.5 South America

5.4.5.1 Brazil

5.4.5.2 Argentina

5.4.5.3 Rest of South America

6. COMPETITIVE LANDSCAPE

6.1 Company Profiles

6.1.1 B. Braun Medical Ltd

6.1.2 BGS Beta-Gamma-Service GmbH & Co. KG

6.1.3 Cantel Medical

6.1.4 E-BEAM Services, Inc

6.1.5 Judd Medical Limited

6.1.6 Medistri

6.1.7 Noxilizer

6.1.8 Steris Corporation

6.1.9 Stryker Corporation

*List Not Exhaustive

7. MARKET OPPORTUNITIES AND FUTURE TRENDS
**Subject to Availability
**Competitive Landscape covers- Business Overview, Financials, Products and Strategies and Recent Developments
Frequently Asked Questions
Was ist der Untersuchungszeitraum dieses Marktes?
Der globale Markt für Sterilisationsdienste wird von 2018 bis 2028 untersucht.
Wie hoch ist die Wachstumsrate des globalen Marktes für Sterilisationsdienste?
Der globale Markt für Sterilisationsdienste wächst in den nächsten 5 Jahren mit einer CAGR von 6 %.
Welche Region weist die höchste Wachstumsrate auf dem globalen Markt für Sterilisationsdienste auf?
Der asiatisch-pazifische Raum wächst von 2018 bis 2028 mit der höchsten CAGR.
Welche Region hat den größten Anteil am globalen Markt für Sterilisationsdienste?
Nordamerika hält 2021 den höchsten Anteil.
Wer sind die Hauptakteure auf dem globalen Sterilisationsdienste-Markt?
Steris Corporation, Stryker Corporation, Medistri, Cantel Medical und B. Braun Medical Ltd sind die wichtigsten Unternehmen, die auf dem globalen Markt für Sterilisationsdienste tätig sind.
80%

of our clients seek made-to-order reports. How do you want us to tailor yours?