Markt-Snapshot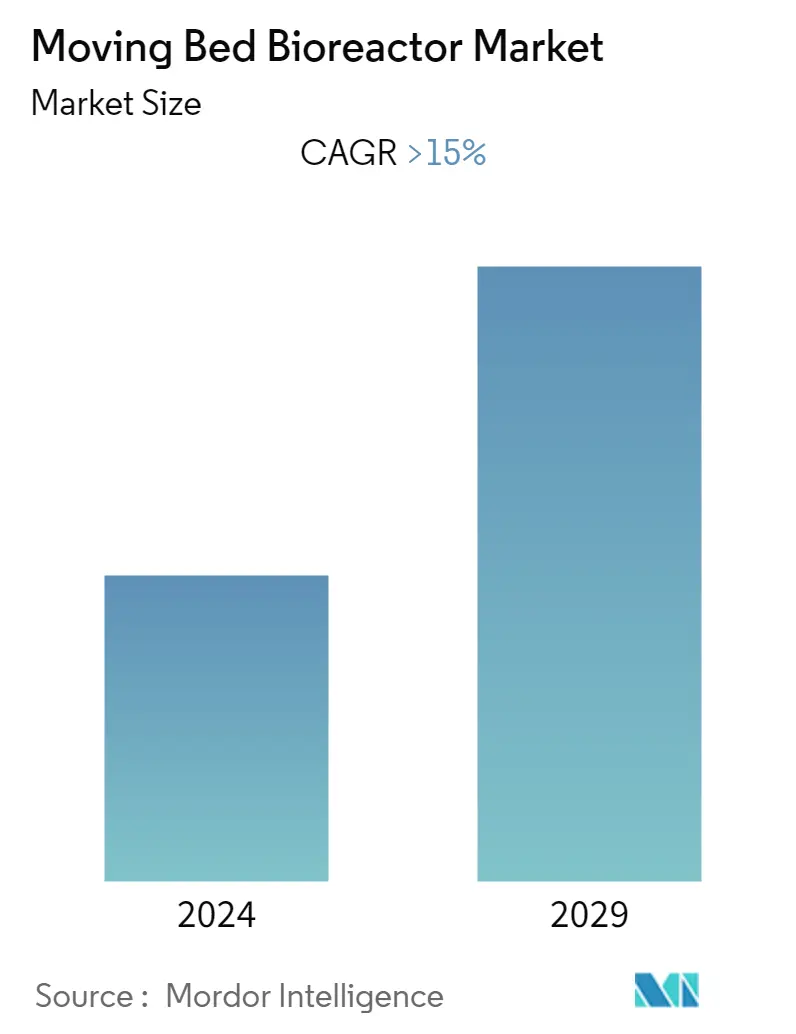 Study Period:
2016 - 2026
Base Year:
2021
Fastest Growing Market:
Asia Pacific
Largest Market:
North America
CAGR:

>

15 %
Need a report that reflects how COVID-19 has impacted this market and its growth?
Marktübersicht
Der Markt für Bewegtbett-Bioreaktoren (MBBR) wird im Prognosezeitraum voraussichtlich eine CAGR von rund 15 % verzeichnen. Einer der wichtigsten Faktoren, die den untersuchten Markt antreiben, ist der Mangel an Süßwasserressourcen in verschiedenen Ländern. Mangelndes Bewusstsein und fehlende Finanzierung für Moving-Bed-Bioreaktoren dürften den Markt jedoch bremsen.
Ineffiziente Bewässerung in der Landwirtschaft dürfte die Nachfrage nach MBBR im Prognosezeitraum ebenfalls ankurbeln.
Die Steigerung von Forschung und Entwicklung im Bereich der Wasseraufbereitungstechnologien wird in den kommenden Jahren wahrscheinlich eine Chance für das Marktwachstum bieten.
Nordamerika dominierte den Markt, indem es den größten Marktanteil einnahm.
Umfang des Berichts
Der Marktbericht für Bioreaktoren mit beweglichem Bett umfasst:
Application
Biochemical Oxygen Demand (BOD)/COD Removal
Nitrification/Denitrification
Other Applications
End-user Industry
Municipal Wastewater Treatment
Food and Beverage
Pulp and Paper
Healthcare
Marine
Poultry and Aquaculture
Other End-user Industries
Geography

Asia-Pacific
China
India
Japan
South Korea
ASEAN Countries
Rest of Asia-Pacific

North America
United States
Canada
Mexico

Europe
Germany
France
United Kingdom
Italy
Rest of the Europe

South America
Brazil
Argentina
Rest of South America

Middle-East and Africa
Saudi Arabia
South Africa
Rest of Middle-East and Africa
Wichtige Markttrends
Kommunale Abwasserbehandlung, um den Markt zu dominieren
Die Anreicherung von Stickstoff- und Phosphorverbindungen durch Einleitung von Abwässern ist eine der Hauptursachen für die Verunreinigung von Gewässern wie Seen und Flüssen. Aus diesem Grund wird MBBR von verschiedenen Ländern zur Behandlung von kommunalem Abwasser eingesetzt.
In letzter Zeit luden MBBRs zunehmendes Forschungsinteresse in die Praxis für kommunale Anwendungen in größerem Maßstab ein. Seine Anwendung hat verschiedene Grade der Modifikation und Weiterentwicklung erfahren. Da der bei MBBR verwendete Träger außerdem eine entscheidende Rolle bei der Gesamtleistung spielt, könnte die Wahl des effizientesten Trägers die MBBR-Leistung verbessern.
MBBR wird hauptsächlich in der kommunalen Abwasserreinigung von Tausenden von Städten auf der ganzen Welt eingesetzt. Nordamerika und Europa adaptieren diese Technologie schneller als die anderen Regionen. Die entwickelten Regionen sind aktiv bei der Einführung neuer Technologien.
Da es sich um eine neue Technologie handelt, verwenden die entwickelten Regionen diese Technologie, um alte Technologien zu ersetzen, die in Abwasserbehandlungsplänen verwendet werden. Abwasser in der kommunalen Behandlung enthält viel Biomasse. MBBR ist eine der besten Lösungen für die Behandlung von Bioabfällen.
Es wird erwartet, dass die entwickelten Regionen Nordamerikas und Europas die Dynamik der Einführung dieser Technologie fortsetzen werden. Die erfolgreiche Einführung dieser Technologie in diesen Regionen ist auch für ihre Adaption in den Entwicklungsländern verantwortlich.
Daher wird erwartet, dass die kommunale Abwasserbehandlung im Prognosezeitraum den Markt dominieren wird.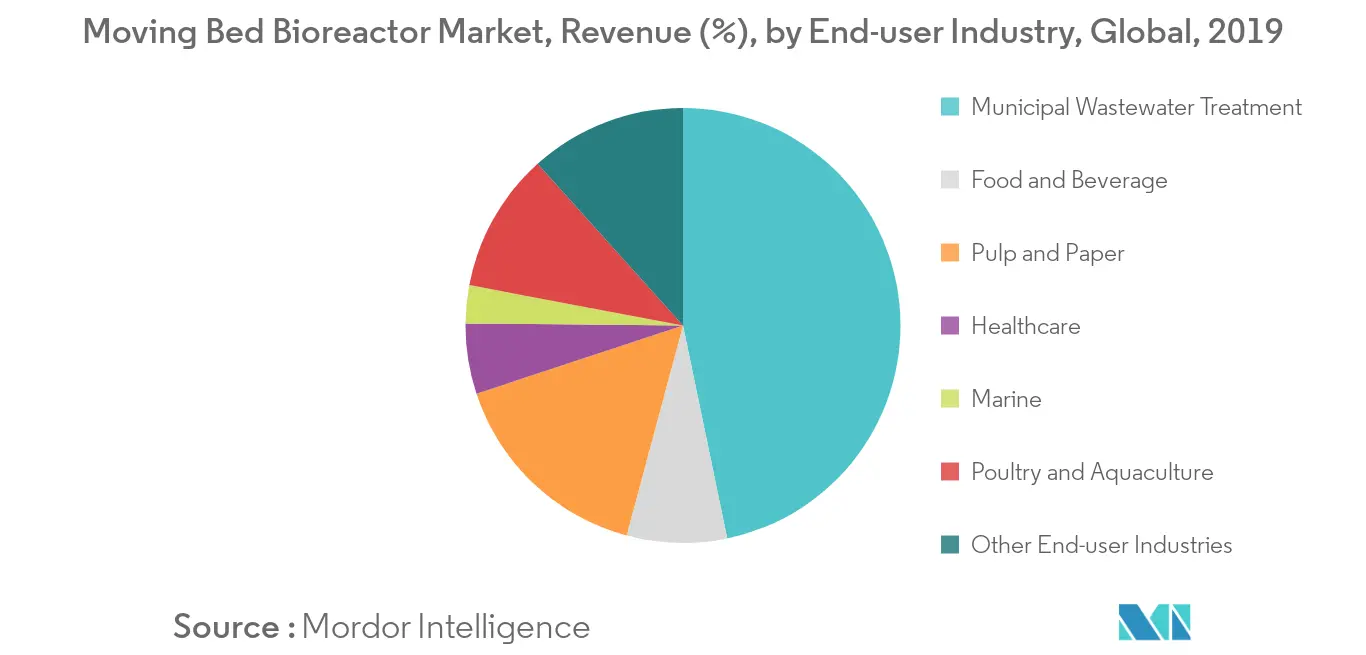 To understand key trends, Download Sample Report
Nordamerika dominiert den Markt
Nordamerika hatte aufgrund der Präsenz von Industrienationen wie den Vereinigten Staaten und Kanada den größten Marktanteil.
Der US-Markt nutzte MBBR seit den 1990er Jahren und leistete Pionierarbeit für viele Forschungs- und Pilotanlagen. Da das Land verschiedene multinationale Fertigungsunternehmen beheimatet, wird die Technologie zur Herstellung effizienter MBBR-Designs in diesem Land entwickelt. Die Konstruktionen wurden für vielfältige Verwendungszwecke entwickelt, wie z. B. kommunale Wasseraufbereitung, Aufbereitung von verarbeitetem Lebensmittelabwasser, Aufbereitung von Zellstoff- und Papierabwässern usw.
Die Vereinigten Staaten sind einer der größten Wasserverbraucher der Welt. Der Wasserverbrauch in den Vereinigten Staaten für Kühlzwecke wird auf 360 Milliarden Gallonen pro Tag geschätzt. Ungefähr 80 % der US-amerikanischen Wasser- und Abwasserbehandlungsindustrie befindet sich in öffentlichem Besitz und wird von der öffentlichen Hand verwaltet.
Der Verpackungsmarkt in den Vereinigten Staaten wird durch die höhere Nachfrage aus der Lebensmittel- und Getränkeindustrie, Pharmazeutika und Medizin, Einzelhandelstüten und anderen Non-Food-Produkten angetrieben.
Der Gesundheitssektor ist einer der wichtigsten Wirtschaftszweige des Landes. Es ist eine der F&E-intensivsten Industrien der Welt. Laut IFPMA soll der Anteil der US-Pharmaindustrie im Jahr 2020 weltweit auf 41 % steigen.
Aufgrund der steigenden Nachfrage aus der Endverbraucherindustrie dürfte Nordamerika daher im Prognosezeitraum den Markt dominieren.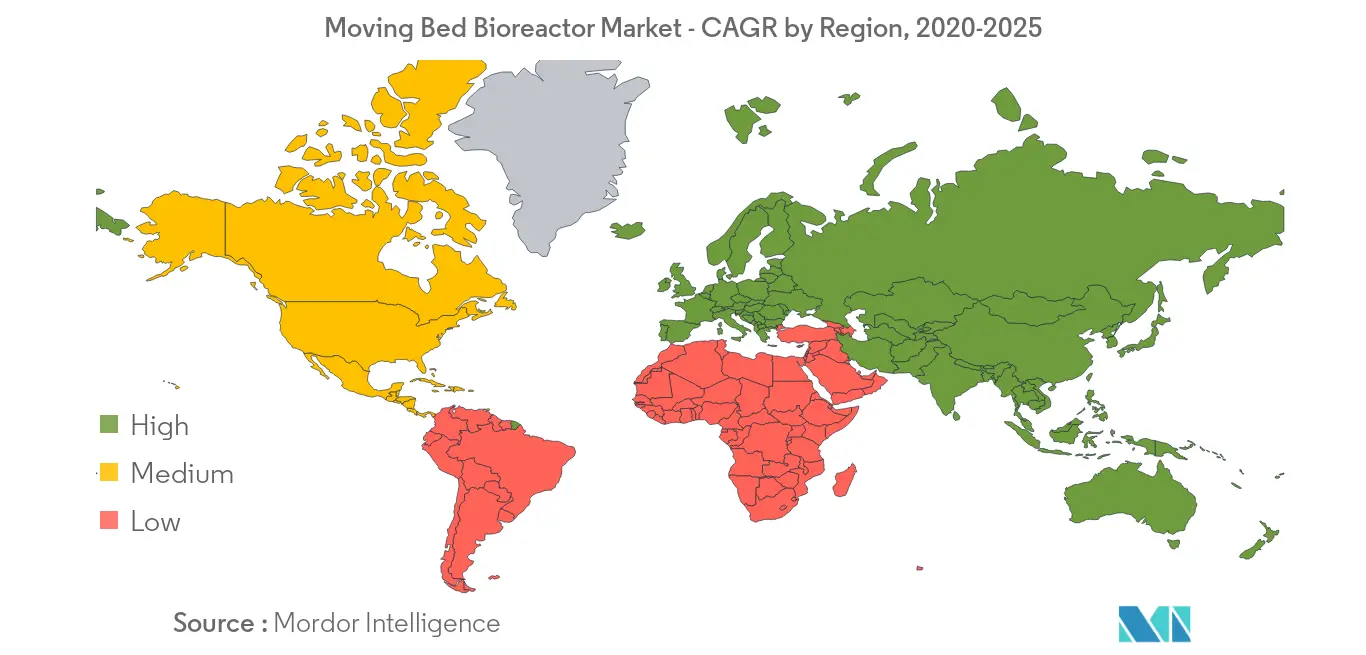 To understand geography trends, Download Sample Report
Wettbewerbslandschaft
Der Markt für Fließbett-Bioreaktoren ist moderat konsolidiert, da der Marktanteil auf wenige Unternehmen verteilt ist. Einige der Hauptakteure auf dem Markt sind unter anderem Veolia, Evoqua Water Technologies LLC, Aquatech International LLC und Biowater Technology AS sowie SUEZ.
Table of Contents
1. INTRODUCTION

1.1 Study Assumptions

1.2 Scope of the Study

2. RESEARCH METHODOLOGY

3. EXECUTIVE SUMMARY

4. MARKET DYNAMICS

4.1 Drivers

4.1.1 Lack of Freshwater Resources in Various Countries

4.1.2 Stringent Laws and Regulations on Emission

4.1.3 Inefficient Irrigation within Agriculture

4.2 Restraints

4.2.1 Lack of Awareness

4.2.2 Impact of COVID-19 Pandemic

4.3 Industry Value Chain Analysis

4.4 Porter's Five Forces Analysis

4.4.1 Bargaining Power of Suppliers

4.4.2 Bargaining Power of Consumers

4.4.3 Threat of New Entrants

4.4.4 Threat of Substitute Products and Services

4.4.5 Degree of Competition

4.5 Technological Snapshot

4.6 Regulatory Policy Analysis

5. MARKET SEGMENTATION

5.1 Application

5.1.1 Biochemical Oxygen Demand (BOD)/COD Removal

5.1.2 Nitrification/Denitrification

5.1.3 Other Applications

5.2 End-user Industry

5.2.1 Municipal Wastewater Treatment

5.2.2 Food and Beverage

5.2.3 Pulp and Paper

5.2.4 Healthcare

5.2.5 Marine

5.2.6 Poultry and Aquaculture

5.2.7 Other End-user Industries

5.3 Geography

5.3.1 Asia-Pacific

5.3.1.1 China

5.3.1.2 India

5.3.1.3 Japan

5.3.1.4 South Korea

5.3.1.5 ASEAN Countries

5.3.1.6 Rest of Asia-Pacific

5.3.2 North America

5.3.2.1 United States

5.3.2.2 Canada

5.3.2.3 Mexico

5.3.3 Europe

5.3.3.1 Germany

5.3.3.2 France

5.3.3.3 United Kingdom

5.3.3.4 Italy

5.3.3.5 Rest of the Europe

5.3.4 South America

5.3.4.1 Brazil

5.3.4.2 Argentina

5.3.4.3 Rest of South America

5.3.5 Middle-East and Africa

5.3.5.1 Saudi Arabia

5.3.5.2 South Africa

5.3.5.3 Rest of Middle-East and Africa

6. COMPETITIVE LANDSCAPE

6.1 Mergers and Acquisitions, Joint Ventures, Collaborations, and Agreements

6.2 Market Ranking Analysis

6.3 Strategies Adopted by Leading Players

6.4 Company Profiles

6.4.1 Aquapoint Inc.

6.4.2 Aquatech International LLC

6.4.3 AqWise - Wise Water Technologies Ltd

6.4.4 Applied Water Solutions Inc.

6.4.5 Biowater Technology AS

6.4.6 Evoqua Water Technologies LLC

6.4.7 Genesis Water Technologies

6.4.8 Headworks Inc.

6.4.9 Ovivo

6.4.10 SUEZ

6.4.11 Veolia

6.4.12 Wock-Oliver Inc.

6.4.13 World Water Works Inc.

*List Not Exhaustive

7. MARKET OPPORTUNITIES AND FUTURE TRENDS

7.1 Increasing Demand from the Municipal and Manufacturing Sector
You can also purchase parts of this report. Do you want to check out a section wise price list?
Frequently Asked Questions
Was ist der Untersuchungszeitraum dieses Marktes?
Der Markt für bewegliche Bettbioreaktoren wird von 2016 bis 2026 untersucht.
Wie hoch ist die Wachstumsrate des Moving Bed Bioreactor-Marktes?
Der Moving Bed Bioreactor-Markt wächst in den nächsten 5 Jahren mit einer CAGR von >15 %.
Welche Region weist die höchste Wachstumsrate auf dem Moving Bed Bioreactor-Markt auf?
Der asiatisch-pazifische Raum wächst zwischen 2021 und 2026 mit der höchsten CAGR.
Welche Region hat den größten Anteil am Moving Bed Bioreactor-Markt?
Nordamerika hält 2021 den höchsten Anteil.
Wer sind die wichtigsten Hersteller auf dem Moving Bed Bioreactor-Markt?
Veolia, Evoqua Water Technologies LLC, Aquatech International LLC, Biowater Technology AS und SUEZ sind die wichtigsten Unternehmen, die auf dem Markt für Bewegtbett-Bioreaktoren tätig sind.
80%

of our clients seek made-to-order reports. How do you want us to tailor yours?