市场快照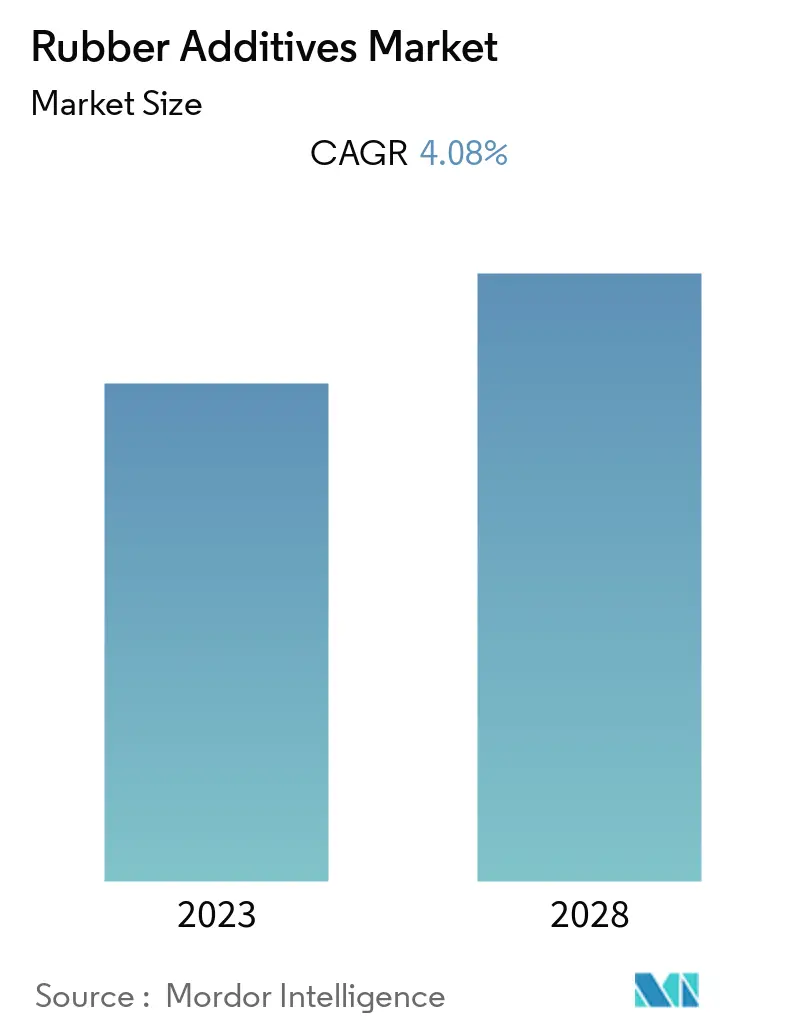 Study Period:
2016 - 2026
Base Year:
2021
Fastest Growing Market:
North America
Largest Market:
Asia Pacific
CAGR:
4.08 %
Need a report that reflects how COVID-19 has impacted this market and its growth?
市场概况
到 2026 年,橡胶添加剂市场预计将达到 64.9306 亿美元,在预测期间(2021-2026 年)的复合年增长率为 4.08%。轮胎和橡胶行业的增长以及建筑行业非轮胎领域的需求增长是推动研究市场需求的主要因素。另一方面,环境问题、汽车行业下滑和 COVID 19 的影响预计将阻碍市场的增长。
轮胎制造中的应用主导了市场,并且由于消费者对更耐用和持久产品的需求不断增加,预计在预测期内将增长。
开发新的添加剂来生产提高最终产品耐久性的高性能橡胶很可能成为未来的机会。
亚太地区主导橡胶添加剂市场,印度、中国、日本推动消费。
报告范围
橡胶添加剂市场按类型、应用和地理区域划分。按类型,市场按促进剂、活化剂、硫化抑制剂、增塑剂和其他类型进行细分,根据应用,市场分为轮胎、传送带、电缆和其他应用。该报告还涵盖了主要地区 15 个国家的橡胶添加剂市场的市场规模和预测。对于每个细分市场,市场规模和预测都是根据收入(百万美元)进行的。
Type
Accelerators
Activators
Vulcanization Inhibitors
Plasticizers
Other Types
Application
Tires
Conveyor Belts
Electric Cables
Other Applications
Geography

Asia-Pacific
China
India
Japan
South Korea
Rest of Asia-Pacific

North America
United States
Canada
Mexico

Europe
Germany
United Kingdom
France
Italy
Rest of Europe

South America
Brazil
Argentina
Rest of South America

Middle-East and Africa
Saudi Arabia
South Africa
Rest of Middle-East and Africa
主要市场趋势
激活剂细分市场主导市场
为了获得某些必要的性能,将许多组分添加到天然橡胶和合成橡胶中。两种主要成分在硫化化学中很重要,被称为"活化剂",通常是氧化锌和硬脂酸。氧化锌(ZnO)是一种白色粉末和无机化合物,不溶于水。它是使用初级金属锌、氧化锌残渣、受污染的锌复合物、锌盐等原材料生产的。硬脂酸作为一种活化剂出现,可引发促进剂的反应。了解差异有助于了解为什么这两个组件对于某些流程的成功至关重要。
氧化锌被认为是橡胶制造领域硫磺硫化的重要活化剂。作为硫化过程中的重要促进剂,氧化锌是大多数橡胶制品中的重要成分,其作用也对橡胶成品的物理性能产生影响。氧化锌还提高了硫化橡胶的抗老化性能。ZnO 具有非常高的耐热稳定性(耐热性)。因此,它主要用于轮胎制造,因此即使在高温下由于高速,轮胎也很安全。硬脂酸充当催化过程化学品的活化剂。通常,硬脂酸与氧化锌反应作为活化剂,同时作为功能性金属硬脂酸盐具有辅助润滑性能。橡胶化合物中活化剂的用量在 3-7 份之间变化。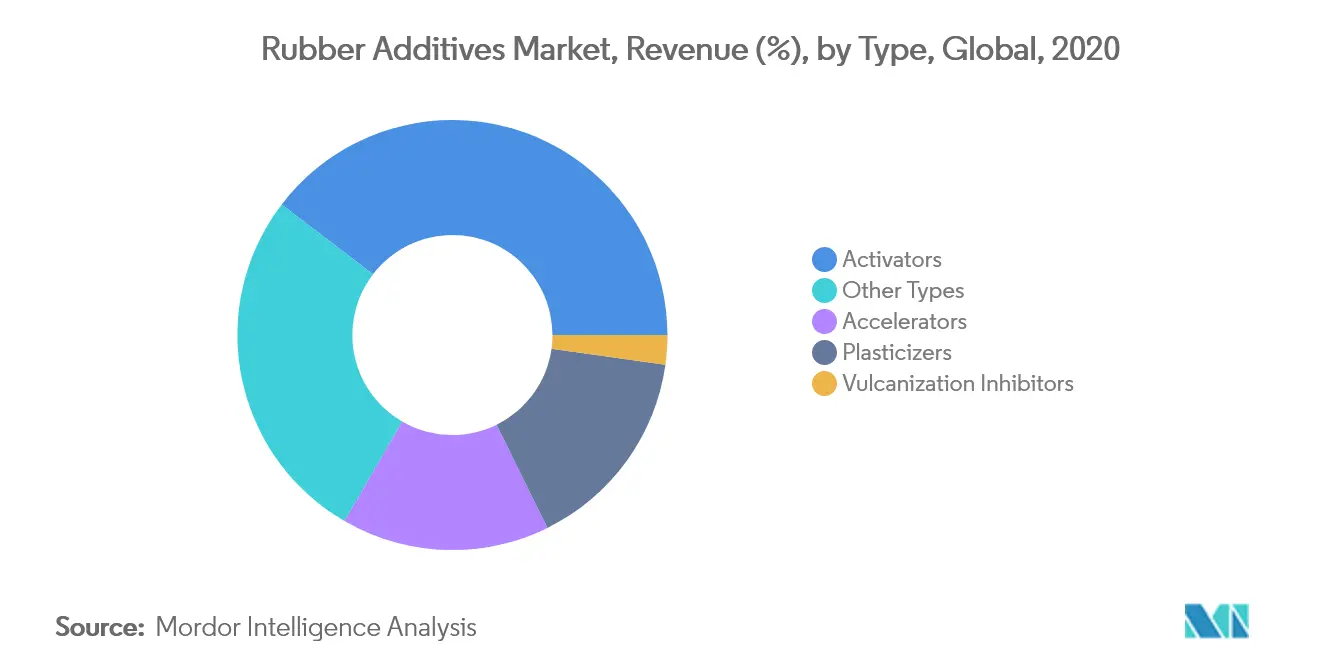 To understand key trends, Download Sample Report
亚太地区将主导市场
In the Asia-Pacific region, China is the largest economy in terms of GDP. The country witnessed about 6.1% growth in its GDP during 2019, even after the trade disturbance caused due to its trade war with the United States. The economic growth rate of China in 2020 was initially expected to be moderate as compared to the previous year. However, due to the onset of COVID-19 in 2020, the economic growth of China is estimated to contract to some extent and is expected to witness recovery in 2021.
Rubber additives are widely used in the processing of rubber and its allied products. The growing demand for rubber in tire manufacturing in the automotive sector has been driving the market for rubber additives. The recovering automotive industry and resuming of other rubber-based industries in the country is expected to drive the market studied in near future. China is one of the largest producers of natural rubber, churning out about 800,000 tons of material every year and also there is a potential for rubber additives in the country as they are used both to process natural and synthetic rubber. China's tire production and sales volume recorded continuous drops in the past 2-3 years, owing to the negative trends in local automotive industry. The automotive production and sales in China recorded negative growth rates of 7.5% & 8.2%, respectively, for the first time after two decades, in 2019. Furthermore, the domestic automotive production and sales recorded negative growth rates of 2% & 1.9%, respectively in 2020, owing to the pandemic and subsequent lockdowns depicting a negative market outlook temporarily. Moreover, apart from a drop in domestic consumption, the United States and the European Union's anti-dumping tariffs also are casting a heavy shadow, as more than 40% of China's tires are exported to these two markets. This is further expected to hinder the production volumes of tires thereby having an impact on the market or rubber additives .
China exported 5.4 million metric ton of tires in 2018. Almost 40% of the passenger car tires (which totaled to two million metric ton) were exported to the United States and the European Union. Of the 3.4 million metric ton of truck and bus tires exported, nearly 25% were sold in these markets. Due to this imposed tariffs In June 2019, players such as Kenda Rubber Industrial Co. Ltd was reported to have transferred some of its tire production from Chinese factories to other Asian regions. Moreover, according to China Rubber Industry Association (CRIA), China's truck and bus tire production in 2019 was 41.64 million units, a fall by 4.6% as compared to that of 2018. In addition, the overall production (including bias tires) declined by 1.8% in 2019 (estimation) depiction a negative impact on the market studied. However, this discouraging situation is expected to be neutralized by the 14th Five-Year Plan of China for rubber industry which is expected to boost the market in for rubber additives in the coming years. By 2025, China is also projected to produce nearly 704 million tires per year, including 527 million passenger radial tires, 148 million truck/bus radial tires, 29 million bias truck tires, 20,000 extra-large industrial tires, 12 million agricultural tires and 54,000 aircraft tires. In addition, China is likely to produce 120.7 million motorcycle tires and 420 million bicycle tires annually by 2025. This is quite instrumental in propelling the market demand for rubber additives in the country over the forecast period.
Additionally, two advanced synthetic rubber projects were approved in China in October 2020. Petrochemical Research Institute of CNPC and Shandong Yulong Petrochemical Co. Ltd. formally signed the "Technical License Contract for TBIR and Integrated Rubber." TBIR is a copolymer rubber of butadiene and isoprene. It is a synthetic rubber that has not yet been industrialized in China. It can be widely used for high-performance tires, low-temperature components and sealing materials required by the military industry, and broad industrial application prospects. Integrated rubber is the third-generation SSBR, which has combined advantages of Natural Rubber, Butadiene Rubber, and SBR. During the processing all these rubbers in tire, cables or conveyor belts manufacturing different kinds of rubber additives are used to enhance their properties. With growth in these production lines, the demand for rubber additives market is also estimated to grow gradually in the coming years.
Rubber is resistant to several chemicals used in a car and can withstand the heat and cold. Rubber is also used to make gaskets used in cars, which help create a seal so there is no leak when fluids are flowing through junction areas in a pipe or a hose. Rubber is also used to cover electrical wires and to create shields for electrical parts and pieces in a car. According to the China Association of Automobile Manufacturers (CAAM), the automotive production is estimated to have declined by about 2% in 2020. Due to the coronavirus pandemic and the implementation of lockdown, the automotive manufacturing units have been shut down in the first quarter. However, the number of passenger cars produced in November 2020 is about 2.33 million, which registered a staggering 11.8% month-on-month growth, while 518 thousand commercial vehicles were produced in November with a 10.6% M-o-M growth. In 2019, the number of passenger cars produced from January to November is down by 8.1% year-on-year compared to the same period in 2020, while commercial vehicle production increased by 22.2% during the same period. The uncertainties in the automobile industry are estimated to have an impact on the market studied lately. Post recovery from the impact of COVID-19 outbreak which led to a dip in the demand for rubber additives in the country, the industrial demand is expected to normalize from 2021, creating scope for growth of the market studied in the coming years.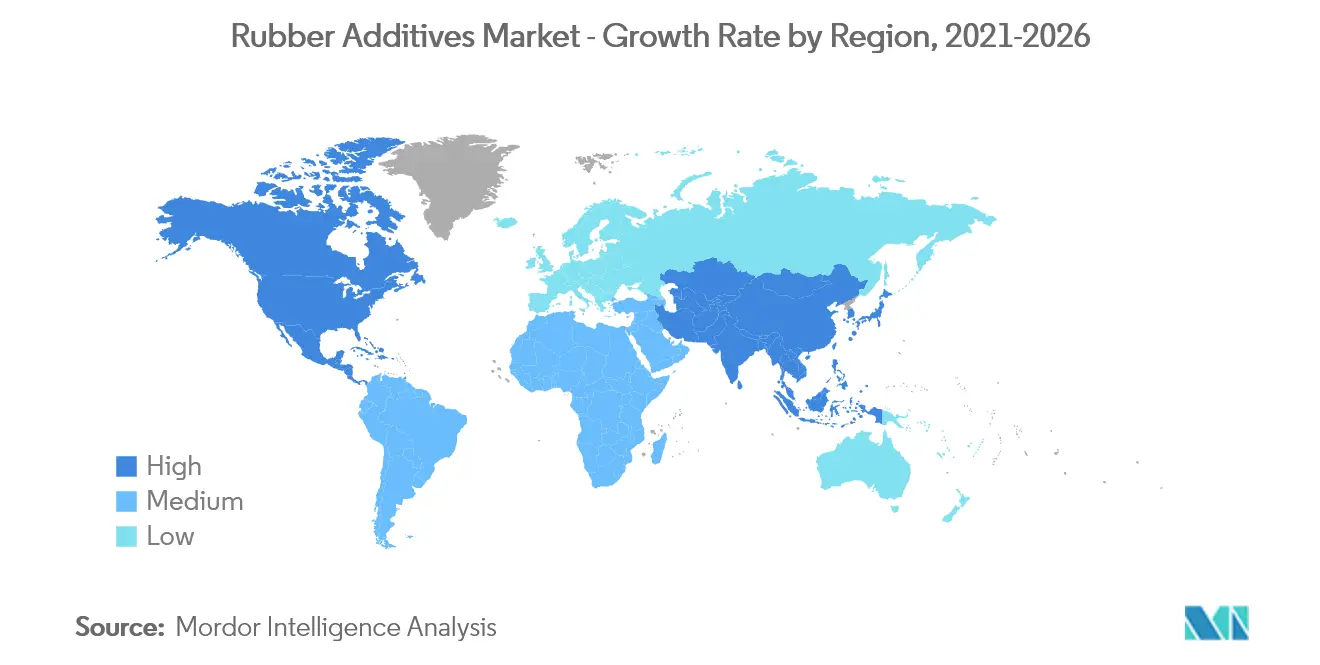 To understand geography trends, Download Sample Report
竞争格局
全球橡胶助剂市场在本质上是部分整合的,前 5 名参与者合计占整个市场的 40% 以上。主要参与者还专注于研发活动,开发产品开发的创新技术,参与并购以增加其市场份额,并优化供应链以提高其在市场上的效率和专业化。所研究市场的主要参与者包括中国阳光化工控股有限公司、莱茵化学(朗盛)、伊士曼化学公司、中国石化集团公司(中石化)和 NOCIL LIMITED 等。
竞争格局
全球橡胶助剂市场在本质上是部分整合的,前 5 名参与者合计占整个市场的 40% 以上。主要参与者还专注于研发活动,开发产品开发的创新技术,参与并购以增加其市场份额,并优化供应链以提高其在市场上的效率和专业化。所研究市场的主要参与者包括中国阳光化工控股有限公司、莱茵化学(朗盛)、伊士曼化学公司、中国石化集团公司(中石化)和 NOCIL LIMITED 等。
Table of Contents
1. INTRODUCTION

1.1 Study Assumptions

1.2 Scope of the Study

2. RESEARCH METHODOLOGY

3. EXECUTIVE SUMMARY

4. MARKET DYNAMICS

4.1 Drivers

4.1.1 Rapidly Increasing Demand from Tire Manufacturing Industry

4.1.2 Growing Demand from the Non-Tire Segment in the Construction Industry

4.2 Restraints

4.2.1 Environmental Constraints Pertaining to Rubber Chemicals

4.2.2 Declining Automotive Industry

4.3 Industry Value Chain Analysis

4.4 Porter's Five Forces Analysis

4.4.1 Threat of New Entrants

4.4.2 Bargaining Power of Buyers

4.4.3 Bargaining Power of Suppliers

4.4.4 Threat of Substitute Products

4.4.5 Degree of Competition

5. MARKET SEGMENTATION

5.1 Type

5.1.1 Accelerators

5.1.2 Activators

5.1.3 Vulcanization Inhibitors

5.1.4 Plasticizers

5.1.5 Other Types

5.2 Application

5.2.1 Tires

5.2.2 Conveyor Belts

5.2.3 Electric Cables

5.2.4 Other Applications

5.3 Geography

5.3.1 Asia-Pacific

5.3.1.1 China

5.3.1.2 India

5.3.1.3 Japan

5.3.1.4 South Korea

5.3.1.5 Rest of Asia-Pacific

5.3.2 North America

5.3.2.1 United States

5.3.2.2 Canada

5.3.2.3 Mexico

5.3.3 Europe

5.3.3.1 Germany

5.3.3.2 United Kingdom

5.3.3.3 France

5.3.3.4 Italy

5.3.3.5 Rest of Europe

5.3.4 South America

5.3.4.1 Brazil

5.3.4.2 Argentina

5.3.4.3 Rest of South America

5.3.5 Middle-East and Africa

5.3.5.1 Saudi Arabia

5.3.5.2 South Africa

5.3.5.3 Rest of Middle-East and Africa

6. COMPETITIVE LANDSCAPE

6.1 Mergers and Acquisitions, Joint Ventures, Collaborations, and Agreements

6.2 Market Ranking Analysis

6.3 Strategies Adopted by Leading Players

6.4 Company Profiles

6.4.1 BASF SE

6.4.2 Behn Meyer

6.4.3 China Petrochemical Corporation (SINOPEC)

6.4.4 China Sunsine Chemical Holdings Limited

6.4.5 Eastman Chemical Company

6.4.6 Emery Oleochemicals

6.4.7 Kemai Chemical Co. Ltd

6.4.8 MLPC International (Arkema Group)

6.4.9 NOCIL LIMITED

6.4.10 PUKHRAJ ZINCOLET

6.4.11 Rhein Chemie (Lanxess)

6.4.12 Sumitomo Chemical Co. Ltd

6.4.13 Thomas Swan & Co. Ltd

*List Not Exhaustive

7. MARKET OPPORTUNITIES AND FUTURE TRENDS

7.1 Growing Demand From Electric Vehicles

7.2 Development of Bio-based Rubber Additives
You can also purchase parts of this report. Do you want to check out a section wise price list?
Frequently Asked Questions
What is the study period of this market?
The Rubber Additives Market market is studied from 2016 - 2026.
What is the growth rate of Rubber Additives Market?
The Rubber Additives Market is growing at a CAGR of 4.08% over the next 5 years.
Which region has highest growth rate in Rubber Additives Market?
North America is growing at the highest CAGR over 2021- 2026.
Which region has largest share in Rubber Additives Market?
Asia Pacific holds highest share in 2021.
Who are the key players in Rubber Additives Market?
China Petrochemical Corporation (Sinopec), China Sunsine Chemical Holdings Limited, Rhein Chemie (LANXESS), Eastman Chemical Company, NOCIL LIMITED are the major companies operating in Rubber Additives Market.
80%

of our clients seek made-to-order reports. How do you want us to tailor yours?