According to the US Energy Information Administration (EIA), the US power grid consists of more than 7,300 power plants, nearly 160,000 miles of high-voltage power lines, and millions of low-voltage power lines and distribution transformers, which connect 145 million customers. However, the US market for electricity is trifurcated and is in transition, often leading to the power outage, which, in turn, is expected to supplement the demand for generator sets in the country. Although, the majority of the demand for generators came from the household segment in 2017; the commercial and industrial sectors are projected to witness higher growth rate than the residential segment during the forecast period, 2018 - 2023. However, on the flip side, the increasing deployment of renewable sources of power generation, including the feed-in-tariffs given by the government, is expected to act as a restraining factor for the growth of the electric generators market.
Heightened Power Blackouts – Driving the Market
Factors, such as frequent hurricanes and thunderstorms, cause disruption to the well-established, but aging electricity transmission network, in the country. While there exist backup generation facilities, they are not sufficient to fulfill the energy requirement of the technological super power. In such a scenario, the usage of electric generators is necessary, without which, the loss incurred is often in multi-billion dollars. Electrical power outages, surges, and spikes are estimated to cost more than USD 150 billion in annual damages to the US economy. The power outages in the recent years have drastically increased in the United States, owing to the aging power grid infrastructure. In 2016, approximately 18 million people were affected by 3,879 power outages lasting over 48 minutes on average, with California topping the list of states in the United States. Generators' demand is expected to increase during the forecast period, to manage grid efficiency and ensure that electricity supply is in a constant balance with the power demand.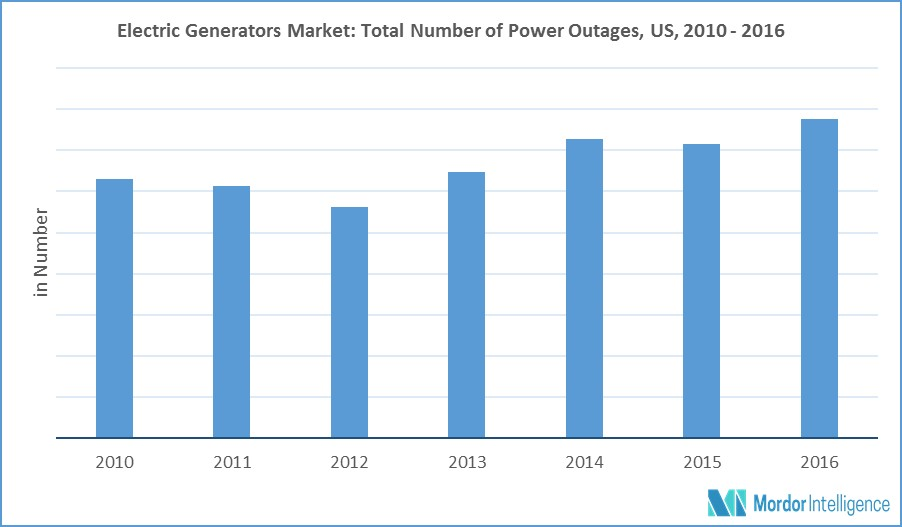 Natural Gas-fired Electric Generators to Register High Demand
In 2016, 42% of the operating electricity generating capacity in the United States was accounted by the natural gas-fired generators. Furthermore, an additional 11.2 GW gigawatt (GW) and 25.4 GW of natural gas-fired generating capacity is scheduled for commissioning in 2017 and 2018, respectively. On a combined basis, these 2017-18 additions would increase natural gas capacity by 8% from the capacity in 2016. Depending on the utilization and timing of these plants, the new additions would further strengthen the status of natural gas as the primary energy source of power generation in the country, even if natural gas prices rise moderately. Moreover, US shale revolution has opened up vast reserves of natural gas for consumption, which blends perfectly with the nation's ambition of power generation from environmental-friendly fuel. The benefits possessed by natural gas and nation ambition of clean energy-based power generation are expected to increase the demand for natural gas-fired generators across residential, commercial, and industrial sectors of the United States. The demand for natural gas-fired generators from the oil & gas production sites have seen an unprecedented increase during the past few years and is expected to increase further during the forecast period, 2018 - 2023.
Notable Developments in the Market
May 2017: Caterpillar adds 12 kW model to its portable power range.
February 2017: The US registers largest net change in its electric generation capacity since 2011, with a special focus on natural gas.
MAJOR PLAYERS: AKSA Power Generation, Briggs & Stratton Corporation, Caterpillar Inc., Cooper Corporation, Cummins Inc., Generac Holdings, Inc., Honda Power Equipment Mfg., Inc., Kohler Co., MTU Onsite Energy
Reasons to Purchase this Report
Identify the drivers, restraints, and government rules and regulations supporting the demand for US electric generators.
Analyze the various perspectives of the country's market dynamics with the help of PESTLE analysis.
Analyze the demand forecast of the market in terms of fuel and capacity type, with in-depth analysis.
Identify the applications of electric generators across various sectors and forecast the market accordingly.
Identify the latest developments, market shares, and strategies employed by the major market players.
3 months analyst support, along with the Market Estimate sheet (in excel).
Customization of the Report
This report can be customized to meet your requirements. Please connect with our representative, who will ensure you to get a report that suits your needs.
1. Executive Summary
2. Research Methodology
3. Market Overview
3.1 Introduction
3.2 Market Size and Demand Forecast until 2023
3.3 Recent Trends and Developments
3.4 Government Policies & Regulations
4. Market Dynamics
4.1 Drivers
4.2 Restraints
4.3 Opportunities
5. PESTLE Analysis
6. US Generator Sets Market Analysis, by Fuel Type (Overview, Market Size & Demand Forecast until 2023)
6.1 Gas
6.2 Diesel
6.3 Dual Fuel
6.4 Others
7. US Generator Sets Market Analysis, by Capacity (Overview, Market Size & Demand Forecast until 2023)
7.1 0-100 KVA
7.2 100 - 350 KVA
7.3 350 - 1000 KVA
7.4 Above 1000kVA
8. US Generator Sets Market Analysis, by Sector (Overview, Market Size & Demand Forecast until 2023)
8.1 Residential
8.2 Commercial
8.3 Industrial
9. Key Company Analysis* (Overview, Products & Services, Financial Analysis**, Recent Development and Analyst View)
9.1 AKSA Power Generation
9.2 Briggs & Stratton Corporation
9.3 Caterpillar Inc.
9.4 Cooper Corporation
9.5 Cummins Inc
9.6 Generac Holdings, Inc.
9.7 Honda Power Equipment Mfg., Inc.
9.8 Kohler Co.
9.9 MTU Onsite Energy
(*List of companies is not exhaustive. Please let us know if you are interested in any company profile)
10. Competitive Landscape
10.1 Mergers & Acquisitions
10.2 Joint Ventures, Collaborations and Agreements
10.3 Market Share Analysis
10.4 Strategies adopted by leading players
11. Appendix
11.1 Contact Us
11.2 Disclaimer
(**Subject to availability on public domain)