The self-service market was valued at USD 21.2 billion in 2017 and is projected to reach USD 45.3 billion by the end of 2023, growing at a CAGR of 13.3% over the forecast period of 2018 -2023. The scope of the report is limited to the type self-service and its uses in various industries. The regions considered in the scope of the report include - North America, Europe, Asia-Pacific, Latin America, and Middle East & Africa.
Self-service systems are interactive devices with a user interference designed to serve the user needs for different operations. These terminals use specialized hardware and software components developed to provide information and other applications to the users.
With the growing demand for intelligent vending machines, technological advancements, and ever-expanding small and medium enterprise, the self-service market is expected to grow. However, high cost of investment may offer some resistance to its growth.
Automated Teller Machine (ATM)
Growing inclination towards the adoption of ATMs in banking sectors and other industries is one of the primary factors driving the growth of the self-service market. With increasing population and growing adoption of banking services among the public, the demand for ATMs is growing at a rapid pace.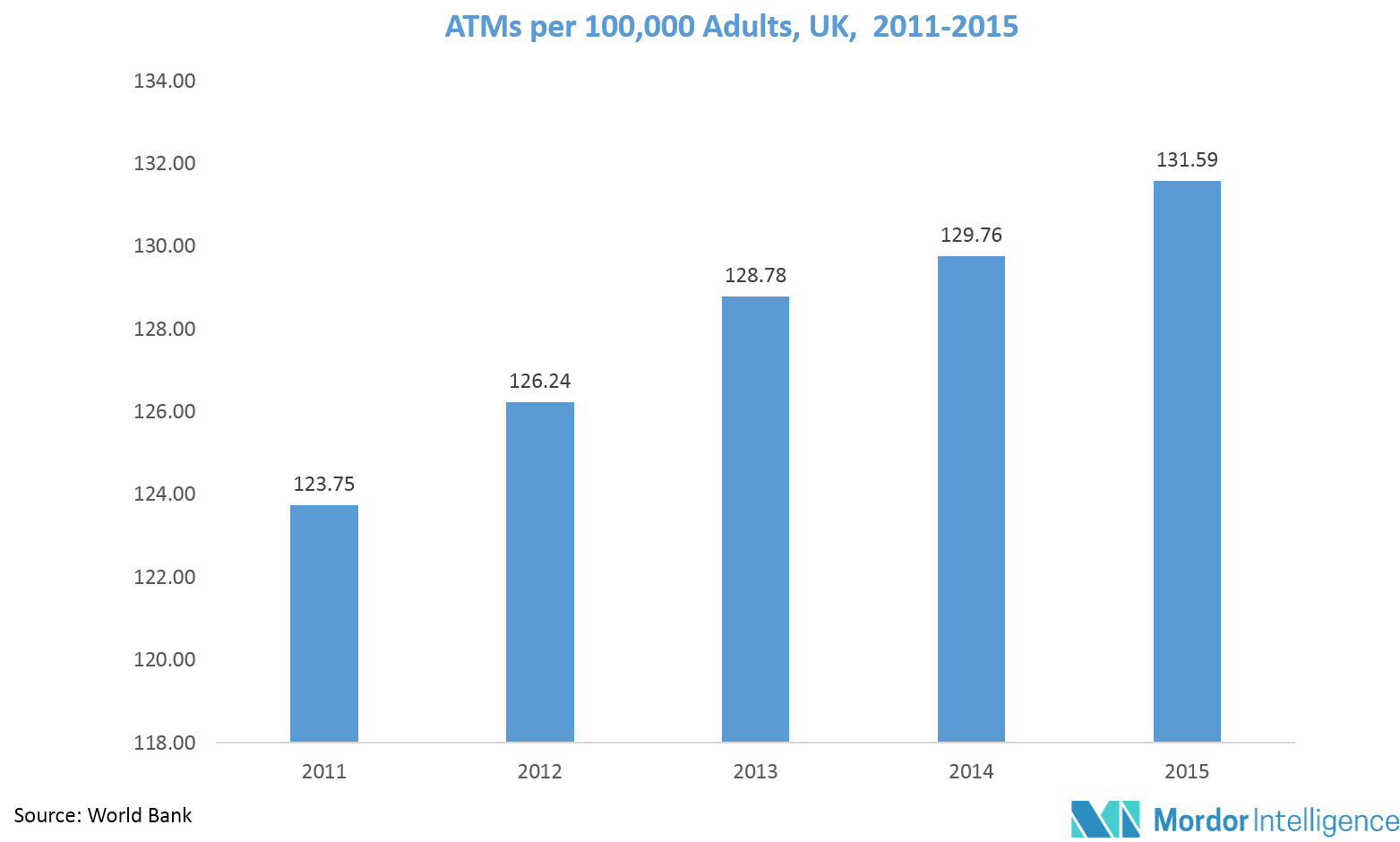 Moreover, huge investments to provide reliable ATMs and kiosk systems are helping the growth of this market. Kiosk systems are presumed to be largely influencing the consumer perspective by providing easy, innovative, and better customer service.
Enhanced Customer Buying Experience and Improved Customer Service
Many industries in emerging economies are struggling to attract customers and hold the existing consumers for the product or service. The retail market is one of the major industries facing challenges to meet consumer requirements. Moreover, users in the Asia-Pacific and Latin American countries are price sensitive. Thus, it is of utmost importance for companies to provide quality customer services and enhance user experience. Users in these economies prefer stores that not only provide an easy and hassle-free shopping experience, but also offer better quality. Thus, various industries are investing in kiosks as they offer easy access to information about availability of the products. Several retail stores are increasingly employing self-check of kiosks and POS systems, which enable a faster shopping experience. Kiosks help retail stores retain their customers by not only providing customer delight to customers but also eliminating the need for labor.
Key Developments in the Market
March 2018 - NCR Corporation launched NCR SelfServ 80 Series, a new family of ATM solutions that will help financial institutions redefine the banking experience and change the way consumers interact with the ATM forever. Through a unique combination of innovation across software, hardware, and services, consumers and financial institutions will gain many new benefits from this mobile-ready ATM solution.
September 2017 - Glory and Acrelec introduced self-ordering kiosk accepting cash and credit for Foodservice at FSTEC.
Major Players - KIOSK Information Systems Inc., NCR Corporation, HESS Cash systems GmbH & Co, Glory Ltd, Azkoyen Group, and IBM Corporation, among others.
Reasons to Purchase the Report
Current and future self-service market analysis in the developed and emerging markets
Analyzing various perspectives of the market with the help of Porter's five forces analysis
The segment that is expected to dominate the market
Regions that are expected to witness fastest growth during the forecast period
Latest developments, market shares, and strategies employed by the major market players
3 month analyst support, along with the Market Estimate sheet (in Excel)
Customization of the Report
This report can be customized to meet your requirements. Please connect with our representative, who will ensure you to get a report that suits your needs.
1. Introduction
1.1 Scope of the Study
1.2 Executive Summary
2. Research Approach and Methodology
2.1 Key Deliverables of the Study
2.2 Study Assumptions
2.3 Analysis Methodology
2.4 Research Phases
3. Market Insights
3.1 Market Overview
3.2 Industry Attractiveness – Porter's Five Forces Analysis
3.2.1 Bargaining Power of Suppliers
3.2.2 Bargaining Power of Consumers
3.2.3 Threat of New Entrants
3.2.4 Threat of Substitutes
3.2.5 Intensity of Competitive Rivalry
4. Market Dynamics
4.1 Market Drivers
4.1.1 Growing Demand for Intelligent Vending Machines
4.1.2 Expanding Market in Small and Medium Enterprises
4.1.3 Enhanced Customer Buying Experience and Improved Customer Service
4.1.4 Technological Advancements
4.2 Market Restraints
4.2.1 Data Security Concern
4.2.2 High Investment Costs
5. Global Self Service Market Segmentation
5.1 By Type
5.1.1 Self-service Terminals
5.1.1.1 Automated Teller Machine (ATM)
5.1.1.1.1 Conventional ATM
5.1.1.1.2 White Label ATM
5.1.1.1.3 Brown Label ATM
5.1.1.1.4 Smart ATM
5.1.1.1.5 Cash Dispenser
5.1.1.2 Kiosks
5.1.1.2.1 Photo Kiosk
5.1.1.2.2 Ticketing kiosk
5.1.1.2.3 DVD Kiosk
5.1.1.2.4 HR and Employment Kiosk
5.1.1.2.5 Patient Self-Service Kiosk
5.1.1.2.6 Information Providing Kiosk
5.1.1.2.7 Banking and Financial Kiosk
5.1.1.3 Vending Machines
5.1.1.3.1 Beverage Vending Machine
5.1.1.3.2 Candy Vending Machine
5.1.1.3.3 Snack Vending Machine
5.1.1.3.4 Gumball Vending Machine
5.1.1.3.5 Cigarette Vending Machine
5.1.1.3.6 Specialized Vending Machine
5.1.2 Services
5.2 By End-user Industry
5.2.1 Healthcare
5.2.2 BFSI
5.2.3 Manufacturing
5.2.4 Retail
5.2.5 IT & Telecom
5.2.6 Transportation & Logistics
5.2.7 Media & Entertainment
5.2.8 Energy & Utilities
5.2.9 Others
5.3 By Region
5.3.1 North America
5.3.1.1 US
5.3.1.2 Canada
5.3.2 Europe
5.3.2.1 UK
5.3.2.2 Germany
5.3.2.3 France
5.3.2.4 Italy
5.3.2.5 Russia
5.3.2.6 Rest of Europe
5.3.3 Asia-Pacific
5.3.3.1 China
5.3.3.2 Japan
5.3.3.3 India
5.3.3.4 South Korea
5.3.3.5 Australia
5.3.3.6 Rest of Asia-Pacific
5.3.4 Latin America
5.3.4.1 Mexico
5.3.4.2 Brazil
5.3.4.3 Argentina
5.3.4.4 Rest of Latin America
5.3.5 Middle East & Africa
5.3.5.1 Saudi Arabia
5.3.5.2 UAE
5.3.5.3 Turkey
5.3.5.4 Rest of Middle East & Africa
6. Competitive Intelligence – Company Profiles
6.1 KIOSK Information Systems Inc.
6.2 NCR Corporation
6.3 HESS Cash systems GmbH & Co
6.4 Crane Co. (USA)
6.5 Glory Ltd
6.6 Azkoyen Group
6.7 Fujitsu
6.8 Vend-Rite
6.9 Maas International Europe B.V.
6.10 IBM Corporation
*List is Not Exhaustive
7. Investment Analysis
8. Outlook of Self Service Market