The global prepreg market is expected to grow at a significant rate during the forecast period, majorly driven by the rising demand from wind energy and aerospace & defense applications. Prepregs are composites, impregnated with reinforcement fibers that provide several advantages, such as corrosion resistance, higher strength to weight ratio, lower maintenance, and longer lifecycle in comparison to traditional counterparts of steel and aluminum.
Growing Demand from Aerospace & Defense Sector Driving the Market
In the aerospace sector, prepregs provide a broad range of strong, light, and fire-retardant aerospace materials that are suited for interior or structural components, such as passenger and cargo floor panels, plenums, overhead compartments, trailing edges etc. Prepregs have revolutionized the number of applications in aerospace, as a consequence of a paradigm shift toward process and cost efficiency in manufacturing.
Aerospace & Defense the Dominating End-user Industry
Owing to their superior strength-to-weight ratio, a high demand for prepregs is expected from the aerospace sector. Prepregs (especially carbon prepregs) are increasingly being used to replace their metal counterparts to manufacture interior and exterior structures, as the specific strength and modulus of the former are higher than most metallic alloys. Increased expenditure on specialized military equipment in the defense sector, due to the current increase in defense budgets and the resurgence of global security threats in key nations, such as the United Kingdom, France, Japan, and several Middle Eastern countries, is expected to boost the demand for prepregs in the forecast period.
Asia-Pacific Dominating the Prepreg Market
Asia-Pacific is estimated to be the fastest-growing market for prepreg from 2018-23. The growth in the wind energy industry, large investment by government in aerospace & defense, and new product developments by various leading players are some of the factors leading to the growth of the prepreg market in the region. China is the largest market of prepreg in Asia-Pacific. Its consumption of prepreg has grown remarkably, due to growth in the wind energy, sporting goods, and aerospace & defense industries.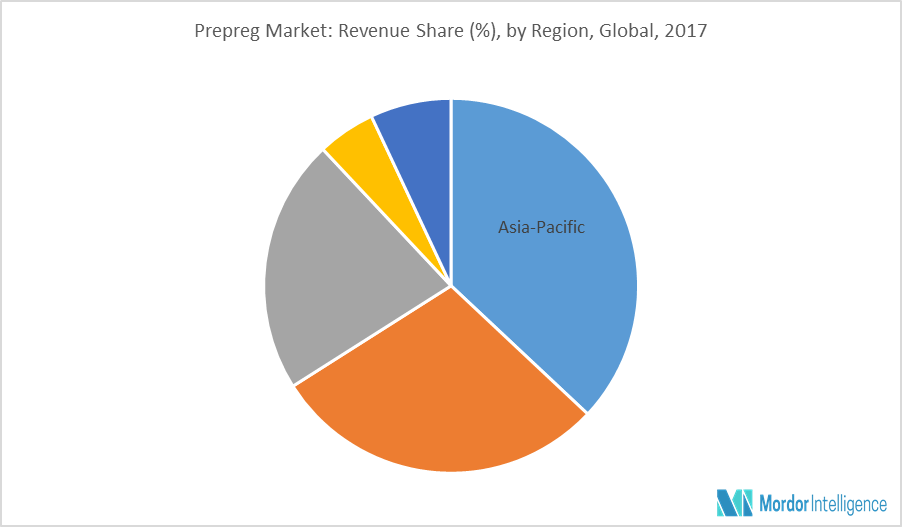 Notable Developments
December 2017: Hexcel Corporation has expanded its existing supply agreement with Vestas Wind Systems to provide composite materials for new generation wind blades. Hexcel developed a new prepreg system specifically to meet the requirements for large thick structures, such as wind blades
Major Players: Axiom Materials, Teijin Limited, Hexcel Corporation, Toray Industries, Gurit Holding, SGL Carbon, and Mitsubishi Chemical Carbon Fiber & Composites amongst others.
Reason to Purchase this Report
To understand the impact of various product type on the market
Analyzing various perspectives of the market with the help of Porter's five forces analysis
To understand the dominating product type and end-user industry in the market
Countries expected to witness the fastest growth during the forecast period
Identify the latest developments, market shares, and strategies employed by the major market players
3-month analyst support, along with the Market Estimate sheet in excel
Customization of the Report
This report can be customized to meet your requirements. Please connect with our analyst, who will ensure you get a report that suits your needs