The market for polyamides is expected to register a significant growth during the forecast period, 2018 to 2023.This tremendous growth is significantly driven by the increasing demand for polyamide 6 and polyamide 66 from automotive industry.
Increasing Demand for Polyamide 6 and Polyamide 66 from Automotive Industry
Polyamide is the fastest growing segment among the other engineering plastics. According to the market estimates by BASF, the automotive industry is currently consuming more than 800,000 tons of compounded polyamide globally per annum. Polyamide 6 and Polyamide 66 found applications ranging from parts of the engine component, structural and decorative elements in the interior to body parts and electronic components. The potential consumption of polyamide as metal replacement is still a key tool for the polyamides to increase its market share in automotive industry in the forecast period.
Polyamide 6 Segment to Dominate the Market
Among the product types, polyamide 6 is the largest market for polyamides with more than 50% share of global market. Polyamide 6 is often employed in the industries like machine building, materials handling, textile & paper, transportation (rail/auto/marine), appliances, food processing, pharmaceutical, and electrical and electronics. Despite having the largest market size, this segment is anticipated to exhibit the highest growth rate in the forecast period. This is due to the emerging applications in the major end-user industries. For instance, Heat-conducting polyamides are increasingly in demand in LED technology and PA 6 provides and an extensive solution for this application.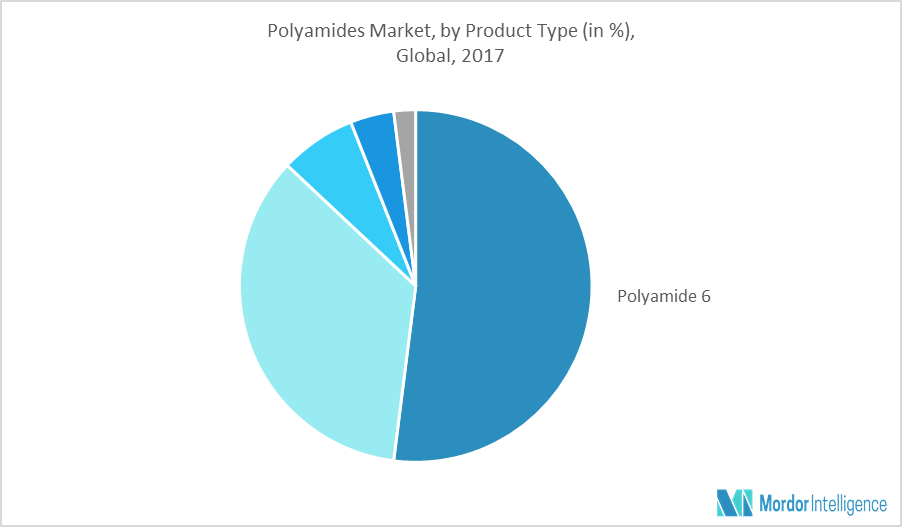 Asia-Pacific to Ignite the Market Growth
Asia-Pacific is the largest regional market for global polyamides market in 2017 with almost 45% of market share and it also represents the fastest growing regional market. The increasing demand from automotive, electronics and packaging industries of the countries like China, India, Thailand, and Korea are providing a great opportunity for the polyamides market to continue the fastest pace of growth. The large market size with this huge growth of Asia-Pacific is quite instrumental in the expansion of the global polyamides market.
Key Developments
February 2018: Arkema announced a 25% expansion in its global polyamide 12 polymers production capacities to support customer demand in Asia.
September 2017: BASF agreed to buy Solvay's integrated polyamide business in a deal that values the segment at EUR 1.6 billion.
Major Players: BASF SE, DowDuPont, Koninklijke DSM N.V., Lanxess and Arkema Group among others.
Reasons to Purchase this Report
Identify the current and future prospects of the polyamides market in the developed and emerging markets
Analyze various perspectives of the market with the help of Porter's five forces analysis
Information of the segment that is expected to dominate the market
Identify the region that is expected to witness the fastest growth during the forecast period
Identify the latest developments, market shares, and strategies employed by the major market players
3 months analyst support, along with the Market Estimate sheet (in Excel)
Customization of the Report
This report can be customized to meet your requirements. Please connect with our representative, who will ensure you get a report that suits your needs.
1. Introduction
1.1 Research Phases
1.2 Study Deliverables
1.3 Scope of the Report
2. Executive Summary
3. Market Insights
3.1 Industry Value-Chain Analysis
3.2 Industry Attractiveness – Porter's Five Forces Analysis
3.2.1 Bargaining Power of Suppliers
3.2.2 Bargaining Power of Consumers
3.2.3 Threat of New Entrants
3.2.4 Threat of Substitute Products and Services
3.2.5 Degree of Competition
3.3 Raw Material Analysis
3.4 Patent Analysis
4. Market Dynamics
4.1 Drivers
4.1.1 Increasing Demand for Polyamide 6 and Polyamide 66 from Automotive Industry
4.1.2 Wide-Spread Applications in Packaging Industry
4.1.3 Rise in Demand of Kevlar for the Defense Sector
4.2 Restraints
4.2.1 Stringent Government Regulations
4.2.2 Competition from elastomer based alternatives
4.3 Opportunities
4.3.1 Increasing Popularity of Bio-based Polyamides
4.3.2 Emerging applications in the Fiber Reinforced Composites
5. Market Segmentation and Analysis (Market Size, Growth and Forecast)
5.1 By Product Type
5.1.1 Polyamide 6,6
5.1.2 Polyamide 6
5.1.3 Polyamide 66/6
5.1.4 Kevlar
5.1.5 Others
5.2 By Application
5.2.1 Moisture Absorbent
5.2.2 Chemical Resistant
5.2.3 Temperature Resistant
5.2.4 Aesthetic
5.2.5 Colorable
5.3 By End-user Industry
5.3.1 Automotive
5.3.2 Aerospace & Defense
5.3.3 Electrical & Electronics
5.3.4 Packaging & Storage
5.3.5 Extrusion
5.3.6 Textile
5.3.7 Others
6. Regional Analysis (Market Size, Growth and Forecast)
6.1 Asia-Pacific
6.1.1 China
6.1.2 India
6.1.3 Japan
6.1.4 South Korea
6.1.5 ASEAN Countries
6.1.6 Rest of Asia-Pacific
6.2 North America
6.2.1 United States
6.2.2 Canada
6.2.3 Mexico
6.2.4 Rest of North America
6.3 Europe
6.3.1 Germany
6.3.2 United Kingdom
6.3.3 Italy
6.3.4 France
6.3.5 Spain
6.3.6 Rest of Europe
6.4 South America
6.4.1 Brazil
6.4.2 Argentina
6.4.3 Rest of South America
6.5 Middle East & Africa
6.5.1 Saudi Arabia
6.5.2 South Africa
6.5.3 Rest of Middle East & Africa
7. Future of the Market
8. Competitive Landscape
8.1 Mergers & Acquisitions, Joint Ventures, Collaborations, and Agreements
8.2 Market Share Analysis**
8.3 Strategies Adopted by Leading Players
9. Company Profiles (Overview, Financials**, Products & Services and Recent Developments)
9.1 AAA Plastics, Inc.
9.2 AG Polymers LLC.
9.3 Aquafil S.p.A.
9.4 Arc Resin Corporation
9.5 Arkema Group
9.6 Asahi Kasei Corporation
9.7 Ascend Performance Materials
9.8 BASF SE
9.9 Coz Group Inc.
9.10 DowDuPont
9.11 INVISTA
9.12 J.b. Polymers, Inc.
9.13 Koninklijke DSM N.V.
9.14 Kuraray Co.,Ltd.
9.15 Lanxess
9.16 Meyer Plastics, Inc.
9.17 NILIT
9.18 Plastics Color Corporation
9.19 Polymer Technology & Services, LLC
9.20 Premiere Fibers LLC.,
9.21 Radici Partecipazioni SpA
9.22 Toray Industries, Inc.
9.23 Von Roll Holding AG
*List not exhaustive
10. Disclaimer
**Subject to availability on public domain