The North American plastic color concentrates market is expected to witness a CAGR of approximately 6% during the forecast period, 2018 to 2023, majorly driven by the increasing demand for plastic from the building & construction industry. The rising usage in the consumer goods sector such as electronics goods, and furniture is also likely to stimulate the market growth.
Demand from Building & Construction Industry Driving the Market
The commercial construction in the United States has been picking up pace in the form of offices, malls, restaurants, etc. Residential and non-residential construction increased significantly in 2017 and is likely to grow in 2018. The residential construction in 2016 and 2017 has increased year-on-year by 10.52% and 10.58%, respectively. The major growth in the commercial construction was witnessed in healthcare, commercial, and office buildings. This is likely to drive the plastic color concentrates market in North America during the forecast period, as they are widely used in construction boards and coverings.
Liquid Color Concentrates Expected to Witness Highest Growth
The solid color concentrates segment is leading the color concentrates market, owing to its low price, less cost of installation, ease of transportation and storage, reduced waste, etc. The liquid color concentrates segment is expected to grow at a high rate during the forecast period. The high growth can be attributed to the rapid color development, reduced energy consumption in their manufacturing, increased color consistency, and low material costs.
Plastic Products Contributing to Huge Demand in the United States
In terms of consumption, in 2017, the United States accounted for the largest market share in the North American region. Master batches are widely used to manufacture various plastic products, such as polyethylene terephthalate (PET) bottles, polyvinylchloride (PVC) products, and several others. The demand for PVC products in the United States is consistently increasing, owing to the recovery of the construction industry. PVC manufacturers have also benefitted from the recent drop in natural gas prices, owing to the shale gas boom in the country. On the other hand, PET bottles are exhibiting significant growth in demand in applications such as packaging. Overall, the plastic color concentrates are expected to have a moderate growth in the United States during the forecast period.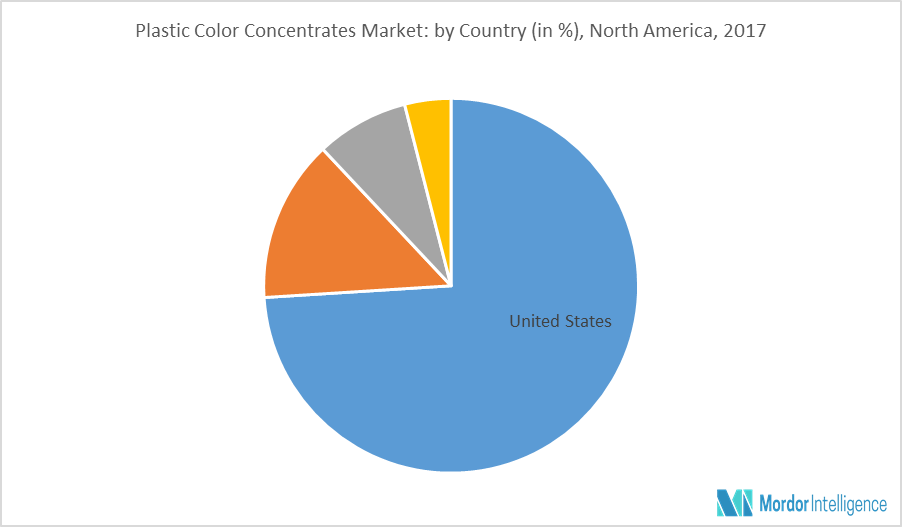 Notable Developments
In October 2017, Arsenal Capital Partners, a leading private equity firm, announced the acquisition of Carolina Color Corporation ("Carolina Color") as well as Breen Color Concentrates, LLC, which has five manufacturing facilities across the United States.
Major Players: DowDuPont, A. Schulman, PolyOne Corporation, Cabot Corporation, and Breen Color Concentrates, among others.
Reason to Purchase the Report
To understand the impact of various product type on the market
Analyzing various perspectives of the market with the help of Porter's five forces analysis
To understand the dominating product type and end-user industry in the market
Countries expected to witness the fastest growth during the forecast period
Identify the latest developments, market shares, and strategies employed by the major market players
3 month analyst support, along with the Market Estimate sheet (in Excel)
Customization of the Report
This report can be customized to meet your requirements. Please connect with our analyst, who will ensure you get a report that suits your needs.
1. Introduction
1.1 Scope of the Report
1.2 Research Phases
1.3 Study Deliverables
2. Executive Summary
3. Market Insights
3.1 Industry Value Chain Analysis
3.2 Industry Attractiveness – Porter's Five Force Analysis
3.2.1 Bargaining Power of Suppliers
3.2.2 Bargaining Power of Consumers
3.2.3 Threat of New Entrants
3.2.4 Threat of Substitute Products and Services
3.2.5 Degree of Competition
4. Market Dynamics
4.1 Drivers
4.1.1 Increasing Use of Plastics in Building & Construction Sector
4.1.2 Growing Usage in Consumer Goods and Appliances
4.2 Restraints
4.2.1 Shortage of Raw Material
4.2.2 Stringent Regulations Regarding Plastic Usage
4.3 Opportunities
4.3.1 Shifting Focus Towards Eco-friendly Products
5. Market Segmentation and Analysis - (Market Size, Growth, and Forecast)
5.1 By Product Type
5.1.1 Solid Color Concentrates
5.1.2 Liquid Color Concentrates
5.2 By End-user Industry
5.2.1 Food & Beverage
5.2.2 Building & Construction
5.2.3 Consumer Goods
5.2.4 Automotive
5.2.5 Others
6. Regional Market Analysis (Market Size, Growth, and Forecast)
6.1 United States
6.2 Canada
6.3 Mexico
6.4 Rest of North America
7. Future of the Market
8. Competitive Landscape
8.1 Mergers & Acquisitions, Joint Ventures, Collaborations, and Agreements
8.2 Market Share Analysis**
8.3 Strategies Adopted by Leading Players
9. Company Profiles (Overview, Financials**, Products & Services, Recent Developments)
9.1 PolyOne Corporation
9.2 DowDuPont
9.3 A. Schulman
9.4 Cabot Corporation
9.5 Ampacet Corporation
9.6 Hubron International
9.7 Carolina Color Corporation
9.8 Polyplast Muller Group
9.9 Breen Color Concentrates
9.10 F&D Plastics
9.11 Colortech Inc.
9.12 Clariant
9.13 Cromex
9.14 Sun Chemical
9.15 Tosaf Group
*List not exhaustive
10. Disclaimer
**Subject to availability on public domain