Market Snapshot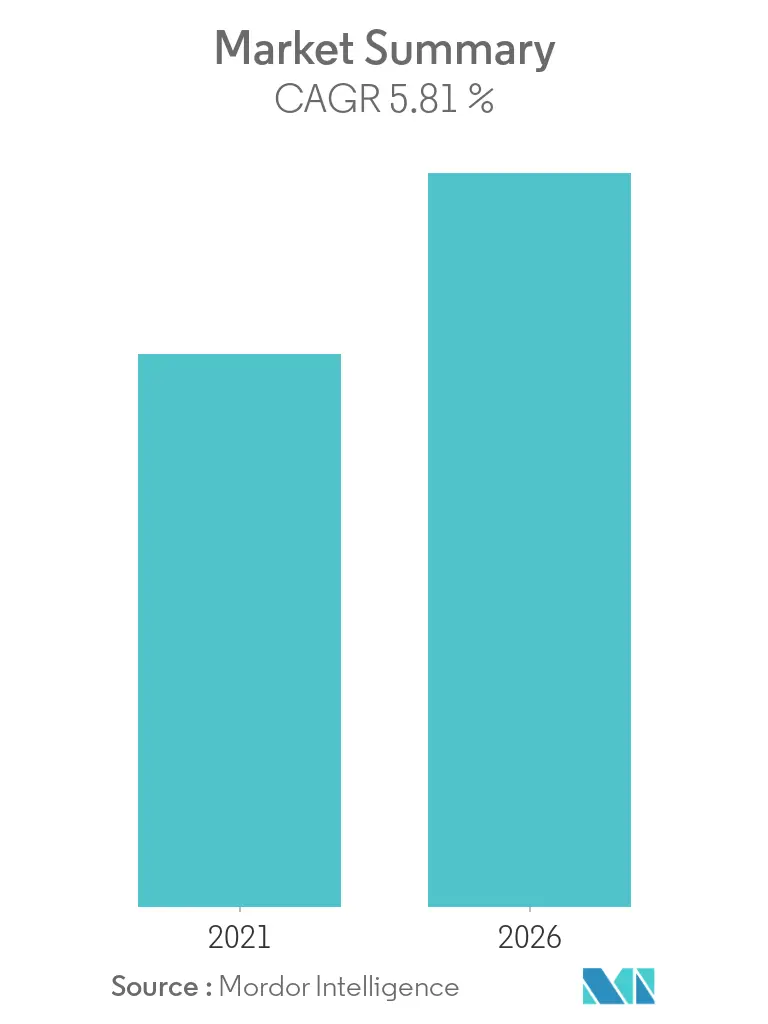 Study Period:
2016 - 2026
Base Year:
2020
Fastest Growing Market:
Asia Pacific
Largest Market:
Asia Pacific
CAGR:
5.81 %
Need a report that reflects how COVID-19 has impacted this market and its growth?
Market Overview
The Global Optical Coating Market was valued at USD 7,322.70 million in 2020 and the market is projected to register a CAGR of 5.81% during the forecast period (2021-2026).
The outbreak of COVID-19 is likely to bring several short-term and long-term consequences in the various industries, such as electronics, telecommunication, aerospace, solar and other industries, which may affect the optical coating market. The aerospace and defense industry, which is one of the major end-users of the optical coatingmarket has taken a major hit in 2020 owing to COVID-19. Owing to the impact of the pandemic, the activity in the commercial aerospace market may take several years to return to the levels that were seen in early 2020. Some players in the aerospace manufacturing industry, including Boeing and Rolls-Royce, even announced production cuts. Hence, there is a huge uncertainty hovered around the near future, which can induce a negative momentum to the optical coating market over the forecast period.
Over the long term, major factors driving the market studied are growing demand from the solar power sector and technological advancements in the optical coatings fabrication process.
Upcoming demand from electric vehicles are likely to create opportunities for the market in the coming years.
Asia-Pacific dominated the market across the globe with the largest consumption from countries such as China and India.
Scope of the Report
An optical coating is one or more thin layers of material deposited on an optical component such as a mirror or lens, which alters the way in which the optic reflects and transmits light. The optical coating market is segmented by product, technology, end-user industry and geography. By product, the market is segmented into Optical Filter Coatings, Anti-reflective Coatings, Transparent Conductive Coatings, Mirror Coatings, and Beam Splitter Coatings. By Technology, the market is segmented into Chemical Vapor Deposition, Ion-beam Sputtering, Plasma Sputtering, Atomic Layer Deposition, and Sub-wavelength Structured Surfaces. By End-user Industry, the market is segmented into Aerospace and Defense, Electronics and Semiconductors, Telecommunications, Healthcare, Solar, Automotive, and Others. The report also covers the market size and forecasts for the Optical Coatings Market in 15 countries across major regions. For each segment, the market sizing and forecasts have been done on the basis of revenue (USD Million).
Product
Optical Filter Coatings
Anti-reflective Coatings
Transparent Conductive Coatings
Mirror Coatings (High Reflective)
Beam Splitter Coatings
Technology
Chemical Vapor Deposition
Ion-beam Sputtering
Plasma Sputtering
Atomic Layer Deposition
Sub-wavelength Structured Surfaces
End-user Industry
Aerospace and Defense
Electronics and Semiconductors
Telecommunications
Healthcare
Solar
Other End-user Industries
Geography

Asia-Pacific
China
India
Japan
South Korea
Rest of Asia-Pacific

North America
United States
Canada
Mexico
Rest of North America

Europe
Germany
United Kingdom
Italy
France
Rest of Europe

South America
Brazil
Argentina
Rest of South America

Middle-East and Africa
Saudi Arabia
South Africa
Rest of Middle-East and Africa
Key Market Trends
Anti-reflective (AR) coatings to Dominate the Market
As light passes through an uncoated glass substrate, about 4% of the light energy is reflected at each interface. This reduces the total transmission to approximately less than 92%, which is extremely unfavorable in many industrial applications. Excess reflected light could also lead to laser-induced damage in some laser applications. Antireflection coatings are optical coatings that are typically used to decrease an object's reflectivity. The anti-reflective coatings are used to reduce the reflectivity of the glass surface to increase efficiency and reduce hazards caused by reflections that travel backward through the system and create ghost images.
Anti-reflective coatings are especially important for systems that contain multiple transmitting optical elements. Many low-light systems also incorporate anti-reflective coated optics to allow for efficient use of light. Anti-reflective coatings are typically designed to affect infrared, visible or ultraviolet light, depending on the application, with some coatings blocking a greater range of light than others. Generally, the common anti reflective coatings are classified based on the number of layers applies, such as single or multi-layer coating. However, there are also some other types of anti reflective coating also available such as absorbing antireflection coating. The simplest anti-reflective coating is the single layer thin film Anti-reflective coating of transparent material. Magnesium Fluoride is often used as a Broadband Anti-reflective (BBAR) coating suitable for visible light applications, such as crown glass.
Anti-Reflective lenses for eyeglasses, cameras, and other visible light optical applications use a single layer Magnesium Fluoride coating. It is ideal for these applications because the coating is hard and relatively easy to apply. However, with improvements in manufacturing techniques, many of these applications have transitioned to multi-layer coatings. For applications specifically targeting wavelengths outside visible spectrum, other dielectric coating materials may be used as a single-layer coating. Silicon Nitride and Titanium Dioxide are some of the common AR coatings which are used for solar cell photovoltaics operating in the near-infrared region. The limitation of a single-layer AR coating is that the refractive index is inherent to the material and it is difficult to alter. There are also type of Anti-reflective coatings called "V" coatings. "V" coatings are designed for specialized applications such as lasers that use light sources tuned to a single frequency.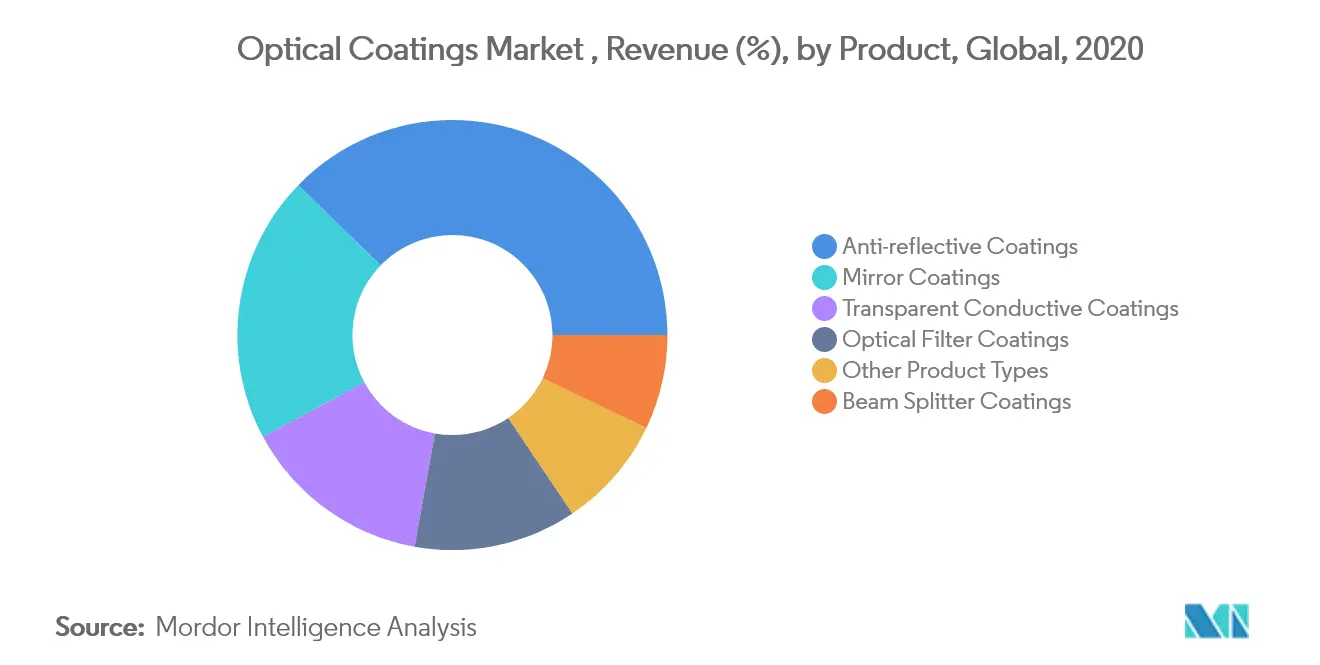 To understand key trends, Download Sample Report
United States to Dominate the Global Market
The United States is the largest and most powerful economy in the world. The nation's economy witnessed a growth rate of 2.3% in 2019 Y-o-Y over 2018. United States is by far the worst affected country by the COVID-19 across the globe. To control the spread of virus, various states in USA have adopted complete lockdown while the rest have adopted partial lockdowns and imposing restrictions on various activities. According to the International Monetary Fund, the nation's GDP is estimated to have contracted by -4.3% in 2020 owing to the severe impact of the COVID-19 pandemic. However, the economy is expected to recovery by 3.1% in 2021. The consumer expenditure which account for about ~67% of the nation's GDP, plunged by about 7.6% in Q1 2020. On the whole, in the Q1 2020, the nation's economy contracted by 4.8% marking the first contraction in economy since Q1 2014 and the lowest level since the 2008 financial crisis. In second quarter the economy has further contracted by historic 32% in comparison with first quarter.
The United States has the largest aerospace industry in the world. According to the Federal Aviation Administration (FAA), the total commercial aircraft fleet is expected to reach 8,270 in 2037, owing to the growth in air cargo. Also, the US mainliner carrier fleet is expected to grow at a rate of 54 aircraft per year, due to the existing fleet getting older. Strong exports of aerospace components to countries, such as France, China, and Germany, along with robust consumer spending in both civil and military in the country is driving the manufacturing activities in the aerospace industry. However, huge losses for the aerospace companies are expected in the country due to coronavirus outbreak, which may affect the growth of the optical coatings market in the country in the short term. The lack of operations in the COVID-19 period has led to decrease in consumption of the optical coatings in 2020. However, as several countries like Japan, Taiwan, Belgium, etc., purchase defense aircrafts and equipment from the United States is expected to expediate the growth recovery for the market studied. For instance, Japan planned to buy 105 F-35 joint strike fighters from Lockheed Martin. The increased export order of Unmanned Aerial Vehicle from the countries like India will further boost the demand for the optical coatings from the defense sector.
The healthcare sector in the United States is by far one of the most advanced sectors in the country. The country's expenditure in healthcare stood at USD 3.8 trillion in 2019, an increase of around 4.8% over 2019. For 2020-2027, national healthcare spending is projected to grow at an average of 5.7% and reach approximately USD 6 trillion by 2027. This is expected to propel the demand for medical devices in the country such as medical imaging which will in turn contribute to the growth of the optical coatings market.nAccording to the SelectUSA, a program by The International Trade Administration (ITA), U.S. Department of Commerce, the medical devices market in the country is the largest medical devices market in the world, is valued at USD ~168 billion in 2019 and is estimated to reach USD 208 billion by 2023. The medical device companies in the United States are highly regarded globally for their innovative and high technology products. The medical device industry relies on several industries where the United States holds a competitive advantage, including microelectronics, telecommunications, instrumentation, biotechnology, and software development. The US electronics market is the largest market in the world, in terms of size. Furthermore, it is expected to remain the leading market over the forecast period, due to the usage of advanced technology, an increase in the number of R&D centers, and rising demand from the consumers. There is a significant demand for newer and faster electronic products, due to the rapid pace of innovation, the advancement of technology, and R&D activities in the electronics industry. There is a significant increase in the number of manufacturing plants and development centers in the United States, primarily due to the focus on developing high-end products.
The United States installed 13.3 gigawatts (GW) of solar PV capacity in 2019 to reach 77.7 GW of total installed capacity, enough to power 14.5 million American homes. Solar power accounted for 40% of all new electric generating capacity added to the grid in 2019. The residential solar sector saw record-setting installation totals with more than 2.8 GW installed in 2019. According to a report released by Solar Energy Industries Association (SEIA), total installed solar power capacity in the U.S. was projected to increase by 47% in 2020, with nearly 20 GW of new installations expected by the end of the year. The installed solar capacity is expected to double by the end of the forecast period, with annual installations projected to reach 20.4 GW in 2021 and this is expected to be a huge opportunistic growth for the optical coatings market in the country in the next five years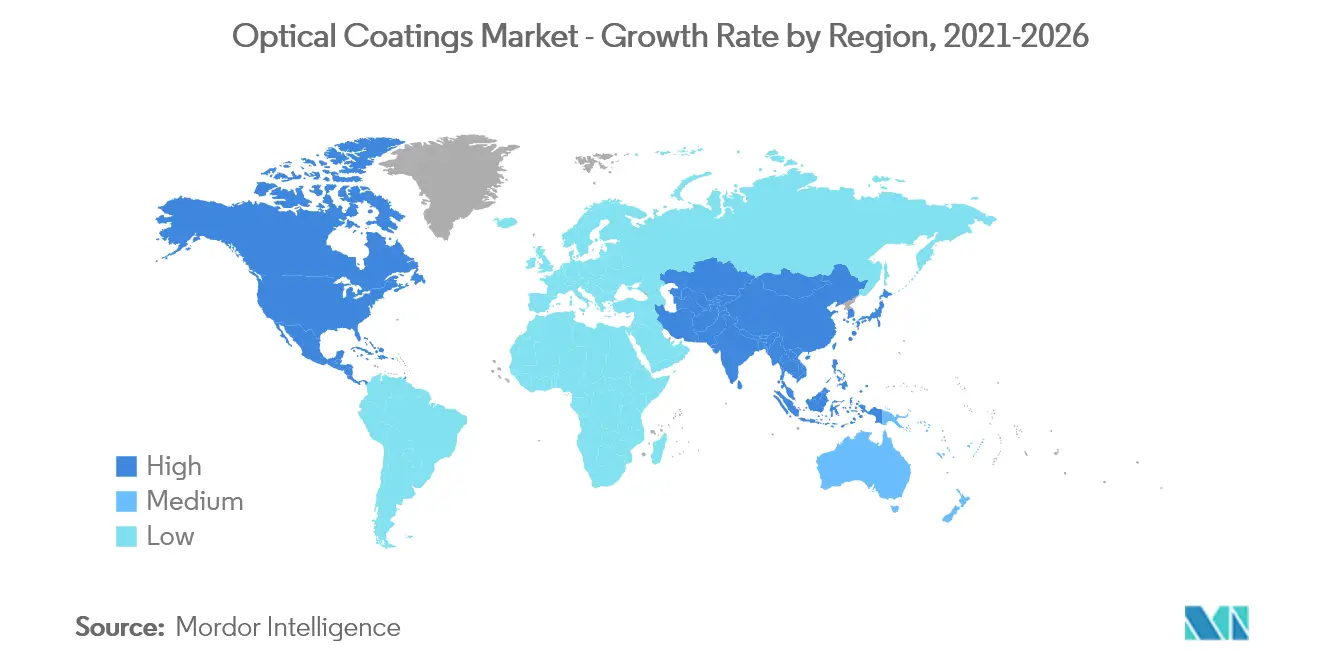 To understand geography trends, Download Sample Report
Competitive Landscape
The optical coatings market is is highly fragmented in nature, with top five players accounting for a major share (in terms of revenues generated) of the market studied. Many companies manufacturing coatings use their own technologies for the manufacturing of optical coatings. Also, The market is extremely competitive, with various major manufacturers engaging in strategic partnerships to expand their market share. The major companies include Dupont, ZEISS International, Newport., PPG Industries Inc, and Nippon Sheet Glass Co. Ltd, among others.
Recent Developments
In January 2021, UltraFast Innovations (UFI), a manufacturer of high-precision laser optics products, has partnered with Edmund Optics (EO) to provide global access to industry-leading laser optics for the most demanding applications.
In November 2020, Edmund Optics, acquired Quality Thin Films, Inc. (QTF), which offers a wide range of optical components with high laser damage and laser crystal coatings from the UV to the far IR. This acquisition, with its 14,000 square foot facility and talented laser optics experts, supports Edmund Optics to further expand its laser optics manufacturing capabilities across crystal and glass fabrication, polishing, metrology, high laser damage and diamond-like carbon coatings, inspection, and testing.
Table of Contents
1. INTRODUCTION

1.1 Study Assumptions

1.2 Scope of the Study

2. RESEARCH METHODOLOGY

3. EXECUTIVE SUMMARY

4. MARKET DYNAMICS

4.1 Drivers

4.1.1 Growing Demand from the Solar Power Sector

4.1.2 Technological Advancements in Optical Coatings Fabrication Process

4.2 Restraints

4.2.1 Detrimental impact of Covid-19

4.2.2 Other Restraints

4.3 Industry Value-Chain Analysis

4.4 Porter's Five Forces Analysis

4.4.1 Bargaining Power of Suppliers

4.4.2 Bargaining Power of Consumers

4.4.3 Threat of New Entrants

4.4.4 Threat of Substitute Products and Services

4.4.5 Degree of Competition

5. MARKET SEGMENTATION (Market Size by Revenue)

5.1 Product

5.1.1 Optical Filter Coatings

5.1.2 Anti-reflective Coatings

5.1.3 Transparent Conductive Coatings

5.1.4 Mirror Coatings (High Reflective)

5.1.5 Beam Splitter Coatings

5.2 Technology

5.2.1 Chemical Vapor Deposition

5.2.2 Ion-beam Sputtering

5.2.3 Plasma Sputtering

5.2.4 Atomic Layer Deposition

5.2.5 Sub-wavelength Structured Surfaces

5.3 End-user Industry

5.3.1 Aerospace and Defense

5.3.2 Electronics and Semiconductors

5.3.3 Telecommunications

5.3.4 Healthcare

5.3.5 Solar

5.3.6 Other End-user Industries

5.4 Geography

5.4.1 Asia-Pacific

5.4.1.1 China

5.4.1.2 India

5.4.1.3 Japan

5.4.1.4 South Korea

5.4.1.5 Rest of Asia-Pacific

5.4.2 North America

5.4.2.1 United States

5.4.2.2 Canada

5.4.2.3 Mexico

5.4.2.4 Rest of North America

5.4.3 Europe

5.4.3.1 Germany

5.4.3.2 United Kingdom

5.4.3.3 Italy

5.4.3.4 France

5.4.3.5 Rest of Europe

5.4.4 South America

5.4.4.1 Brazil

5.4.4.2 Argentina

5.4.4.3 Rest of South America

5.4.5 Middle-East and Africa

5.4.5.1 Saudi Arabia

5.4.5.2 South Africa

5.4.5.3 Rest of Middle-East and Africa

6. COMPETITIVE LANDSCAPE

6.1 Mergers & Acquisitions, Joint Ventures, Collaborations, and Agreements

6.2 Market Ranking Analysis

6.3 Strategies Adopted by Leading Players

6.4 Company Profiles

6.4.1 3M

6.4.2 Abrisa Technologies

6.4.3 AccuCoat Inc.

6.4.4 Artemis Optical Ltd

6.4.5 Edmund Optics Inc.

6.4.6 Dupont

6.4.7 Inrad Optics

6.4.8 Materion Corporation

6.4.9 Nippon Sheet Glass & Co. Ltd

6.4.10 Newport Corporation

6.4.11 Optical Coatings Technologies

6.4.12 PPG Industries Inc.

6.4.13 Quantum Coating

6.4.14 Reynard Corporation

6.4.15 Sigmakoki Co. Ltd

6.4.16 Schott AG

6.4.17 ZEISS International

6.4.18 Zygo Corporation 

*List Not Exhaustive

7. MARKET OPPORTUNITIES AND FUTURE TRENDS

7.1 Upcoming Demand from Electronic Vehicles
**Subject to Availability
You can also purchase parts of this report. Do you want to check out a section wise price list?
Frequently Asked Questions
What is the study period of this market?
The Optical Coatings Market market is studied from 2016 - 2026.
What is the growth rate of Optical Coatings Market?
The Optical Coatings Market is growing at a CAGR of 5.81% over the next 5 years.
Which region has highest growth rate in Optical Coatings Market?
Asia Pacific is growing at the highest CAGR over 2021- 2026.
Which region has largest share in Optical Coatings Market?
Asia Pacific holds highest share in 2020.
Who are the key players in Optical Coatings Market?
PPG Industries Inc, ZEISS International, Nippon Sheet Glass Co., Ltd, Dupont, Newport Corporation are the major companies operating in Optical Coatings Market.
80%

of our clients seek made-to-order reports. How do you want us to tailor yours?