Market Snapshot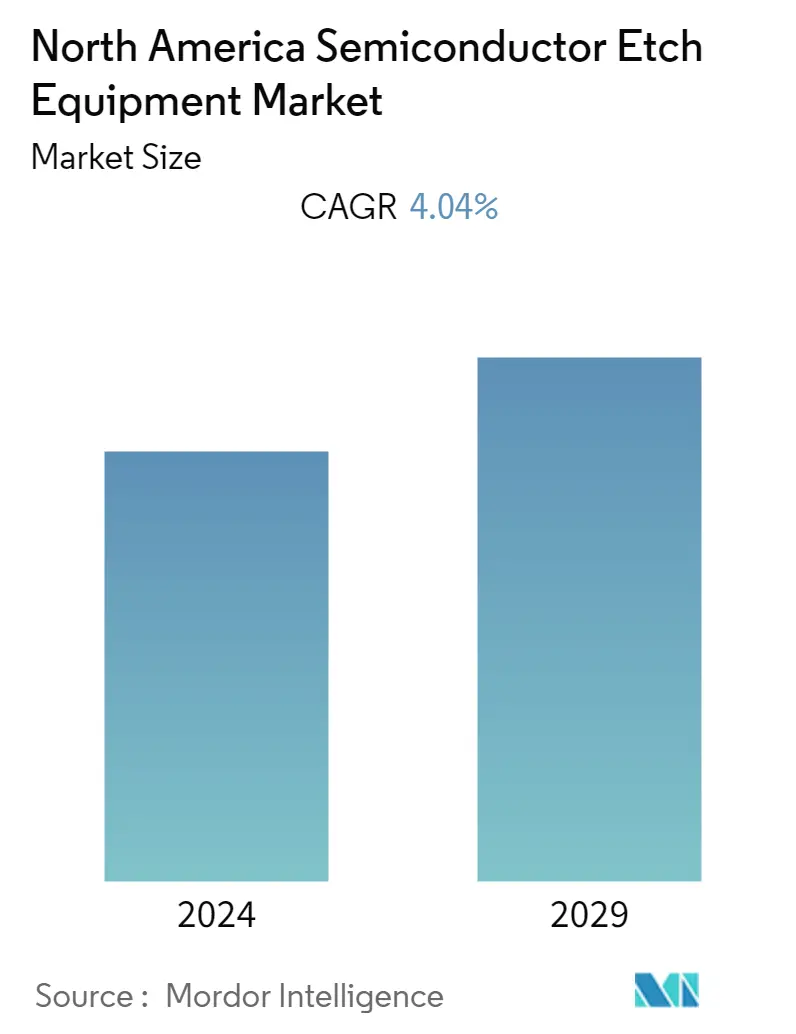 Study Period:
2020-2027
Base Year:
2021
CAGR:
4.04 %
Need a report that reflects how COVID-19 has impacted this market and its growth?
Market Overview
In the semiconductor manufacturing process, etching is a crucial step. This method removes material from the surface of the semiconductor to create patterns that are specific to the application. The North American Semiconductor Etch Equipment market is developing at a CAGR of 4.42% between 2022 and 2027.
The growth of the semiconductor Etch Equipment market in North America is dependent on the expansion of the semiconductor wafer deposition and wafer processing sectors. Memory makers and foundries are increasingly focusing on investing in newer and creative equipment due to rising chip design costs, new materials, smaller linewidths on a chip, and the necessity for integrated manufacturing processes. For instance, in February 2022, Texas Instruments detailed its plan to invest billions in U.S. semiconductor chip production through 2030. Texas Instruments revealed plans to invest USD 3.5 billion annually in its U.S. semiconductor chip manufacturing through 2025 as manufacturers face a global shortage of the tech necessary for an increasing number of goods.
In March 2021, Intel committed to two more new fabrication plants, or fabs, in Arizona. The news comes during a global chip shortage that is snarling industries from automobiles to electronics and worries the United States is falling behind in semiconductor manufacturing. The foundry is poised to manufacture a range of chips based on ARM technology used in mobile devices and has historically competed with Intel's favored x86 technology.
Industrial automation and the usage of sensors in automotive are increasing the applications of semiconductors and their demand in almost all the industry verticals. Because of this, the Semiconductor Etch Equipment market is rising indirectly. For instance, The University of Northern Iowa (UNI), Youngstown State University (YSU), and the National Center for Defense Manufacturing and Machining (NCDMM) have formed new cooperation that aims to leverage $10 million in first-year financing. Hundreds of businesses are expected to benefit from the partnership each year by removing barriers to adopting Industry 4.0 technologies, such as additive manufacturing, artificial intelligence (AI), and robotics, to increase the output of high-quality parts while expanding and strengthening the supply chain.
The semiconductor Etch Equipment market industry is growing as smartphone applications and other consumer items become more popular. To achieve a competitive advantage, firms increase their investment in process equipment. For example, Intel will invest more than USD 20 billion in two new chip plants in Ohio. This investment will significantly increase semiconductor manufacturing capabilities in the United States, a critical component of computers, smartphones, automobiles, and other electronic devices. With the increase of the semiconductor market, the semiconductor Etch Equipment market will also increase.
The semiconductor Etch Equipment industry requires a large amount of cash, and government support has played an essential role in its development. While market-based government support may promote innovation and technological diffusion, non-transparent and discriminatory subsidies can stifle competition and generate market distortions. Fears about skewed government schemes for semiconductor etch equipment makers are constraining market expansion since manufacturers are unwilling to invest in developing high-quality products.
COVID-19 has negatively impacted the market by disrupting the semiconductor industry's supply chain and production. Due to workforce shortages, the impact on semiconductor etches equipment makers were more severe. Several players in the semiconductor supply chain worldwide had to limit or even cease their operations during the pandemic. The sector was plagued by a high deficit and rising demand, resulting in a considerable supply chain gap.
Scope of the Report
Semiconductor Etch Equipment is a device that uses various chemicals to remove specific compounds off the surface of the silicon wafer substrate. The etching process removes material from the semiconductor's surface to generate patterns for specific purposes.
Semiconductor Etch Equipment Market is segmented by Product Type (High-density Etch Equipment, Low-density Etch Equipment), Etching Film Type (Conductor Etching, Dielectric Etching, Polysilicon Etching), Application (Logic and Memory, Power Devices, MEMS), and Geography.
By Product Type
High-density Etch Equipment
Low-density Etch Equipment
By Etching Type
Conductor Etching
Dielectric Etching
Polysilicon Etching
By Application
Logic and Memory
Power Devices
MEMS
Others
Country
United States
Canada
Key Market Trends
The United States' strategies for manufacturing semiconductors and peripheral products to avoid trade tensions with China are driving the market in North America.
Domestic semiconductor manufacturing is essential for the administration of the U.S. government. The new administration is expected to fix the rising chip shortages and address lawmakers' concerns that outsourcing chipmaking had made the United States more vulnerable to supply chain disruptions. In an executive action, Biden started a 100-day review that could significantly boost American chip companies with additional new policies and government support. This is increasing the North American semiconductor Etch Equipment market to grow.
Most demand for chips in the United States includes large P.C.s and information and communications infrastructure (including data centers and network equipment), application markets, smartphones, and industrial equipment. Smartphone manufacturers based out of the United States, such as Apple, are prominent customers of TSMC. The United States government has called for USD 50 billion in funding to support domestic chip manufacturing. TSMC is weighing plans to pump tens of billions of dollars more into the chip factories in the U.S. state of Arizona than it had previously disclosed. In addition, TSMC is expected to compete against Intel Corp and Samsung Electronics Co Ltd for subsidies from the U.S. government in building the plants. These all create a conducive environment for the growth of the semiconductor Etch Equipment market in the region.
New U.S. trade agreements are another clear step that would benefit the semiconductor business in North America. The United States National Technology and Industrial Base might be expanded to include allies such as Japan, South Korea, Germany, and the Netherlands, dominant players in the semiconductor supply chain. In addition, trade agreements between the United States and the European Union, such as the Comprehensive and Progressive Trans Partnership (formerly the TPP) and the Transatlantic Trade and Investment Partnership, would increase access to imported semiconductor-related goods and services while lowering foreign barriers to U.S. semiconductors and high-tech devices. Because of this, the semiconductor Etch Equipment market in the region will increase.
The U.S. Innovation and Competition Act (USICA) and the Administration are working with the House and Senate to provide $52 billion to catalyze more private-sector investments in the semiconductor market and continued American technological leadership. For example, S.K. Group investments in a new R&D center in USA and Micron to expand U.S. production. Due to this, the semiconductor Etch Equipment market in the region will increase.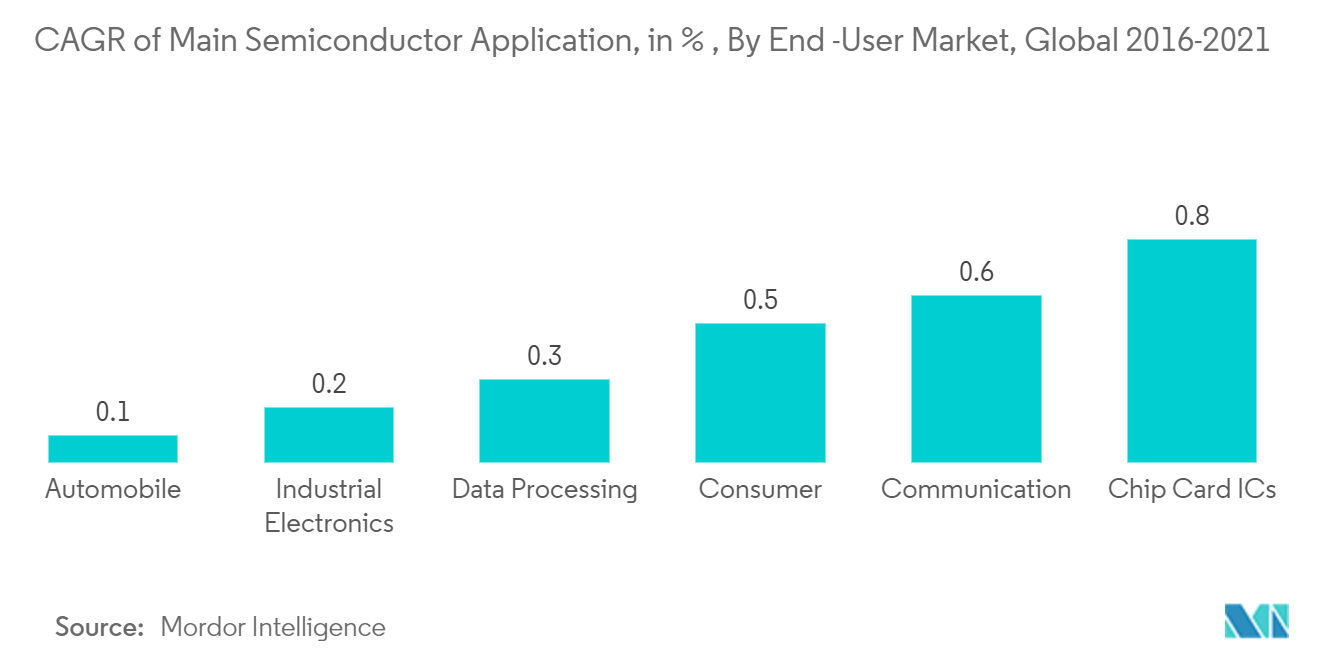 To understand key trends, Download Sample Report
The application of advanced semiconductor chips in 5G and Industry 4.0 is fostering the market growth
Companies in the North American region are focusing on implementing 5G technology in Industrial Automations. For example, The Digital Manufacturing Institute and the National Center for Cybersecurity in Manufacturing in Chicago have installed a private 5G network with connections to sensors to automate, monitor, and provide predictive maintenance for factory equipment, which will serve as a real-world model for companies investigating the potential benefits of Industry 4.0 technologies and applications.
Canada has a significant reputation internationally as a country open for business. It is poised to take essential steps to emerge as a prominent region in the future semiconductor foundry landscape. In addition, the country is witnessing significant partnership activities in the market. For instance, the Canadian government has launched a Canadian Dollar 150 million semiconductor challenge and a Canadian Dollar 90 million to the national research council of Canada for photonics fabrication centers used in the telecommunication network.
There are applications of semiconductors in communication network infrastructure. To encourage the in-house manufacturing of semiconductors and Semiconductor Etch Equipment, the Canadian government has restricted foreign telecommunication network infra providers from operating in the country. For example, the government prohibits Huawei and ZTE goods and services from being used in Canada's telecommunications systems.
Samsung Electronics plans to set up a USD 17 billion chip fabrication plant in Taylor, Texas. This new facility will produce goods based on sophisticated process technologies for use in mobile, 5G, high-performance computing, and artificial intelligence, which will drive the Semiconductor Etch Equipment market in the region.
Lam Research Corporation is an American supplier of wafer fabrication equipment and is working on developing wireless connectivity by combining 5G and Wi-Fi 6/6E. These two technologies in the same or nearby frequency bands will make parallel network setup extremely difficult. Higher scandium doping levels (usually >20 percent) in aluminum nitride films are currently being used by the company to improve device performance. This shows the rampant technological development of the region's semiconductor Etch equipment market.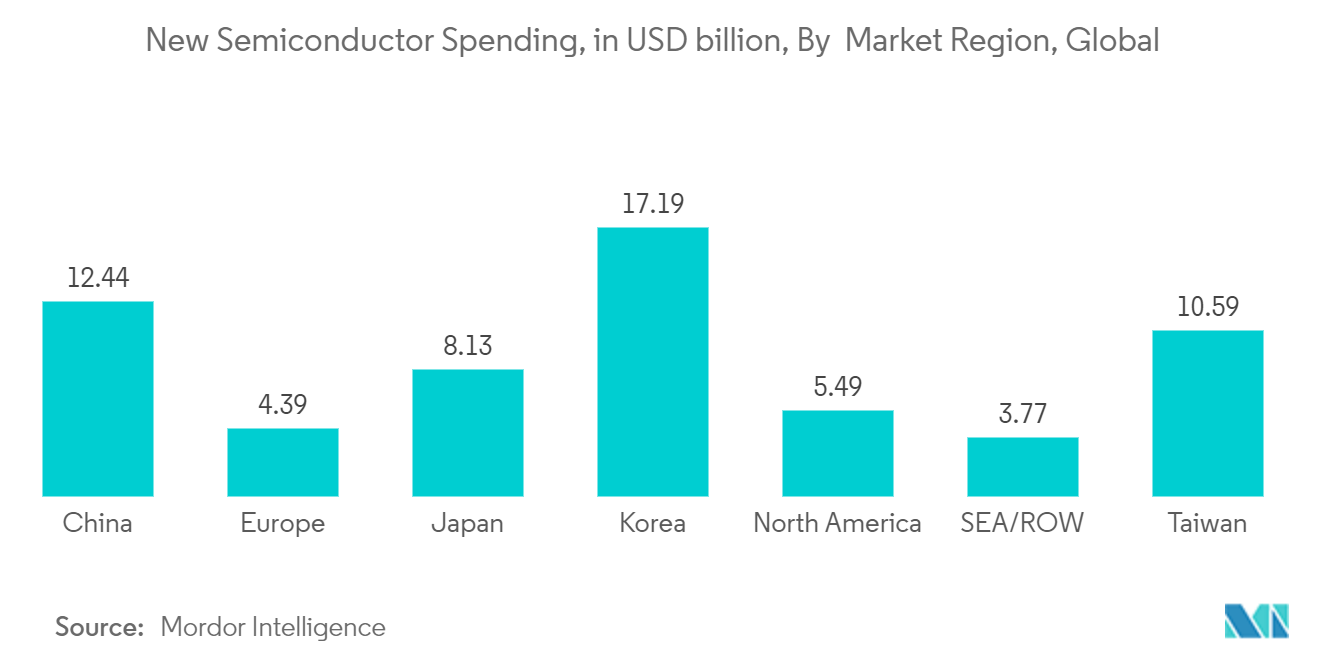 To understand geography trends, Download Sample Report
Competitive Landscape
The North America Semiconductor Etch Equipment Market is competitive, and few key players contribute to the significant market share. For new entrants, it is difficult to enter this market due to the significant capital required, and significant businesses are pursuing mergers and acquisitions to expand their market dominance.
In September 2021, Applied Materials, Inc. announced new solutions to help the world's leading silicon carbide (Sic) chipmakers shift from 150mm to 200mm wafer production, which nearly doubles die output per wafer, to help meet the world's growing demand for premium electric vehicle powertrains.
In Feb 2022, Lam Research Corp announced a new suite of selective etch products that apply breakthrough wafer fabrication techniques and novel chemistries to support chipmakers in developing gate-all-around (GAA) transistor structures. The company's three products, such as Argos®, Prevos™, and Selis® etch portfolio, provide a powerful advantage in designing and manufacturing advanced logic and memory semiconductor solutions.
In Feb 2022, Panasonic Corporation commercialized a double-sided full wiring transparent conductive film combining low resistance and high transmissivity, using its unique roll-to-roll construction method for the first time. Panasonic's original roll-to-roll fabrication approach allowed for a wiring width of 2 m, which was impossible to achieve with traditional etching procedures.
Recent Development
In November 2021, PSK was selected as the world's 'leader' in the strip equipment field in the analysis data of the 'U.S. semiconductor supply chain report' announced by the SEMI. The company has planned to release one of the etching equipment, called 'Bevel Etcher (Slope Etching Equipment).
In May 2022, the US government has planned to increase its domestic capacity for high-purity minerals, gases, and chemicals, or else American semiconductor capacity and national security will remain highly dependent on foreign factors outside of its control because the world-leading node logic chips require these base materials to be manufactured.
Table of Contents
1. INTRODUCTION

1.1 Study Deliverables

1.2 Study Assumptions

1.3 Scope of the Study

2. RESEARCH METHODOLOGY

3. EXECUTIVE SUMMARY

4. MARKET DYNAMICS

4.1 Market Overview

4.2 Market Drivers

4.2.1 The United States' strategies for the manufacturing in-house semiconductors and peripheral products to avoid trade tensions with China

4.2.2 The application of advanced semiconductor chips in 5G and Industry 4.0

4.3 Market Restraints

4.3.1 Non-transparent and chance of Government discriminatory subsidies

4.4 Value Chain / Supply Chain Analysis

4.5 Porter's Five Forces Analysis

4.5.1 Threat of New Entrants

4.5.2 Bargaining Power of Buyers/Consumers

4.5.3 Bargaining Power of Suppliers

4.5.4 Threat of Substitute Products

4.5.5 Intensity of Competitive Rivalry

4.6 COVID-19 Impact on the Market

5. MARKET SEGMENTATION

5.1 By Product Type

5.1.1 High-density Etch Equipment

5.1.2 Low-density Etch Equipment

5.2 By Etching Type

5.2.1 Conductor Etching

5.2.2 Dielectric Etching

5.2.3 Polysilicon Etching

5.3 By Application

5.3.1 Logic and Memory

5.3.2 Power Devices

5.3.3 MEMS

5.3.4 Others

5.4 Country

5.4.1 United States

5.4.2 Canada

6. COMPETITIVE LANDSCAPE

6.1 Company Profiles

6.1.1 Applied Materials, Inc

6.1.2 Hitachi High Technologies America, Inc

6.1.3 Lam Research Corporation

6.1.4 SEMES

6.1.5 Axcelis Technologies, Inc.

6.1.6 ASM America

6.1.7 Lattice Semiconductor Corporation

6.1.8 Texas Instruments

6.1.9 Panasonic Corporation

*List Not Exhaustive

7. Investment Analysis

8. Future of the Market
You can also purchase parts of this report. Do you want to check out a section wise price list?
Frequently Asked Questions
What is the study period of this market?
The North America Semiconductor Etch Equipment Market market is studied from 2020 - 2027.
What is the growth rate of North America Semiconductor Etch Equipment Market?
The North America Semiconductor Etch Equipment Market is growing at a CAGR of 4.04% over the next 5 years.
Who are the key players in North America Semiconductor Etch Equipment Market?
Applied Materials, Inc, Lam Research Corporation , SEMES, ASM International, Texas Instruments Incorporated are the major companies operating in North America Semiconductor Etch Equipment Market.
80%

of our clients seek made-to-order reports. How do you want us to tailor yours?