The North American general surgical devices market is expected to register a CAGR of 6.8% during the forecast period 2018 to 2023. The United States dominates the market due to increasing demand for technologically advanced surgical devices, favorable reimbursement policies, and growing investment from public and private sectors in healthcare.
Growing R&D Spending for Novel Surgical Devices
Medical device manufacturers in North America, especially the United States, are known for their innovation, and their development of technologically advanced devices. Investment in medical devices R&D has been increased significantly since the last decade in the United States. The R&D spending on medical devices has grown from USD 2.9 billion in 2010 to USD 7.3 billion in 2011. The region is expected to witness increased R&D investment during the forecast period. The growing R&D investment in the region will possibly propel the invention of novel surgical devices, which will drive the market growth. Additionally, growing collaboration between public and private sectors and demand for innovative surgical tools are others factors driving the growth of the North American general surgical devices market.
Stringent Regulatory Environment
The inefficient, unpredictable, and expensive regulatory processes in the United States are jeopardizing the North American medical devices industry. The US regulatory process consumes more time for approval as compared to other regions. For instance, the devices which need communication with FDA regarding a clinical study for the low- to moderate- risk device before making a regulatory submission, the premarket process for such devices takes an average of 31 months for clearance. In contrast, an average of seven months is required in Europe for clearance of the same devices. Thus, a stringent and long regulatory process and cut down in the reimbursement scenario are also likely to impede the growth of the North American general surgical devices market.
United States to Lead the Market
The United States dominates the general surgical devices market due to the presence of well-established market players, and rising investment in the technological advancement of surgical devices. An aging population and growing life expectancy in the country are further likely to boost the market for general surgical devices. Mexico is expected to grow significantly during the forecast period, owing to factors, such as growing medical tourism industry in the country and rising healthcare expenditure.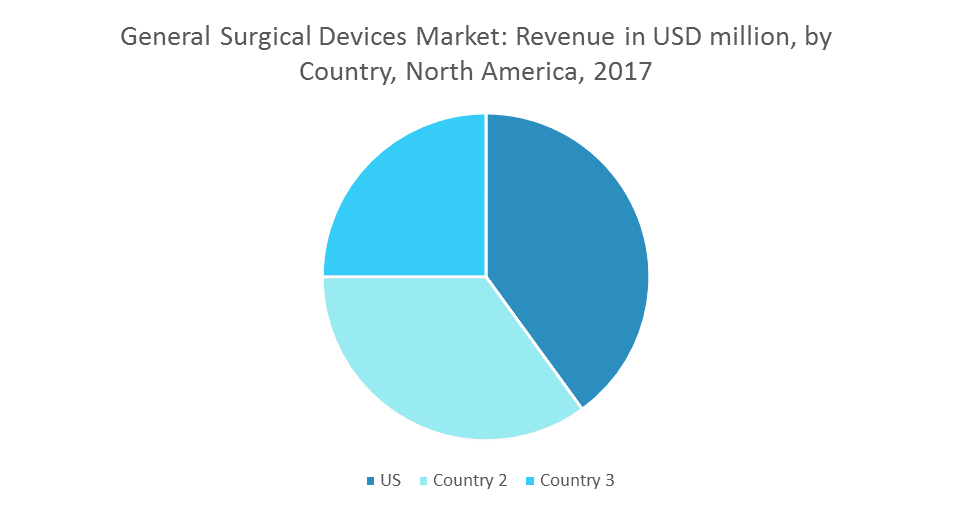 Key Developments in the Market
March 2016: W. L. Gore & Associates, Inc. (Gore) launched GORE® SYNECOR Biomaterial, a unique hybrid device for hernia repair.
January 2017: Ethicon Endo-Surgery, Inc., acquired Megadyne Medical Products, Inc., a private company, which manufactures electrosurgical tools used in operating rooms worldwide.
Major Players: B. Braun Melsungen AG, Boston Scientific Corporation, , Cadence Inc. Integer Holdings Corporation, Maquet Holding B.V. & Co. Kg., Medtronic, Conmed Corporation, Olympus Corporations, Stryker Corporation, and Johnson & Johnson, amongst others.
Reasons to Purchase this Report
Current and future North American general surgical devices market outlook in the developed and emerging markets
Analyzing various perspectives of the market with the help of Porter's five forces analysis
The segment that is expected to dominate the market
Regions that are expected to witness the fastest growth during the forecast period
Identify the latest developments, market shares and strategies employed by the major market players
3 months analyst support along with the Market Estimate sheet (in excel)
Customization of the Report
This report can be customized to meet your requirements. Please connect with our representative, who will ensure you to get a report that suits your needs.
1. Introduction
1.1 Market Definition
2. Research Methodology
3. Executive Summary
4. Key Inferences
5. Market Overview
5.1 Current Market Scenario
5.2 Porter's Five Forces Analysis
5.2.1 Bargaining Power of Suppliers
5.2.2 Bargaining Power of Consumers
5.2.3 Threats of New Entrants
5.2.4 Threat of Substitute Products and Services
5.2.5 Competitive Rivalry within the Industry
6. Drivers, Restraints, Opportunities and Challenges Analysis (DROC)
6.1 Market Drivers
6.1.1 Growing R&D Spending for Novel Surgical Devices
6.1.2 Growing collaboration between public and private sectors
6.1.3 Rising Incidence of Injuries and Accidents
6.1.4 Increasing Demand for Innovative Surgical Tools
6.2 Market Restraints
6.2.1 Stringent Regulatory Environment
6.2.2 Cut-down in Reimbursement
6.3 Opportunities
6.4 Key Challenges
7. Market Segmentation
7.1 Segmentation -by Products
7.1.1 Handheld Devices
7.1.2 Laproscopic Devices
7.1.3 Electro Surgical Devices
7.1.4 Wound Closure Devices
7.1.5 Trocars & Access Devices
7.1.6 Others
7.2 Segmentation -by Applications
7.2.1 Gynecology & Urology
7.2.2 Cardiology
7.2.3 Orthopaedic
7.2.4 Neurology
7.2.5 Others
7.3 Segmentation - by Geography
7.3.1 North America
7.3.1.1 United States
7.3.1.2 Canada
7.3.1.3 Mexico
8. Competitive Landscape
8.1 Mergers & Acquisition Analysis
8.2 Agreements, Collaborations, and Partnerships
8.3 New Products Launches
9. Key Players
9.1 B. Braun Melsungen AG
9.2 Boston Scientific Corporation,
9.3 Cadence Inc.
9.4 Conmed Corporation
9.5 Integer Holdings Corporation
9.6 Johnson & Johnson
9.7 MAQUET Holding B.V. & Co. KG.
9.8 Medtronic
9.9 Olympus Corporations
9.10 Stryker Corporation
9.11 Others
10. Future of the Market