The North America fuel additives market is expected to grow at a moderate CAGR during the forecast period (2018 - 2023). The market is driven by several factors, such as the enactment of stringent environmental regulations and the increasing demand for clean and efficient fuel.
Fuel additives are an integral part of automotive, industrial, and aerospace applications. In this report, the principal end-user industry segments taken into consideration are diesel, gasoline, jet fuel, and others.
Stringent Regulations to Drive the Demand for Fuel Additives
Fuel additives aid in minimizing the emissions and enhancing the performance of the vehicle. Environmental concerns related to depletion of resources are creating a considerable demand for fuel additives. The emission regulations in the United States are considered to be the most stringent, with the California standards being more stringent in nature. New regulations have been developed progressively to curb the emission levels continuously, with the Tier 3 standards are in place currently. Currently, there is also an increasing focus on enhancing the fuel economy as per the Corporate Average Fuel Economy (CAFE) standards. This shift in focus has further increased the importance of fuel additives.
Deposit Control Additives among the Largest in terms of Consumption
Deposit control additives are among the largest-used fuel additives in the North America region. These additives aid in controlling the deposit formation of different components, such as fuel injectors, carburetors, intake valves, and combustion chambers. These additives prevent excessive hydrocarbon emissions, decreased fuel economy, and decrease lean misfires during the combustion. The increasing technological advances, along with the growing focus on fuel economy rates, are supporting the growth of the deposit control additives in the region.
Electric Vehicle Sales to Impact the Growth in the United States
The United States is the largest market for electric vehicles in the world. The sales of new electric vehicles in the country has grown by 25% in 2016-17, with major manufacturers, such as Tesla and Chevrolet, witnessing significant sales growth in the past two years. There is an increasing battery manufacturing plants as well as plug-in charging locations, along with the expanding manufacturing facilities for electric vehicles in the country. The increasing sales of electric vehicles are expected to have an impact on the usage of fuel additives in the near future.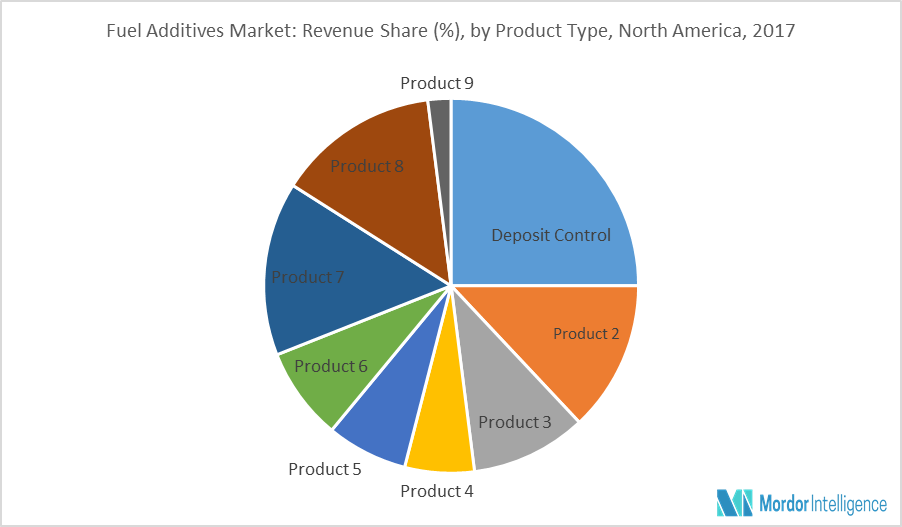 Key Developments in the Market
April 2017: Lanxess completed the acquisition of Chemtura.
Major Players: BASF SE, Chevron Corporation, Evonik Industries, Innospec Inc., and Total, among others.
Reasons to Purchase this Report
Analyzing the current and future of the North America fuel additives market in the developed and emerging markets
Analyzing various perspectives of the market with the help of Porter's five forces analysis
To identify the segment that is expected to dominate the market
To identify the countries that are expected to witness the fastest growth during the forecast period
Identify the latest developments, market shares, and strategies employed by the major market players
3-month analyst support, along with the Market Estimate sheet (in Excel)
Customization of the Report
This report can be customized to meet your requirements. Please connect with our representative, who will ensure you get a report that suits your needs.
1. Introduction
1.1 Research Phases
1.2 Study Deliverables
1.3 Scope of the Report
2. Executive Summary
3. Market Insights
3.1 Industry Value Chain Analysis
3.2 Industry Attractiveness - Porter's Five Forces Model
3.2.1 Bargaining Power of Suppliers
3.2.2 Bargaining Power of Buyers
3.2.3 Threat of New Entrants
3.2.4 Threat of Substitute Products
3.2.5 Degree of Competition
4. Market Dynamics
4.1 Drivers
4.1.1 Enactment of Stringent Environmental Regulations
4.1.2 Other Drivers
4.2 Restraints
4.2.1 Robust Growth of Electric Vehicles in the Region
4.2.2 High Costs of R&D Activities
4.3 Opportunities
4.3.1 Accelerating Demand for Ultra-low-Sulfur Diesel (ULSD)
4.3.2 Other Opportunities
5. Market Segmentation and Analysis (Market Size, Growth, and Forecast)
5.1 By Product Type
5.1.1 Deposit Control
5.1.2 Cetane Improvers
5.1.3 Lubricants
5.1.4 Antioxidants
5.1.5 Anticorrosion
5.1.6 Fuel Dyes
5.1.7 Cold Flow Improvers
5.1.8 Antiknock Agents
5.1.9 Others
5.2 By Application
5.2.1 Diesel
5.2.2 Gasoline
5.2.3 Jet Fuel
5.2.4 Others
6. Regional Market Analysis (Market Size, Growth, and Forecast)
6.1 United States
6.2 Canada
6.3 Mexico
6.4 Rest of North America
7. Competitive Landscape
7.1 Mergers, Acquisitions, Joint Ventures, Collaborations & Agreements
7.2 Market Share Analysis**
7.3 Strategies Adopted by Leading Players
8. Company Profiles (Overview, Financials**, Products & Services, and Recent Developments)
8.1 AkzoNobel N.V.
8.2 BASF SE
8.3 Chevron Corporation
8.4 Evonik Industries
8.5 Exxon Mobil Corporation
8.6 Innospec Inc.
8.7 Lanxess
8.8 Lucas Oil Products, Inc.
8.9 Petrolabs Chemical Company Inc.
8.10 Royal Dutch Shell PLC
8.11 The Lubrizol Corporation
8.12 Total
*List not exhaustive
9. Disclaimer
*Subject to availability on public domain