Market Snapshot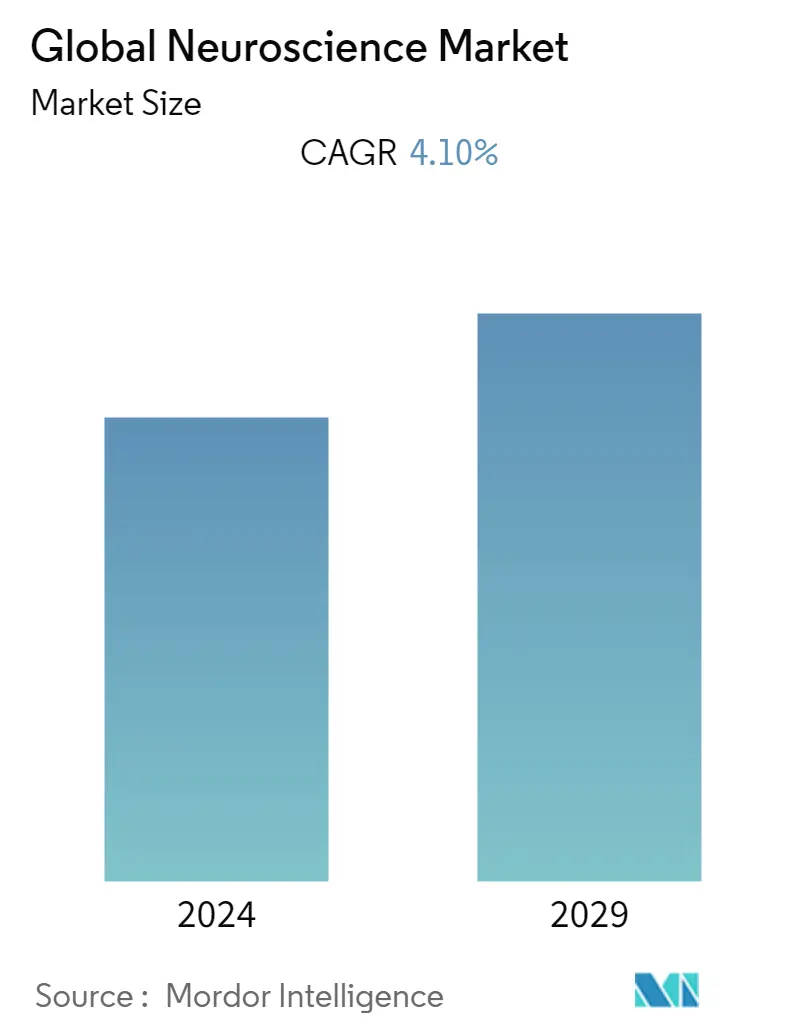 Study Period:
2019-2027
Base Year:
2021
Fastest Growing Market:
Asia Pacific
Largest Market:
North America
CAGR:
4.1 %
Need a report that reflects how COVID-19 has impacted this market and its growth?
Market Overview
The Neuroscience market is expected to register a CAGR of 4.1% during the forecast period (2022-2027).
COVID-19 is anticipated to have a negative impact on the neuroscience market as all non-emergent brain imaging and other procedures are kept on a halt due to the spread of COVID. Various research studies have been published to provide insight into the effect of the pandemic on the studied market. For instance, as per the study "Global prevalence and burden of depressive and anxiety disorders in 204 countries and territories in 2020 due to the COVID-19 pandemic" published in October 2021, there were an estimated 75.2 million additional dealing with anxiety disorders in 2020. The cases increased by 25.6% in 2020 as compared to 2019. This pandemic has created an increased urgency to strengthen mental health systems in most countries. The COVID-19 pandemic has also impacted the workflows of clinical trials, R&D, and pipeline products are likely to be affected, leading to slow growth during the forecast period, despite the presence of a robust late-stage product pipeline. For instance, according to the Alzheimer Research Forum (Alzforum), in March 2020, Alzheimer's clinical studies in the United States, Europe, and Australia have put observational cohort studies on hold, and many have stopped dosing and in-person clinic visits for treatment and prevention trials. Furthermore, according to the Alzheimer Research Forum (Alzforum) March 2020, some pharmaceutical tried to balance participants and staff safety against the need to continue treatment. For instance, in March 2020, Eli Lilly and company halted enrollment and postponed new trials while continued dosing in ongoing trials, and other pharmaceutical companies shifted their overall priorities away from some current indications and toward the COVID-19 pandemic. As per the article "Negative Impact Of Covid-19 On Mental Health" published in May 2020, approximately 45% of adults in the United States reported that their mental health has been negatively impacted due to worry and stress over the virus. Anxiety is common as people are afraid of themselves or loved ones becoming ill and of the overall uncertainness of the pandemic. This has increased the demand for devices and therapies that can assist them in managing anxiety during the covid. This has highlighted this issue, thus creating an opportunity for players to mark an entry, thus driving the market.
Factors such as rising disease burden of brain-associated disorders, advancement in the field of neuroscience and neuro-technology and increasing research and development expenditure and government funding are driving the growth of the neuroscience market. As per the Alzheimer's Association 2021 Alzheimer's Disease Facts and Figures, an estimated 6.2 million Americans aged 65 and older were living with Alzheimer's dementia in 2021 in the United States. By 2050, the number of people aged 65 and older with Alzheimer's dementia is projected to increase to 12.7 million. According to the "World Alzheimer Report 2021" published in September 2021, over 55 million people live with dementia worldwide. This is forecasted to reach 78 million by 2030. Also, as per data published by the Brain Aneurysm Foundation in 2020, over 6.5 million people in the United States are suffering from unruptured brain aneurysm, which accounts for around 1 in 50 people. Apart from the high burden of brain disorders, the developing technologies for examining the brain-associated disorders is expected to influence positively on the neuroscience market growth. In September 2021, NeuroWave Systems Inc. received approval from Food and Drug Administration for NeuroSENSE NS-901 Monitor. It is a brain function monitor for assessing the adequacy of anesthesia and sedation in clinical settings and monitoring the state of the brain in anesthetized patients (18 years of age and older). The system acquires bilateral EEG signals and calculates bilateral WAVCNS indices, one for each brain hemisphere. Similarly, prodcut approvals are another factor in market growth. For instance, in April 2021, a 510(k) clearance was granted by the United States Food and Drug Administration (FDA) to Integra LifeSciences Corporation for their innovative CereLink ICP Monitor. This device is intended to be used as an interface between standard physiological pressure monitoring systems and compatible strain-gauge type pressure transducers. In September 2020, True Digital Surgery (TDS) and Aesculap, Inc. launched the Aesculap Aeos Robotic Digital Microscope for neurosurgery and various other surgical procedures. Similarly, in June 2020, Canon Medical Systems Corporation signed an agreement on the establishment of a joint venture with a leading Russian healthcare provider, for the sales and maintenance of diagnostic imaging equipment manufactured by Canon Medical. Such technological innovation will help in brain monitoring during critical surgeries thus, driving the market. Thus owing to the overall scenario of burden of neurovascular disease coupled with growing technological advancements is expected to propel market growth.
However, ethical concerns regarding animal experiments and high cost of certain instruments are expected to hinder the market growth.
Scope of the Report
As per the scope, Neuroscience refers to the study of the brain and nervous system, including molecular neuroscience, cognitive neuroscience, psychophysics, computational modeling and various disorders of the central as well as the peripheral nervous system. The Neuroscience market is segmented by Technology (Brain Imaging, Neuro-Microscopy, Electrophysiology, Neuro-Cellular Manipulation, Neuroproteomic Analysis, Animal Behaviour Analysis and Others), Component ( Instruments and Consumables and Softwares & Services), End-User (Hospitals, Diagnostic Laboratories, Research and Academic Institutes, and Others), and Geography (North America, Europe, Asia-Pacific, Middle East and Africa, and South America). The market report also covers the estimated market sizes and trends for 17 different countries across major regions, globally. The report offers the value (in USD million) for the above segments.
By Technology
Brain Imaging
Neuro-Microscopy
Electrophysiology
Neuroproteomic Analysis
Animal Behaviour Analysis
Others
By Component
Instruments and Consumables
Software and Services
By End-User
Hospitals
Diagnostic Laboratories
Research and Academic Institutes
Others
Geography

North America
United States
Canada
Mexico

Europe
Germany
United Kingdom
France
Italy
Spain
Rest of Europe

Asia-Pacific
China
Japan
India
Australia
South Korea
Rest of Asia-Pacific

Middle East and Africa
GCC
South Africa
Rest of Middle East and Africa

South America
Brazil
Argentina
Rest of South America
Key Market Trends
Brain Imaging Holds Significant Share in the Neuroscience Market
By technology, brain imaging is expected to hold a significant market share over the forecast period. Magnetic resonance imaging (MRI) is considered as the best tool for diagnostic imaging and neuroscience research. It provides morphological images with the highest spatial resolution and unmatched soft tissue contrast, as well as the unique functional information of the central nervous system (CNS). According to a research study "A Novel Brain-Computer Interface Virtual Environment for Neurofeedback During Functional MRI" published in January 2021, a project was initiated to develop and implement a novel real-time functional magnetic resonance imaging (rt-fMRI)–based neurofeedback (NF) training paradigm which was further evaluated on the subjects for shooter game virtual environments. The study demonstrated positive results stating that participants were able to actively engage in in-game tasks and improve across sessions. Therefore, the developments in MRI focused on improving cognition and helping in improved brain functions will drive the studied market during the study period. Moreover, the increasing focus on research and development is leading to the development of effective neurofeedback systems, thereby contributing to market growth. For instance, as per an October 2021 update by the National Institute for Health and Care Research (NIHR) Maudsley Biomedical Research Centre 2022, a May 2020 published study, titled, "Neurofunctional and behavioral measures associated with fMRI-Neurofeedback learning in adolescents with Attention-Deficit/Hyperactivity Disorder (ADHD)" led to Medical Research Council funding of GBP 1.3 million for a larger trial with 100 children with ADHD. This will compare fMRI-neurofeedback to a placebo that is not related to their own brain activity. The work also led to new collaborations locally and with the National Institute of Mental Health and Dresden University. The team has since secured funding (approximately GBP 2 million from NIHR, Action Medical Research) to trial other brain-based therapies in ADHD, including different types of non-invasive brain stimulation treatments such as transcranial direct current stimulation and stimulation of the trigeminal nerve which is responsible for sensations in the face. Owing to the high acceptance of MRI the market players are continuously focusing on advancing this technology through market development strategies. For instance, in November 2019, Canon Medical Systems acquires an MRI research and development company Skope Magnetic Resonance Technologies AG to promote advanced research and development of MRI system. Therefore all these factors are expected to drive the overall market growth.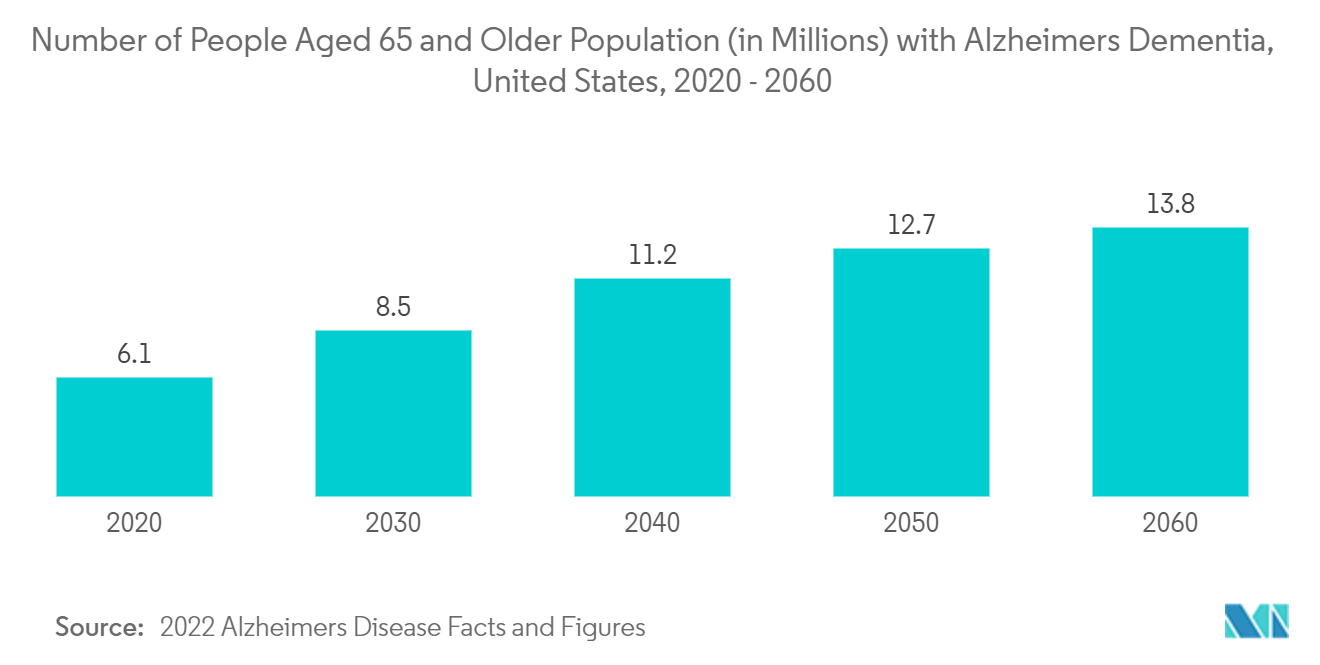 To understand key trends, Download Sample Report
North America Dominates the Global Neuroscience Market
North America is expected to hold the largest market share over the forecast period. The major factors contributing to the growth of the studied market are the rise in funding for various research regarding neurodegenerative diseases, the rise in disease prevalence and awareness, and the presence of key market players. For instance, according to the Parkinson's Foundation organization approximately one million people will be living with Parkinson's disease (PD) in the United States by the end of the year 2020, and moreover, nearly 60,000 Americans are diagnosed with Parkinson's disease each year. Increasing funding is a key factor in market growth. As stated by the National Institute of Health, in 2020, the funding for neurodegenerative diseases was USD 4,021 million, and it increased to an estimated USD 4,110 million in 2021. The rising funding for research is expected to attract most of the major players, thus, leading to the high growth of the market studied. According to the Parkinson's Foundation, there were nearly one million people living with Parkinson's disease (PD) in the United States in 2020. As per the same source, there are also approximately 60,000 Americans diagnosed with PD each year. Thus, the incidence of Parkinson's disease increases with age, but an estimated 4% of people with PD are diagnosed before age 50. Expansion and product launch is one of the key factors for the growth of the market. For instance, in May 2021, Sens.ai is the first at-home neuro-optimization system to incorporate heart coherence training with brain training to help people manage stress. Such activity by the key market player to bring technological advancement is expected to grow the market over the forecast period. Product approvals are another factor in market growth. For instance, 510(k) clearance was granted in March 2021 to Brain Scientific Inc for its next-generation NeuroCap device. This device is an advanced Electroencephalogram (EEG) electrode array which is employed in routine clinical and research settings to obtain rapid EEGs where STAT EEG recordings are desired.
Therefore, owing to the above-mentioned factors, the market is expected to drive during the forecast period.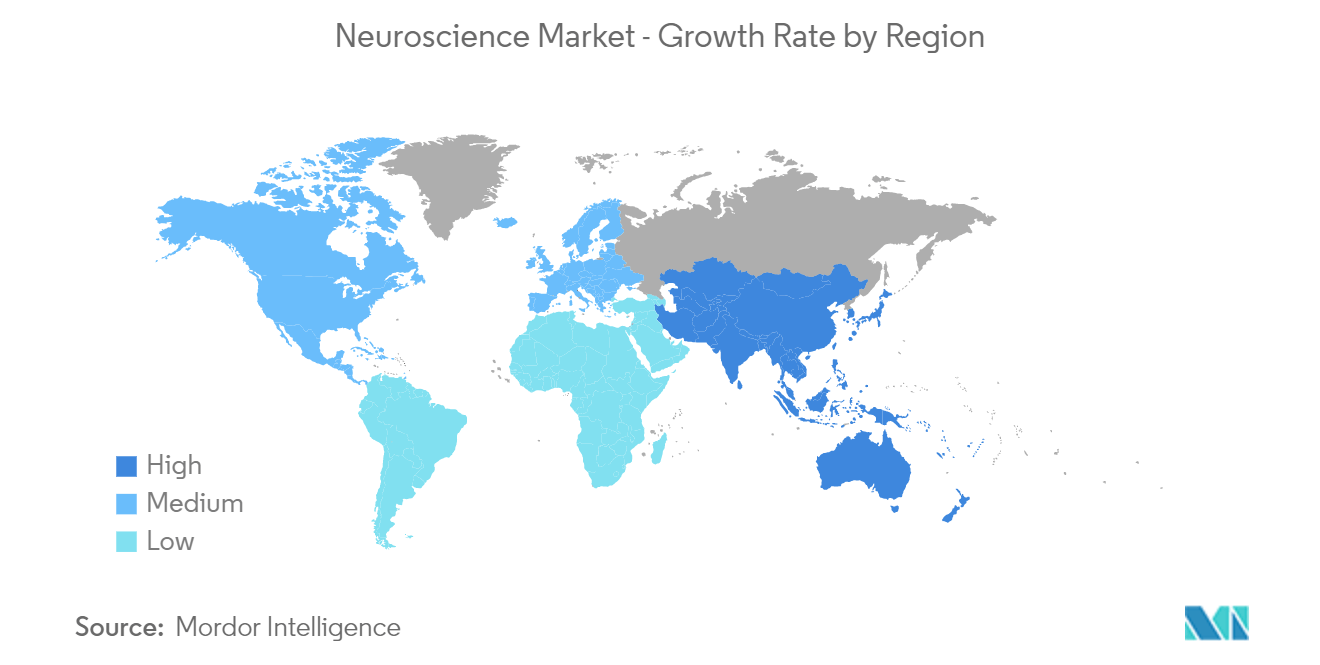 To understand geography trends, Download Sample Report
Competitive Landscape
The global Neuroscience market is moderately competitive and consists of a large number of players like Biobserve GmbH, Doric Lenses Inc., GE Healthcare, Kernel, Laserglow Technologies, Mightex Systems, NeuroNexus Technologies, Noldus Information Technology, Prizmatix Ltd., Siemens Helthineers, among others. All these companies hold a substantial market share in the market.
Recent Development
In February 2022, NeuroNexus Technologies launched NeuroNexus Summa Framework. The solution was designed for both experienced electrophysiologists as well as life science researchers who are looking to easily incorporate electrical signal read-outs from biological cells and tissues into their research workflow.
In December 2021, Hyperfine, Inc., the groundbreaking medical device company that created Swoop, the world's first Food and Drug Administration-cleared portable magnetic resonance imaging (MRI) system, and the Brain Tumor Foundation have launched a new partnership to provide access to free brain scans across the United States.
Table of Contents
1. INTRODUCTION

1.1 Study Assumptions and Market Definition

1.2 Scope of the Study

2. RESEARCH METHODOLOGY

3. EXECUTIVE SUMMARY

4. MARKET DYNAMICS

4.1 Market Overview

4.2 Market Drivers

4.2.1 Rising Disease Burden of Brain-associated Disorders

4.2.2 Advancement in the Field of Neuroscience and Neuro-technology

4.2.3 Increasing R&D Expenditure and Government Funding

4.3 Market Restraints

4.3.1 Ethical Concerns Regarding Animal Experiments

4.3.2 High Cost of Certain Instruments

4.4 Porter's Five Force Analysis

4.4.1 Threat of New Entrants

4.4.2 Bargaining Power of Buyers/Consumers

4.4.3 Bargaining Power of Suppliers

4.4.4 Threat of Substitute Products

4.4.5 Intensity of Competitive Rivalry

5. MARKET SEGMENTATION (Market Size by Value – USD million)

5.1 By Technology

5.1.1 Brain Imaging

5.1.2 Neuro-Microscopy

5.1.3 Electrophysiology

5.1.4 Neuroproteomic Analysis

5.1.5 Animal Behaviour Analysis

5.1.6 Others

5.2 By Component

5.2.1 Instruments and Consumables

5.2.2 Software and Services

5.3 By End-User

5.3.1 Hospitals

5.3.2 Diagnostic Laboratories

5.3.3 Research and Academic Institutes

5.3.4 Others

5.4 Geography

5.4.1 North America

5.4.1.1 United States

5.4.1.2 Canada

5.4.1.3 Mexico

5.4.2 Europe

5.4.2.1 Germany

5.4.2.2 United Kingdom

5.4.2.3 France

5.4.2.4 Italy

5.4.2.5 Spain

5.4.2.6 Rest of Europe

5.4.3 Asia-Pacific

5.4.3.1 China

5.4.3.2 Japan

5.4.3.3 India

5.4.3.4 Australia

5.4.3.5 South Korea

5.4.3.6 Rest of Asia-Pacific

5.4.4 Middle East and Africa

5.4.4.1 GCC

5.4.4.2 South Africa

5.4.4.3 Rest of Middle East and Africa

5.4.5 South America

5.4.5.1 Brazil

5.4.5.2 Argentina

5.4.5.3 Rest of South America

6. COMPETITIVE LANDSCAPE

6.1 Company Profiles

6.1.1 Biobserve GmbH

6.1.2 Doric Lenses Inc.

6.1.3 GE Healthcare

6.1.4 Kernel

6.1.5 Laserglow Technologies

6.1.6 Mightex Systems

6.1.7 NeuroNexus Technologies

6.1.8 Noldus Information Technology

6.1.9 Prizmatix Ltd.

6.1.10 Siemens Helthineers

6.1.11 Medtronic Plc

6.1.12 Canon Medical Systems Corporation

6.1.13 Neusoft Medical Systems Co. Ltd

*List Not Exhaustive

7. MARKET OPPORTUNITIES AND FUTURE TRENDS
**Competitive Landscape covers- Business Overview, Financials, Products and Strategies and Recent Developments
You can also purchase parts of this report. Do you want to check out a section wise price list?
Frequently Asked Questions
What is the study period of this market?
The Global Neuroscience Market market is studied from 2019 - 2027.
What is the growth rate of Global Neuroscience Market?
The Global Neuroscience Market is growing at a CAGR of 4.1% over the next 5 years.
Which region has highest growth rate in Global Neuroscience Market?
Asia Pacific is growing at the highest CAGR over 2021- 2026.
Which region has largest share in Global Neuroscience Market?
North America holds highest share in 2021.
Who are the key players in Global Neuroscience Market?
Doric Lenses Inc., GE Healthcare, Siemens Helthineers, Mightex Systems, Laserglow Technologies are the major companies operating in Global Neuroscience Market.
80%

of our clients seek made-to-order reports. How do you want us to tailor yours?