Market Snapshot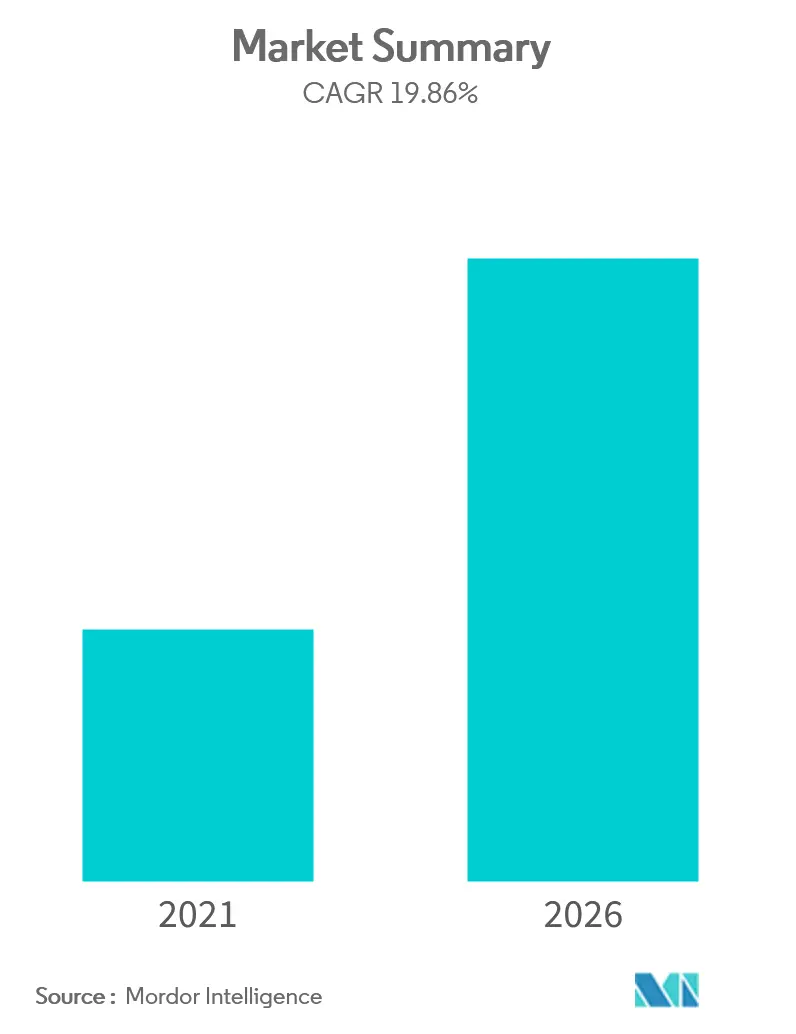 Study Period:
2016 - 2026
Base Year:
2020
Fastest Growing Market:
Asia Pacific
Largest Market:
North America
CAGR:
19.86 %
Need a report that reflects how COVID-19 has impacted this market and its growth?
Market Overview
The global nanomaterials market is expected to reach USD 57,608.26 million by 2026, growing at a CAGR of 19.86% during the forecast period (2021-2026). Growing Usage of Nanomaterials in Healthcare Industry and Increasing Usage of Nanomaterials in Water Treatment Applications are expected to drive the demand for nanomaterials in the market.
However, Current pandemic situation due to COVID-19 and Higher Costs of Technology is expected to hinder the growth of the market studied.
Among the product types, nanoparticles are likely to account for the highest market share during the forecast period.
Asia-Pacific is expected to drive the market growth rate during the forecast period.
Scope of the report
The nanomaterials market is segmented by product type, structure type, end-user industry, and geography. By product type, the market is segmented into Nanoparticles, Nanometals (Gold, Silver, Platinum, Titanium, and Aluminum), Nanometal Oxides (Alumina, Iron Oxide, Titanium Oxide, Silica, and Zinc Oxide), Complex Oxides (Calcium Phosphate, Rare Earth Metal Oxides, Lithium Titanate, and Silica Hydride), Nanofibers, Nanotubes, Nanoclays, and Nanowires. Based on structure type, the market is segmented into Non-polymer Organic Nanomaterials (Carbon Black, Carbon Nanotubes, Aptamers, Small Molecule OLED, Activated Carbon, and Carbon Nanotubes Composites) and Polymeric Nanomaterials (Coatings & Adhesives, Transfection Reagents, Diagnostics Reagents, Drug Delivery Vehicle, Fabric Treatments, Optical Coatings, Nanoporous Filtration Membrane, Dielectric Films, and OLED Films). On the basis of end-user industry, the market is segmented into Healthcare, Electronics, Energy, Construction, Rubber, Personal Care, and Other End-user Industries. The report also covers the market sizes and forecasts for the Nanomaterials market in 16 countries across major regions. For each segment, the market sizing and forecasts have been done on the basis of revenue (USD million).
Product Type

Nanoparticles

Nanometals
Gold
Silver
Platinum
Titanium
Aluminum

Nanometal Oxides
Alumina
Iron Oxide
Titanium Oxide
Silica
Zinc Oxide

Complex Oxides
Calcium Phosphate
Rare Earth Metal Oxides
Lithium Titanate
Silica Hydride

Nanofibers
Nanotubes
Nanoclays
Nanowires
Structure Type

Non-polymer Organic Nanomaterials
Carbon Black
Carbon Nanotubes
Aptamers
Small Molecule OLED
Activated Carbon
Carbon Nanotubes Composites

Polymeric Nanomaterials
Coatings and Adhesives
Transfection Reagents
Diagnostics Reagents
Drug Delivery Vehicle
Fabric Treatments
Optical Coatings
Nanoporous Filtration Membrane
Dielectric Films
OLED Films
End-user Industry
Healthcare
Electronics
Energy
Construction
Rubber
Personal Care
Other End-user Industries
Geography

Asia-Pacific
China
India
Japan
South Korea
ASEAN Countries
Rest of Asia-Pacific

North America
United States
Canada
Mexico

Europe
Germany
United Kingdom
Italy
France
Rest of Europe

South America
Brazil
Argentina
Rest of South America

Middle-East and Africa
Saudi Arabia
South Africa
Rest of Middle-East and Africa
Key Market Trends
Nanoparticles to Dominate the Market
In the electronics industry, the demand for nanomaterials has been greatly increasing, owing to the major advances in computing and electronics, leading to faster, smaller, and more portable systems that can manage and store larger and larger amounts of information. In the electronics industry, nanoparticle copper suspensions have been developed as a safer, cheaper, and more reliable alternative to the lead-based solder and other hazardous materials commonly used to fuse electronics in the assembly process.
Some of the major applications of nanomaterials in the electronics industry include the use of carbon nanotubes in semiconductor chips, use of a variety of nanomaterials in lighting technologies, including light-emitting diodes or LEDs and organic light-emitting diodes or OLEDs, use of quantum dots in lasers, along with ongoing research into the application of others, the use of nanomaterials in laser technology, a variety of nanomaterials used in lithium-ion batteries, potential use of carbon nanotubes and other nanomaterials in fuel cells and by the solar industry for use in photovoltaics, use of nanomaterials to produce lead-free solder, and the development of solder-free assembly technology. Nanomaterials are also widely used as surface coatings in few electrical goods, as they possess anti-microbial properties.
Flexible electronics have been developed using semiconductor nanomembranes for applications in smartphone and e-reader displays. Other nanomaterials, like graphene and cellulosic nanomaterials, are being used for various types of flexible electronics to enable wearable and tattoo sensors. The versatile properties of carbon nanotubes are increasing their potential use as an anode material or as an additive in lithium-ion (Li-ion) battery systems. The electronics industry is expanding, owing to various reasons, such as increasing population and infrastructural activities, rising living standards and middle-class per capita income, and replacement of conventional lightings. All these factors are expected to increase the demand for nanomaterials in the electronics market.
The electronics manufacturing market in Asia-Pacific is expected to grow rapidly during the upcoming years due to the presence of a large number of OEMs in the region. Low cost, the availability of raw materials, and cheap labor are driving the growth of the sector. The companies in the region provide manufacturing and assembling services to companies in Germany, France, and the United States. Moreover, these companies are rapidly digitizing their business to achieve end-to-end integration of their operation. This is further encouraging the OEMs from Europe and North America to outsource their production to Asia-Pacific. As the electronics industry is continuously making remarkable progress and development, the demand for the market studied is growing rapidly. The production of cellular phones, portable computing devices, gaming systems, and other personal electronic devices is likely to continue to spark the demand for nanomaterials.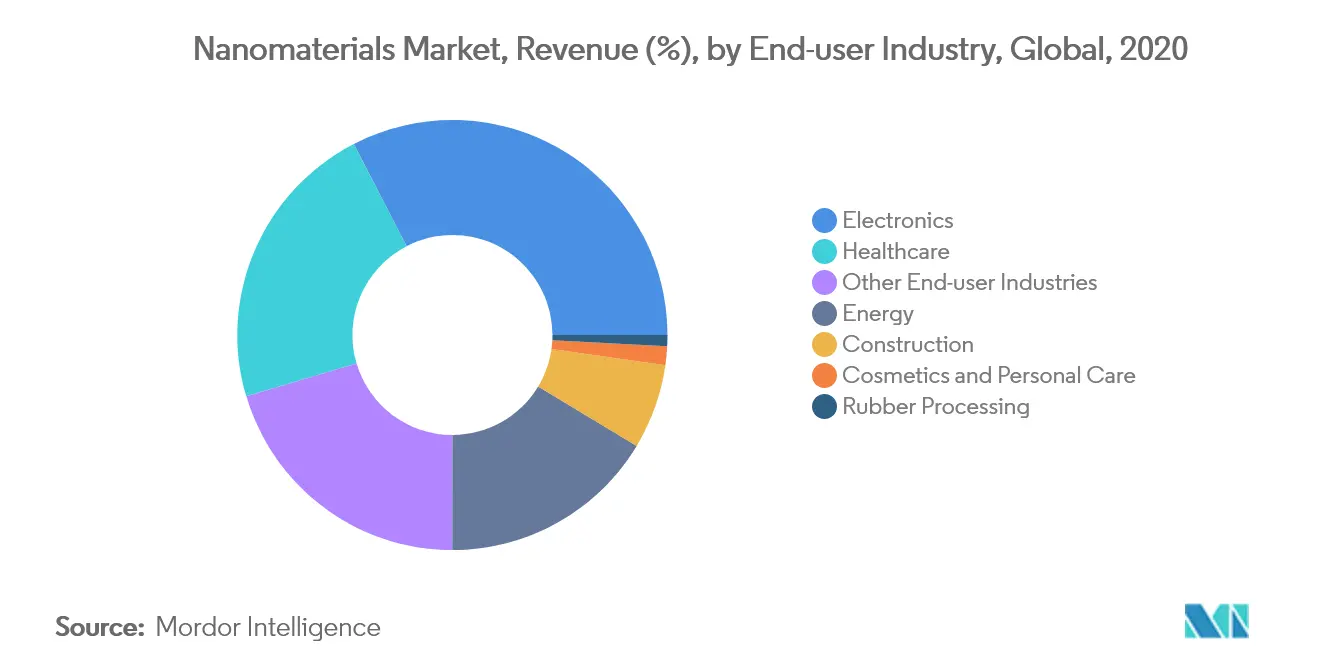 To understand key trends, Download Sample Report
United States to Dominate the Global Market
The United States is the world's largest and most powerful economy in the world. However, the country's economic growth has been slowed in the recent past, with the GDP growth rate dropping from 3% in 2018 to 2.2% in 2019. Additionally, the country's GDP contracted by 4.8% in the first quarter and 31.4% in the second quarter of 2020, indicating the severe impact of the COVID-19 pandemic. Overall, the country's annual GDP growth dipped to -4.3% in 2020. Therefore, the drastic outbreak of COVID-19 in the country has led to a downfall in economic growth, owing to a fall in consumer spending and business shutdowns. With the coronavirus disease spread across the country, production in various industries and nearly all aspects of the supply chain were negatively affected.
The US electronics market is the largest market in the world in terms of size. Furthermore, it is expected to remain the leading market over the forecast period due to the usage of advanced technology, an increase in the number of R&D centers, and rising demand from the consumers. There is a significant demand for newer and faster electronic products due to the rapid pace of innovation, technological advancement, and R&D activities in the electronics industry. There is a significant increase in the number of manufacturing plants and development centers in the United States, primarily due to developing high-end products. The major demand drivers are expected to be smartwatches, drones, smartphones, laptops, televisions, and vehicle technology. This is expected to boost the demand for the market studied by the electronic industry over the forecast period. However, due to the COVID-19 outbreak, all the industrial activities were halted temporarily, which is further expected to hamper the market's growth during 2020-2021 temporarily. Furthermore, the country is spending huge bucks to prepare the telecommunications infrastructure to roll out the 5G network, which will positively affect the nanomaterials market.
The development of medical technologies has propelled the demand for nanomaterials in this application. The radiographic contrast media containing iodine enhances the visibility of vascular structures and organs during radiographic procedures. The increasing geriatric population and the increasing requirement for medical facilities for the treatment of chronic diseases are expected to support the growth of the pharmaceutical sector and the consumption of nanomaterials for the production of medicines in the country over the forecast period. The healthcare sector in the United States is by far one of the most advanced sectors in the country. The country's healthcare expenditure stood at USD 3.8 trillion in 2019, an increase of around 4.8% over 2019. For 2020-2027, national healthcare spending is projected to grow at an average of 5.7% and reach approximately USD 6 trillion by 2027. This may increase the consumption of iodine in making drugs. Furthermore, the COVID-19 outbreak is expected to contribute to the projected increase in healthcare spending on personal healthcare, driving the demand in the market in the forthcoming years.
However, the above-mentioned scenario is likely to affect the economy and manufacturing activities due to lockdowns for a longer period due to the COVID-19 pandemic. The outbreak had a negative impact on the market in 2020. The market for nanomaterials is expected to recover and grow in the later part of the forecast period.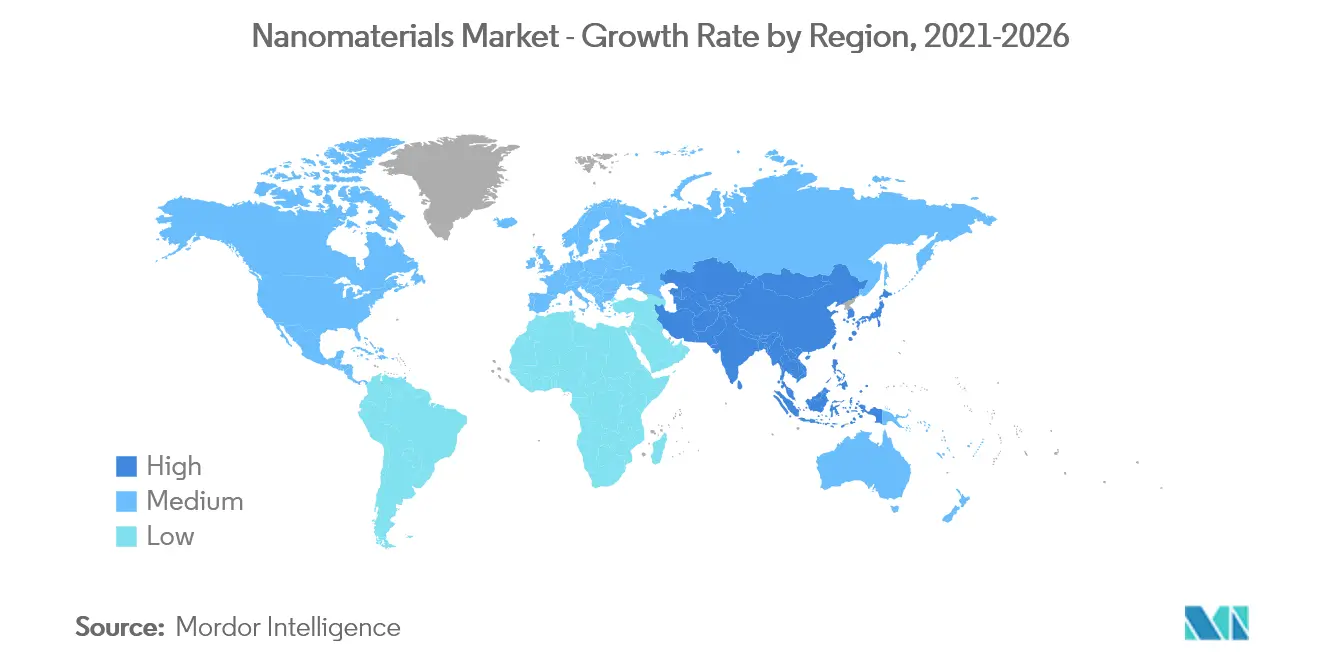 To understand geography trends, Download Sample Report
Competitive Landscape
The nanomaterials market is highly fragmented. The companies in the market focus on specific type of nanomaterials and also for specific applications. The major players are constantly focusing on R&D for product innovation and capacity expansions, along with collaborations with local or regional distributors and manufacturers. Some of the key players in the market include American Elements, Chengdu Organic Chemicals Co. Ltd (Timesnano), Cabot Corporation, Jiangsu Cnano Technology Co. Ltd, and ACS Material, among others.
Recent Developments
In May 2020, Birla Carbon, a leading global manufacturer and supplier of carbon black, and CHASM Advanced Materials Inc., a leading developer, and manufacturer of advanced proprietary materials hybridized at the nanoscale, have elevated their joint development agreement signed in 2019 into a strategic partnership to commercialize novel nanomaterials to benefit various market segments including high-performance tires, conductive plastics, novel coatings, and next-generation batteries.
In August 2020, CHASM Advanced Materials Inc. announced a strategic partnership with Henkel Adhesive Technologies (Henkel AG & Co. KGaA). Henkel has certified and will carry one of CHASM's Signis line of patented Carbon Nanotube (CNT) inks under its LOCTITE brand. LOCTITE ECI 5006 E&C is a carbon nanotube (CNT) ink designed for screen printing transparent conductors on a wide range of plastic films manufactured using CHASM's patented V2V technology.
Table of Contents
1. INTRODUCTION

1.1 Study Assumptions

1.2 Scope of the Study

2. RESEARCH METHODOLOGY

3. EXECUTIVE SUMMARY

4. MARKET DYNAMICS

4.1 Drivers

4.1.1 Growing Usage of Nanomedicines in the Healthcare Industry

4.1.2 Increasing Usage of Nanomaterials in Water Treatment Applications

4.2 Restraints

4.2.1 Higher Costs of Technology

4.2.2 Impact of COVID-19 Pandemic

4.3 Industry Value-chain Analysis

4.4 Porter's Five Forces Analysis

4.4.1 Bargaining Power of Suppliers

4.4.2 Bargaining Power of Consumers

4.4.3 Threat of New Entrants

4.4.4 Threat of Substitute Products and Services

4.4.5 Degree of Competition

5. MARKET SEGMENTATION

5.1 Product Type

5.1.1 Nanoparticles

5.1.1.1 Nanometals

5.1.1.1.1 Gold

5.1.1.1.2 Silver

5.1.1.1.3 Platinum

5.1.1.1.4 Titanium

5.1.1.1.5 Aluminum

5.1.1.2 Nanometal Oxides

5.1.1.2.1 Alumina

5.1.1.2.2 Iron Oxide

5.1.1.2.3 Titanium Oxide

5.1.1.2.4 Silica

5.1.1.2.5 Zinc Oxide

5.1.1.3 Complex Oxides

5.1.1.3.1 Calcium Phosphate

5.1.1.3.2 Rare Earth Metal Oxides

5.1.1.3.3 Lithium Titanate

5.1.1.3.4 Silica Hydride

5.1.2 Nanofibers

5.1.3 Nanotubes

5.1.4 Nanoclays

5.1.5 Nanowires

5.2 Structure Type

5.2.1 Non-polymer Organic Nanomaterials

5.2.1.1 Carbon Black

5.2.1.2 Carbon Nanotubes

5.2.1.3 Aptamers

5.2.1.4 Small Molecule OLED

5.2.1.5 Activated Carbon

5.2.1.6 Carbon Nanotubes Composites

5.2.2 Polymeric Nanomaterials

5.2.2.1 Coatings and Adhesives

5.2.2.2 Transfection Reagents

5.2.2.3 Diagnostics Reagents

5.2.2.4 Drug Delivery Vehicle

5.2.2.5 Fabric Treatments

5.2.2.6 Optical Coatings

5.2.2.7 Nanoporous Filtration Membrane

5.2.2.8 Dielectric Films

5.2.2.9 OLED Films

5.3 End-user Industry

5.3.1 Healthcare

5.3.2 Electronics

5.3.3 Energy

5.3.4 Construction

5.3.5 Rubber

5.3.6 Personal Care

5.3.7 Other End-user Industries

5.4 Geography

5.4.1 Asia-Pacific

5.4.1.1 China

5.4.1.2 India

5.4.1.3 Japan

5.4.1.4 South Korea

5.4.1.5 ASEAN Countries

5.4.1.6 Rest of Asia-Pacific

5.4.2 North America

5.4.2.1 United States

5.4.2.2 Canada

5.4.2.3 Mexico

5.4.3 Europe

5.4.3.1 Germany

5.4.3.2 United Kingdom

5.4.3.3 Italy

5.4.3.4 France

5.4.3.5 Rest of Europe

5.4.4 South America

5.4.4.1 Brazil

5.4.4.2 Argentina

5.4.4.3 Rest of South America

5.4.5 Middle-East and Africa

5.4.5.1 Saudi Arabia

5.4.5.2 South Africa

5.4.5.3 Rest of Middle-East and Africa

6. COMPETITIVE LANDSCAPE

6.1 Mergers and Acquisitions, Joint Ventures, Collaborations, and Agreements

6.2 Market Ranking Analysis

6.3 Strategies Adopted by Leading Players

6.4 Company Profiles

6.4.1 ACS Material

6.4.2 American Elements

6.4.3 Arkema Group

6.4.4 BASF SE

6.4.5 Cabot Corporation

6.4.6 CHASM Advanced Materials Inc.

6.4.7 Chengdu Organic Chemicals Co. Ltd (Timesnano)

6.4.8 Jiangsu Cnano Technology Co. Ltd

6.4.9 LG Chem

6.4.10 Nano-C

6.4.11 Nanocyl SA

6.4.12 Nanophase Technologies Corporation

6.4.13 OCSiAl

6.4.14 Raymor Industries Inc.

6.4.15 SHOWA DENKO K.K.

6.4.16 ZYVEX TECHNOLOGIES

*List Not Exhaustive

7. MARKET OPPORTUNITIES AND FUTURE TRENDS

7.1 Increasing Research Activities and Growing Applications
**Subject to Availability
You can also purchase parts of this report. Do you want to check out a section wise price list?
Frequently Asked Questions
What is the study period of this market?
The Nanomaterials Market market is studied from 2016 - 2026.
What is the growth rate of Nanomaterials Market?
The Nanomaterials Market is growing at a CAGR of 19.86% over the next 5 years.
Which region has highest growth rate in Nanomaterials Market?
Asia Pacific is growing at the highest CAGR over 2021- 2026.
Which region has largest share in Nanomaterials Market?
North America holds highest share in 2020.
Who are the key players in Nanomaterials Market?
American Elements, Chengdu Organic Chemicals Co. Ltd (Timesnano), Jiangsu Cnano Technology Co. Ltd , Cabot Corporation, ACS Material are the major companies operating in Nanomaterials Market.
80%

of our clients seek made-to-order reports. How do you want us to tailor yours?