The Mexico Veterinary Healthcare market is expected to register a CAGR of around 8% during the forecast period, 2018 to 2023. Veterinary medicines are associated with treatment, diagnosis, and prevention of diseases among animals. It covers a variety of animal species, both, in domestic and wild.
Increase in Ownership of Pet Animals
A strong bond between human beings and their pets is observed in Mexico. Almost 58% of the households across the country have pets, out of which 80% have dogs and 30% have cats (According to National Institute of Statistics and Geography). 18 million varieties of pet animals live in households, as a part of the family.
The demand for various animal healthcare products and services arise from the will of the pet owners to keep their pets healthy and happy. The propensity to develop diseases or disorders by the animals, owing to harsh conditions also contribute to generating demand. The urban pet owners are the major customers for pet healthcare products, owing to their high income and their accessibility to pet care clinics. Pet ownership in the country is expected to increase further, owing to the growing number of bachelors and childless couples in the country. This high number of unmarried/childless households augment the sales of the pet care market. Moreover, increasing middle class may be able to spend more on pet health.
Considering the trend of increasing pet ownership in the country, the demand for healthcare services and pet owner expenditure for various products and services of veterinary health is also going to increase in the coming years. Additionally, risk of emerging zoonosis, advanced technology leading to innovations and increase awareness about animal health in animal healthcare is also a factor responsible for the growth of Mexico veterinary healthcare market.
Scarcity of Arable Land and Water
Scarcity of arable land and water is one of the major restraining factors for the animal healthcare market in Mexico. According to the World Bank, the country has less than 12% of arable farmland, 57% of pasture and fallow land, 26% for forestry use and the remaining 6% for other uses. More than 70% of the water in Mexico is directed towards farming, leaving a lesser share for industrial and household use. Use of water, other than for these three purposes, is a major concern for the Mexican Government. Scarcity of arable land is the result of a range of human and climatic factors, including soil degradation, climate change, soil constraints, urban encroachment, and unequal land distribution. Widespread degradation and scarcity of land and water resources have placed the key food production systems in the country at risk. Decrease in arable land and water is creating problems in the way of providing resources for animal health. Competition for water between food production and other uses (such as animal husbandry) is intensifying the pressure on the resource allocators in the country. As a result, the production of animals in many regions of the Mexico country is low, which limits the market for animal healthcare products and services with the decreasing veterinary population in the country.
Also, lack of infrastructure and funding, Increasing Costs of Animal Testing and Veterinary Services and use of counterfeit medicines are restraining the growth of Mexico veterinary healthcare market.
Vaccines to lead the Market
The Vaccines segment in Mexico veterinary healthcare market is expected to register a healthy CAGR during the forecasted period due to the presence of good healthcare infrastructure in the country, and it is also experiencing positive trends in the R&D developments.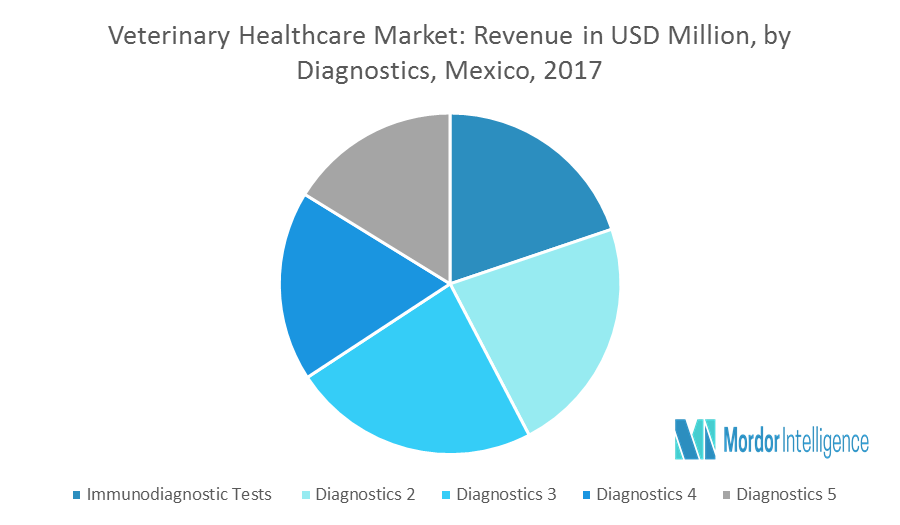 Key Developments in the Market:
June 2018: Elanco Animal Health introduced new Respiratory PRRS Vaccine, a modified-live respiratory vaccine, which is effective in the reduction of porcine reproductive and respiratory syndrome (PRRS), respiratory form, in piglets two weeks or older
Major Players: Abaxis Inc., Bayer healthcare, Boehringer Ingelheim, Ceva Animal Health, Inc., Elanco (Eli lilly and company), Merck Animal Health, Virbac Corporation, and Zoetis animal healthcare, amongst others.
Reasons to Purchase this Report
Current and future Mexico veterinary healthcare market outlook in the developed and emerging markets
Analyzing various perspectives of the market with the help of Porter's five forces analysis
The segment that is expected to dominate the market
Regions that are expected to witness fastest growth during the forecast period
Identify the latest developments, market shares, and strategies employed by the major market players
3-month analyst support, along with the Market Estimate sheet in excel
Customization of the Report
This report can be customized to meet your requirements. Please connect with our representative, who will ensure you to get a report that suits your needs
1. Introduction
1.1 Market Definition
2. Research Methodology
3. Executive Summary
4. Key Inferences
5. Market Overview
5.1 Current Market Scenario
5.2 Porters Five Forces
5.2.1 Bargaining Power of Suppliers
5.2.2 Bargaining Power of Consumers
5.2.3 Threat of New Entrants
5.2.4 Threat of Substitute Product and Services
5.2.5 Competitive Rivalry Within the Industry
6. Drivers, Restraints, Opportunities, and Challenges Analysis (DROC)
6.1 Market Driver
6.1.1 Increase in Ownership of Pet Animals
6.1.2 Advanced Technology Leading to Innovations in Animal Healthcare
6.1.3 Risk of Emerging Zoonosis
6.1.4 Increase Awareness about Animal Health
6.2 Market Restraint
6.2.1 Lack of Infrastructure and Funding
6.2.2 Use of Counterfeit Medicines
6.2.3 Increasing Costs of Animal Testing and Veterinary Services
6.2.4 Scarcity of Arable Land and Water
6.3 Opportunities
6.4 Challenges
7. Market Segmentation
7.1 By Product Type
7.1.1 By Therapeutics
7.1.1.1 Vaccines
7.1.1.2 Parasiticides
7.1.1.3 Anti-infectives
7.1.1.4 Medical Feed Additives
7.1.1.5 Others
7.1.2 By Diagnostics
7.1.2.1 Immunodiagnostic Tests
7.1.2.2 Molecular diagnostics
7.1.2.3 Diagnostic Imaging
7.1.2.4 Clinical Chemistry
7.1.2.5 Others
7.2 By Animal Type
7.2.1 Farm animal
7.2.1.1 Ruminants
7.2.1.2 Swine
7.2.1.3 Poultry
7.2.1.4 Others
7.2.2 Companion Animal
7.2.2.1 Dogs & Cats
7.2.2.2 Horse
7.2.2.3 Others
8. Competitive Landscape
8.1 Mergers and Acquisition Analysis
8.2 Agreements, Collaborations, and Partnerships
8.3 New Products Launches
9. Key Players
9.1 Abaxis Inc.
9.2 Bayer healthcare
9.3 Boehringer Ingelheim
9.4 Ceva Animal Health, Inc.
9.5 Elanco (Elli lilly and company)
9.6 Merck Animal Health
9.7 Virbac Corporation
9.8 Zoetis animal healthcare
**List Not Exhausitive
10. Future of the Market